Once upon a time, not so long ago, websites didn't have many call-to-action options. They only had "visit my site" or "click to buy." Things changed when the Internet came around.
Today, online businesses are drowning in different call-to-action options. There are buttons, pop-ups, sliders, bars, pins, badges, and hundreds of other marketing tools. In fact, it seems like it's impossible to build a website without adding something next to the "visit my site" button.
The most challenging part of running a business is getting your potential customers' attention. Many marketers are turning to notifications bars because they don't compromise the site's design and don't detract from UX.
In this article, we've compiled a list of the best WordPress notification bar plugins that can help you get more leads and boost sales.
From generating more sales to increasing your visitors' engagement, and even boosting lead generation for your business, powerful notification bars can do a lot for you. This feature is especially helpful at periods when you're running a promotion or hosting an event.
In today's article, we will talk about some of the best notification bar plugins that come loaded with brilliant features. First of all, let us talk about why one might need to use a notification bar.
What to look for the best WordPress notification bar plugin?
If you do a search online, you will find that there are many WordPress notification bar plugins in the marketplace. It's easy to get lost in the variety and not settle on one which is the right fit for your needs.
Some plugins may be too simple and don't have the ability to conceal notifications or hide them completely for example. Others may not have proper built in settings for allowing users to add call to action buttons or countdown timers, or maybe even editors so you can customize your messages yourself as needed.
Not sure which plugin to use for notification bars? Here's the rundown on all of the most important factors you need to consider when choosing a plugin for your WordPress site.
Cookie Settings – Your notification plugin should have targeting option that allows you to customize the message for different sections, and also remember what user has seen in the past to improve the user experience. Cookies are what make the world go round. However, cookie targeting is crucial for your notification plugin if you want to improve user experience.
Dynamic Elements – A good alert notification plugin allows you to add dynamic elements such as countdown timers, multiple call-to-action buttons, animation effects and more.
Newsletter Integrations – If your goal is to grow your email newsletter, then you need to make sure that the sticky bar plugin integrates with popular email marketing services. Doing so will ensure that you keep building a database of potential customers who receive updates and valuable information constantly delivered directly to their inbox.
Support – You need to make sure that there are professional support options available. Good support can save you a lot of money in the long run.
The Best WordPress Notification Bar Plugins For 2023
Now that you've looked at the features of the best WordPress notification bar plugins, let's take a look at our comparison of the best WordPresstication bar plug-ins:
1. OptinMonster
OptinMonster is a customer prospecting software that allows for all kinds of lead capture options, but what most people love about it is its highly customizable and targeted popups. It's easy to use a drag-and-drop builder that helps you in adding custom popup messages and selects the prospects accordingly.
You can also choose to place a lead magnet, an embedded video from YouTube or Vimeo, or a Calendar Popup on your website with OptinMonster! The best part is that it comes with a built-in heatmap tool and Google analytics plugin so that you can trace which pixels convert the best and which leads work better. It is hugely popular with over 1 million installations on WordPress only!
Not only does OptinMonster offer lead generation and customer engagement capabilities to your website, it also offers an array of options for you to incorporate them on your site effectively. For instance, aside from customizing the entire look of the opt-in box, you can also specify rules so that certain notifications will appear while others won't. You have several targeting options and these include:
OptinMonster offers a wide range of conversion-boosting campaigns like popups, sidebar forms, fullscreen welcome mats, and more. But the notifications bar feature is one of the best because it has many different prebuilt templates to work with as well as customization options that allow you to build your own from scratch!
OptinMonster is perfect for massage bars that encourage action. With OptinMonster's advanced targeting features, you can personalize your messages based on your goals and users' past behavior. If you need to announce a sudden change in business hours, you can use an OptinMonster ChatBar to let your website visitors know faster.
OptinMonster is particularly helpful for running time and date-sensitive campaigns as well as displaying a message to your visitors at the right time. By offering a countdown timer, you are instilling urgency which then helps boost your sales and revenue. For many, these are just a few of the many things that OptinMonster can do for your website!
2. TrustPulse
TrustPulse is a bit different from the plugins we've examined so far. It provides real-time notifications of social proofing events on your site, which lets your users know what's happening right now on your site. (Try it For Free)
By incorporating the TrustPulse pilot into your website, you will have the opportunity to build credibility and trust at a basic level. This can be a great way to take advantage of the FOMO effect while building trust around your brand.
When someone lands on your website, trustpulse will show them a ticker notification at the bottom of their screen that tells them who is buying your product right now, and who else has purchased it during each recent purchase.
This is an incredibly powerful form of social proof that has proven to increase conversions on our platform.
TrustPulse gives site owners the opportunity to track how their users are interacting with the website in a whole new way. The service highlights any new important events that occurred on the site, like when someone signs up for an email newsletter or makes a purchase.
This information is sent via email and can include transaction data, notification comments and unsubscribe options for emails.
TrustPulse works with all top eCommerce platforms, including WooCommerce. It's possible to also configure TrustPulse in a way that allows it to track any sort of action related to your product or service.
3. WP Notification Bar Pro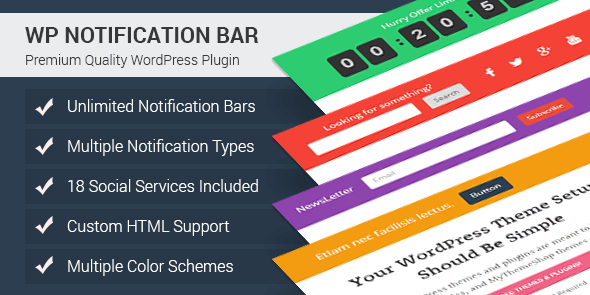 WP Notification Bar Pro allows users to display notifications to their visitors and help them grow their brands. There are different types of notifications built into this premium WordPress plugin for you to use in your book. For example, you could use the notification bar to display e-mail sign up forms, create a lead generation system, run surveys or giveaways, and more.
WP Notification Bar is the stylish notification bar that helps you display any messages on your website from above. This stylish notification bar works super well on mobiles, touch devices and desktops. You can also customize its color to match your overall website looks. This plugin provides an option for users to hide the notification bar if they need to.
If you want to run a test, you have an easier time doing so with segmentation – because it lets you try out different versions simultaneously while still tracking the results of each. That really helps improve your odds of success.
Plus, you don't need to install anything which can save you more time! And if you want to send marketing emails, for example if you want to do some email marketing with Infusionsoft or ConvertKit then that's also possible. More control and flexibility means more options than necessary, and that's always helpful when it comes to getting things done!
It is a simple plugin, but yet it has a lot of useful features that one will find very helpful for the day-to-day operations of their website such as with minimizing distractions. WP Notification Bar provides an effortless way to display notifications and alerts via floating bars and popup boxes, which can be displayed at specified dates and times.
4. Hello Bar
Hello Bar is becoming a compulsory part of any site that wishes to provide users with a notification system. This popular plugin allows you to add notifications to your website without having to know any code, it being hassle-free and super simple.
Hello Bar is a notification plugin that can be quickly and easily implemented to add important information to your blog or website. You can use it to broadcast any message you wish, from announcements about new articles, blog posts or products on sale.
You also get options for banners and buttons so you're free to present your notices in whatever manner best suits your site's design. And if this sounds a little complicated, don't worry because Hello Bar couldn't be easier to use! Just copy the code provided in your download and paste the snippet into any widget areas on your site that you'd like!
Hello Bar is a great plugin that lets you add a notification from your website without writing even the tiniest bit of code. It's super simple and quick to use, which is something I know you'll appreciate since you're either already a pro or adding something new to your website.
Hello Bar lets you easily create floating bars that are very similar to the notification bar on your Android, iOS or PC device. Hello Bar is incredibly easy to set up and you can use one of their dozens of different themes right out of the box, or with a few clicks of your mouse, change the colors and font to match your chosen theme.
Hello Bar lets you create other types of popups such as sliders, popup boxes and even popups that take over the whole screen.
5. Easy Notification Bar
Easy Notification Bar is a free floating plugin. You can use it just by installing it on your website and start getting everything you need. It's advantage is that parties don't have architectural skills to analyze it.
You can set up a specific opt-in mailing list and send notices directly from the site as well – it's easy to update and maintain!
Easy Notification Bar is a free plugin to enable you to add a floating bar on your website header. The plugin works really well for creating simple alerts. It offers some basic customization options like changing font size, color themes, text and adding links.
Easy Notification Bar allows you to create only floating bars of notifications but not pop-up alerts or drop-down menu notifications which are the common types of notifications found in the current market online. Other than that, Easy Notification Bar doesn't provide analytics support and optimization tools like tracking clicks or A/B testing.
Unlike many of the other plugins here, this one only offers to create a floating bar. It won't let you create other types of pop-ups either.
It's completely free, and there's no premium version. As it is a free plugin, you don't have to worry about being on a tight budget. You can start using it right off the bat!
6. WPFront Notification Bar
WPFront Notification Bars is an unobtrusive way to keep WordPress users informed about new content and what's happening on your site. WPFront Notification Bars is simple yet effective and this plugin comes with a visual editor, so getting up and running is easy.
It lacks the advanced functionality that you'd find in the likes of YAK or Usersnap but if you want something simple then there's less of a learning curve to contend with here.
This notification bar is great because it's free, easy to install and uses very few resources (or none at all). While this bar won't look as professional as other paid options, it certainly has a lot more customization options to get you started without having to pay anything extra.
Keep track of important dates or information with a customizable notification bar. You can optionally add a close button to the bar, enable it on specific dates or over specific time periods and there is no limit on how many bars you can have open at once so that your users don't feel overwhelmed by a glut of information!
WPFront's WordPress live notification bar plugin can be applied in a variety of ways and help you increase your website or blog's engagement. You can customize it according to your needs and requirements.
This plugin works best if you want to use it predominantly for promoting your content through social media platforms, increasing the chances of more shares, likes, traffic and backlinks to your site/blog.
7. Apex Notification Bar
Apex Notification Bar is a blazingly-fast WordPress notification plugin that uses the popular Bootstrap framework to create custom and beautiful interfaces with full control over typography, colors, animations, and more.
Boasting 15 predesigned templates, each customizable in an array of ways to suit your needs, Apex offers full customization of both themes and styles with an action/filter hooks-based code structure that can be easily extended with your own coding or third party plugins if desired.
With its incredibly fast page loads and minimal browser requirements (only a modern browser is required for it to work) this plugin works on nearly all devices, including tablets and phones.
The Plugin additionally supports email marketing services like Constant Contact. This is a way better alternative to MailChimp and lets you add the Contact Form 7 plugin as well.
We also have a custom logo alter area, where you can put in your logo. Having a background image can enhance its looks quickly and the modification can do that too. And all of this – and more – Do-it-yourself without coding a single line.
8. Divi Notification Bar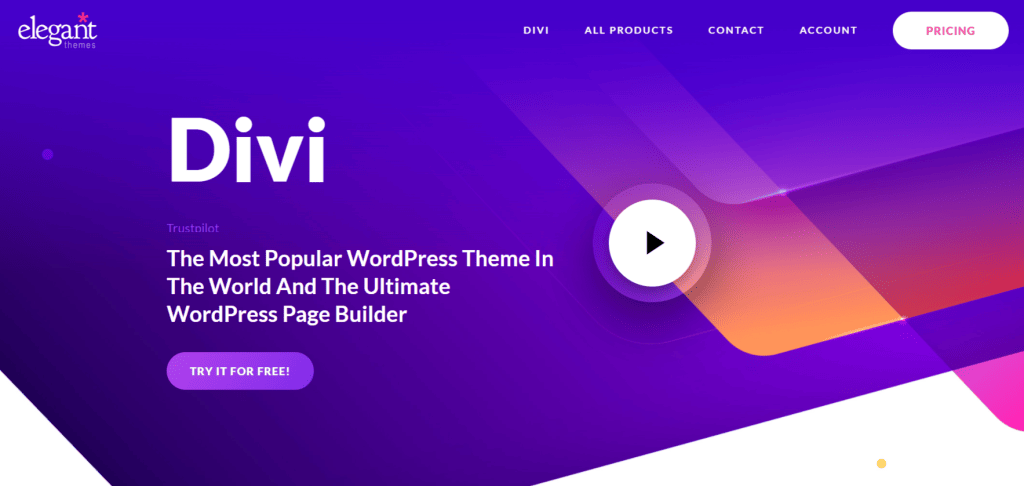 Divi is one of Elegant Themes' most popular products available. It's a drag & drop page builder specifically created for WordPress users.
If you are looking for a solution that doesn't compromise on its usability, Divi comes with an easy to navigate interface which allows you to create highly customized email opt-in forms for your web pages.
With this drag & drop builder not only can you add appealing design elements including buttons, forms, flashes and arrows,
But also use your imagination to achieve almost any type of effect from across the imaginable spectrum. Although it might not compare favorably with solutions such as OptinMonster that offer more customization features than what is available in Divi, this works well if all you need is a basic email sign up form.
9. Foobar – WordPress Notification
The Foobar Notification Bar lets you add your own text and image message or any Adobe Air-based notification to your website. You can easily customize the width of the bar, along with the displayed message, color scheme and its transparency. Conditional logic is also supported for different pages!
This plugin enables you to add as many bars and notices as you want on your website. You have the flexibility to design each bar differently or use the same design throughout your site,
Whichever works best for you. When creating a cookie notice bar, you have the option to customize its width. In order to implement conditional logic onto different pages of your website.
This plugin comes with some advanced features like a color picker that helps you blend your notification bar into your WordPress theme. Another option is the numeric sliders,
Which come in handy when you have to notify users of a message containing numerals. Social media icons can also be added to encourage people to share your page.
Foobar is a WordPress plugin that comes with both free and premium plans, it all depends on one's needs but the basic professional plan starts of at $29.99
📖 Our Recommended Other Also Read Articles:
Top Picks: Which is the best WordPress Notification Plugins For WordPress?
In our opinion, OptinMonster is the best WordPress notification bar plugin because of its high level of granular personalization/targeting features. This allows you to create highly focused and relevant message templates that grab people's attention and give your site a higher conversion rate than before.
Also, with hundreds of integrations with popular email marketing services & CRMs you can easily reach out to subscribers from all over the world when using this plugin.
Aside from these things this plugin also comes with other amazing features: popup boxes, slide-ins, landing pages for capturing leads, etc., all of which help you build a strong mailing list and increase your site traffic.
If you're looking to display social proof in your WordPress site, then TrustPulse is an ideal solution. We hope this article helped you learn about the best notification bar plugins for WordPress.
In this post, we've looked at some of the best WordPress notification plugins and you might also be interested in checking out our expert advice on the best SERP Tracking tools and softwares and must have WordPress plugins for small businesses and woocommerce alternatives.