Do you want to start a WordPress blog with greengeeks? You landed on the planet's best guide, I will help you to start a perfect Wordpress blog from scratch to finish with a step-by-step guide with a screenshot to describe wordpress more clear to help you build your profitable SEO optimized blog.
So, first of all, congratulations on being here and getting this far.
Disclosure: I am an affiliate for Greengeeks, and will receive a commission if you sign up through my referral link. This is at no additional cost to you, and you will get a discount of 75% discount pricing and a free domain name through my link. 🙂
---
Did you know that anyone can start a WordPress website/ blog in the same amount of time that it takes to enjoy one cup of coffee?
Yup, Thanks to wordpress that even if you are not from a coding background or never heard about sites and have zero experience with blogging, then you can also create a simple website with the help of wordpress. That point of view and things take time. Let me share my small blogging story.
I started my first website/ blog four years ago and I was know nothing clear noob,🥺 the way you reading this article I was also same reading other articles with the topic "how to start a website with WordPress" and came in a good article and started my first wordpress blog and still going. Now thing turned I am helping thousands of readers to help their website get online for the first time.
Thank you for choosing the article and today the moment is the perfect time to start your wordpress blog with greengeeks. Greengeeks offer the best wordpress hosting for beginners to start their wordpress blog and stores with the cheapest price and the best part greengeeks offers a free domain with their all plans and you will also get a flat 75% discount on all plans. Excited?
---
If you want to start a WordPress blog on Greengeeks today then you need to get started with two things.
You must find out a great topic blog niche
The perfect domain name ( Dont worry about domain greengeeks offers a free domain, all you need to find out the perfect domain.
Here are short best tips for choosing domain name:
Keep it short letters ( 6-12 words)
Use [.COM] extensions if it is available the most used domain extensions on the planet.
Try to include your keyword in the domain name to simplify your SEO Ranking work.
Now all you just need to just follow my an easy-step-by-step WordPress blog tutorial to get your blog online with greengeeks. I wrote this tutorial for the best new blogging beginners. Don't worry I will help you build your perfect blog I know how things work.
If you are tried of this long article, and don't have time to read article then at the end of this article i have showed you how to launch WordPrees a Blog in just a few clicks with GreenGeeks Quick Launch Wizard.
---
Why start Wordpress Blog On
Greengeeks

?
Having tried half-century of different hosting providers ( learning a lesson from each of theme writing article for best")
Here's why recommended use and recommended greengeeks:
Pre WordPress installed: With Greengeeks you don't need to install wordpress manually and spend hours on it, Just setup hosting and you're here to blog!
Support: You will get best supports from greengeeks wordpress experts 27/7 whenever you fall into any problem
Uptime : Greengeeks every wordpress blog hosting plans comes with 100% uptime with 300% Green Energy Match.
Free domain Name: Other web hosting normally charge $10-20 a year. With GreenGeeks, you need a best blog name to outmatch with your competitors.
Affordable budget friendly pricing: With greengeeks you don't have to break you bank to get started with super hosting plans.
One click Installations: With greengeeks it takes less than 10 mins to make wordpress blog online. I'll show you how it works in just a minutes.
30-Day Money-Back Guarantee: No questions raised or asked if you choose to cancel your account for any reasons.
Free SSL Certificates: Get free SSL and make your website out from bad guys with full HTTPS Encryptions.
Unlimited Features: Each plans of greengeeks comes with unlimited features such as storage, bandwidth, Databases.
Faster performance: Wordpress blog hosting with greengeeks will be hosted on LiteSpeed Web-Server and comes with LS Cache with 4x faster performance.
Free CDN: No need to use any third party CDN. Get free custom CDN on each plans.
Free unlimited email accounts: Get your custom email accounts for free with unlimited accounts just like this : yourname@yourblog.com
Free Website Migrations: There still some hosting providers who migrate websites with the cost of $20-25. Greengeeks offers free wordpress migrations no need to worry about anything.
With greengeeks, there is really no risk the #1 Eco-Friendly Web Hosting service in the hosting industry that runs with the full green renewable energy for hosting servers with 300% greenmatch energy.
This is the same exactly web hosting we use on our sister website startups and i really can't recommended them enough!
Enough said! Before we start wordpress blog on greengeeks here is an:
---
Exclusive

GreenGeeks Hosting deal for our readers in 2023:
I know in starting days we don't want to spend more money than required on getting your blog to grow.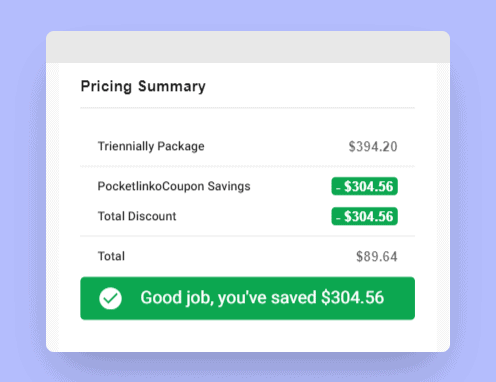 This is why I've negotiated and partnered with greengeeks for pocketlinko readers, Especially greengeeks offers our readers flat 70% discounts on Wordpress hosting plans which are saving $304.56 on lite plans.
That's a huge bulky 70% discount and it's lighter than a coffee at Starbucks!
---
GreenGeeks WordPress Tutorial: How To Start WordPress Blog in 10 Minutes in 2023
Now is the time to start your wordpress blog and website on greengeeks in less than 10minutes with a step-by-step guide with screenshots.
Make yourself buy one cup of coffee with Starbucks and with that being said let me walk you through my nine easy steps to get your blog on its feet by the time you end your coffee cup is empty! Your wordpress blog will be live.
If you are busy and want to make sure this blog setup tutorial on later, just save it for later or bookmark the page.
#Step 1

: How to get GreenGeeks WordPress Hosting Plans Accounts
First of all, Click on this link to land into greengeeks landing to get started.
This is how page look: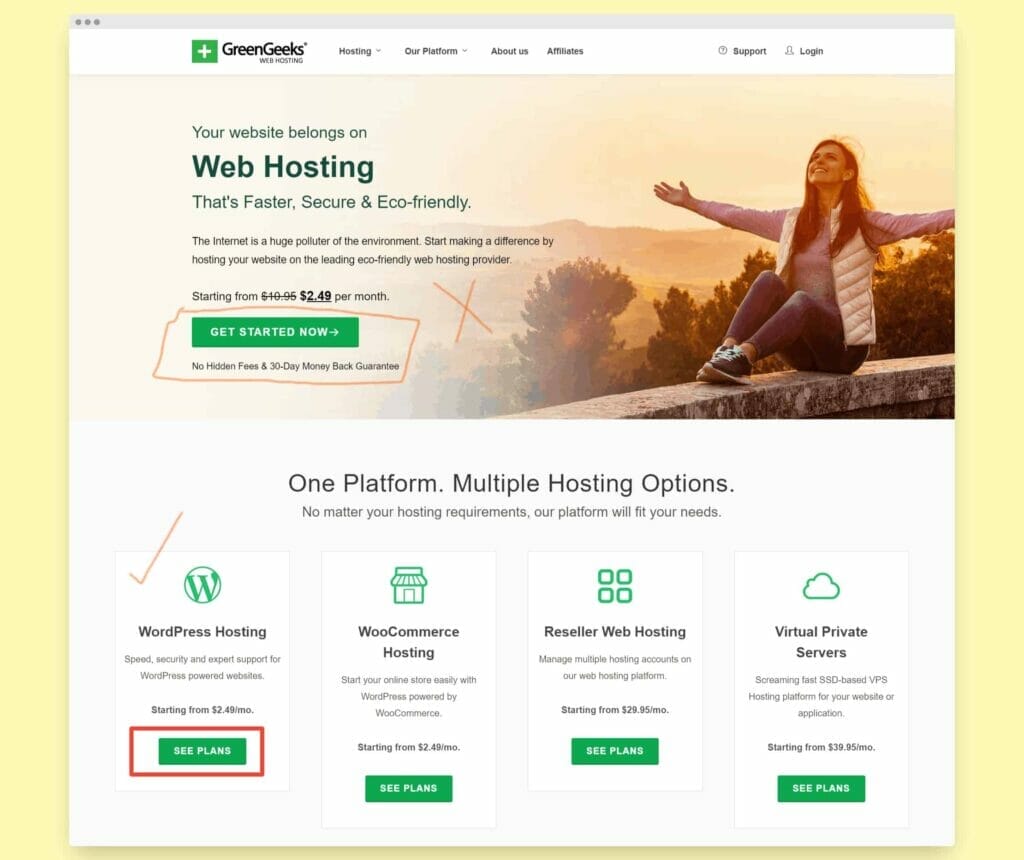 Make sure to go a little downhill and you will see these exact plans listed and all you need to click on wordpress hosting.
To make words and images more clear do-not choose on on button " get started now" with the wrong mark on the image. That plan is called web hosting where you will not have the best features of wordpress such as wordpress optimized, wordpress experts help hand, and security.
Once you click on see plans one the next page you'll see the following wordpress web hosting plans options to choose from Lite, Pro, Premium.
Greengeeks offers shared hosting, wordpress hosting and VPS and reseller and the best part in shared and wordpress hosting plans is they comes with same pricing but with different features.
As we are starting a wordpress its always better to start on wordpress optimized plans when paying same amount of money for both shared and wordpress as said above in wordpress you will have wordpress features.
When you are just starting our with your first blog, its always okh to get started with the lite plan which costs the pricing of $2.95.
To make more clear here are the pricing breaksdowns;
Lite ($2.49/mo): 1 Website/ free domain for one year/ Unlimited web space, data Transfer/ Standard Performance
Pro ($4.95/mo): Unlimited Website, Storage, bandwidth, Free domain for one year, 2x Performance
Premium ( $8.95/mo): Unlimited websites, storage, bandwidth, Free Premium SSL, Free domain for one year, dedicated IP, 4x Performance
Each plan includes Unlimited Databases,300% Green Energy Match, Free CDN, Nightly Backups, 30-Days Money Back Guaranteed with free website migrations.
This is just a small price to pay to get your wordpress blog online to the planet and make a huge name with an online presence. It's a small necessary investment to make your money back with blog business very soon.
So once you've chosen a web hosting plan from ( Lite, pro, Premium) all you need to click "Get Started and you will move to the page, where you can get your free domain name.
#Step

2: Register a FREE Domain Name For Your Blog
As being said, Greengeeks offers free domain names for the first 1st year with each plan. This is is the most more exciting part of starting a blog with greengeeks.
Now is your time to register a free premium domain for your Wordpress blog with the extensions such as, [ COM], [NET], [ORG], [INFO], [BIZ].
You will have two boxes one is for "Create A New Domain Name" and the second for "Use A Domain You Already Own". I know you people are just new to Wordpress so if you have a domain name for your greengeeks Wordpress blog in mind, you can register simply where it says to create a new domain.
If your domain isn't available then try to flip the words for example.
| Exmaple | Words flip (miss match} |
| --- | --- |
| yourdomain.com | urdomain.com |
| pocketlinko.com | mypocketlinko.com |
That way, it's easier to find your possible domain name the name you like the most.
Type your domain name in the field and click on the " NEXT" button.
#Step

3: Create Your GreenGeeks Wordpress Hosting Accounts
Now is the time to create greengeeks wordpress hosting accounts and you are very close to starting your first website blog. Happy for you 🙂
This is how the page looks where you have to fill in your account pieces of information. Making sure to put the valid email address you use because this is the same id you will be logging into greengeeks dashboard.
#Step

4: Select the best hosting package+ discounts
As said above, if you have used our Greengeeks partner link then you will get a massive deal this is where the links work now. Click here to visit greengeeks homepage.
Now all you need to choose your hosting and let me tell you the more upper plans you choose the more huge discounts you get upto $318.51 in Triennially plans.
For this guide to help you set up your wordpress blog with greengeeks I am going to buy an Eco lite plan which costs $2.95. Here are the pricing breakdowns the more upper years you choose the more discount you get.
| | | | | |
| --- | --- | --- | --- | --- |
| Plans | Years | Pricing | Yearly pricing without discounts | Total Pricing With Discounts |
| EcoSite Lite | Monthly | $10.95/month | $10.95 | No Discount on monthly plans |
| EcoSite Lite | Annually [ 1 Year ] | $3.95/month | $97.95 | $57.35 |
| EcoSite Lite | Biennially [ 2 Years] | $2.95/month | $205.95 | $80.75 |
| EcoSite Lite | Triennially [ 3 Years] | $2.49/month | $318.20 | $99.59 |
If you buy a plan of ECO LITE for 3years which costs $394.20 for 3 years without discounts with our partner link you will get the same plan for just $99.9 for 3 years. This is the best time to start your Wordpress blog. You will not get this deal other days.
#Step

5: Choose the close greengeeks data center
Greengeeks offers 3 data centers for now: USA, Canada & Europe always choose data centers you are close to make website speed increase.
For example:
If you are creating a blog for Canadian people where you are most likely to get traffic from then make sure to choose Canada data center and this way website will load faster in Canada.
For other countries, you can pick up their data centers nearest and setup custom greengeeks CDN to make the website load faster. No need to upset! CDN is there for you and it doesn't impact the wordpress blog.
#Step

6: Enter your payment information
Greengeeks only allows Credit-Card, make sure to provide the correct credit card details.
Finally, just enter the payment information and click create an account. Dont worry you are getting a free 30days money-back guarantee
#Step

7: Review Order Details
This is what your final pricing cart page looks like. Make sure to choose 36months plan so you can get 3years of hosting in just $99.59 save $318.51. The reason if you choose 1 or 2year of plan then you have to pay some amount to greengeeks renewal fee for 3year of plans onward.
Get your greengeeks hosting in just $99.59 for 3years.
---
All set now. Congrulations!
You're now officially a happy member of Greengeeks large community with your own wordpress hosting plan and free domain. also…
Welcome to the family of pocketlinko!. This is not the end, Let's walk through the final steps of the Wordpress installations so you can start your wordpress blog on greengeeks right now.
---
#Step

8: Email+ Recipient
Once you buy the plans you will something like this Recipient where you can see the next steps and order number.
#Step

9:: Login to your GreenGeeks account
Once you complete your payment all you have to enter the register in the mail account which you have used during the checkout process, you will see a your login URL , email address and password make sure not share with anyone else.
Just click on the login URL then all set to get started with a greengeeks website blog. This is how the page looks once you click on the login URL.
Enter the email and password you used while signup or you can check easily in the mail account with details.
#Step

10: Installing WordPress Website Blog In GreenGeeks 2023: Guide
In the next screen, you can choose to install wordpress. Finally you will land in your greengeeks account. Here you can managed and install wordpress website and control every element of blog: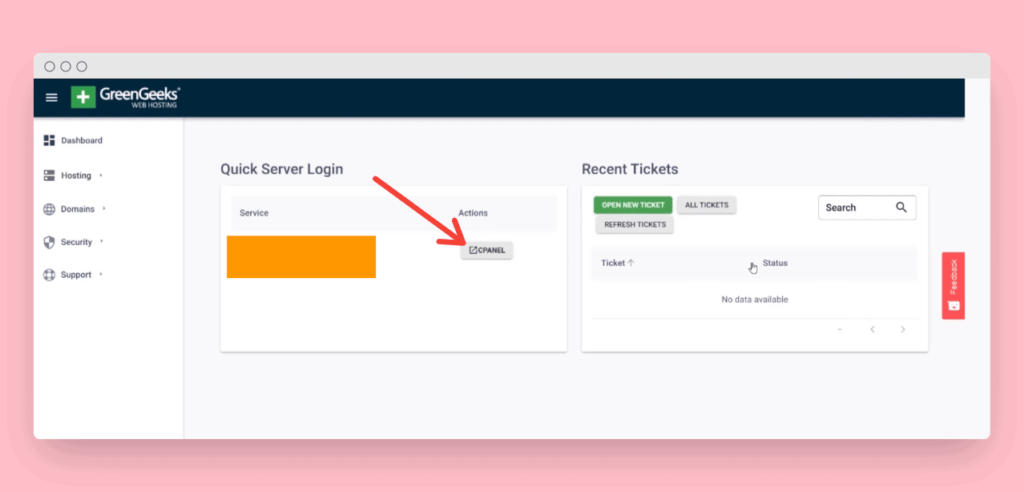 Now all you need to click on the c-panel button your domain and hosting are all set for the years of the plan you choose. No need to worry about anything. Greengeeks hosting teams will monitor 24/7 your greengeeks website blog.
Now is the time to be a focus and create a blogging routine and tasks because you are new people on the internet and you have to hustle for a year to make thousands of dollars and it totally depends on you. You are the limit not of yourself.
Enough said! Once you click on c-panel this is how the page looks like: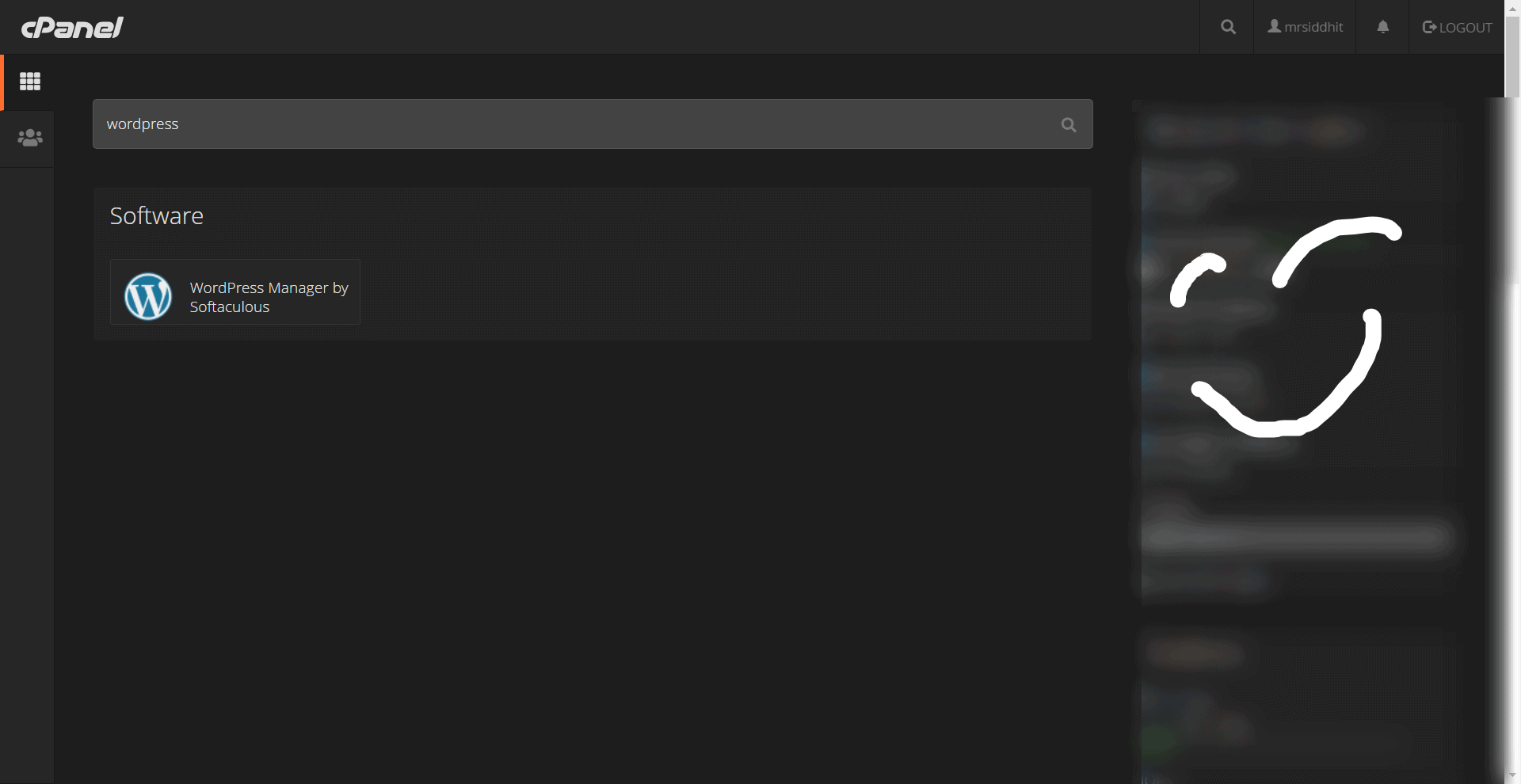 Once you get-in greengeeks Cpanel just search for wordpress or navigate to the "SOFTACULOUS APPS INSTALLER". Now all you need to click on Install Now button. This is how the page looks:
Choose the version you want to Install: Make sure to install the latest Wordpress versions. If you dont know then you google it as" Latest Wordpress version". It comes with the latest versions by default.
Choose Installation URL: Choose HTTPS version.
Site Settings: Fill in your site name and description dont worry you can change it later from the wordpress dashboard anytime.
Admin Account: Enter your user name and admin password make sure to make it secure because you will be using the same admin and password to login in wordpress dashboard. You can use LastPass to generate a secure password.
Choose Language: Use the language you prefer
Once you enter the full information just click on the install now button! You don't have to be more technical over there. Make sure to note down the email id and password in a secret keep the place so you log in next time and remember whenever you forgot the id or password. This is how the page will look once you install it.
Finally Successfully you have installed wordpress website in greengeeks! Happy for you :).
You will see two different URLs Format :
https://yourdomain.com: The URL for your blog publicly
https://yourdomain.com/wp-admin/: This is the URL from which you will login into your GreenGeekswebsite blog
Make sure to copy these URL and saved to notepad because you are new to wordpress and things take time. All you need to click on your Wordpress Administrative URL now and you will be re-directed to Wordpress login Url of your private blog.
Enter the login id and password and there you go. Hurrah! Cheers! Here some points and key features that will help you to navigate the left hand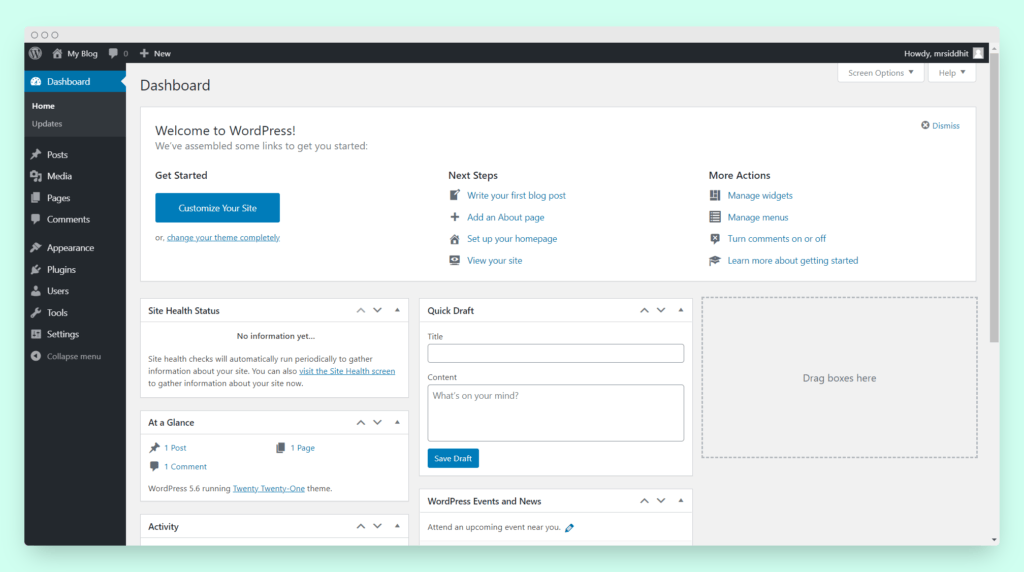 Posts: This where you write,publish and managed your wordpress blog articles.
Media: This is the place where you upload and manage photo and video files so that you can use in blog posts and page. You can also upload from post section.
Pages: Create pages like contact, blog, privacy policy etc.
Comments: View, approve, spam and manage all comments from readers and discuss.
Appearance: A place where you can customize your design and every part of elements from colors to headers and typography.
Plugins: Help you add new features to Wordpress website, install millions of plugins such as contact form, SEO tools, page builder etc.
---
GreenGeeks: Quick Launch tool Wizard Review
As being said above, if you are tried to follow greengeeks step by step then good news for you, now you don't have to hustle because greengeeks let you launch a Wordpress blog in less than 30 seconds.
This tool will help you to start a website with ease in just a few clicks your website will be activated. This feature is only for greengeeks customers.
How to get started with greengeeks quick launch tool?
Once your hosting purchased is done, you will see their "quick launch tool wizard, just click in that element.
After click, you will be one page where you will get four options, since we are starting a website we will go with "first section box"
After you click on start new website you will be on page where you have to fill up your website information and click to "install"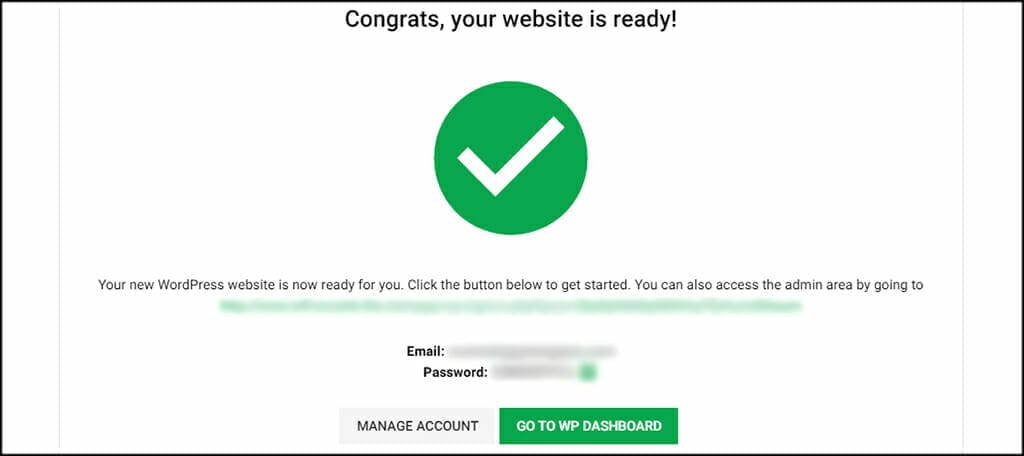 Once done congratulations now you have successfully launched your wordpress blog using greengeeks quick launch wizard.
Check out this screenshot for more detailed information
FAQ: GreenGeeks Wordpress Tutorial 2023
How To Create a WordPress Blog In 2023
If you want to create a wordpress in 2023, here's an easy step-by-step guide to follow:
1. Sign up for Wordpress web hosting ( I highly recommended Greengeeks).
2. Choose your blog hosting plan
3. Select the perfect branding name domain for your blog
4. Signup for an account
5. Choose a data center
6. Create Your GreenGeeks WordPress Hosting Account
7. Review Order Details
8. Log-in Wordpress hosting account
8. Install wordpress hosting via c-panel and wait for the installation to finish.
9. Log-in to your wordpress dashboard and write and publish the first post
How long does it take for wordpress to install on Greengeeks?
Make yourself buy one cup of coffee with Starbucks, before it finish, Your greengeeks wordpress website will have install all the necessary plugins. You can estimate between 5-10mins to make your first wordpress website on greengeeks.
Is GreenGeeks Good for blogging?
Definitely, Greengeeks is the best place to start your first blog in 2023 because each greengeeks blog hosting plans comes with unlimited features such as storage, bandwidth, domains except lite plan with free CDN, website builder, and one free domain for the first year on each plan with 4x faster performance.
Greengeeks is beginner-friendly web hosting easy to signup, no hassle to differentiate between each plan with the best wordpress experts' supports with a flat 70% discount with a 30-days free money-back Guarantee.
How much does GreenGeeks cost per month?
Greengeeks offers shared hosting, wordpress hosting and VPS and reseller, and the best part in shared plans and wordpress hosting plans is they come with the same pricing but with different features with the same pricing. A shared and wordpress hosting costs the same pricing $2.95/ per month when you signup for 36 months. Today greengeeks is giving a flat 70% discount on each plan which means the cost of 36 months will only cost $99.59 instead of paying $318

---
Final Words

: How to start a WordPress Blog On GreenGeeks In 2023
I am very happy for reading this article and congrats for getting this far reading each lines following each steps. Thankyou.
Now i hope today you are clear about how to start a WordPress blog on GreenGeeks in 2023 step-by-step now.
I have showed you the exact step-by-step starting website and the most important point is to setup all technical terms and setups. If you have followed through his GreenGeeks WordPress Tutorial then you never have to be worry about anything technical issue.
Now start writing articles before, here the best guides to that help you kickstart your blogging always and always remember things takes time.
Take some time to read articles and play with wordpress dashboard "no one does when they begin" explore SEO 2023 trends dig hard. That's going to be #1 tool for writing and ranking articles.
Today is the perfect time to start your online business with greengeeks this guide is not only for one who are going to start blog its for everyone who are going to use greengeeks hosting for thier online business.
Now I want to hear from you!
Share your thoughts in the comments below. It takes really huge efforts to write a definitive guide every day, but I love writing and connecting with my pocketlinko readers. This is what motivates me to write.
Feel free to comment and let me did you really order Starbucks while starting your wordpress blog with greengeeks? 😋
If you run into trouble just mail me siddhit@pocketlinko.com, I will help you to install your wordpress website quickly already helped thousands of readers to kick start their online journey. Are you one of them?🤔
Here are few helpful article you must read before you live your first blog: