This is a complete guide to know everything about Shared Hosting Server, so if you are looking for:
what is shared web hosting?
what is the difference between shared and dedicated hosting
what is a single shared hosting plan?
Then you'll love this guide, finally after publishing more than 160+ hosting niche-related articles, today I am going to share with you "complete information to shared hosting".
So without further ado… Jump right into the lists you" re interested in? Just use our handy Table of contents:
What is shared hosting?
A shared hosting server is a type of web hosting server where a single physical server is connected to multiple websites. Shared Plan is the best solution for beginners who are just getting started with the online world if we focus tight budget.
Shared hosting is one of the most popular web hosting options for those who are just getting started as being said above because this type of server comes at low costing and anyone can afford it.
Easy Words:
Shared hosting is the same as living under other's rent home cause, in that same room you and other multiple partners live under the same room, sharing the same server, usage, bandwidth etc.
Did you know?
Shared hosting can hosts hundreds of users under one single account, this types of server is typically not good for large website but top for small websites.
Each user using the shared hosting plan's server has access to features like databases, monthly traffic, disk space, email accounts, FTP accounts and other add-ons offered by the host.
Despite, the countless hosting options offering in today's market, shared hosting is always entery level hosting option.
If you have a plan to start a brand new website/blog or store, it can be anything then the best hosting server for you can be "Shared Solutions" also,
how Does Shared Hosting Work?
Now you got the point definition of shared hosting, wherein single server multiple users are connected, numbers can range to countless because it totally depends on the hosting server features package chosen.
For example:
Shared hosting with 2GB RAM/ 2 GB Bandwidth/ Storage 25GB SSD, this type of server cannot handle thousands of customers but "Yes" it does can handle up to more than 100+ users.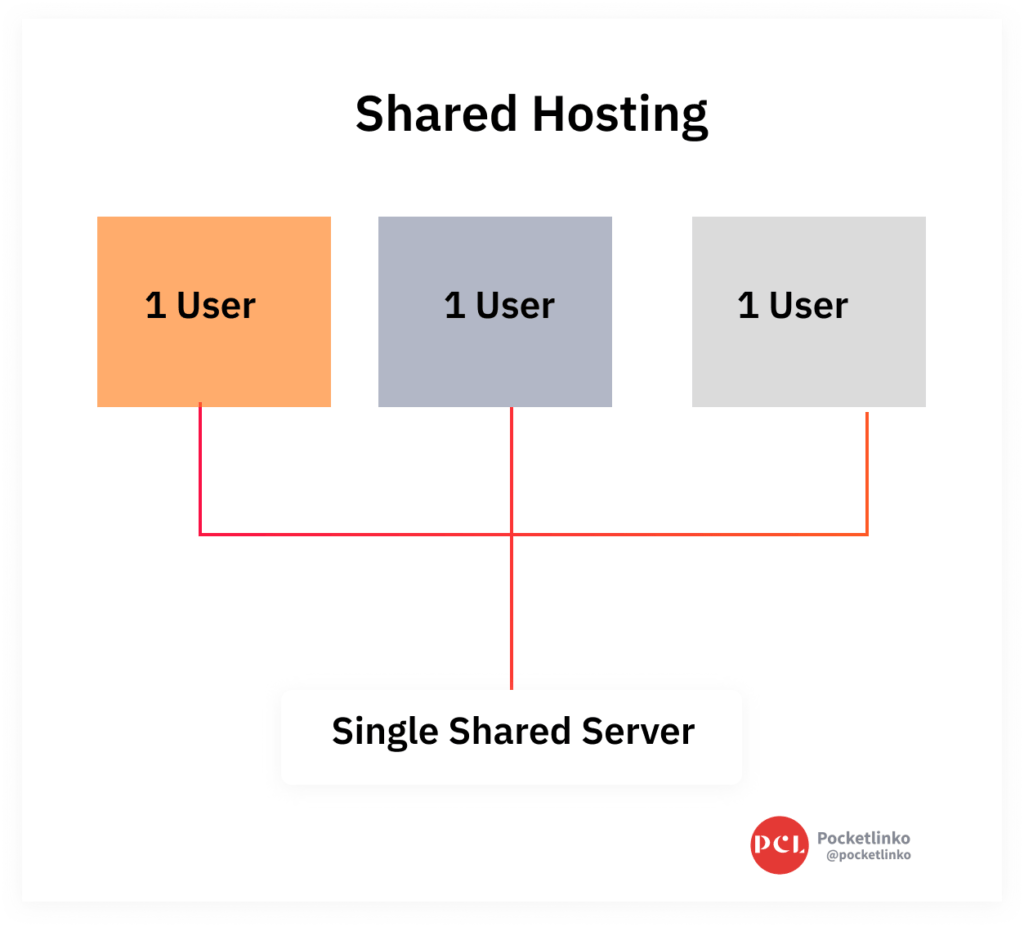 The number can range from a hundred to several thousand depending on the available hosting features, the more upper features such as RAM, Storage, it can handle more with smooth performance.
The best part, each website will have its own performance and share equal amount of space, storage and everything without lag and mess.
So there is no risk of using shared hosting, each customer's files are hosted privately on the server and have their own file directory tree. None of any users has access to either root or to each other files, so each users data are secured.
What's the pricing catch with a shared hosting server?
The simple answer relay's in- two factor's
Depends on the hosting company
Depends on the feature's hosting company provides with shared.
Because you're sharing space with other accounts under same server, almost many hosting companies are able to offer lower prices,
To put things in perspective, where a dedicated web server starts around $90 to $150/ per month can go to thousands of dollars whereas you can get shared hosting in its half of half pricing.
The cost for shared web hosting for any hosting company falls under the pricing of $0.99/per month to $9.99/per month.
Here are the shared pricing of some very known hosting companies around the globe,
What you should look for in shared hosting Plans?
Now you got the point "What is shared hosting, it's pricing, and basic information on how it works", now let me tell you some of the factors on how to pick a good shared hosting provider that helped me to craft our best Shared Hosting Plans article.
Here are some of the things you should for in Shared Hosting Plans:
.Storage Space: You have determined and find out how much disk space you get to store your database, files, and media, it totally depends on the website size.
.Uptime: You have to choose a website hosting provider that actually offers more than 99% uptime but you should aim for at least 99.9%.
.Customer Support: You have to choose a website hosting provider that actually offers more than 99% uptime but you should aim for at least 99.9%.
.Security: Almost many hosting providers does not offer good security features so third-party plugins are always there to keep better security but still there are., your data needs to be secured securely.
.Domain name: These days almost many hosting companies offer free domain names as an add-on. This can actually help you to save at least $10+.
.One-Click Install Applications: Platforms like CMS Wordpress, Joomla, and so on, web hosting company offers on click installations which helps in easy to install.
Bonus
There are countless web hosting providers offering shared hosting plans and offering to give the best features with performance.
But with so many options to choose from, it seems difficult to use one by one plan. To find the best and make the burden less,
I have already published the best article on " Best Shared Hosting Provider" which will help you to choose the perfect hosting provider and also have considered all the factors.
Advantages of shared web hosting
There are numerous benefits with shared hosting providers, here are some of the few :
Falls under the pricing budget, There is a huge cost advantage because since your server is shared among thousands of website owners, the hosting fee costs.
around $0.99-$9.25/per month.
It's easy to self-manage.
It's flexible.
You can host multiple domains.
Best for beginners to hosting websites under a tight budget.
Most Popular hosting provider offers free Cpanel with shared plans as an admin panel to control each element of the website you own.
This type of server can host any dynamic websites, from self-coded to themes and CMS so on.
Dis-Advantages of shared web hosting
Comparing to dedicated servers shared hosting does come in cheaper pricing but also has slower server response times than dedicated.
Some issues of CPU Usage, downtimes, and lagging can often be seen if countless visitors take place per minute.
Related Articles: