In today's post, I am going to share with you how easily you can host a website in under five minutes using some of the industry's best website hosting providers. This is an ultimate beginner-friendly guide to host a website easily, so if you have such questions popping out in your mind:
how can i host a website?
who can host a website?
how to get hosting for a website?
how much does it cost to host a website?
how to host a website from your computer?
Many more….
If such questions are on your mind and if not too I will be answering all the answers in today's guide. To create a website you will need a website and for that, it needs hosting.
If you're building a brand new website for the first time, then learning how to host and make it live is the only way your site will be published on the web, so your friends and families, visitors can visit the website but for that, you just need a solid host provider to get it done.
Think Web hosting as renting space on the server to hold your website files with full security, instead of buying and maintaining on your own, your host will take care of everything from security patches to all the IT Backend Stuff. Until and unless you won't set up your own server at home you will need to go through a web host company provider to get your site online.
There's an enormous amount of information available on the Internet about web hosting. The right way depends on multiple factors such as your technical experience, the type of website you want to build ( Blogs, e-commerce, SAAS, etc), and the size of your website.
The whole process is really simple and Trust me, thousands of people with minus zero computer programming experience launch new sites every day. That was my inspiration for creating the "How to host a website online" guide. I've broken down each hosting process into just five steps.
No matter what type of website you're creating, you'll be able to host it with ease (Just follow my handy table of contents to jump right into the post)…
how to host a website step by step process 2023
Here's a step by step procedure to host a website in six straightforward steps: They are:
Step 1: Research for a good web hosting providers
Step 2: Determine your budget
Step 3: Choose a hosting type you want
Step 4: Select Budget friendly hosting plan
Step 5: Register a Domain Name
Step 6: Changne your DNS Address
That was the gist. let's dig into these steps in a bit more expanded detail now. Keep reading for a look at each step.
Step#1: Research for good web hosting providers
The very first step for hosting your site online is to dig deep into research to find a great hosting provider for your business website so in later you don't have to face downtime, slow speed server issues. Web hosting is just like a consumer product or a service.
When you want to buy a new house or build, what would you do? How will you address the situation?
You wouldn't just buy the property first, and start making the living, No
You would do this through research. You would contact different real estate agents, check out all kinds of properties details, see what fits within your budget and make the perfect decision.
The same logic applies to Web Hosting World as well. Also, let me clear one doubt, All web hosting providers are not the same, each hosting provider has its own works and benefits, some are better than others.
How do you know which one is the right fit for your business website?
Well, if you just plan to turn on Google search engine and simply type "Web hosting providers" you'll end up with millions of results and in the end end up getting more confusing than before.

There are over more than 155,000,000 at the time of writing this article on the internet, and day by day the numbers go up and what makes it worse is that not all of the companies are legit, and checking each host at the same time is way too time-consuming and won't it be very productive.
As a professional in web hosting, someone who has been in this line for decades, I have personally compiled a list of the best web hosting providers that I was able to narrow down the top options, by personally checking its features, uptime, and performance, and more its customer support+ trust. Check out my list of the best web hosting providers.
There are lots of many others, Go through all the options I recommended because they are industry-leading hosting providers and learn their pricing, features to determine the right for you.
(You don't have to pick the provider in these steps) Just go through the features and pricing).
Step#2: Determine your budget
This question may have been popping out "how much does it cost to host a website", well your budget is one of the most crucial factors when you want to host a website" Because you can get web hosting for your site for less than $1.65/per month with hostinger.
My one worth piece of advice: " Do-not comprise with your budget" that's because google takes speed as a ranking factor and if you pick up cheap hosting provider fail to have better improve loading speed then your site neither grows nor in some cases if even does not end up showing in search engines.
There are lots of other factors to consider but one of the hype factors is speed.
Cheap does not mean better always in case, cheap web hosting is always a sign of a bad host provider because of low features, speed, bandwidth, and storage, and one day you will end up upgrading to higher features.
Hosting pricing depends on lots of factors such as bandwidth, storage, domains, features, security, and other considerable factors.
How much does web hosting cost?
You can find hosting providers for less than $1 per month and goes up to 1,000 per month. If you have an idea of what you are going to spend at least will help you narrow down to find out the perfect hosting providers.
That being said you can find better plenty of good affordable hosting options from here. In case if you still have no idea what kind of hosting solution is better and fit under your budget, Here are some of my great tips:
For example, if you are going to start your own personal blog and not excepting tons of traffic, you can go ahead with the pricing of $3 to $10 per month for a better hosting provider for that ( I recommend BlueHost or Dreamhost) that's because both hosting providers are recommended by WordPress itself.
Ecommerce business owners and large enterprise businesses would likely want a look toward higher pricing tiers for this I recommend (Kinsta hosting provider and WPX, when it comes to high-traffic hosting providers both hosts are sold super-notch).
Step#3: Choose a hosting type you want
Now you have an idea of your hosting budget and you've found good providers. Now we are very close to host a website and make it online. Now let's take a look at the type of hosting to give you a basic idea of what you can expect from each server.
There are four main options to choose from:
Shared Hosting
VPS Hosting
Dedicated Hosting
Cloud Hosting
I'll give you a brief overview of each server so you can figure out which one to use for your website.
Shared hosting is usually considered as cheapest hosting provider and the best choice if you're a beginner and have no familiarity with what servers look like. They are widely considered by new website owners, small businesses, and personal blogs. In simple words people who are just starting.
They are ideal for websites that won't be getting high volumes of traffic per month and don't require a ton of technical knowledge to get started to host the first website. What you really have to understand about Shared Hosting is you will be sharing server resources with others sites a well.
That's exactly living in an apartment with other people whom you don't know and the same logic applies to shared hosting, you never know how many websites are hosted in shared and that is why they are one of the most affordable hosting providers on the market.
You can take a look at my guide to the reviews of the best shared hosting companies to find the right one if you're interested in this type of hosting option.
VPS Hosting
VPS stands for virtual private servers. This is a type of shared hosting where one server is separated into multiple virtual machines where you get access to a good amount of private resources that makes it easy to handle in a spike of traffics. They are one step more advanced than shared hosting.
With VPS you won't be sharing any type of resources with other websites, so you will get better site performance under this type of hosting provider, except bandwidth, disk space, uptimes, and faster loading speeds with a VPS plan.
This is a great option for sites that will be excepting higher volumes of traffics and need better speed, uptime, and performance load time. Using VPS hosting plan you can control everything related to your server because almost with every VPS Plans we get to see Root access.
In love with virtual private servers, check out my reviews of the best VPS hosting Providers.
Dedicated Hosting
Dedicated hosting is usually considered an upgrade for a website from a normal server to a powered private server. Dedicated hosting means everything is yours from RAM TO CPU TO SERVERS everything is yours. This means that you won't be sharing your server's resources with other websites.
New websites do not need a dedicated server. This is a hosting type for large business enterprises who expect to get traffic upwards of 50,000 or 100,00+ visitors per month, you should consider a dedicated hosting plan. It will help to grow faster with smooth performance.
You will also need a few technical skills for this hosting type because you get complete control over your server settings and hosting environment. That is why larger website ecommerce businesses choose a dedicated server with strict security such as one that involves people database, medical data, or financial information should be using a dedicated server.
You won't get benefits with shared, VPS, or cloud hosting plans. They are the top of the line in webs hosting, and if you really need to see extreme progress in terms of speed and customer satisfaction then no other hosting server is better than dedicated, it's the best nit also the most expensive.
The biggest cons of using a dedicated server are their server price is high. If you're interested in Dedicated hosting, check out my reviews on the best-dedicated hosting providers. ( Inside India? Check out the best-dedicated host in India)
Cloud Hosting
Cloud Hosting is in line between shared and VPS hosting providers, while at the same time you get better-shared service and get cheaper in pricing than a VPS plan. That is why cloud hosting is also called an inline house combination of both hosting servers providers.
This is a hosting type for growing websites that need to scale servers as the site gets bigger in size. If your volume of traffic overpassed above 50,000 monthly visitors then you should consider cloud hosting. By choosing this type of hosting option, your site will run on multiple cloud servers which helps in decreasing the value of Downtime.
If one server fails to respond then another server auto gets connected to your website and helps make the website visible to everyone. (You cant get such inline features with other shared and VPS hosts.)
Check out my list of the best cloud hosting companies!
Step#4: Select Budget-friendly hosting plan
Now you know the hosting type you want now it's finally time to choose hosting plans that fit your budget. I am going to share some of the considerable factors you need to look at when selecting a web hosting plan. (Keep in mind budget straightway).
Uptime
Uptime is one of the most important factors in web hosting, If your hosting provider isn't offering a minimum uptime promise of 99.9% uptime, it's time to move on. Most web hosting offers a decent uptime guarantee in their hosting plans and in case if they fail to meet if they will compensate via credits which can be used for the next billing process.
Customer Support
Aside from performance, uptime, features, and reputation of the company, customer support is one step level above, That means not many people consider customer support as a factor when choosing a hosting provider. Customer support should be your next main priority because choosing any product without customer support is the same as choosing a dead product.
In the online world, you never know what wrong things could be encountered with your website and server and you cannot figure everything along that is where customer support takes place. It's natural to encounter bad things in a perfect world, it happens to everyone.
Aside from customer support, you should also take a look for providers that have a knowledge base and blog resources that will teach you to fix and learn certain things directly from in-house experts of hosting providers.
Almost every web hosting provider I have recommended in this article offers 24/7/365 support along with the handmade article to help you fix the probelm yourself from the beginner point of view. Try to look for plans that offer clock support by live chat, phone, or email.
Resources
You need to look for budget-friendly plans that have plenty amount of resources to accommodate your website content and traffic.
The very first thing to look at is RAM storage. 2 GB – 4GB of RAM is enough for new websites. Consider the second one is bandwidth, the same 120 GB of bandwidth is enough for 2,000 daily page loads for a 4GB website.
Additional features, freebies, addons
Here are some common features to stare for:
Free domain name for the very first year
Free SSL
Free cPanel
Free site builder
Free Web Migration
Unlimited Email accounts
Automatic backups
Google ads credits
Money back gurantee
30 days money-back guarantee widely seems to be provided by web hosting company in large scale but I've seen host company offers up to 60- 97 days money-back promise depend on the plans you choose as well.
Step#5: Register a domain name
The domain name is your digital address, the heart of your website without a domain name no public can visit your site. You must need to have at least a domain name so everyone will get to access your website files and content.
Just like our domain name is "pocketlinko.com".
I included this step last because there are almost many hosting providers that sometimes offer free domain names depending on the plan and provider you go with. But you can register your domain with a third-party website too or you can also register your domain name with the same hosting provider you go with.
I personally loved to buy hosting and domain names together because it's simple, hassle-free, and less time-consuming, else if you buy another third-party registrar more steps are involved and consumed more time. You'll have to set the nameservers on the domain registrar's website to point to the addresses provided by your web host.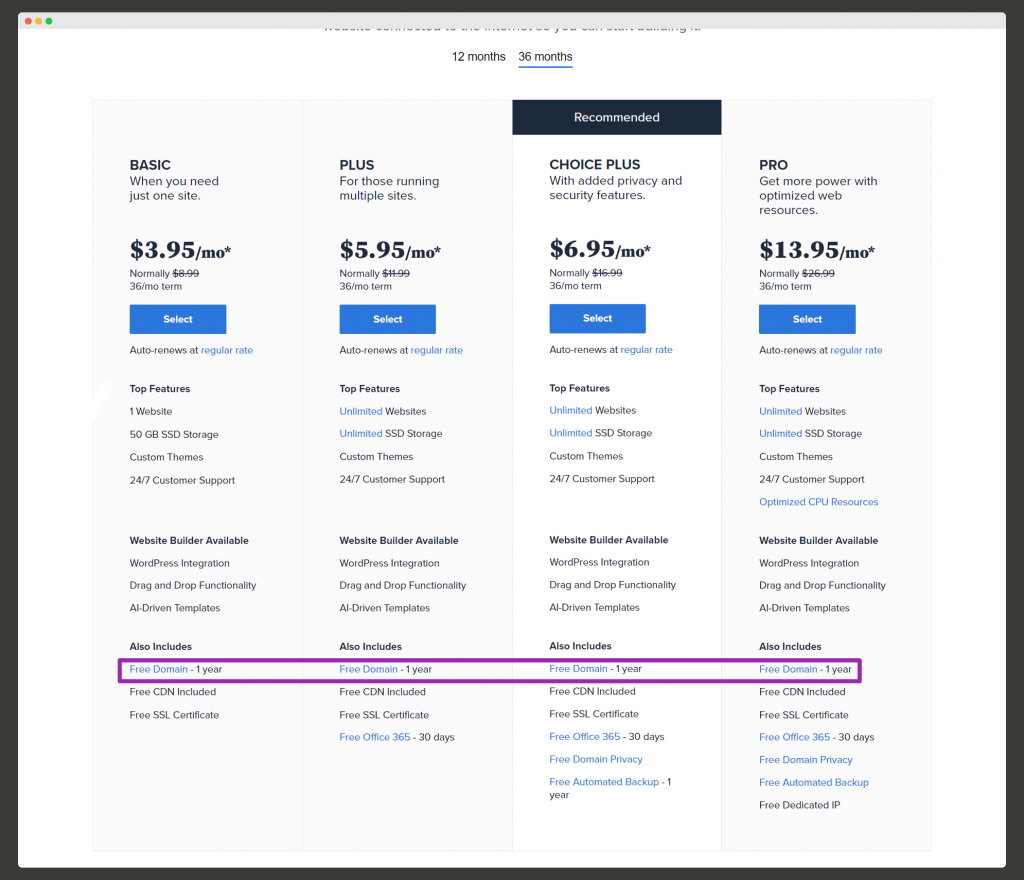 Regardless of where you get a domain from, all the above steps need to be done and completed for your website to be live on the web. The good news is you can get a free domain name from your web host provider itself. Just like Bluehost offers free domain to its users who signup for its subscription plans.
Step#6: Change your DNS Address
Once you purchase your web hosting, you will get nameservers also know as Domain Name Servers ( DNS), These pointers contain IP addresses.
You have to change the nameservers of your domain so your website gets connected with the hosting plan, this is how you can do it:
Login to your hosting dashboard and see for Domain control panel
Click on the domain name you wnt to change the namesevers for.
In the domain regristration panel, click on the NameSevers option and replace the existing nameservers with the one provided by your current host.
These steps are only for those when you register with a third-party provider else if you choose the same company for both hosting and domain you don't necessarily have to go with steps (Mostly). You must confirm if DNS is correct or not.
What is web hosting?
Every single website you visit is online via a server which is done by hosting. A web hosting provider maintains the server and technology files and every data to connect your site to the world internet.
When an Internet visitor wants to visit your website, they simply need to type your domain addresses into their browser, within one few clicks it connects with the server and your pages and gets delivered to the user.
Final Words
Now you got to know, Hosting a website isn't complicated, the whole process can be done in just six simple steps:
Research for finding the right web hosting provider
Choose a hosting type you want
Select Budget friendly hosting plan
Register a Domain Name
Changne your DNS Address
Follow the above steps to make your site live and prepare yourself to handle a live website😘! If you are confused with the domain name process then simply you can either go for a third party or choose a web host provider that offers a free domain name.
The ultimate choice is yours, and every choice is always the best! Follow some of our expert reviews and guides of the top web hosting providers!