Website Speed Optimization is one of the main roles in the website to increase conversion rates and traffics.
Do you know that a single -second delay in website speed decreases conversion by 8%
Every Website Owner wants to increase traffic and conversion rates and reduce their extra rates.
According to experts studies,
A website not having speed optimization and the poor loading speed is the main key reason why traffic and revenue are decreasing.
It definitely makes sense to improve your website loading speed as much as possible. 40% of users will leave your website if it takes more than two seconds to load.
This is a fundamental reason why exit rates and traffic is decreasing a single second.
Let's dive into the main point …
Why Page Speed Is Important?
500ms Slow down equals 20% Decrease in AD Revenue – Google
100ms Slowdown can mean a 1% Decrease in Revenue – Amazon
400ms improvement in load time translated to a 9% increase in traffic – Yahoo
27% of users say that visiting a slow site makes them likely to visit a competitor.
Google is so committed to speed and User Experience that they are, right within their search results, experimenting with affixing a "SLOW" label to slower websites…
You can increase your website for free and you can do it without spending any money. It doesn't matter how fast your site is right now it can surely be quicker!
Let's move to the main step to increase your website speed
Website Speed Optimization -My Favourite 10X Techniques
Increasing your website speed will help you to reduce bounce rate and page loading time and helps your audience to stick with the article.
You can easily improve your website loading speed without hiring website developer, you will just need the right bend of
So follow my steps to make your website fast in no time with this article
Stick with article…..
1. Examine Your Current Website Speed
Before we do anything we just need to examine our current website speed so that it will be compared with the next result after reading this article.
Head over to any website speed load data checker
And…
I Recommend you to choose these three best website speed and loading speed data tools
These three tools are one of my best websites speed optimization tools which I use to get the data of my website.

Every website optimization tools you will be using will have the same interface,
Simply…
Copy and paste your website URL
Wait for the result…
The results of this might be shocking but don't worry, we are going to take of everything together in a moment and make it to 100% easily.


Now its time to go on the second step
2. Install A Caching Plugins
If you don't have already have installed one good caching plugin, install it now!
According to expert bloggers they had been always recommended to use these two website optimization tools
It's a swift and easy way to install a caching plugin on your website. I have been using WP Rocket cache plugin to reduce the size of pages.
Let me tell you,
What is Caching and how it works..?
Simply…
When you visit a website, the server of the website has to load data, images, the text then it sends you all the data images, video and text in order to display on your screen.
Enabling caching means:
The server doesn't have to wait time thinking about generating every page because it is cached.
Your Search engine browser doesn't have to download it already download before like logs, images.
Enabling this website optimization tool will significantly rocket your website pages and load time.
What is Caching – Caching is a process of collecting the prevailing version of your website on the hosting and presenting this version until your website is updated. This means that the web page doesn't render over and over again for each user.
3. Optimize Your Images To Reduce Load time
Everyone loves eye-catching images on a website mainly in e-commerce websites image is a vital part of their successful site.
A lot of photos, graphs, illustrations, product images improve users engagement but it has a negative role too
Heres the role…
Images are one of the major factors for contributing your website slow
That's because Image, file, graphics sizes are large and consume more storage of hosting and data and increase loading time.
Here how I saved 46% of images sizes across my pocketlinko blog
The best and fast way to compress image size without compromising the quality of the picture is to use image compression tools and plugins
I use Shortpixel to reduce my image size, You can use any plugins to reduce it doesn't matter.
I suggest you use a short pixel Compression because…
It is free and trustable and one can use WP Smush if you are on serious compression for you only it takes mins to reduce all the size with WP Smush.
Two Plugins you must use in order to reduce the image size here are they
4. Reduce The Number of Plugins
Plugins are the main component of the website. They give numerous of features suggested by third parties. Plugins are good to use but
If you use groups of plugins on your website it dramatically increases loading speed and decreases the user experience.
The more you use plugins the more resource is consumed and increase page load time. The websites take more time to load and more problems you will face and security issues can appear at any time.
It will be better to deactivate those plugins which are not of works.
Heres a Tip to know which on one of the plugins is consuming is more loading time
Head over to GT Metrix website speed testing tool


Step 2– Put your website URL and Test your site
Step 3– You will get a large amount of javascript files and errors
It's not important that numbers of plugins only makes your website load speed slow also try to avoid such plugins that load a lot of scripts and techniques that generate a lot of databases.
5. Enable Lazy Load Your Images & Videos
This step is to enable lazy load in your all media files
To Understand what is lazy loading?
Hers an Example of it…
Lazy load basically do these When someone enters in the post the images and graphics are not suddenly download, until and unless the user scrolls down to the post,
It really helps to optimize images and reduce page loading time.
Lazy loading not only enables the image loading it also does as per comments section areas and many more.
6.Setup Cloud Flare
Cloud flare is a content delivery network system that originates with a collection of other performing-enhancing features.
What does CDN Means You might have a question?
Let me clear it to you,
CDN is a content delivery network which is a kit of web servers distributed crosswise various regions location that provides web content to the end-users with regard to their location.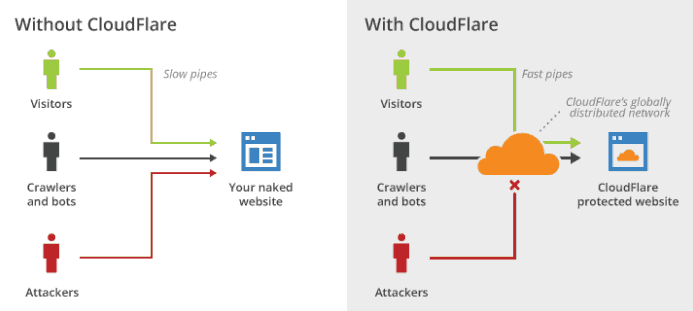 CDN will help to optimize your website and also prevent from malware and hackers. When you host a website in a single server, all users are sent to the same plumbing.
The use of Cloudflare or any CDN network providers will help users to redirect to the nearest server.
Here are some 5 Advanced Features that CDN Wil provide you
7.Migrate To Better Hosting
Do you know hosting also operates one of the major roles in website speed and reducing the size?
Heres the answer…
Yes, hosting provides and plays an important role in the performance of the website.
Never choose free hosting and cheap plan service if you really want to do online business and blogging. If you choose shared hosting server then you Should complete with other website traffic to get your resources.
If a large amount of traffic gets into your side in a shared hosting plan, your website might be slow and might crash too, there are various reason to occur.
These are the four best hosting you must use in order to run a good online business and also chosen by experts
8. Reduce the number of CSS and JavaScript codes and files
Every website contain CSS and Javascript Files in order to host a website, but if the number of more CSS and Javascript is more it leads to a large number of HTTP Request when someone stays to your website
If you can reduce the javascript and CSS file this will rocket and speed up your website furtherer fast. This will reduce the numerous HTTP Request and help in website speed optimization.
Let me tell you how you can check your website CSS And javascript file for free?
Sounds Good, Lets us dive …
Head over to this website
#Step 1 – Dropdown the URL of your website
#Step 2- Check the bottom and wait for the result
The result might shock you with my website
You can fix all errors and CSS files with this website
You all need to do is just copy the code of errors and pastedown into JavaScript Compressor
Heres an example of it
It will simply compress your file and give you the codes and reduce and increase website speed optimization.
9. Decrease and avoid Redirects
When website redirects to the site it creates HTTP Requests which negatively impact the performance of your website.
It will better to fix all the redirects as soon as possible as we advise you, the more you get redirects the more you will have a chance of bounce rates.
You must identify all redirects on your page by running a site audit. You can use any tools to check it but i personally use Screaming Frog to identify the redirects.
10. Decrease the utilisation of Web fonts
Custom web fonts are used on every website in the online community, but many of the sites have load improperly.
This causes a lot of problem for page loading, bounce rate, conversional rates, page loading time, blocked rendering fonts etc.
Do you know Web fonts add extra HTTP Requests to the users when they visit your website?

Its time to break this ring and lets head over to the steps while considered when loading a custom font
Use the correct format fonts
Pre loads fonts
Avoid Invisible text during font loading
Use

WOFF2

Fonts for modern browser
This is the last step for website speed optimization
#Test Your Website Again
Once you have followed this article and made implement all changes
Its time to check your website optimization, so head over to the tools once again
Now simply …
Run each of your URLs thought them again to see if your website has improved (I guarantee your website has rocket speed)
These are the result I had before

But after lots of testing and implementing these setting and my 10x techniques
I was able to change and make a significant improvement-
Here are some of the headlines
Page Speed Score Increased bt 94% ( Before 87%)
Numbers of request reduced by 6%( Before 79)
Average load time reduced by 50%( 3,1 to 2,0 S)

All of these improvements were made with my own 10x Techniques to website optimization I have shared you above
Let me know down in the comments with screenshots how much your website got improvement!
Winding Up
Your website speed is the most important success of your business
Let me tell you
Not only website speed is important to google officials ranking factor but Your customer and visitors is also one ranking factor.
If you have followed anyone technique from above you will drastically see changes in your website speed optimization, bounce rates.
You might love to read this article…
FAQs: About Website Speed Optimization
Is WebPage Speed Is Importnant To GoogleRanking Factor?
Not only website speed is important to google officials ranking factor but Your customer and visitors is also one ranking factor.