So finally you decided to use the most popular PHP framework Laravel for your next billion-dollar applications and searching for the best web hosting for laravel websites and applications host providers.
I got covered industry-leading fastest best web hosting services for laravel in today's market.
Here is my updated fresh in–depth reviews and comparison of the best web hosting providers for laravel. All the laravel hosts I am going to share has specific custom plans only made for your larval billion dollar applications and will take care all the technical issue, uptime, and uniquely optimized for laravel developers for top conversations.
Jump right into the lists you" re interested in? Just use our handy Table of contents:
---
---
What is Laravel?
Laravel is open source most popular web appliation PHP framework orginally born in 2011 by taylor Oytwell. It is used to develop web appliations much quickly.
If you want to have experince and utilize the best features such query builder, restful routing, eloquent and blade, etc then no doubt! Larvel is the perfect framework for you, for your next application project.
While you cannot use shared, or wordpress hosting blindly for the best experience, you have to find out the web hosting providers officially has a custom plan for laravel developers.
We at pocketlinko team has already invsted a lot of time to find out the perfect laravel hosting with no time for you. That's where this gudide helps you to pick the best hosting for laravel users.
Larvel really makes it easy to create a simple development process with-out a long process and affecting the functionality of the application which uses MVC architecture for having clarity between logic and presentation.
---
How to Choose The Best Web Hosting Services For Laravel Sites. Applications?
Not every web hosting provider offers plans for laravel developers, however, when building PHP-based applications, and using the Laravel framework to build can be the best choice.
So what makes hosting plans compatible and how to find the best laravel host providers so you can deploy your applications with no single issue and smooth with no downtime of tools?
Here are some of the best requirement I used while finding today's PHP laravel host providers:
Host provider must support at least PHP 7.0+
SSH access
Open SSL PHP Extension
PDO PHP Extension
Mbstring PHP Extension
XML PHP Extension
Tokenizer PHP Extension
Best clock support 24/7/365
99.9% Uptime promise
Both manual and auto installer.
---
Five Best Web Hosting Service Providers for Laravel 2022
Here's our in-depth section, where I am going to share with you detailed guide for top host services for laravel applications including some coupon codes and links.
1. CloudWays: Best Cloud Server Hosting For Laravel Developers
Cloudways offers the best hosting for laravel anyone out here with the best features with industry top cloud servers. If you are searching for cloud server hosting platform to host your applications then,
Cloudways is the best hosting plan for cloud out here from our list. When it comes to web hosting for PHP laravel cloudways has made specific plans for only laravel developers.
This cloud hosting platform offers the world top five best cloud servers in very affordable pricing:
Best Features In CloudWays For Laravel Hosting
Star deploying your Laravel applications on a powerful cloud hosting that promises 300x faster speed and optimized web performance.
All cloudways cloud servers come with monthly plans and the best part you only have to pay for the resources your applications uses per hour.
Here are some of the best features cloudways offers for laravel developers:
1-click Laravel Install
Optimize for laravel
24/7/365 clock support
Advance Cache
Optimized Stack
PHP 7.3+ Ready Servers
HTTP/2 Supported
Deploy your applications like A Pro
Pre-configured optimization tools including PHP-FPM, Supervisord, Redis & more others.
CloudWays CDN
They also offer 65+ data centers around the globe offering 24/7/365 local language support for many countries. they have more than 50+ technical support members helping millions of users around the globe to launch their own sites.
The pricing is fully dependent on the server you choose to host and storage, bandwidth and ram are totally control on your hand this is why they are called the best-managed cloud host platform company
Cloudways offer 96+ best unique with their all plans, a best custom hosting solutions for laravel developement.
Here's a below some shots of cloudways servers and pricing,
The starting pricing of cloudways for both digital ocean and Linode is $10/month they also offer monthly and yearly payments with any time upgrade and downgrade feature with no long-term contract.
If you plan to buy any server plans and let me tell you they have a detailed guide on how to get started and deploy and install laravel on digital ocean, Linode, AWS, Google.
You will get an SSD cloud server based hosting with CDN and a dedicated IP address for full control your server. Cloudways gives you the best security firewalls and firmware updates daily.
Even if your applications crash they have advanced technology called "Auto healing servers" which helps you backup the applications every hours for 7 days or you can always choose on demand backups with specific time.
If cloudways got your attention and on a plan to purchase thier servers let me give you a discount as promised!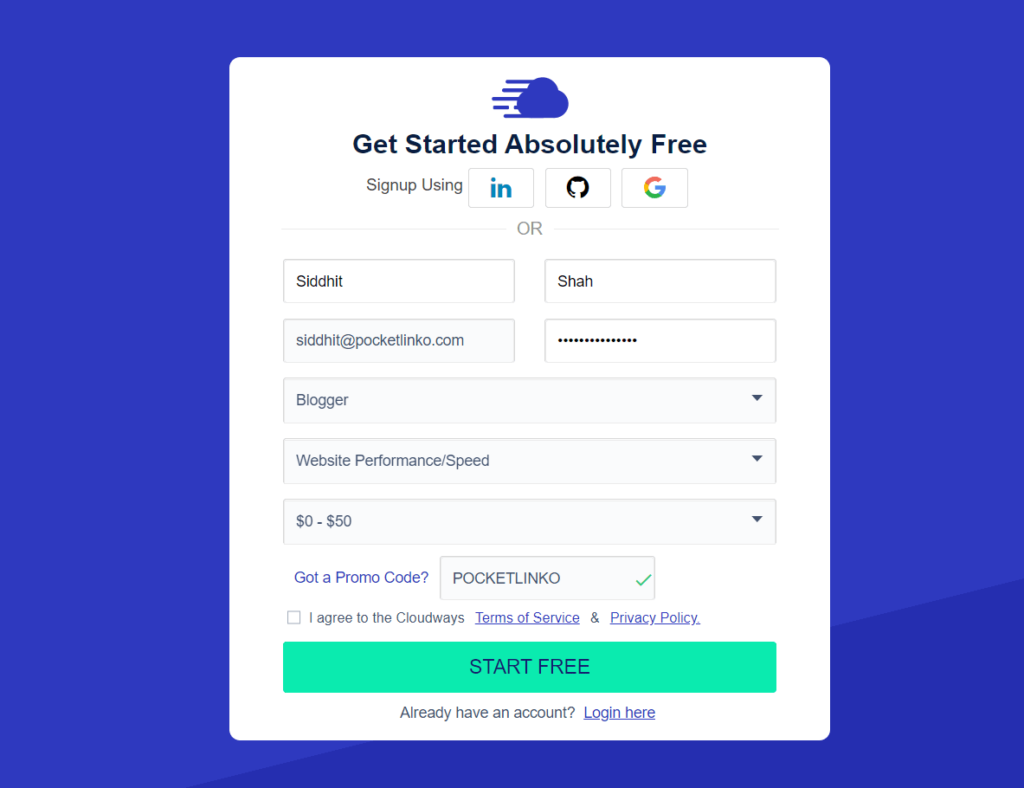 Use Our Partner Coupon Code [ POCKETLINKO ] where you can save a flat 15% discount on the first-month invoice which will cost you down.
They also offer flat 3 days trial to our readers without credit cards.
You no longer need to enter any payment modes until the trial periods end and once it ends all you have to enter the payment mode and buy their plans and save a discount.
Starts at $10/ per month for digital and linode servers
Custom Plans for laravel developers
Go Live in Minutes
Renowned IaaS Providers
Add Free Team Members
SSH and SFTP Access
25+Data centers
Automatic Backups and free SSL
Staging Area & URLs
Free migrations
Free CloudWays Inbuilt CDN
You can try cloudways for free today you no longer need any credit card to get started. You can try them out at no risk whatsoever.
"Cloudways is the best laravel hosting provider from our list offering 96+ best features with 3 days of free trial with 30days flat money back promise with caching and lots et extra CDN plugins etc.
---
2. DreamHost: Best Hosting For Laravel Developers Projects & Sites
Dreamhost is our second best hosting for laravel that comes for cloudways. Let me clear you cloudways ranks for the best cloud server laravel hosting,
Where…
Dreamhost is one of the best web hosting among the list for both managed and unmanaged and shared laravel host.
This web hosting was born in 1996, one of the oldest web hosting providers on the planet officially recommended by wordpress and trusted by millions of active domains and sites including us.
For laravel developers, Dreamhost is one the best easiest developer web hosting in the indsutry with once click deploy feature. It takes less than 60seconds to make your laravel applications host live with dreamhost.
Best Features In DreamHost For Laravel Hosting
With all dreamhost laravel hosting plans, you can have the feature of full root and full control with a bunch of DevOps tools you will love to use.
Each web hosting plan comes with SSD disks with accelerated networks with 24/7/3654 clock support directly from experts. They have custom plans for developers from which you can deploy anything you want with your codes.
PHP 7.2
MySQL databases
PostgreSQL
Mongo DB
Redis
PhpMyAdmin
Free SSL
Python
Perl 5
Ruby/Ruby on Rails
With dreamhost you can secure your files with cloud backups using QNAP, nextCloud/OwnCloud, CloudBerry, DropShare, Retrospect, and other popular apps with full SSD fastest disk.
They also offers lots of development tools that no one offers and speed like one else offers a dreamhost that grows with you. Their all plans are fully built on cloud infrastructure.
💸 DreamHost Laravel Developer Pricing/ Month
Dreamhost offers pay-to-go model system pricing which means you only have to pay for the resources you use on an hourly basis on the size of servers each developer plans runs with fully cloud infrastructure at cheap prices.
512 MB of RAM Server — $0.0075 per hour/ Ideal for Tinkering (maximum $4.50 per month)
2 GB of RAM Server — $0.02 per hour/ Ideal for Websites/ (maximum $12 per month)
8 GB of RAM Server — $0.08 per hour/ Ideal for Databases/ (max $48 per month)
They offer three pricing plan tiers where the basic laravel plan pricing comes with starting pricing of $0.0075 per hour which $4/per month.
The other benefical part when you signup you will not bill for starting days, you're billed based on your monthly usage.
So what you get from $4/per month?
CPU: 1
Storage: 80 GB SSD Disk with 100 GB Block Storage included
Bandwidth: Unlimited
Full Root and Full Control
Bunch of development tools
With Dreamhost cloud computing for laravel will be only charged for 25days per month and the rest are always a bonus for free which 600 hours (25 days)
---
Hostinger is our cheapest laravel web hosting provider on our list offering the best pricing plans.
This web hosting is widely famous for its cheap pricing plans only which makes them the most affordable host provider for your next laravel billion-dollar projects.
Their cheapest laravel hosting falls under the pricing of $0.99/per month. If you are developer and have very low budget bucks and want to start your own laravel applications then no doubt! Hostinger is still the option for you.
Best Features In Hostinger Laravel Plans
All hostinger laravel plans come with 99.9% uptime promise with a 30days money back promise with offering free web builder, domains, SSL and other buch of features,
Such as…
99.9% uptime promise
30days money back promise
PHP 5.2 TO 7.2+
HTTP/2
Unlimited email
Laravel acceleration
Cache Manager
Optimized Stack
Free domain
SSL
Google ads credit
Free CDN
Hostgator uses custom-made panels for their customers with the latest technologies like PHP7+, Firewalls, DDoS Protection, etc from here you can organize and control each element of your website.
💸 Hostinger Laravel Developer Pricing/ Month
Hostinger laravel plans comes with three tiers which are fully shared hosting and what can you cannot except cloud servers by paying $0.99/ per month.
Hostinger single shared plans allows you to host one project with one domain with 10GB bandwidth, if you want higher features then you can always upgrade with one click which costs you only $1.89.
Single Shared – from $0.99 per month for a single website and one email account with 10000 visits/m.
Premium Shared – from $2.89 per month for unlimited websites and email accounts 25000 visits/m
Business Shared – from $3.99 per month for unlimited websites, daily backups, and improved performance with 100000 visits.
New Hostinger laravel developers Customers can get laravel shared plans for just $0.99/ per month with a 90% discount.
So what you get from $0.99/ per month?
Websites: 1
Storage: 10Gb SSD
Visitors: 10k
Email: 1
Free SSL
No free domain name
30 Days Money Back Guarantee
Managed WordPress
For the best uptime, features, free domain name, website builder, google ads credit and more storage and email I would recommend you to go with thier premium shared hosting plans
Go with hostinger cheap plans for sure with quality features based on pricing that no one else offers.
---
5. A2 Hosting: Best Laravel Hosting For Faster Performance
Want a larvel hosting with 20x faster turbo boost server and with blaazing fast performance?
I know you do.
A2 hosting is our another most pouplar web hosting proiders for laravel developers offering variety of hosting services for every type of useres.
This web hosting provider- offers blazing faster server hosting for laravel with Swift Server platform. They also offer turbo servers to get 20x faster performance than standard ones.
Best Features In A2 Hosting For Laravel Plans
Their all a2 hosting laravel plans are budget friendly with fine-tuned, blazing fast and are ready servers for your applications!
With a2 hosting, you can get the best versions of PHP with hosting from v5.6 to 8.0 including lots of other third-party frameworks such as CodeIgniter.
This web hosting more focused on speed and performance than pricing this is why a2 hosting brand tag and slogan is "Our Speed, Your Success".
💸 A2 Hosting Laravel Developer Pricing/ Month
A2 Hosting offers three tiers for laravel plans. The basic pricing plans come with the pricing of $10.99/per month but using,
With our discount links, you can get it for only $2.99/per month with a 72% discount on their basic plans.
A2 Hosting for laravel developers comes with the pricing of $2.99/ per month and the best part each plan runs with full cloud infrastructure.
Startup ($2.99) : 1 website/ 100 GB SSD Storage/ free money back guaranteed and site migrations/Great Start For A Single Site.
Drive ( $4.99) : Unlimited Websites/ Unlimited SSD Storage/ Free & Easy Site Migration/ Money-Back Guarantee/ More Sites & 2X Resources.
Turbo Boost ( $9.99) : Unlimited Websites/ Unlimited NVMe Storage/ Easy Site Migration/ Turbo (Up To 20X Faster)/ Money-Back Guarantee
Turbo Max ( $14.99) : Unlimited Websites/ Unlimited NVMe Storage/ Easy Site Migration/ Turbo (Up To 20X Faster)/ Money-Back Guarantee/ 5X More resources.
All plans come with huge discounts using our discount special link. They also offer monthly and yearly pricing system. SO there is no risk of using at all with any time money-back guarantee.
A2 hosting guarantees up to 20x speeds with 99.9% uptime and 24/7/365 trained support, assistance so you don't have to worry about your site going down.
New A2 Hosting laravel developers Customers can get laravel plans for just $2.99/ per month with a 72% discount instead of paying $10.99/per month
So what you get from $2.99/ per month?
Basic Developer pricing $2.99/ per month
Free Cloudflare Premium CDN
Free website builder
Anytime Money-Back Guarantee
Various data center
Guaranteed 99.99% monthly uptime
Developer friendly
Free site transfer
20X turbo servers
They also offer free cPanel to our customers with one-click installation features with lots of other third-party PHP plugins with premium Cloudflare CDN.
---
5. Nexcess: Acceleration Cloud Laravel Developer Host
Nexcess is a managed cloud hosting platform for laravel developers and product of well know host brand liquid web.
This web hosting offers acceleration cloud laravel developer hosting with higher performance then go with nexcess from overall the hosting. This web hosting is specially optimized for developer use only.
They have custom pre-made plans which is only for developers with the starting pricing of $5/per month. They offer one of the better managed host promised to load applications server with 13x boast faster than standard web hosting services.
They utilize the resources of SSDS and RAID for cloud storage along with the latest technologies like MY SQL, PHP, etc
💸 Nexcess For developers Pricing/ Month
Nexcess offers four laravel pricing plans, the basic pricing starts with the pricing of $5/per month with 10GB SSD disk space.
Here's a look at the pricing plans they offer: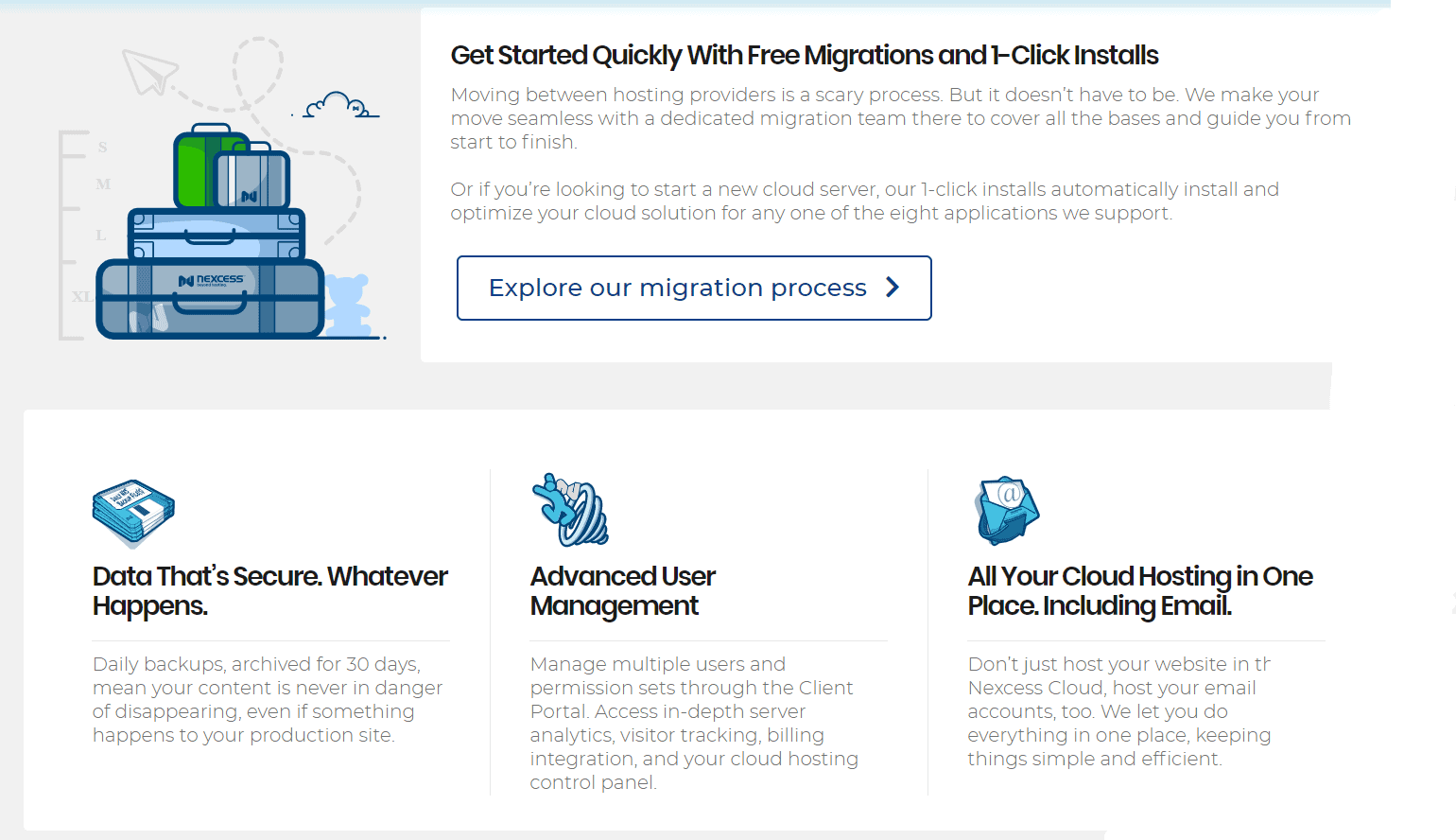 XS ($5/per month): 10Gb disk space/ 50GB bandwidth
S ($10/ per month): 30Gb disk space/ 150GB bandwidth
M ($20/ per month): 60GB disk space/ 300 GB Bandwidth
L ( $50/ per month) : 150Gb disk space/ 800 GB Bandwidth
Using Our Promocode guide you can get nexcess laravel web hosting with 50% discount also with four months of free web hosting.
Click here to read our in-depth liquid web coupon code
So what you get from $5/ per month?
DiskSpace: 10GB SSD
Bandwidth: 50GB
Unrivaled Security and PCI Compliance
24/7/ 365 Customer service
Choose from 6 different plans
Free Migrations and 1-Click Installs
Advanced User Management
PCI Compliance as Standard
Latest Technology
The best part you can either pay by hourly or monthly and they have built their own custom cloud accelerator which makes the website load more 10x faster which makes an extra layer in front of the cloud stack that boosts load times.
---
🏆 Summary: Best best laravel hosting 2022
Cloudways: If you are searching for the best cloud server for your laravel applications projects. Then cloudways is the perfect option for your billion-dollar ideas to work.
Dreamhost: Dreamhost the best options from our list offering 97days money back promise with the best pricing system overall list. If you are no interested in a cloud server then go with Dreamhost no need to look for another list.
Hostinger: Cheapest laravel hosting on our list with the pricing of $0.99/per month with our discount links.
A2hosting: Best Laravel Hosting For Faster Performance with 20x turbo server with premium Cloudflare CDN and other third-party PHP plugins.
Nexcess: Acceleration Cloud Laravel Developer Host with hourly pricing system.
---
Final Notes
All the laravel developer hosting I shared with you are industry leading web hosting providers so you can choose with any hosting you want based on the pricing and features.
If you want the best laravel web hosting providers then no doubt Dreamhost is the best overall from the list, where if you want cloud servers then you can go with cloudways and for cheap go with hostinger.
Thank you for reading our today article and I hope you found your best laravel hosting for 2022  under your budget with the best performance and speed.
Now I want to hear from you! What are your thoughts on the list of hosting best website hosting laravel "
Also..
Have used any of this hosting🤔 ? Share your picks with our community in the comment section!