There are a lot of possible platforms to build your online store on. These include SaaS solutions like Shopify or BigCommerce, or even powerful WordPress ecommerce plugins like WooCommerce.
All of these options come with advantages but nothing quite compares to turning your current WordPress site into an online store. You could have had this platform just as easily—blogging and building followership one day and then the next day launching a product gallery with eBooks and merchandise.
In your endeavour to build an WP online store, you'll need the plugin that can help you sell products. Want to know which is the best plugin for selling products on WordPress?
Every entrepreneur knows how important it is to have the right wordpress ecommerce tools. When you're in need of wordpress ecommerce plugins, it's vital to know which ones are right for your store,
Especially if you want to scale and grow your business quickly and effectively while minimizing the energy and efforts needed towards doing so. Choosing the right plugins can be challenging, but there are many resources available that can help you find them!
In this article, I will share with you my top WordPress eCommerce plugins that your small business or large enterprise should consider. In addition, I will point out the pros and cons of each to help you review which option is best for your company.
If you're interested in any of these topics, simply scroll where you are to glide right into the Table of Contents.
How to Choose the Right WordPress eCommerce Plugin for Your Business?
WordPress is a very popular and flexible platform for e-commerce websites, but you have to make sure you find the best e-commerce plugin for your store if it's required. It's important that you do a careful comparison of what is available on the market before going with any one product.
For example, some eCommerce plugins are specifically suited for digital goods and other solutions are better for physical products that need shipping.
If you're looking to run a drop-shipping business, then you should look into finding an eCommerce solution that has better features suited to drop-shipping. Basically,
You need to consider what products you will be selling and how it is best to sell them in order to be successful.
Here is a list of the most important factors that are necessary when choosing an eCommerce platform:
Specific Niche Plugin: Some plugins are made to help sell digital products, while others specialize in helping you with physical goods. Other WordPress plugins are a combination of the two niche and can double as an all-in-one tool.
Payment Gateways: It's important to choose the right payment gateway for your business and your needs. Be sure to research different available options and select one that suits your business needs even if it requires you to invest in an additional plugin.
Design and customization: Your vision board's design is your audience's first interaction with your business. Make sure there are plenty of templates and easy customization options available.
Web Hosting: Even if one has the best ecommerce plugins in place on their website, it does not mean that the site will succeed unless it is hosted on fast web server hosting. That's why it is so important to choose a reliable ecommerce web hosting provider for your ecommerce store because any further hold ups in loading performance could have disastrous effects on those visiting your website.
Theme Compatibility: Another aspect of theme selection that can affect how well a site functions is the theme's level of compatibility with plugins. However, if you have selected an industry-standard theme AND one which has been developer to be fully compatible with the most commonly used plugins in your field then you don't need to worry about this at all.
Ease of Use: Whether you want to create a new product, post a coupon in an appropriate category or do anything else, a user-friendly interface makes it easy and simple. That way, you don't need to waste your time in your WordPress dashboard checking how things are done.
Support: Before you choose an eCommerce platform, make sure the plugin has been updated and maintained consistently, and also that the plugin has good customer support options so if you run into any issues you can resolve them quickly.
Addon Choices: It's imperative to choose an eCommerce plugin that has a deep repository of addons and/or supported plugins. When customization is endless, you can create any type of eCommerce website you want.
Real Reviews: If you want to create a viable WordPress shopping site, then it's important to consider the number of user reviews for the WordPress ecommerce plugin. To put it directly, you wouldn't want to go with a WordPress shopping plugin that's got lots of negative or mediocre reviews.
Now that you know what to look for, let's get right into the list of the best eCommerce plugins for WordPress sites.
List Of The Best WordPress Ecommerce Plugins For 2023
Now that you know what to look for in an eCommerce platform and what you need to get started, we've narrowed our list down to four of the best eCommerce platforms for WordPress users.
Comparing of the Best WordPress Ecommerce Plugins for this year
As ecommerce plugins are one of the cornerstone components to WordPress sites and businesses, we wanted to better understand what is at the foundation of what makes an ecommerce plugin great. In this post, you'll find 5 key features of any great ecommerce plugin:
Now that you have a good understanding of what to look out for, let's look at reviews of All rounder WordPress Ecommerce Plugins: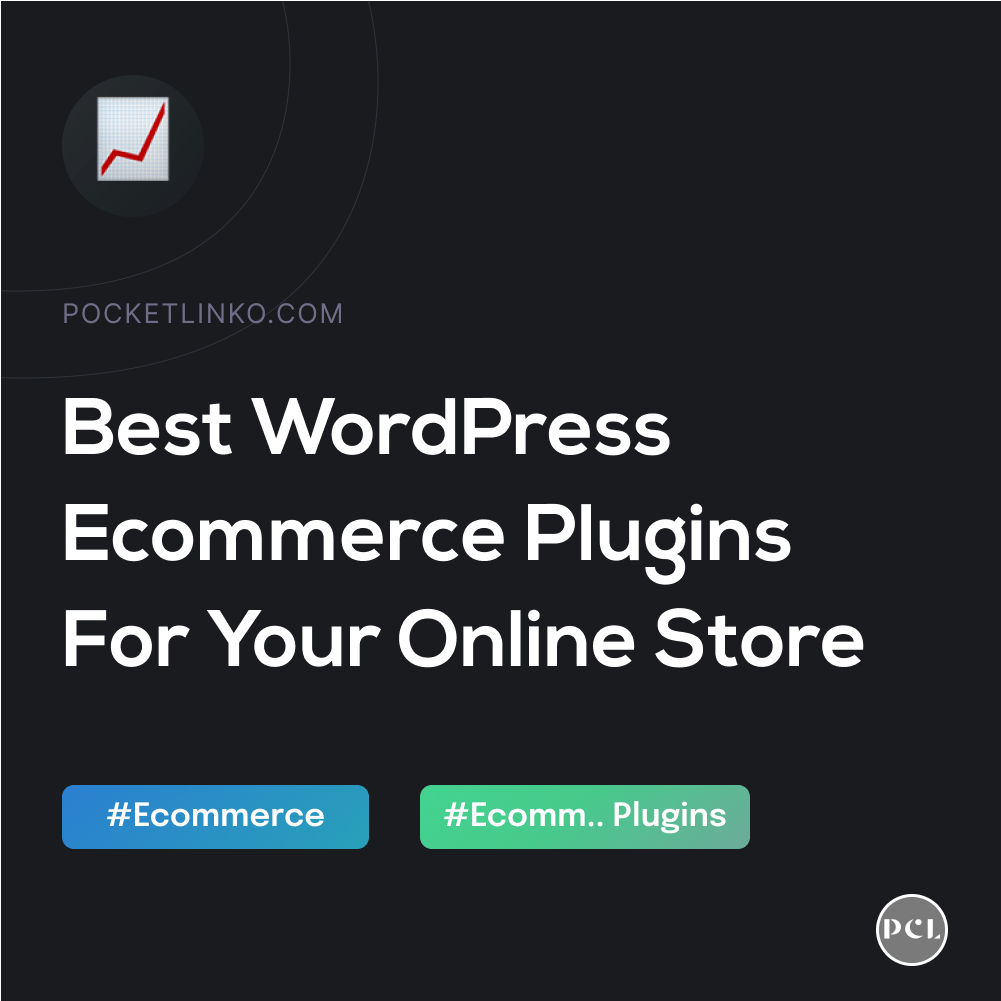 1. WooCommerce
WooCommerce is one of the most popular ecommerce solutions for WordPress. Touted as an extremely flexible and powerful platform for creating WordPress shopping cart functionality,
WooCommerce does a great job of streamlining both your ecommerce website and overall workflow into a fast and easy-to-use solution.
WooCommerce is an open-source free e-commerce plugin with over 3 million active installations. It is and has been since it was launched in 2011, the most used WordPress e-commerce platform and the most widely used e-commerce framework in the world.
WooCommerce is a free plugin is still packed with many exciting features such as the capability to modify your store's reports, data about payment methods and taxes that can be applied to products sold in the store, and control over discount codes and coupons for various items sold.
It's super easy to set up and build an online store with WooCommerce, so you can start selling products in mere minutes. If you want a customized online store,
Then look no further as WooCommerce has 200+ official themes to choose from, along with many paid and free extensions that will give your site the added bonuses it needs to get your products some great visibility on search engines.
Although it's possible to run your e-commerce store on WordPress, you might still have to purchase some third-party tools to integrate with WooCommerce.
For example, if you want a particular theme for your online store, there are Premium WordPress themes ((( adddd a a a alink))), specifically built for the purpose. Or you may need an extension or two that isnt necessarily a part of WooCommerce but helps improve your store's functionality.
As for how much you'll spend, that largely depends on what exactly you're looking to purchase and what functions are performed by these addons.
Pros Of Using WooCommerce
With the online market growing, it has become the norm for most online businesses to use a platform that allows them to manage their online stores.
WooCommerce is one of the most popular platforms for online store management and allows you to integrate your online store with WordPress. Below are some of the pros of using WooCommerce as your WordPress ecommerce plugin:
100% Free: WooCommerce is free for all; luckily, most ecommerce plugins don't come cheap and free of cost. One of the best plugins out there is truly open-source and absolutely functional.
Extensions and Themes: One of the great things about WooCommerce is that there are hundreds of extensions available for it. The large variety of extension options means you can do all sorts of things with your eCommerce site. One reason we love WooCommerce so much is because of all the customization options.
Easily Sell Both Digital and Physical Goods: You're in charge of what products you offer on your online store and how they are categorized. You decide whether to sell physical products or digital downloads, or both, and how you want to organize them into categories.
Built on WordPress: WordPress powers over 63.5% of all the websites running a content management system. This popular CMS is one of the most trustworthy options out there in terms of what it can do for your website right out of the box.
Sell Affiliate or External Products: Using WooCommerce, you can add affiliate or external products to your site. Affiliate marketers can effectively create product sites and provide users a better experience.
Payment and Shipping: WooCommerce has built-in support for popular payment gateways, and you can add many other payment options using extensions. It can also calculate shipping fees and taxes.
Active Support Community- WooCommerce has excellent documentation on their website. It's constantly being updated with new information and more features based on user feedback. The knowledge base is continually expanding, which is great for entrepreneurs that are trying to streamline different aspects of their business
Cons Of Using WooCommerce:
Theme Support: Wordpress works with a lot of plugins, but not all plugins are friendly to all themes. If you're on WordPress, then WooCommerce is your friend. With WordPress and a WooCommerce compatible theme, you can take advantage of its features and create a super e-commerce store without much hassle.
Scalability – As your store takes off and your customer base grows, you will need to look at hosting solutions such as Kinsta, WPX Hosting, and their managed WordPress hosting service to scale your store up accordingly.
2. Easily Digital Downloads (EDD)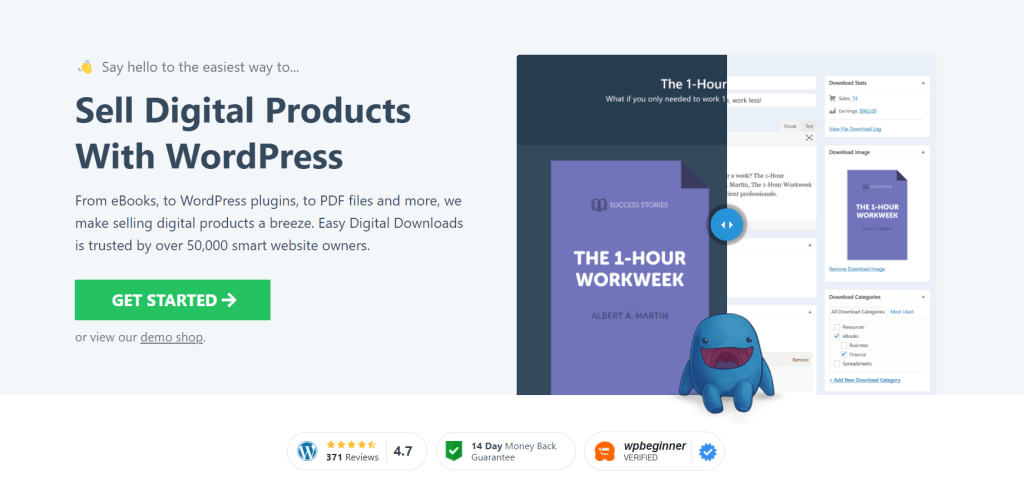 Easy Digital Downloads is the best way to sell digital products with WordPress. It was built as a lightweight plugin that comes with all the essential functionalities you'll need to sell digital products without hassle. You can also find dozens of extensions that enhance the functionalities of your storefront and customize it to your heart's content.
Because WooCommerce is the most popular WordPress plugin for selling physical products from a website, it has packages that can also be used for selling things like digital products or services.
The downside of this approach is that you also may end up installing a bunch of features that won't help you out with an e-commerce site that only deals in digital products (such as shipping options).
EDD allows you to focus on the selling part of your eCommerce store, rather than getting bogged down by the usability of a woo commerce site. This is a free WordPress plugin developed exclusively to sell any kind of file. You could also use WooCommerce to sell your courses online, but Easy Digital Downloads instead is a more direct and user-friendly solution.
It's super convenient because it integrates the option of paying with PayPal and Amazon Payments to allow you to sell your digital content without struggle. There is even a premium extension to integrate your ecommerce with things like reviews, email marketing automation, and also hosting files in the cloud!
Well, if you're only selling things like ebooks PDF files and audio clips (and nothing physical,) then EDD is the way to go, whether it's at WordPress or anywhere else for that matter.
While all of it may seem quite steep for a product which you don't physically have to ship out (like sending packages or holding stock,) the option for EDD means that you can have an online sales platform with features like discount codes and file access control, all ready to be used on your website.
When it comes to selling digital products online, Easy Digital Downloads is the best and most convenient plugin available. We've had magnificent success using Easy Digital Downloads and we wholeheartedly,
Recommend it for anyone looking to set up an eCommerce storefront for their products. Not only have we used this product on client sites, but we've also used it on a number of projects for our own endeavors.
Pros Of Using Easily Digital Downloads
Designed To Sell Digital Downloads – Easy Digital Downloads provide a great user experience when selling digital files. Unlike e-commerce plugins that can be used to sell physical goods, EDD makes it easier than ever for you to download, install and use your product.
The Layout – It's very appealing to the eyes. The platform is easy and simple to navigate, which I think is especially good for first-timers or beginners starting out. You're in a sense guided through this interactive process. There also isn't much complexity to it, so you don't feel unnecessary stress landing on each page and clicking everything on the screen thanks to that clear layout!
Extensions- There is a multitude of extensions available for Easy Digital Downloads, including addons for payment gateways, integration with marketing platforms and services which can help store owners perform certain actions more efficiently.
External Database Storage: Should your current WordPress media library become full, EDD provides seamless integration with Amazon S3. Also included are Dropbox and Vimeo options.
Payment History: This module tracks your previous sales in the WordPress admin so that you don't have to deal with multiple plugins for this functionality.
Data Reporting: Integrated system provides you with detailed statistical reports such as earning by date and categories, tax collected by year, sales, and outgoing call-center request logs and API Logs as well.
Humans Support: The plugin is very well documented for both you and your end-users and has free support forums, videos, tutorials, and even an IRC chatroom. There is also a priority support option for premium users.
Cons Of Using EDD:
Easy Digital Downloads: This is is great if you want to sell purely digital goods but its get a lot trickier if you also want to sell other things e.g. physical products or downloads that cannot be stored in a database like MP3s for example.
Selling External Products – Adding an external product or affiliate item to EDD – if you're interested in selling a different kind of product, that isn't included with EDD, all you have to do is install an exceptional add-on to your EDD store.
3. MemberPress
MemberPress is like a baker's mixing bowl. It has been designed to make all of your digital sales, blogging, and online business needs remix into one sweet package.
Once you've got MemberPress installed on your WordPress site, you will be able to easily create membership options for visitors to pay for access to parts of your website or for an extended period of time.
It can do more than just provide subscription plans though; it integrates with WooCommerce so that you are able to set up more sophisticated sales options through product pages such as pre-ordering, up-selling, and cross-selling too!
MemberPress allows you to sell a wide range of digital products and services on your eCommerce website. It's not only the best WordPress plugin for selling subscriptions but also one of the most versatile multipurpose plugins for WordPress out there and is sure to have all you need for creating unique landing pages, lead capture forms, and membership sites.
If you're using WordPress and you've grown out of love with the default "sign up or sign in" functionality, then MemberPress is a great plugin to look into.
It includes almost all the features that make membership sites thrive like providing access to digital goods at a price, integrating with WooCommerce, managing members through their profile page as well as granting and revoking access.
MemberPress is simply one of the most intuitive and powerful membership plugin around! It supports several payment gateways like PayPal and Stripe. And now, it also integrates with some of the most popular email marketing services including Constant Contact, Drip, MailChimp (and more via POPs).
MemberPress is simply one of the best membership plugin around. Its intuitive design makes adding payment gateways easy, allowing you to accept money from anyone using PayPal or another popular service. MemberPress integrates with many other incredibly useful features such as email marketing services and e-commerce platforms too!
Pros Of Using MemberPress
Sell subscriptions – The subscription eCommerce plugin, allows you to sell multiple unit subscriptions, membership plans, and more.
Powerful Access Management – Powerful access management allows you to manage how people collaborate with each other and their content. You can decide who has what level of access and restrict users from viewing sensitive data if required.
Hassle-Free Content Builder– MemberPress comes with an easy-to-use a content manager that allows you to create & sell courses by offering your users a user-friendly learning platform. You can choose to offer your audience engaging video content and downloadable demos – or do both!
Content Hose – MemberPress allows you to release paid content into the world at a pace that works for your audience. Similar to how water can slowly fill up an entire garden hose over time. Sometimes fast, sometimes slow depending on what kind of pressure you want to exert onto your well-wishers!
Powerful Extensions – You can integrate MemberPress to your LearnDash LMS and/or WooCommerce store. There are tons of extensions for MemberPress to connect with third-party services like FormCrafts, Mailchimp and PayPal for example.
Cons Of Using MemberPress
Limited Payment Options – MemberPress only supports PayPal, Stripe, and Authorize.net
The integration with Elementor can sometimes be confusing.
4. BigCommerce
BigCommerce is another cloud-hosted eCommerce platform that helps small to medium-sized online stores of all kinds.
The name "BigCommerce" indicates it can handle a large volume of customers and products seamlessly. BigCommerce is best suited for small to medium-sized online stores or websites needing an eCommerce platform that can scale with their success.
BigCommerce has been operating its own ecommerce platforms for quite some time now, so it provided its own content management system and hosting.
The main goal for BigCommerce is to attract companies that have built their websites on WordPress.
It's quite possible that a popular blogger finally wants to start selling products and may be more tempted by the BigCommerce platform as it continues as a more streamlined approach than if they utilize several independent plugins.
Before this BigCommerce plugin though, combining WordPress with BigCommerce wasn't possible. You had to choose one or the other without.
If you want to take advantage of the BigCommerce + WordPress partnership to build your online e-commerce store, then this integration should be interesting.
With BigCommerce, you get access to a lot of attractive and responsive e-commerce templates. They also offer a feature-rich online store builder without having to pay for costly add-ons or transaction fees. You can have all the options you want, but are they overwhelming if you're looking for something more streamlined?
Pros Of Using BigCommerce
A simple, scalable, and adjustable platform – this includes all the features you will need with enterprise-grade security, high performance, and easy scalability.
Reduce maintenance – Systemizing and automating your WordPress site will create a smooth-running eCommerce engine that requires less tinkering and less-involved monitoring.
Sell Across Multiple Channels – You can use it to sell not only on your website but also on other channels like Facebook, Instagram, or Amazon.
Seamless Integration: Seamlessly integrates every necessary online feature to build a large-scale business while keeping website content and user experiences at the forefront of development.
Intuitive Control Panel: You have a single control panel from which you can manage orders, shipments, and catalog updates for multiple websites.
Easy Checkout Process: Developers have created the Easy Checkout process, which provides a personalized experience for buyers and ensures a smooth payment process for us.
Modern and ready to go global: Starting with an AMP-ready theme, you can use the WordPress template options to overwrite the settings hence easily getting started with a professional site without having to modify any code.
No charges – unlike some other online platforms, it won't charge you fees to complete a transaction or process payments. You can decide on your payment service provider and choose from dozens of top payment gateways.
Good Support – BigCommerce offers top-tier support via phone, email, and live chat. Their staff is dedicated to making sure you always have access to the information you need regardless of the time of day.
Cons Of Using BigCommerce
Limited Integrations – BigCommerce integrates with all the popular platforms out there but its app store is still growing. That means that you may not find an integration for some of the less popular apps.
Yearly Sales limits – The yearly thresholds for sales differ between each plan. If you exceed this limit then you will be upgraded to the next plan/monthly fee. This may, however, increase costs as your business grows.
5. WP Ecommerce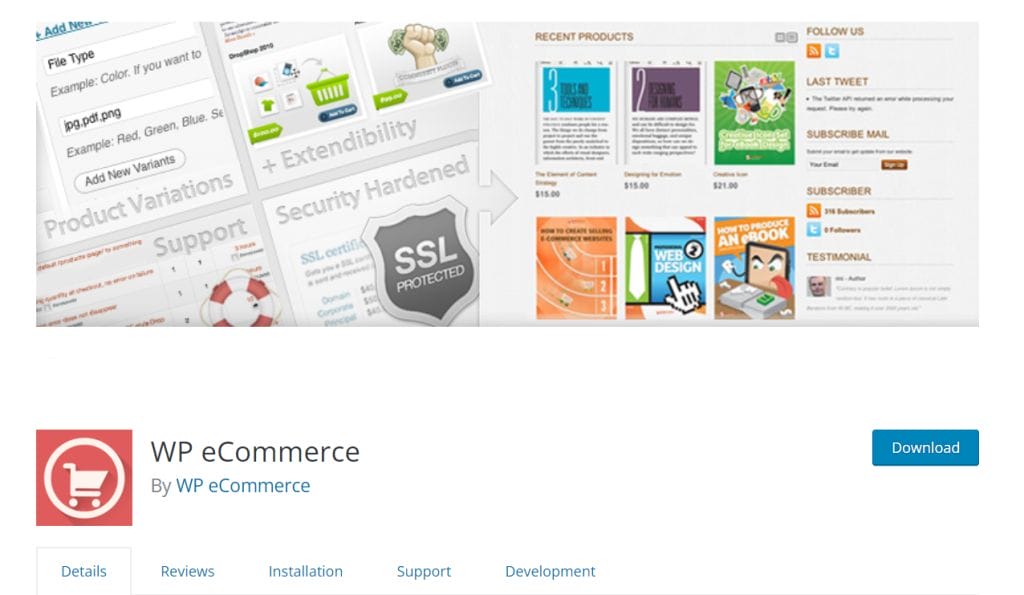 As the earliest WordPress eCommerce plugin, WP eCommerce is not as widely and popularly used as WooCommerce.
WordPress eCommerce is an online platform that allows one to create an e-store using WordPress. It's commonly used by many businesses, as well as bloggers with product-oriented blogs.
The free version is complete with all the features to create and manage a simple e-store, but it does not contain certain features that are present in its paid versions. For example, unlike the paid versions of this plugin, you cannot create searchable several products simultaneously or manage other types of payment gateways (other than PayPal).
There are two major versions: a monthly subscription for $49 and access for $499 per year. In order to create an excellent ecommerce store, you might be forced to employ the help of some paid extensions for the basic plugin,
Though it is important to note that this plugin currently has a lot of support and online documentation which explains how new users can benefit from its integration with most major social networks.
The main disadvantage is that it's often reported as buggy, which makes people switch their platform to WooCommerce or other eCommerce solutions down the line. Another disadvantage is that you can't find as many extensions as compared to WooCommerce or Shopify.
Pros Of Using WPEcommerce
A Recipe For Success: WP eCommerce pushes customization to the limit by providing a selection of customizable features including HTML code, shortcodes, and widgets at users' fingertips.
Single Page Checkout: All customer data can be seen by the customer on a single page when checking out, and we will save you page navigation so that the checkout process is simpler and cleaner.
Payment modules: CoPilot supports a wide range payment methods. Including but not limited to:
Cons Of Using WPEcommerce
While the installation is free, there are third party extensions that can require payment in order to continue operating your website as you desire.
6. WP Easy Cart
The WP EasyCart plugin is a powerful ecommerce plugin that users can install for their online shopping carts. This software can be downloaded on any PC or Mac, iPhone, Android phone and easily installed to allow the online store to manage their carts wherever they are.
WP EasyCart allows you to quickly integrate a functional shopping cart system onto your eCommerce or business website with easte no matter where you are, on desktop, PC, Mac, iPad or Android devices, you can manage orders through your mobile phone or database-driven application with one simple integration using WP EasyCart's robust API capabilities.
WP EasyCart supports 400+ payment gateways that help you receive payments from different countries. You can manage these payment gateways in one place through the WP EasyCart payment gateway manager, so that adding additional gateways is even easier and faster than it was before.
WP EasyCart is built for small business owners who want to create a beautiful online store without needing to train at all. The store would still run on WordPress, but it provides an intuitive interface and easy-to-use tools that can be managed and accessed by those who don't have any formal training in web design or coding.
WP EasyCart is simple to use e-commerce software that's built to give small and mid-sized businesses the tools they need in order to run and grow.
There's an easy sync with Quickbooks along with an email marketing integration for MailChimp. TaxCloud and ShipStation also integrate into the WP EasyCart system, making for a small business owner's dream
What's more is that you are able to sell anything from classic retail items to downloads, and subscriptions to gift cards while also being able to send out invoices, sell video content, post eBooks, and ask for donations.
Pros Of Using WPEasy Cart
Order Management: It will let you manage orders, print sales receipts and delivery notes, add shipping notes, send an email to customers, and view order information all in one place.
Marketing Tools: Online stores are SEO-optimized for each product, menu, and category you create so that people can easily find what they're looking for and learn more about it before making a purchase.
Payment Gateways Support: We have an all new partnership with PayPal, Square, and Stripe to help receive payments from customers all over the world.
Shipping and Taxes: It has a wide table shipping rate for systems based on price, weight, quantity, and percentage and includes tax rates for states or countries.
Responsive product catalog with size point options
Cons Of Using WPEasy Cart
Option sets are designed for use with portfolio products, but they also can be useful when it comes to more complex setup tasks as well as any work that requires a multitude of variables under one heading.
You can't skip or disable SKUs and manufacturer info for selected products.
Summary: The Best WordPress eCommerce Plugin is:
When you want to sell physical goods on your website from the convenience of your WordPress-powered store, WooCommerce is definitely the best eCommerce plugin for WordPress.
It's easier than any cloud hosting solution to integrate your WooCommerce storefront with your existing WordPress site.
While WooCommerce and Easy Digital Downloads are the ecommerce plugins we see most users choose, not every plugin is right for every business. That's what makes WordPress so flexible. You have a variety of options to chose from.
If you want to launch your online store with the least amount of technical nuances, and are willing to place an initial emphasis on design, then BigCommerce could be a great way to get things started.
BigCommerce uses a Software as a Service (SaaS) eCommerce platform along with WordPress front-end technology.
You may also want to see our comparison on "Best Drag and drop WordPress page builders and our hand picked "Best Ecommerce Hosting providers along with premium ecommerce themes
That's all for this article. We hope that you found the best eCommerce plugins for your WordPress site and if you did please tell us about them in the comments below. If there's any topics you think we should cover, then let us know!