Do you need a website that can showcase who is visiting your site? Analyzing visitors to the site is one of the most important roles of an online marketer.
There are hundreds of thousands if not millions of location-tracking or reporting tools out there, but since 2005, Google Analytics has been the industry standard for monitoring and managing visitors to websites all over the world.
When you are in the business of selling a service or product online, it is vital that you know how many visitors are coming to your website, where they come from, and what they do on your site.
There are many analytics tools out there, but not all of them are made equal. What is the best analytics tool for WordPress?
Looking for the best WordPress Google Analytics plugins to make data-driven decisions?
Many beginners rely on their gut instincts when starting a new website or blog, but you don't have to make this mistake. You can use data and analytics to inform your decisions – which might be exactly what you need to take your business to the next level!
In this article, we will learn about the best WordPress analytics solutions for users. We'll take a look at each of them plus why they stand out from the rest.
Why do you need analytics for the WordPress site?
With the analytics software, you can see who is accessing your site and optimize it for your audience. Having analytics software is crucial for making sure your WordPress site is serving the needs of your users. This is where web analytics can help you.
An analytics platform like Google Analytics gives you a better idea of how your site is performing.
When you know where your traffic is coming from, you can more effectively track the performance of your different marketing strategies. You can also see where users are abandoning your website and taking action to improve their experience.
Reviews of the best Google Analytics Plugins for WordPress 2023
1. monsterInsights
Google Analytics for WordPress MonsterInsights is the best, simplest and easiest way to integrate google analytics in your WordPress website. It guarantees that you have the choice for install and tracking options for Google Analytics in your dashboard WordPress.
MonsterInsights is the best WordPress plugin for Google Analytics to track your website's data. You can easily connect it directly into WordPress and view all of the reports within the administration panel of a site in one central hub.
Plus, you'll be able to get deep insights on how people are engaging with your website in real-time. And there's no need to leave WordPress or Google Analytics since we bring the reports to you!
MonsterInsights adds a stats dashboard to your WordPress admin area that shows you where your website visitors might be coming from. You can see what content on your site is the most popular and pay attention to how users are engaging with it so you're able to focus on the highest conversion areas on your website!
MonsterInsights Features:
MonsterInsights is like a swiss army knife for WordPress. With over 30 different tracking features you can enable in just a few clicks, the plugin does all the hard work for you! You can track everything from eCommerce data, contact forms, and blog content to real-time users and YouTube videos.
The MonsterInsights plugin also offers various other useful tools within its analytics dashboard like an image optimizer, an email capture page builder, an upsell notification bar and more; so not only can you collect performance data but actually use the data collected to improve your store as well!
The plethora of easy-to-use tools is what makes it perfect for use by both beginners as well as WordPress experts who want to add some advanced features to their store.
MonsterInsights also seamlessly integrates with Universal Analytics and Google Analytics. You can use whichever version you have running with MonsterInsights, or you can use both of them at the same time with MonsterInsights' Dual Tracking feature.
Pricing (Freemium):
A lite version of the plugin is available to download for free from the official WordPress.org plugin repository, premium pricing starts from $99.50/yr for a single website license.
2. Exact Metrics
ExactMetrics, formally known as Google Analytics Dashboard for WordPress (or GADWP), is another popular WordPress tool. Packed with features, it's considered a valuable WordPress SEO plugin to help you setup Google Analytics without having to touch code or reach out to a developer.
The company has recently announced full support for Google Analytics v4! Plus, it uses Google Optimize so you can run split tests on different aspects of your marketing and sales funnel. You can also adjust speed and sample rate.
Just like MonsterInsights Plugin, it allows you to populate your WordPress dashboard with Google Analytics data for every page, post, and product.
Exact Metrics Features:
It also gives you real-time statistics and beautiful reports so you can better understand why people are visiting your site as well as what's popular and what's not.
Aside from providing relevancy statistics directly in WordPress, this plugin tracks anonymous visitor traffic (including links clicked within the content), file downloads, event tracking, enhanced link attribution, and more.
You can effortlessly access vital information about your website and its performance with WP Statistics. With its detailed reports, you have the option of seeing which strategies are working – or need to be improved!
There are other Google Analytics features, such as: tracking by scrolling, downloads of files, eCommerce data on products sold, and custom dimensions. These can easily be added or removed without the use of extra plugins or custom code.
Pricing:
There's a free version. Paid plans start at $99.50 per year.
3. Google Analytics
Google Analytics is one of the most popular analytics solutions available. It's free to use and easily installable using plugins for WordPress or through a direct installation on your site using code.
You can use a single account to install it on multiple websites, view all your reports and get instant access to in-depth analytics.
Google Analytics allows you to see whether or not your Google Ads are helping to generate the sales that you'd hoped. This kind of valuable insight helps you to adjust ads, keep track of spending by them and evaluate advertising investments if needed.
Google Analytics is a tool that allows you to easily track data related to your websites including the number of website visitors, where they come from, and what they do on your site.
You can also use this tool to track links on other sites that reference your website as well as track user engagement here and elsewhere around the web. Additionally, you'll be able to test various page/colors/etc and see if one version converts better than another for example!
Google Analytics Features:
That's hard work! Fortunately, installing Google Analytics into a WordPress site is super easy thanks to the Google Analytics Tracking Code (GATC) plugin. Most WordPress hosts have it as an option in their plugin install menu.
Thankfully, most modern WordPress themes have a field for adding your website's Google Analytics tracking code to your website header.
If you're having trouble finding this section of the theme or if you're using a non-WordPress theme, there are step-by-step instructions here on installing Google Analytics tracking code on your site.
The initial data you get upfront might be just enough for smaller companies that are just starting out. We recommend using Google Analytics to track and analyze your data.
As your business grows, though, you'll discover there's a need to get exact insights – which is why we suggest combining Google Analytics with a helpful plugin like MonsterInsights to build reports customized according to any goals you have this year.
And, with MonsterInsights, you can easily analyze your data by simply connecting it to Google Analytics — so that you don't need to make the switch between accounts any more.
Pricing:
Free to use.
4. Heap
Heap is similar to Google analytics alternative with some amazing features that drastically increases the capabilities of tools like UserVoice.
Heap tracks everything which indicates your products popularity and potential, including clicks, form submissions, video plays and anything else you can create or customize within their robust JavaScript API.
Heap is a cool tool that comes with advanced behavioral data. This means you can study your visitors' past behavior to predict their future clicks and actions.
It works especially well on complex websites and apps, giving you insight into user actions, performance and funnels. Heap makes it possible to generate custom reports, views, and tracking.
Heap Features:
Heap is a product which focuses on the automatic tracking of events across the web while Google Analytics can only check how many visits there are to your website or blog, which pages they click on, etc.
In Heap, you can track individual users even if they have separate devices and cookies, whereas Google Analytics will just create one profile for all of the devices used under a single IP address
For eCommerce websites, Heap offers advanced attribution, conversion rate optimization, faster reports, and user tracking for not just acquisition but long term value. For example, you can get a hold of users through their email addresses or even grab their phone numbers from social networks.
Heap can simplify how a company tracks their funnels and new users. Heap allows customers to track every stage of their funnel, including lightboxes and emails.
For example, you can email your customer with your product promotion for his/her birthday and make them convert within 30 days after signing up by using the Heap's code snippet on the email template!
Pricing:
Heap provides a free version and paid plans for larger companies. The free version is available for up to 10,000 tracked events per month. (For premium you have to reach to the company for custom pricing)
5. Analytify
Analytify is Google Analytics made easier and simpler to understand the solution that shows you the bare essentials in order to get the information you need.
The interface allows you to see the general amount of people who have visited your site, top pages by views, demographics, top referrers, system stats, and more.
The plugin is very simple to install, it's just like adding any other program to WordPress and in a matter of minutes the analytics will be working! However, if you prefer more advanced features a new version has recently been released that you could use.
Analytify Features:
All of your reports are displayed in one dashboard, but you can view them by going to the Analytify dashboard addon within your WordPress admin area.
With the help of this Wordpress analytics plugin, you can view plenty of statistics to show you. You can view data on the number of views, visitors, new vs. returning visitors, top pages, geographic data, and more. You can even publish these stats on your website for all to see.
Analytify is very convenient for both myself and my clients. You can see all kinds of in depth information from both their site and my site like when their users visit, how long they stay, what kind of device they're using, and even what the weather was like that day!
Pricing:
There are seven different ways to access Analytify, with each option catering to a different type of customer. Starting from $39 for the standard package, Analytify starts you off with a pro version and gives you access to statistics that can help you make better decisions.
6. SiteKit By Google
Site Kit is a Google WordPress plugin that allows you to connect your site to six Google services. These include Search Console, Adsense, Analytics, PageSpeed Insights, Optimize, and Tag Manager.
Once you have activated Google Analytics, we will see a new "Site Kit" admin menu in the WordPress admin area. Under that menu, you can activate individual modules to begin using their custom settings.
SiteKit By Google Features:
One time you go to your WordPress admin and after that, you'll see Add Kit in your menu. From a quick glance, Site Kit seems like a simple site analytics application.
It's usually installed manually and pulls traffic stats from your website's full Google Analytics report. The Stats part of the Interface is where you can easily see traffic stats for the last 7 days (14 statistical data items in total).
Site Kit is a nifty little dashboard that allows users to browse multiple sites from Google. It's not very functional from the average person's point of view,
However, we think it could be useful for you to spend some time on there getting familiar with the different tools available.
Pricing:
The Site Kit plugin is free and open-source, and will remain so. Individual Google products included in Site Kit are subject to standard terms and fees (if any) for those products.
7. WordPress.com Stats
Jetpack's WordPress.com Stats is a free WordPress plugin that gives you quick stats about your website traffic at a glance within your WordPress dashboard. It isn't anywhere near as comprehensive as Google Analytics, but it gives you just the basics when it comes to measuring site traffic.
Jetpack includes WordPress.com Stats, a WordPress plugin – which is used to keep track of your website's traffic stats.
WordPress.com Stats Features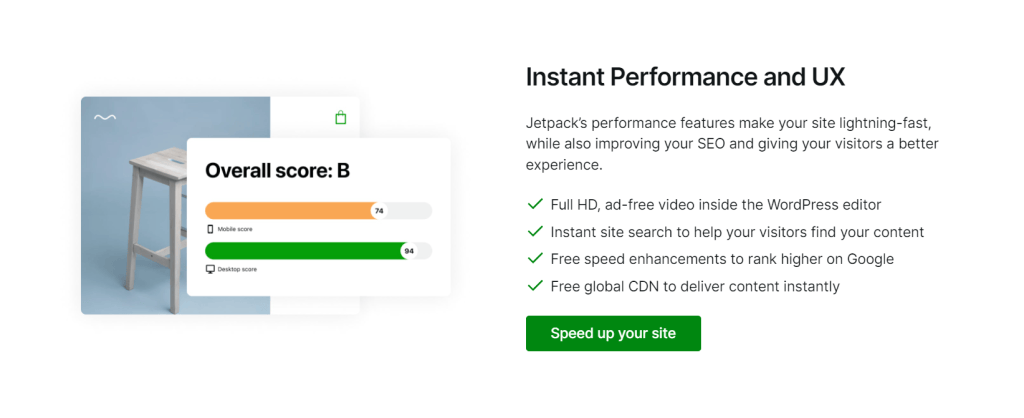 To properly use this feature, you'll need to install and activate the Stats module , then connect your website with Jetpack by inputting the correct values into the user settings page at WordPress.com and finally choosing whether you'd like WordPress.com Stats to appear in your site's dashboard menu or not.
Jetpack is free to use and a good choice for Small Business Bloggers, as it offers simple and easy-to-understand traffic reports. Bloggers can use the WordPress Toolkit to connect their website with WordPress.com servers and run Jetpack on their blog.
If you aren't already using any other Jetpack features, this won't be the most effective solution for your needs.
Pricing:
You can get started today and it won't cost a dime. A full year of premium access is $39.
8. Matomo
Matomo is proprietary software that is an alternative to Google Analytics. It allows one to track user interaction on your website with ease and incorporates all the features/functionalities of Google Analytics in addition to some more advanced ones.
Matomo, previously known as Piwik, is an open-source analytics software platform that helps users maintain their own systems and websites. Whereas more in-depth analytics software packages can provide a lot of data, it may be overwhelming to new users.
Matomo's simpler interface includes many features found in more expensive analytics solutions such as Google Analytics including goals and eCommerce tracking,
But with added bonuses like heatmaps that allow you to view detailed visitor information by scrolling over particular sections of your Web site.
Just as WordPress is used for blogging, Matomo is also a blogging software that runs on your web server. It comes in both self-hosted and cloud-hosted versions.
If you don't have a web server yet, then you can sign up for a hosting account here. For most people installing software to the server can be quite difficult
But luckily we offer the cloud-hosted version of Matomo which enables online marketers to see their site data without installing it on their own servers or being well versed with how to configure website code.
Matomo Features:
100% data ownership
Open-source platform
Easy to customize
Import google analytics data
Enhanced and actionable insights
Pricing: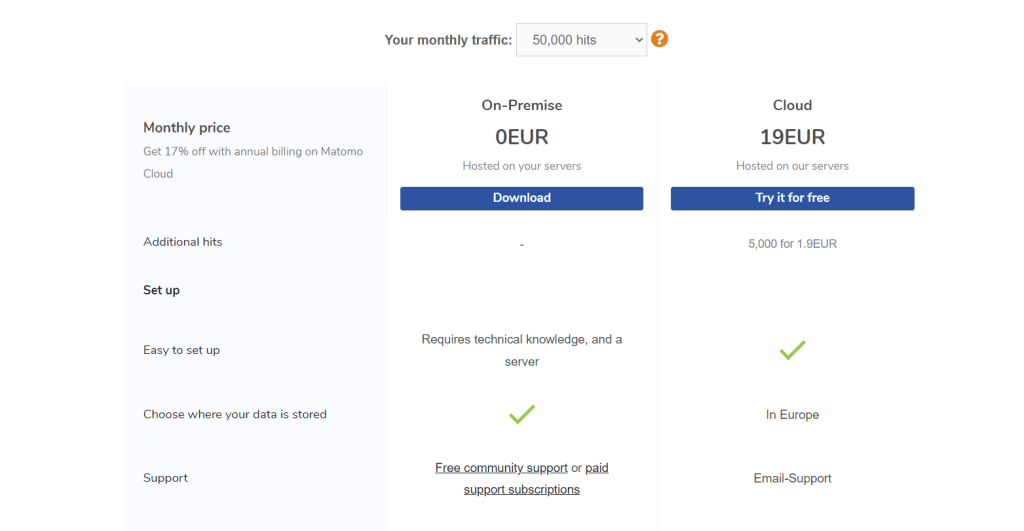 They have a free basic version available that you can download right now. The premium plugin starts at $19 per month but it comes with additional features.
9. Crazy Egg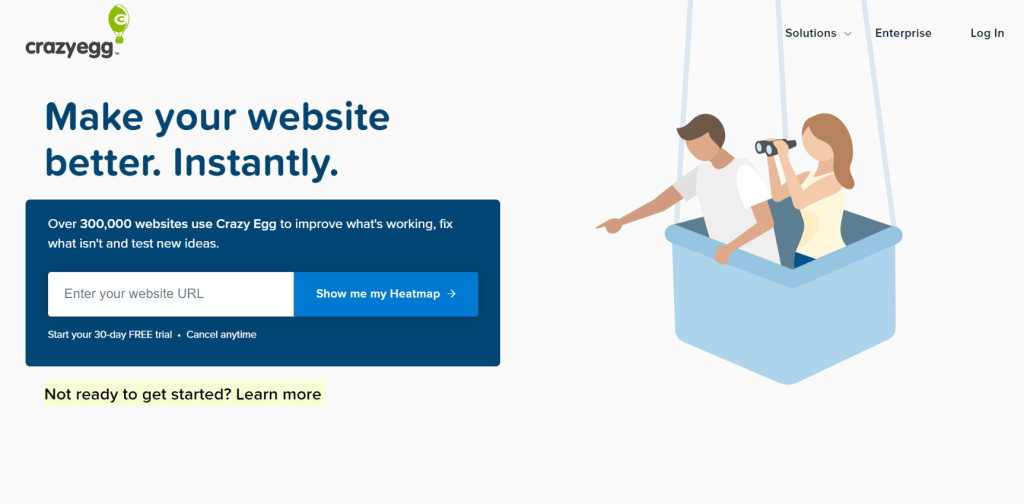 Crazy Egg is a website analytics solution that lets you fully grasp how your online content is at present, but also how it would likely work in the future.
By utilizing this technique called "heatmapping", you can track how their customers interact with your web presence and ascertain any kinds of potential problems or complications that may thwart desired progress.
If a type of information or widget isn't functioning properly for example, then chances are it will be very difficult to convey what you wanted to convey in the first place, which defeats the whole purpose of any website!
Heat Mapping technology tells you where users are looking and what they actually see on your website. It shows you how far visitors scroll on a page in percentages.
Heat mapping technology can help analyze content, layout and improve the overall design of your website.
With Confetti, Hotjar segment users into referrals, sources (where do they come from), keywords and let you know what to change and improve right away.
Crazyegg Features:
CrazyEgg offers super-specific reports, like pie charts and bar graphs, that make it easy to see what customers are doing on your site.
You'll know where they come from, who they're connecting with on your site, and what refers them to purchasing things off of your virtual shop front.
This kind of information is called analytics because it can tell you a lot about individual users' browsing habits. But CrazyEgg takes analytics a step further than most tools by laying everything out visually for you so you can get a complete picture rather than just bits and chunks.
This is impressive. A/B testing helps you to improve the conversion of your website – which is crucial to any business. In fact, Crazy Egg's A/B testing software can help you to make sure that you've picked just the right colors, content placement, copy and images for increased conversions. Plus if things need changing, our editor can help!
Pricing:
Crazy Egg brings you a revolutionary new utility which will provide you with all the information that you need to optimize your website's performance. They offer a free trial and their pricing plans range from$ 24/ per month to $249/ per month.
10. Statcounter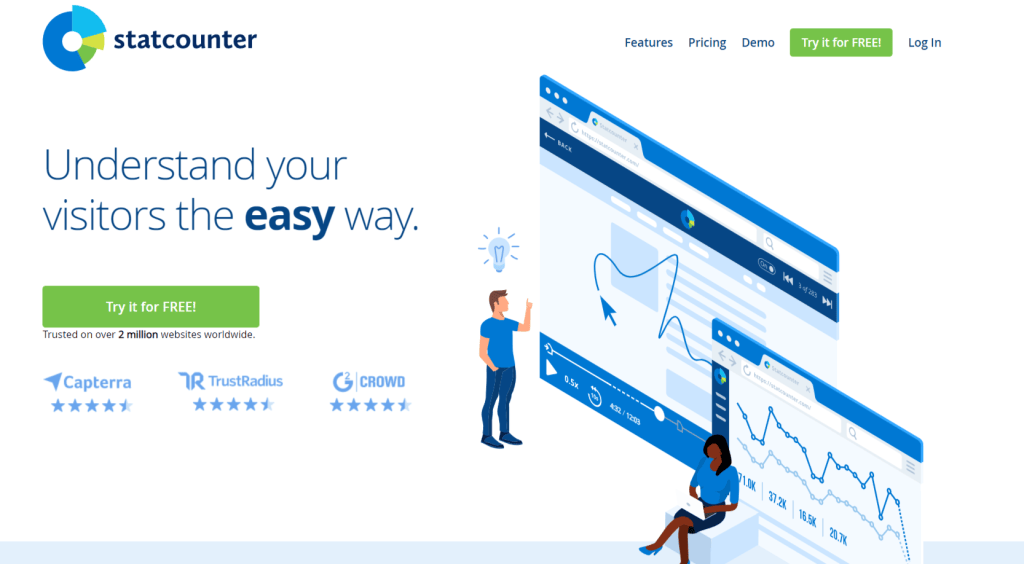 StatCounter is a cloud-based website stats counter service that allows you to measure how your visitors interact with your site, as well as giving you information on their operating system and web browser.
Statcounter is a cloud-based service that collects statistics on how many times a website has been accessed, how many visits the site has received and when each visit took place. Statistics cover page views, sessions, unique visitors, visitor locations, return visitors and more.
Statcounter furnishes webmasters and marketers with several other awesome services to assist them in successfully gathering statistics about site visitors.
StatCounter Features:
For instance, webmasters can add detailed descriptions about their consumers to better assist them in tracking the root of what attracts potential customers most to their site.
Also, Statcounter sends alerts notifying you each time an individual customer comes back to your website – so you can start formulating suitable marketing strategies!
Every website analytics solution has its pros and cons, but it's important when looking for the right one for your project to find out what exactly each is missing feature-wise.
For example, let's take a look at an important feature known as tracking of affiliate links. If you're using this service in your project, this may give you pause due to the lack of such functionalities in their toolset as seen on other major providers on this list such as Amplitude and Hubspot.
Seeing where your website traffic is coming from, what devices they're using, and looking at which browsers your visitors are using can help you make a more informed decision. The tool is easy to use yet it lacks the advanced features of more robust analytics solutions.
Pricing:
Statcounter is free to use until your page views reach 500 a month. Upgrade to the Statcounter Pro plan for $9/month and your limit won't be an issue.
11. WP Google Analytics Events
WP Google Analytics Events is one of the best WordPress Analytics plugins. It helps you set up events in Google Analytics without the need to write code or hire a developer. It's not just simple to use, it also provides detailed documentation and implementations examples to help developers learn how to integrate it with other tools.
There are many tools available in order to track your marketing efforts, such as Google Analytics. WP Google Analytics Events is a robust WordPress plugin that helps you with the management of events tracking in Google Analytics without the need to write code or hire a developer.
WP Google Analytics Events is a must-have plugin for every WordPress site owner. It helps you set up event tracking in Google Analytics without the need to write code or hire a developer!
WPGoogle Analytics Features:
This plugin allows you to easily integrate Google Analytics tracking code into your website. Just enter in a tracking ID and voila! – No more manual & repetitive copy-pasting of the tracking code for you.
Additionally, if your business is set up with multiple locations, the plugin also lets you anonymize IP addresses so as to not skew your website analytics data.
Using the plugin will give you ways to track which links or buttons people interact with most frequently, so you'll know what kinds of messages may need more attention in order to boost conversions.
They will help you see which ones are underperforming and allow you to make improvements by making alterations.
Though the name might suggest that all timeline trackers are designed specifically to track time based on date, this one is limited to tracking events only.
This means it's not as comprehensive as other plugins on our list. It will not show stats in your WordPress dashboard for example. Despite the few setbacks, we still feel the plugin does a good job of efficiently meeting user demands and so it will meet yours too.
Pricing:
WP Google Analytics Events Pro sells for $79. This program adds support for link tracking and placeholder variables and gives you more control over what permissions other users on your website have.
Which is the best google analytics plugin for Wordpress
When it comes to website tracking, the best WordPress analytics plugin really depends on your needs. Some solutions take a holistic approach and offer a full suite of features for everything from marketing to user behavior to security.
Others are focused on just one type of data or use case. The best way to know whether a particular product is right for you is by asking yourself which specific approach will work with your efforts and align with your goals.
For most websites, Google Analytics combined with MonsterInsights is the perfect solution as it provides tools for connecting your website to hundreds of data sources and also providing additional general web statistics.
Compared to some of the other WordPress analytics plugins such as Wordpress.com Stats, MonsterInsights is a true leader. It's much more comprehensive and provides you with beautiful reports within your WordPress dashboard right at your fingertips, so you can get your most important stats at a glance!
MonsterInsights takes the dread out of learning how to use Google Analytics by making it easier to manage your analytics data without having to spend a lot of time reading documentation or going through training modules. On top of decreasing your burden, you can focus on increasing traffic and conversions while expanding revenue.
We hope this article helped you find the best analytics solutions for WordPress. You may also want to see our pick on the best WooCommerce alternatives and best email marketing services.