As a company grows, its requirements change. These requirements are not always the same as the requirements of a new business. If you are looking for an alternative to Zoho CRM, Zoho mail alternative or may be free zoho alternatives then you don't have to look too far.
If you're looking for a CRM system with great omnichannel communication, data analytics, and workflow automation, Zoho CRM is definitely worth checking out!
However, we understand that some users might prefer a CRM system that allows for more affordable customization, a free plan for more than three users, and easier access to artificial intelligence (AI) features on lower-tiered plans.
That being said, we've evaluated dozens of Zoho alternatives and have arrived at the top-rated ten CRM software options for all type of business, no matter what if someone business is single handled or multuple or large enterprise businesses.
We hope you find this information helpful!
These 10 best Zoho alternatives will fit the purpose of every business and help you organize your sales and management flow. This article is based on extensive research done on top alternatives to Zoho product.
We have gone down the list and picked out the ones that offer a better range of features like customer relationship and sales automation. So, instead of getting caught up in the features, let's compare the best Zoho Alternatives to the top CRM solutions on the market.
10 Best Zoho Alternatives for 2023 (Most Popular)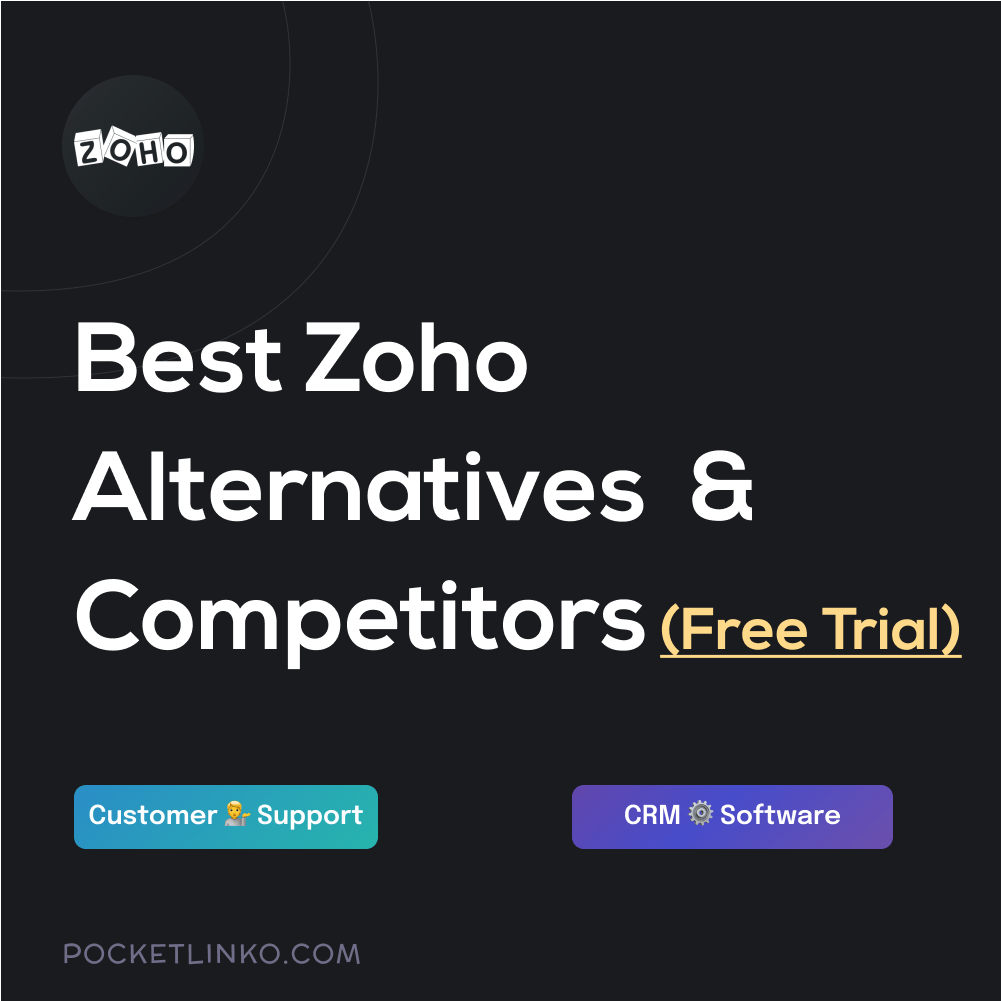 1. PipeDrive
Pipedrive is a paid Zoho alternative that enables you to create customer relationships. Pipedrive offers affordable pricing options and a user-friendly design to make things easier for small businesses as well as larger corporations.
Pipedrive simplifies the sales process by giving you a visual dashboard that lets you easily monitor your contacts and manage different stages of the sales funnel. It is an example of CRM software that's easy to use for anyone in any industry who wants to improve their prospecting.
What's more, these users can download the Pipedrive app on their mobile devices. This means they can usually access tools and apps to boost sales and maintain customer relations efficiently. But at times it's easier for businesses with fewer requirements or that are only looking for a simple solution to get by with Pipedrive rather than a tool like Zoho.
Pricing:
With a 30-day free trial. Pro plans begin at $12.50 per month.
2. Hubspot CRM
HubSpot is the best CRM platform as well as the best zendesk alternative small businesses and solo entrepreneurs. Not only does it come with a user dashboard that's clean and simple, but its auto-suggestion feature is extremely useful for newbie sellers or users who have to constantly work on Tag Manager fields.
Hubspot was built with beginners in mind. With its free plan you get a robust set of features including email marketing, contact management, live chat, tracking and reporting free of charge. Its free plan lets you add up to 10 users and 100,000 contacts so there's no need to break the bank when it comes to getting started with this CRM solution.
This makes it an excellent solution for beginners who want a budget-friendly CRM tool as well as experts who want all the power of a more expensive application. A Hubspot Contact Manager that brings together your customer data from multiple sources into one place so you can easily track activity, nurture leads, and reach out for sales.
This Zoho creator alternative lets you manage your Customer Relationship Management activities with full control. It also lets you enjoy the smart ticketing process that is linked to your task management system and calendar booking abilities as well. You can use this best practice CRM program to help improve sales and nurture relationships with ease.
Features:
Built with beginners in mind
Easy to use and set up
Connect with major social media networks
Active customer supports and helpful user guides
Integrate with popular services like Mailchimp, Slack and google etc
Pricing:
The Pro version starts at $45 per month for the Starter plan.
3. scoro
Scoro is a great Zoho alternative because it provides features to help business owners run their businesses more efficiently. From innovative project collaboration to effective invoicing, flexible time tracking, and budgeting, Scoro's features are designed to help entrepreneurs meet the needs of their growing businesses.
You shouldn't have to deal with too many different platforms or tools at once. We know how difficult it can be, so we built all of your accounting needs and more into one convenient place.
Pricing:
Scoro's new Essential plan is really affordable, as it opens at the low price of $26/mo (billed every month) when paid annually.
4. GreenRope

GreenRope is the world's leading SaaS for all-in-one marketing software. It offers an integrated solution for conversion rate optimization, marketing automation and sales campaigns in one place.
This premium zoho alternative is like a magician who keeps pulling more and more rabbits out of his hat. GreenRope is the CRM solution for your business problems whether you're in sales, marketing or operations..
It's diverse suite includes marketing functionality, campaign management, and customer engagement tools which help you manage your sales, leads and contacts. CoPilot also comes with all the tools to ensure that software implementation is a huge success in your venture – it's even got a database deployment manager!
Although GreenRope is primarily a CRM the business suite comes equipped with several other features, including project management, an event tracker, and even a ticketing system. You can access all of these features from within one simple dashboard.
Pricing:
If you're interested in seeing how A/B testing can help your business, Greenrope now offers a starter plan for only $99 per month.
5. FreshSales
Freshsales is an intuitive sales software for small and medium businesses. It brings the power of artificial intelligence to the CRM space and has cross-platform capabilities that are a natural fit for anyone who uses a Mac or mobile device.
This AI-based CRM comes with pipeline management features that help you close more contracts efficiently. Also, it lets you automate your tasks and assign leads to the selected salesperson.
For small and medium-sized businesses, it's a great alternative to Zoho CRM. Beginners can start with its free plan and upgrade to a paid plan later when their business starts growing.
Pricing:
There's no free version but you can get the free trial with unlimited access for 21 days with no credit card required to be entered in checkout page. Upgrade to the Pro version for $15 a month and receive access to useful features like customer support, priority customer care, technical assistance, and more!
6. Constant Contact

Constant Contact is a fantastic CRM tools to use when you get on the market and want to start an email marketing campaign. It offers multiple powerful functions that will keep your customers dutifully engaged, bring in new clients, and drive results for your business.
Another feature that Constant Contact offers is a contacts management feature, which helps SaaS marketers further nurture leads into customers. Manage contacts and better categorize them with tags to make sure that you stay organized and keep each one at the relevant point of your sales cycle!
One of the best features, when it comes down to the marketing aspect, is that with just the simple drag and drop builder function in the campaign editor, it really doesn't take more than a few minutes – or even seconds depending on how big your list might be – to create stunning emails and ensure consumers read them through (and don't want to use their Delete key!).
With Constant Contact, you can integrate with Zoho and other CRM systems such as pipedrive, CRMs like Highrise and SugarCRM, Wufoo forms, Microsoft Outlook, Mailchimp and other google forms alternative.
Pricing:
Business pro plans start at $20 per month and you can add team members with whom you'll be able to share the package. You also get free access to their crm tool for next 30 days without adding any credit card details.
Once the trial is ended, you get to choose their pricing plans which start from $20/a month per user.
7. SalesForce

Salesforce is one of the leading CRM mobile apps available today. It has been around since 1999, and its development team puts out a new update on average every three months. The app also has connectivity features to other applications in order to help users perform various business tasks such as placing orders or reporting inventory levels.
Salesforce offers powerful functionality and is a cloud-based service that reaches all fields in organizations with its CRM, marketing, analytics, social needs, etc.
The Salesforce app for Android lets you manage users, leads and contacts. You can automate your workflow and create customized Tasks that fit your unique business needs. Manage all of your Salesforce data with the beautiful, easy-to-use interface on your mobile device.
The "one page" sales dashboard combines all the information needed to manage and track each opportunity using Salesforce's predefined building blocks. Click here to see what Salesforce users have done.
Salesforce is like a very handy multitool. The platform has so many features that it can be visually intimidating looking at them all at once. But with the Salesforce documentation available online, users can get to know their way around the platform easily and become familiar with the options available to them before they actually use them.
Pricing:
Salesforce pricing for this service begins at $25.95 per month.
8. Drip
Drip is a powerful zoho email alternative CRM tool for eCommerce businesses that sell digital goods and services online. With its user-friendly dashboard, you can quickly and easily manage your contacts and interact with them.
Drip is best known for its email marketing functionality and customer tracking features. It lets you add tags to your customers' accounts which helps you learn about their actions and behaviors, so that you can target them with specific campaigns that they want to see.
Drip lets you integrate with services that eCommerce sites need most, like Shopify and WooCommerce.
Pricing:
Pro plans start at $19 per month for up to 500 contacts. Contact us to discuss larger options.
9. Streak
Streak is the only CRM that is built inside your Gmail inbox. Many other applications are compatible with this one, and for this reason you don't have to switch between your email and other applications to keep yourself organized.
Because Streak is integrated with Google Apps for Business, you can keep track of your contacts' activity in Salesforce directly from Gmail and Google Drive. You don't have to switch between inboxes or third party applications to manage your contacts.
This CRM operates on Gmail, connecting directly to it and displaying your sales data in a spreadsheet-like dashboard. You can also easily manage your email campaigns and view your workflows. Data received from emails is extracted by the software, processed through your sales funnel, and then stored for future use.
Built specifically for the needs of a startup and small business, Streak is a great alternative to Zoho as it doesn't have all the bells and whistles- but provides a basic suite of services that will get you up and running quickly. Having built our own company from scratch,
Streak know what it takes to start with something minimal and then add on additional features over time as your business grows without having to worry about losing your data or breaking anything in the process!
Pricing:
A free version of a product is always available if one so wishes. If a person prefers a more customized experience, there are paid plans available starting at $15 per month.
10. EngageBay
EngageBay is an all-in-one CRM and project management software that comes with a free-forever plan for up to 15 users. Unlike its competitors, it helps you manage your projects by tracking details about your clients, important dates and sending meeting invites so that everything is always in one place.
It also includes a handy timesheet for project managers to better track time spent on tasks and know exactly where their team members are spending their time.
EngageBay is a newer software option geared specifically towards small businesses, new companies, and marketing agencies.
The platform allows you to handle email marketing, sales and deals management with visual pipelines for contact management and customer relationship management; it allows for advanced automation tracking tools and live chat support.
Pricing: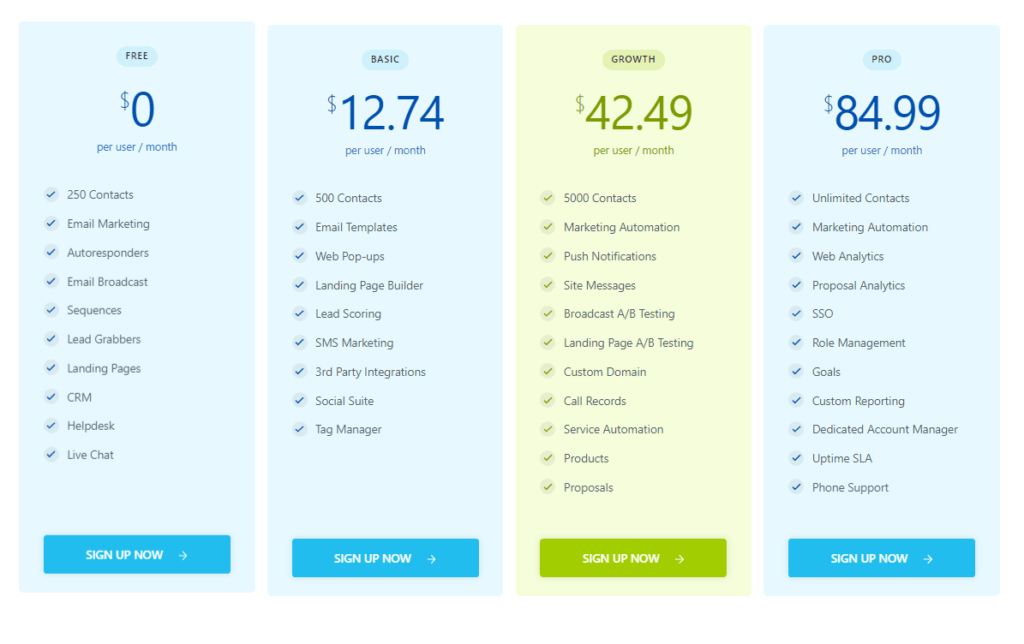 For $12.74/user/month for the basic plan with exclusive access to 500+ contact. There's also a free plan for everyone who want to get started their free features and then move to the premium plan.
Final Words: Which is the best Zoho Alternative?
We've reviewed the best Zoho alternatives if you're looking for a good CRM. If you're still having trouble deciding, then keep reading!
HubSpot CRM is ideal for startups and small to medium-sized businesses. With this excellent CRM tool, your business can expect more sales, improved marketing strategies and cost-effective lead management. It's the best CRM platform for small and medium-sized businesses.
PipeDrive : If you're looking for an alternative to Zoho that may be easier and more reasonably priced, you might want to check out PipeDrive . This is however not a sponsored or endorsed statement by Zoho and we do not in any way state it to be better than or worse than Zoho.
Constant Contact: If you run an eCommerce site or any other type of business and want to make sure your marketing is up to scratch then Constant Contact is the best option for you. They have everything you need from easy-to-use analytics tools, powerful customer segmentation tools, and effective lead generation tools that will grow your business.
If you're trying to find a Zoho alternative, then you understand how important it is to choose the correct one for your needs. We hope that you found our brief list of Zoho alternatives helpful in your search for the best product for your specific situation.
If there's a particular program you're still unsure about, mention it in the comments section below and we'll consider reviewing it on this page as part of future updates!