Zendesk is one of the largest platforms in the customer service software space. But, what are the alternatives to Zendesk🤔? It makes life easier for companies that are trying to manage customer service. But, are there better options out there?
This blog will look at other best customer service software that you can use to improve the customer experience of your business, also These are help desk software solutions that are much better than Zendesk.
Help desk software is now a must-have for companies and an important part of the customer support experience. In order to keep you ahead of the game and on top of the competition, we have compiled a list of the top Zendesk alternatives.
Zendesk alternatives are software and tools that you can use for customer support that are similar to Zendesk but not exactly the same. Some examples of these include Hubspot, Zoho Desk, Help Scout and Freshdesk.
The purpose of these tools is to enable a business to provide efficient and effective customer support, just like Zendesk does. These options are also known as "Zendesk competitors" because they offer similar services.
It's time to stop using outdated help desk software solutions. If your business is still using Zendesk, it's time to look for a more efficient and reliable solution. This blog will look at the top Zendesk alternatives on the market for you to help make the switch easier.
Why Zendesk is not good anymore?

The main reason why Zendesk is not good anymore is that they have failed to innovate and keep up with changing times. In the last few years, they have been slow with new features and improvements. It is also very expensive with a lot of hidden costs. Zendesk is definitely struggling to maintain its competitive edge in the ticketing field.
While Zendesk is a great product and well-known name in the customer support software category, it may not be the best option for every support team.
The two main problems people have with Zendesk are its price and how complicated it is to use. Zendesk's base plan starts at $49/agent per month, which is more than twice as expensive as similar plans from other companies. Along with the monthly cost, a lot of people have to hire extra help to get Zendesk set up, and some reports can take months.
Zendesk is a complex product with lots of features, which can be an asset for those who have the time and need for them. However, it ends up being a complication for more agile teams. Zendesk is optimized to meet the needs of very large teams at companies with more than 500 employees.
For leaner, growing teams at SaaS, ecommerce, online services, and DTC companies, there are a number of Zendesk competitors who may align more closely with your needs.
A lot of the Zendesk alternatives out there are open source solutions. They offer unique advantages that are particularly well-suited for customer service, and they're not going anywhere anytime soon.
That being said, Zendesk is really only optimized to meet the needs of giant teams at huge companies. If you've got a leaner, growing team at a SaaS, ecommerce, online service, or DTC company, there are plenty of Zendesk competitors who could be a better fit for you.
Top 11 Alternatives & Competitor's to Zendesk Support Suite for 2023
We know that choosing the right support software for your business can be difficult with all of the different options out there. That's why we put together this helpful list of Zendesk Support Suite's features and how it compares to other similar products on the market.
We have compiled a list of solutions that reviewers voted as the best alternatives and competitors to Zendesk Support Suite, including Freshdesk, Intercom, HubSpot Service Hub, and TeamSupport.
1. Hubspot Service Hub
If a prospect comes to your website, how do you ensure they're a qualified lead? How do you make sure they're ready to hear what you have to say? With web forms, leads capture information that is relevant to your business. There is a variety of web forms you can use to acquire new business: Contact, Lead, Registration, and Sign-up.
Hubspot is the best marketing tool in the business. It has all the features and benefits of the best tools available. It's the ultimate marketing software on the market and you should definitely consider it for your business! HubSpot Service Hub is a customer service platform that helps companies manage customer support.
HubSpot can work for companies of nearly every size, connecting users with conversational bots, live chat, canned responses, and phone calls with live agents.
This zendesk alternative makes it easier for companies to connect with their customers and provide them with the support they need. It is a cloud-based customer service platform that helps companies manage customer support.
With HubSpot, companies can connect with their customers via conversational bots, live chat, canned responses, and phone calls with live agents.
In addition to satisfaction surveys, automation, and the option to create a knowledge base, Hubspot CRM also offers the ability to connect customer profiles to Service Hub. This gives your team even more context and insight into your customers' needs and expectations.
HubSpot Service Hub is constantly engaging with customers because it offers a comprehensive knowledge base and automated customer marketing emails. As you would expect, HubSpot Service Hub integrates with the most relevant third-party applications.
Key Features:
Hubspot is a top provider of services in the marketing industry. From managing your company's website to managing your company's blog, they can do it all.
They are proficient in social media management, which enables them to create marketing strategies and ultimately help you succeed in your own marketing strategies. From their blog to their knowledge base to their social media accounts, everything Hubspot has to offer is high quality and well-managed.
User, role, and access management play an important role in data security. By limiting access to selected data, features, and functions, you can help protect your information from unauthorized access and misuse.
Tracking vital metrics related to customer support can help improve your team's workflow. By understanding which areas need improvement, you can make necessary changes to optimize your customer support process. This, in turn, will lead to happier customers and a more efficient customer support team.
Creating surveys and collecting feedback from customers is an effective way to learn how the support team can further improve performance and meet customer expectations.
Automatically reply to support tickets based on their category, and easily collaborate on tickets with your team.
Customizable logos, and chat colors to their liking. This will give them a sense of ownership and pride for using your product.
HubSpot is not only a great alternative to Zendesk because of its advanced features, but also because it is easy to use, set up, and administer. Additionally, one of the best features that I love is the customization options that actually offer a rather original journey for the customers.
Whether it's custom properties, custom surveys, or custom reports, you can shape everything according to your team's and customers' needs.
Pricing:
Free plan available. Paid plans starting at $45/month
Hubspot's pricing for services is determined in part by the features, limitations and volume of the plan. A lower price point may be available for businesses with fewer number of contacts.
HubSpot offers several different services that businesses can use to get the most out of their marketing and sales processes.
2. freshdesk
Freshdesk is a popular alternative to Zendesk that's trusted by over 40,000 customers, including Panasonic, HP, and American Express. This customer service software offers many of the same features as Zendesk, but with more flexible and affordable plan options.
Freshdesk is a product of Freshworks, which focuses on aiding customer support teams solely. Involving Freshdesk Omnichannel within its system, Freshdesk grants many wishes of its users by having features using artificial intelligence as a base, which might sound like premium features as
Zendesk doesn't include built-in AI-powered chatbots within its system. However, upon further evaluation, it has been found that Zendesk does in fact offer a similar service through its Zendesk Explore plan, which includes the use of Zendesk Assist powered by artificial intelligence.
Freshdesk strives to enable businesses of all sizes to improve their customer experience with little-to-no cost or complexity in comparison to other software solutions on the market.
They aim to do this by providing access to automation tools which can help companies route help desk tickets to the most appropriate support agents. In addition, their software includes collision detection capabilities to ensure that multiple support agents are not working on the same issue at the same time.
Key Features:
Freshdesk also offers a few other features like advanced reporting and the ability to send customer satisfaction surveys (CSAT) when a ticket is closed, but these two features are only offered on its higher-tiered plans. If you're looking for a more affordable option, you might want to consider another ticketing system that offers similar features.
If you're in the market for a customer support tool that has advanced features for custom bots, Freshdesk is a great option to consider. With Freshdesk, you can take advantage of the following:
Freshdesk allows you to create a ticketing system that is customized and you can easily integrate Freshdesk with your other apps.
Know what customers (and your product / company) are doing right
Keep tabs on what customers are saying, how they interact with your brand, and what they like most
A number of auto reply suggestions Gain insights on what your customers want and how they want to receive support.
Aassign tickets to your employees, filter reports to see which customers need the most immediate attention and make sure that your support team is streamlining their efforts and working together!
It helps you prioritize which customers need your attention the most with the help of a simple yet effective dashboard
The platform also has some great reporting features that can be used to track how many emails are sent per day, how many questions are answered, and much more.
So if you're needing a customer support tool that can do it all, give Freshdesk a try – you won't be disappointed!
If you're looking for a single, complete place to manage all your customer support, look no further. Freshdesk's intuitive workflows, smart routing, real-time reporting, and fully integrated knowledge base can help you move from inbox to resolution in no time.
And now, you can try these features in a 21-day free trial.
Pricing:
Freshdesk offer a free plan as well as paid plans starting at $15/agent per month. Omnichannel plans are also available, starting at $29/agent per month. All of the plans mentioned include a 21-day-long free trial so that you can try out the features before committing to an annual purchase.
If your small business needs a dependable customer experience platform that is easy for your support team to use, or if your company requires multi-channel customer support, Freshdesk have you covered.
3. HelpScout
Customer service is vital to the success of businesses. It doesn't matter how good or bad your product is, if customers don't like the experience they had with you, they'll be less likely to purchase from you in the future. The user experience of buying a product is just as important as the product itself.
This is why customer support is a big deal for businesses. Help Scout has been a great Zendesk alternative software tool for me to use. The user interface is very easy to use, even for the people who are new to using help desk software. This makes it easy to teach other members of the team how to use it.
I started off new to help desk software, and within the first few days I was able to get the hang of it. Now, I feel like I'm a power user!
Those who want to offer excellent support to their customers will love the various features in Help Scout, as it makes that easier then ever. The platform's search function is always available and even easier to use. It's quick and easy to find what you're looking for, so you can get it fixed as soon as possible.
You can even see how many tickets are being dealt with in real time and see how many you've completed recently.
Key Features:
Help Scout is a customer service platform that features document and customer interaction management. It's used by small businesses and other customer-focused businesses. It's perfect if you want to create a positive experience for both the customer and the agent. The user interface is easy to use and navigate, meaning that you won't have to spend hours learning how to use it. By the end of your first week, you'll be a power user!
With Helpscout, you can take advantage of the following features:
Shared inboxes can help with email support by allowing multiple team members to access and manage customer inquiries at the same time. This can help to improve response times and customer satisfaction.
Customers want to be able to find answers to their questions on their own, and a customer-facing knowledge base is a great way to empower them to do that. With Docs, you can create and manage FAQ pages and knowledge base content, so your customers can easily find the information they need.
Create suvery to send out to customers for analyzing their responses, you can identify ways to improve the performance of your support team. This will help you deliver a better experience to your customers, which can lead to increased satisfaction and loyalty.
Help Scout is a customer service software that is revered for it's ability to take both the agent and customer experience into consideration. Many businesses find this system to have a complete and easy-to-use interface, which can be up and running within just a few hours.
For those who want to make an effort to keep customers happy, Help Scout's dashboard and support ticket system will prove vital. The dashboard will make it easy to schedule out your time and the ticket system will keep track of what you've accomplished and what you have left to do.
Pricing:
Help Scout's plans start at only $20 per user per month when billed annually – and they offer additional discounts for nonprofits and startups in their first year too.
Try these features in a 15-day free trial.
4. Intercom
Intercom is a software company that provides customer help desk software that offers many innovative features, operates quickly, and provides user segmentation and filtering for sending emails or campaigns.
The shared inbox feature is also enjoyed by many users as it helps with workflow and automation by enabling ticket automation, workload management, and routing automation.
Intercom is another great alternative to Zendesk for customer messaging platform that helps companies build more authentic relationships with clients by providing conversational, messenger-based customer experiences.
The focus is on enabling companies to build genuine relationships with clients through each stage of the sales funnel, specializing in helping companies build more authentic customer relationships throughout the customer journey.
Intercom provides customer support agents with a unified dashboard from which they can provide multi-channel support through live chat, email, in-app messaging and push notifications.
Intercom also allows you to automatically route and prioritize customer issues with assignment rules and ticketing workflows, making it easy to provide an excellent level of customer support.
Key Features:
Intercom allows users to communicate with clients in a variety of ways, including email, live chat, push notifications, and in-app messaging. This makes it easy for companies of all sizes to reach the right people on every platform at the right moment.
Another great Intercom feature is that it allows users to create comprehensive knowledge bases. This makes it easy for clients to find answers to both simple and complex questions without needing to speak with a customer service representative. Of course, Intercom's messaging capabilities also make it easy for clients to connect with agents when necessary.
There are many features of Intercom that make it a great app to use in your business. Some of these features include, the ability to add multiple users, the ability to export and import conversations, and an easy to use interface that helps your business move quickly. These features and more make Intercom a useful tool in any business!
One of my favourite features of Intercom is the ability to add a custom link at the bottom of every message. This can be set per-message-type if I want a dedicated sign up page with a timer for a targeted offer,
Or it could point to my blog if I want to control the user experience further, or it could be an external URL if I want to increase the reach of my marketing efforts for that particular message. The reasons to use it are endless, but there's one thing I know for sure: it will always get me more leads.
The best feature of Intercom is its excellent timing and notifications. The way it makes it easy to respond to messages makes it a perfect tool for keeping your team informed. The way that it allows you to see all of your messages at once and the fact that you can see what's been read and what hasn't makes it perfect for communicating.
It's clear and clean user interface means that you can find all the information that you need quickly and easily. It's great for anyone who wants to keep their team in touch without having to learn a lot of complicated features.
Pricing:
The starter plan for Intercom is $74/month per agent when billed annually. If you're not sure if Intercom is the right fit for you, they offer a 14-day free trial so you can try it out before making any commitment.
Intercom's pricing structure isn't revealed on its website, so it might be a good idea to contact their sales team to get more information.
If you're a company that operates at a fast pace, you'll understand how important it is to have a customer support software solution that can keep up with your speed. This is where Intercom comes in – we could be the right match for you!
5. zoho Desk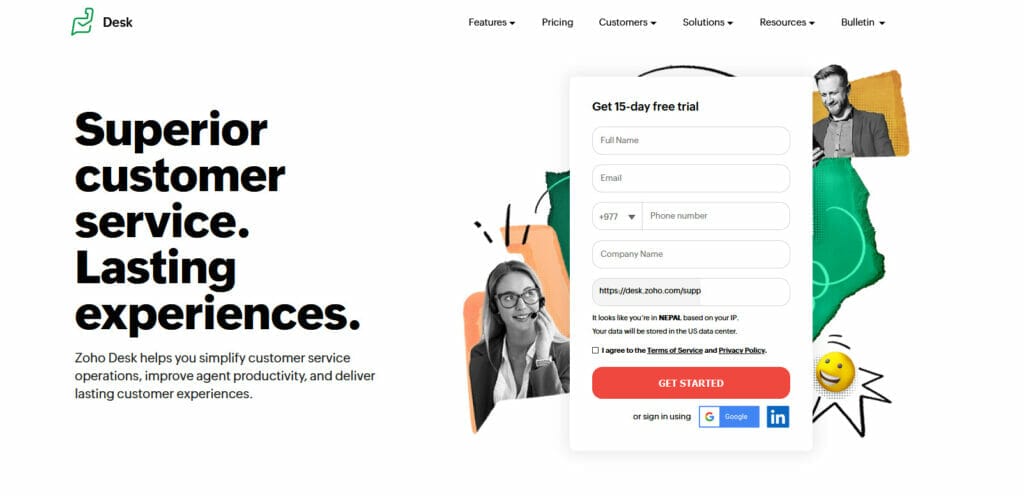 Zoho Desk is a feature-rich customer service software that offers many of the same capabilities of Zendesk and its competitors. Aimed at improving support agent productivity, Zoho Desk comes with a built-in ticketing system, email support, live chat and a knowledge base.
Zoho Desk also integrates with Zoho CRM and Zoho Campaigns to add customer information to your support tickets, making the overall support experience more seamless.
Its automation-powered ticketing system makes it easy to assign tickets to the right agent while informing agents and customers automatically about ticket progress. Zoho Desk is aimed at improving support agent productivity and includes many of the same capabilities as its competitors, such as Zendesk.
Zoho Desk is a very similar product to Zendesk in terms of reporting features, a knowledge base feature, and advanced features. Zoho Desk has the advantage of being very affordable for the functions it offers.
Key Features:
Zoho Desk has many features, such as a shared inbox, phone integration and chat, though some features are only available with the most expensive plan. It also has a good selection of integrations to connect with the rest of your technology stack. For larger teams, there are team management features, like time tracking.
They also offer AI options for self-service, but this too is only available with the most expensive plan.
It's easy to set up, use and manage everything on the site which is crucial for busy entrepreneurs.
The clean and simple interface makes managing your chat easier.
Reports and dashboards are quick with customized layouts, templates and branded help desk
Zoho Desk has an efficient and intuitive interface, so it's very easy to learn and use! You can create your account in less than 5 minutes and the signup process is completely hassle-free. With a clean, easy-to-use interface, it's perfect for both business and personal use! If you're looking for a virtual help desk, you will be very happy with Zoho Desk.
Pricing:

Zoho Desk offers free and paid plans, starting at $14/agent per month. paid plans start at $12/agent/month (billed annually) with 15-day free trials available for every plan.
If you're looking for a customer support tool that's reasonably priced and has features that support team productivity, as well as AI support, Zoho Desk might be the right fit for your organization.
6. HappyFox
HappyFox is a comprehensive help desk software solution that lets businesses support their customers via social media, live chat, email, and phone. The software also helps support staff reach customers where they want to be contacted. Many people appreciate HappyFox for its ease of use.
HappyFox is a help desk ticketing system that helps you provide faster, more effective customer support. It has been PCMag Editors' Choice for Best Help Desk Software four years in a row and is trusted by Fortune 500 brands like Lowe's and Whirlpool.
Key Features:
This helpdesk solution allows organizations to provide support through email, live chat, social media, and phone. Companies can also create a knowledge base for customer-facing content that allows customers to find answers before contacting support. With HappyFox, businesses can have a dedicated support staff that is instantly available to address their customers' concerns.
All of HappyFox's help desk plans have ticket limits, so please keep that in mind. In addition to their help desk solution, they also offer live chat and even in-app chat tools. However, both of those are separate tools and would need to be purchased independently of their help desk offering.
HappyFox and its wide variety of support systems, integrations, and channels make it easy to support your customers in the ways they want.
Omnichannel support that includes voice, email, chat, social media and mobile for a complete customer experience.
HappyFox's self-service portal can provide pertinent information in response to customer inquiries, and can also offer information about the logistics of an issue.
Another key feature of HappyFox is that it enables companies to build a knowledge base that integrates with the software's self-service functionality. With this, HappyFox's self-service portal provides pertinent information rewarding a customer's inquiries and can check information about the logistics of the issue.
This allows for a more seamless and efficient customer service experience.
Pricing:
HappyFox offers a variety of pricing plans to fit the needs of any organization, starting at $26/agent/month. Enterprise plans are also available for organizations that need real-time data and streamlined ticketing and documentation to avoid overlaps and delays.
HappyFox is a software that helps with both project management and a help desk. It includes features like a shared inbox, a knowledge base, and automations to reduce manual work. It can also assign tasks and change task statuses.
7. Front
Startups focused on account management need the best possible tools to stay organized and efficient. That's where Front comes in. Front is a collaborative email platform that helps bring all of your business communications into one place, so you can resolve issues quickly and with a human touch – not just by relying on automated tickets.
Front is a customer communication platform that allows businesses to offer cater their services to each customer on a large scale. Front combines the simplicity of email inboxes with the insights and automation of a CRM.
The system allows every department to work collectively and send faster responses, organize messages across every channel easily, and maintain personal connections.
Key Features:
While most customer support teams utilize help desk software to manage a group email account, there are cases where it is more useful to have both personal and group email addresses.
This can be done with Front. In addition to shared inbox capabilities, Front also offers basic collaboration and automation features. Although, some other features like analytics are only included in their higher-cost plans.
Reminders and responders are unmetered
It's important to connect all communication channels to your team inbox so that you can stay on top of everything. This includes email, SMS, WhatsApp, social media, live chat, and any other platform where people might reach out to you.
By sharing knowledge and collaborating in real-time on customer messages, you and your team will be able to provide the best response possible. This will show your customers that you are responsive and care about their inquiries.
Use workflows to automate manual tasks and get analytics to help your team work smarter, not harder.
Front's automated workflows can help you keep track of and manage incoming support requests so that none get lost. Additionally, Front's email templates let you quickly and easily resolve common issues with consistent answers via pre-written responses, providing a great benefit to users.
Pricing:
Pricing for Front starts at $19/user/month (billed annually). You can try every plan for free for 7 days, and there is no need for a credit card.
Front is a great tool for businesses of any size. It's easily scalable and has a ton of features, like the ability to convert emails into custom platforms and automated routing. Plus, it integrates with lots of different apps, so you can use it however you need to.
8. Gorgias
Gorgias is the best Zendesk alternative for small businesses using Shopify. It's a help desk solution that's focused on providing great support to small businesses in the ecommerce space.
With Gorgias, you get access to a shared inbox and live chat. However, the biggest differentiators are its Shopify, Magento, and BigCommerce integrations (although the Magento integration is only offered on the higher-tier plan).
Gorgias is an excellent option for small businesses that use Shopify, as it offers features specifically designed for eCommerce and small businesses.
These features include live chat and shared inbox functionality. However, Gorgias really sets itself apart from the competition thanks to its integrations with BigCommerce, Shopify, and Magento. This makes it an incredibly versatile and powerful tool for businesses of all sizes.
Key Features:
With Gorgias' integrations, you can see order details, edit orders, and even process refunds directly from your help desk. This can save a lot of time and hassle for your support agents. Gorgias also has social media integrations with platforms like Instagram and Facebook that let you track conversions on those channels.
You can Keep all your support tickets in one neat and tidy place so you can easily access them without having to search through various folders.
Turn more of your visitors into shoppers by giving them a personalized experience, no matter where they are in the world.
By integrating a sales tracking system with your support channels, you can unlock sales that would otherwise be missed. By tracking all sales generated by support agents over text messages, social media answers, and live chat conversations on your website, you can make sure that no sale falls through the cracks.
Pricing:
Gorgia's plans start at $10 per month. In addition, all of their plans have ticket limits. This means that your costs could go up or down depending on how many tickets you use in a given month. For example, their base plan includes 50 monthly tickets. This comes out to around 50 tickets per month only when you optin for their startwer plan.
Most teams would need more than this, so they would be charged an additional $25 for every 100 tickets they use over the limit.
9. liveAgent
LiveAgent is an excellent Zendesk alternative for customer support teams looking to streamline their ticketing and servicing. Used by big names such as Forbes, NASCAR, and the University of Southern California, this all-in-one solution allows companies to create a call center, offer live chat support via website and social media,
And create a knowledge base for self-service support – making it easier for customers to find answers to their questions without having to wait on hold or speak to someone directly.
LiveAgent is a popular Zendesk alternative because it offers great value for money. LiveAgent is a more basic, classic alternative to Zendesk that still has all the essential features you need in a help desk tool. This platform can receive and manage requests from various channels, including email, social media, telephone, and live chat.
Many users find that LiveAgent strikes a perfect balance between having a simple interface and being packed with features.
Key Features:
The help desk feature on LiveAgent is the primary reason most customers choose this software. The help desk interface is user-friendly and helps you to receive and handle customer requests with ease. It is important to note that the only communication channel included in cheaper packages is email. So, if you want to use social media or other channels, then you will need to upgrade your plan.
LiveAgent's ticketing system makes it easy for you to spend less time and money on customer service. You can save up to 95% more money, time, and resources by switching to ticketing. Our ticketing system can gather all of your communication from every single channel you use and organize it for you in one place. Start with LiveAgent ticketing and provide cost-saving, efficient and exceptional customer service.
If you can't solve a problem with a customer, you can use the audit log to help you figure out what happened.
You can use the audit log if you need to know what happened to a file or folder. The log will show you when the file or folder was created and last accessed. You can also see who changed a file or folder.
LiveAgent is a customer support tool that offers many different ways for support teams to communicate with customers, including live chat, email, telephone, and video chat. LiveAgent also offers fully customizable customer-facing portals, so companies can tailor the customer experience.
Pricing:
LiveAgent provides help desk software. They offer plans that start at $15 per agent per month. The plans include a full-sized ticketing solution with free trials available for each solution. LiveAgent offers a 15-day-long free trial.
Businesses that need a branded, customizable customer-facing portal or companies that want the option to provide support through several different communication channels will find that using help desk software will be beneficial.
Live agent desk will allow businesses to offer support through various channels such as email, phone conference call services, and chat. This type of software is also beneficial for businesses because it allows them to brand their portal with their own logo and colors.
10. Groove
Groove is a fantastic Zendesk alternative that will help streamline customer inquiry and support processes. Using this software, agents can provide customer support through Facebook, Twitter, email, phone, live chat, or text messages – all in real-time. roove also allows multiple agents to work on one support item as a team, using either private internal means or customer-facing channels.
This customer experience software is equipped with a support widget that can be displayed on a company's website. This allows customers to engage with the knowledge base and open support tickets when necessary. By having this widget on the site, it helps to create a better overall experience for customers.
Key Features:
Companies that use Groove find that they're able to take care of their customers more effectively and efficiently by having a knowledge base and customer portal that customers can easily access to find answers to their questions. Additionally, Groove offers a number of integrations and an easy-to-use interface that make it simple for companies to get started with the software and see results quickly.
Live chat for personal, realtime support.
A powerful shared inbox similar to emails
24/7 support with a Knowledge Base.
At-a-glance reports to keep you up-to-date on the most important online customer support metrics.
Organizations can use Groove to easily create customer portals and a knowledge base, which can be used to display information via multimedia or text. This helps customers find the information they need quickly and easily. Furthermore,
With Groove, users can create support widgets that are displayed on their websites. Installing such widgets allows the company to streamline the process of initially engaging with the knowledge base. Yet, widgets can also be used to allow customers to create support tickets.
Pricing:
Groove prices start at just $20 per user per month, and all plans come with a free 120-day trial period. Groove also offers an unbeatable 93% discount for early-stage startups with 10 or fewer employees. Get started with Groove today and see how we can help your business grow!
Companies that want to reduce the amount of time they spend on customer support, and businesses that need a customer support software that integrates with other systems.
11. kustomer
Kustomer is one of the best Zendesk alternatives for teams that need CRM capabilities because it allows users to see the whole picture of each client and update every system at once. This saves energy and time which is why it's such a great choice for teams wanting CRM capabilities.
Kustomer has blended together two types of software – CRMs and help desk software – to create something innovative and unique. With Kustomer, you can see a complete profile of every customer and update multiple systems all at the same time. This will save you time and energy in the long run!
Kustomer's multi-channel support includes email, chat, phone, and social media accounts. You can also use their no-code chatbots to deflect support requests to self-service options.
Key Features:
Overall, Kustomer is a great software with many features that other customer service platforms don't have – such as the ability to connect with clients via chat, email, phone, or social media. If you're looking for a way to deflect support requests to self-service options, Kustomer has no-code chatbots available to help.
With Kustomer bots, you'll be able to automate many of the routine interactions that agents have with customers. This way, you can focus on providing personalized experiences and driving faster resolutions.
Kustomer brings all of your data together so that you can take action on it. This also enables powerful automation, routing, tagging, and hyper-personalized customer service.
The downside to this Zendesk alternative is that it can be costly and confusing for some. Also, companies who have customer-centric teams may not appreciate all of the features that Kustomer offers for deflecting requests. However, Kustomer is still worth checking out at least once.
Pricing: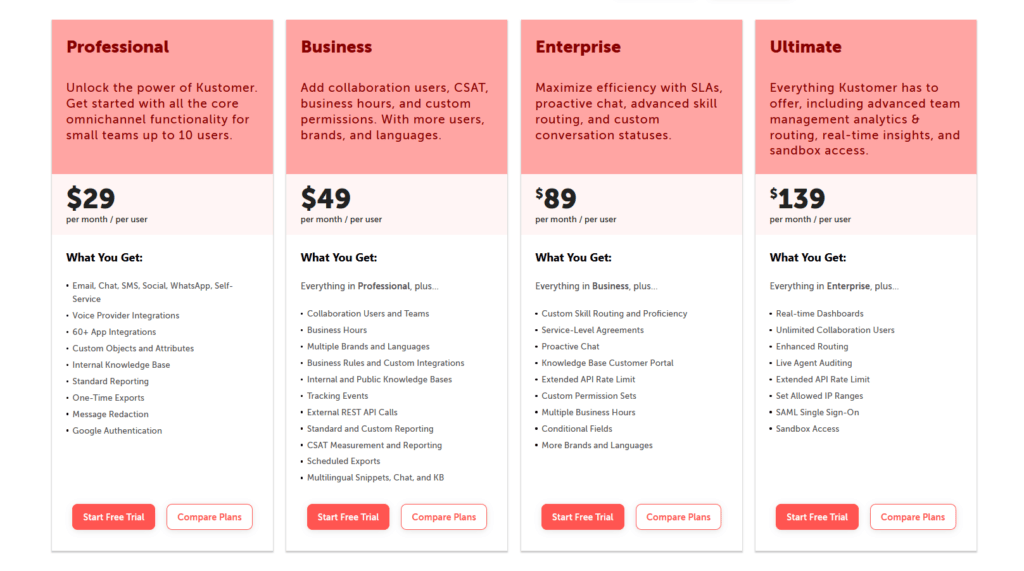 Kustomer price plans start at just $89 per month for each agent, making it an affordable solution for businesses of all sizes. Kustomer is a great tool, but it can be quite expensive.
The pricing structure is confusing because there are a number of tools that are add-ons. Also, many of its features focus on deflecting requests, which may not be ideal for more customer-centric teams.
How to choose the right Customer Service tool for your team?
Choosing a right tool is not as simple as it sounds. It is not just about the cost, time and resources to learn either. It is a good idea to try to understand the team members. What they are comfortable with, what they are not.
What they are good at and what they are not. What makes them tick. Which tools will help them reach their goals.
What is the goal of the team?
To deliver a product to the market or to serve their customers better?
What is the level of team maturity? How organized is their project? Are there any technical constraints? Now, you can figure out your tool.
Leave this all, simply ask and indentify these below three questions you should ask yourself to find the perfect customer chat tool for your business:
What are my specific needs? What do I want this tool to do for me?
What is my budget? How much can I afford to spend on a chat tool?
How easy is this tool to use? Do I need training to use it effectively?
After answering those questions, it's time to get rid of the options that aren't realistic or don't fit the bill. What you're left with should be a list of 2-3 options. The next thing to do is demos and trials for each option. Having hands-on experience can help you see what works best for you and your team in a real-world environment.
Furthermore, it's beneficial to have members from each area of the company test the final contenders of the tool. By doing this, you're increasing the chances that the chosen option will be compatible and work well for everyone who uses it – agents, managers, etc.
In addition to features and software functionality, it's important to also consider other aspects of each tool before making your final decision. Take some time to visit each tool's help centre and email their support team to get a sense of their customer communication skills.
If everything else is equal between two different tools, the quality of customer support could be the deciding factor.
Why you should consider opensource Zendesk Alternatives That Aren't Just Bad Copycats!
Zendesk is a hosted service which means that it is already installed on the server and doesn't need to be installed on the client's computer. The customer should have an account in order to be able to use the software. On the other hand, Open source alternatives can be installed on the customer's computer.
Open source means that the software can be modified as per ones needs. Open source software is more flexible and customizable. The only disadvantage of open source is its lack of support. Anybody can use open source software for free, so the company cannot make money if there is no support.
Affordable Pricing Efficency

: Zendesk is a great help desk software. It has four different pricing plans. The cheapest plan is for small companies. But even the cheapest plan is quite expensive. There are also many free alternatives to Zendesk. The free alternatives are often even better than the paid ones.

Flexibility

: The Zendesk helpdesk software is very flexible, but it is also open source software. Open source software is literally yours to take and build upon. You can customize open source helpdesk software to meet your specific needs.

Full Access to data

: Zendesk is a cloud-based customer service software. It is hosted on the cloud and they have control over your data. Zendesk alternatives are hosted on-premises. This means you have full control over your data. You don't have to share it with anyone.
Open source software has publicly accessible code, as opposed to closed source or proprietary software. This allows for people – usually developers – to view the code, copy it, make changes, suggest changes to improve it, and more.
What's more, some open source solutions can be run on an organization's own servers, giving them complete control over their data.
The transparency of the code has led to numerous open source advantages, such as flexibility, enhanced security, scalability, and agility. These benefits are also present in open source alternatives to Zendesk.
FAQs: Related to ZenDesk Alternatives
What is another site like Zendesk?
If you are looking for another site like Zendesk, you can try Hubspot or Zoho Support. HelpScout is probably the most similar looking to Zendesk. It has a very similar user interface, support is opened 24/7 and it's got a free trial. Zoho Support is also worth a shot, but it's a little bit more expensive than HelpScout and it's got a few more features.
What is the best open source alternative to Zendesk for a SaaS application?
If you are an open-source lover and would like to find some good open-source alternatives to Zendesk, we can help you. Rocket.Chat is an excellent open-source alternative to Zendesk. It has all features of Zendesk, like manage tickets, support forums, campaigns, email marketing and etc. For more details, please visit Rocket.Chat.
Which is better, Zendesk or HubSpot?
Zendesk is an American company that provides customer service software to companies. It lets them manage their customer relationships across multiple channels whether it's email, live chat or social media.
HubSpot is a marketing automation platform that helps businesses acquire, engage and convert visitors into customers. It provides tools like web analytics, marketing automation and sales lead tracking.
HubSpot is a more advantageous option than Zendesk because it provides your team with the tools and resources needed to be successful. As a fully-qualified platform, HubSpot gives you the ability to manage your team's workflow and sales pipeline with ease.
Additionally, HubSpot's customer support is top-notch and always available to help you troubleshoot any issues you may encounter.
Is there a free Zendesk alternative?
Zendesk is a cloud-based helpdesk and support software that allows you to manage customer support tickets, tracking and more. It is a web-based tool that can be accessed by logging in to the backend of the website. It offers plenty of great features to assist you with your customers, but the license price is a bit on the higher side. There is absolutely no free Zendesk alternative available.
Why is Zendesk so popular?
Zendesk is one of the simplest and most user-friendly customer support software available. It integrates with Microsoft Office, so it's very easy to use and efficient.
It also has a beautiful and easy-to-use interface. Those are a few of the reasons why Zendesk is so popular, but the best feature is the free trial. You can try it out and see if it's going to work for you before you buy it.
Who should use Zendesk?
Zendesk provides online help desk software for small to large companies. Their user interface is very clean and simple, making it easy for you to track your customers' questions and answer them.
Wrap-Up: The Most Powerful Team Support Tool on the Market
Looking around the market, it's obvious that Zendesk is a great product. When compared to the alternatives, it offers more features, more integrations, and more ways to expand your team's knowledge of the product. If you're a very large business, with a very large budget, it might be the perfect fit for you.
When it comes to choosing the right solutions for your needs, it's important to take the time to truly dial into what your needs are and which tools you need access to in order to address them. You can also check the best domain registrar to find your perfect business name without discount.
Once you know your needs and which solutions you're looking for, you can start looking at the solutions that will help you solve your challenges.
We hope you enjoyed our article about the best Alternatives to Zendesk. With this knowledge, we know that you can make the most of your customer meetings and collaborate with ease on projects when using those zendesk alternatives So what are you waiting for? Get started today.