Sending email newsletters is one of the most effective digital marketing strategies that marketers can use to engage their audience and convert them into subscribers, buyers, and repeat customers.
The prospect of loading thousands of subscribers into a mailing list and having them get into your sales funnel keeps companies thinking of new ways to generate leads.
But just like all entrepreneurs, most marketers want to know how to do it faster and cheaper. Email marketing is one of the most effective digital marketing strategies that businesses can use to get results. But it comes with a price. If you are not using an effective email marketing automation
Are you looking for the best SMTP service providers? An SMTP service provider helps you reliably send emails from your website to your users.
SMTP servers are specially configured to ensure that your emails reach users' inbox and don't end up in the junk mail folder. In this article, we will share the best SMTP service providers with high email deliverability. We will also show you how to send your WordPress emails using these SMTP services.
Why do we need an SMTP Provider For WordPress Emails?
SMTP is the de facto standard by which email on the internet is sent. It authenticates communication between two parties so that the emails you send to your users' inboxes are more likely to be delivered successfully.
There are several free email service providers from which to choose that utilize the Simple Mail Transfer Protocol (SMTP) for sending emails. For example, you can get a free business email address at Google or Outlook.
This is why you need to sign up with one of the well-known SMTP service providers so that your emails are delivered properly. Don't worry, a lot of well-known SMTP companies offer free plans that work just fine for most websites.
This is because the default WordPress function for sending email relies on PHP's mail() function, which is disabled by most hosting providers. Using it may also lead to blacklisting and other nasty side effects.
A lot of WordPress hosting providers don't have this function configured properly. Even if they did, there are some unsavory providers who disable it completely to prevent people from sending spam emails that can overload their servers.
Using the mail_* functions is a common mistake because it doesn't require authentication and commonly leads to abuse because of lack of control over the e-mail system.
Even if the mail function works on your WordPress hosting, you may still have to go through some troubleshooting on your own to get a few things running. If you're using WordPress to send out emails, check to make sure that you have the right SMTP server configured.
Reviews of the Best SMTP Service Providers For 2023
There are lots of companies offering email rejection service, but looking into companies providing an email rejection tool shouldn't be difficult. The seven below offer a great solution for your problem and come highly recommended. See the full list of pros and cons along with pricing details for each below…
Now within few minutes you willl know what separates the best email service providers from the okay ones, it's time to evaluate. This article will take a look at some of the best SMTP providers available today and share information about each one along with its pricing plans.
1. SMTP.COM
When you send out hundreds of emails a day, what kind of email delivery service do you require? Do you need reliability and a swift response time? Well, if so, SMTP.com is the email delivery service for you!
No other company offers such speedy, reliable email delivery services as this one. Not only that but it also has an enormous capacity so that it can handle the high volumes associated with your large email campaigns.
They offer a robust API to send transactional emails that seamlessly integrate with WordPress using their affiliate's preferred plugin.
Their access to comprehensive reports including details on how many times your email campaigns were sent and read gives them a leg over the competition. They have an edge as well when it comes to making sure that your email always ends up in the user's inbox since oftentimes more than just one of these protocols could be tracking your data (think cookies),
So being able to track all of these areas with ease and convenience is definitely one way in which they stand out from the rest.
SMTP helps you send all types of transactional, automated emails as well as marketing emails. This includes order confirmations, shipping notifications, order status updates, user authentication, and password resets.
The setup and integration process is quick and straightforward so you can start sending emails immediately. Plus, it gives you access to comprehensive reports on your email delivery and engagement performance.
SMTP.com also features an Email Monitor addon that comes with a reputation defender that is there to proactively protect your domain /IP reputation and ensure high delivery rates. It also contains comprehensive reports so you can check and improve the delivery performance and email engagement of your business or development project.
The plans at SMTP.com are affordable for everyone and intended to meet the needs of all businesses regardless of size and scope.
Pricing:
SMTP.com offers a 30-day free trial for up to 50,000 emails each month. The paid plans start at $25 per month and higher-paid plans include additional features like dedicated IPs with reputation defender add ons.
2. Sendinblue
SendinBlue is a popular email and SMS marketing service that sends transactional emails to your subscribers' list. These messages include offers or product updates/updates, support or status information as well as newsletters related to the business of your brand.
Plus, you can track the effects of these messages to find out open rates, bounce rates, click rates, average session time for each subscriber and number of downloads per message etc.
In addition to the messages sent directly from the SendinBlue platform itself (automatic ones), you can send promotional and transactional text messages through SMS.
One thing that stands out about SendinBlue is the fact that they manage SPF (Sender Policy Framework) and DKIM (DomainKeys Identified Mail) signatures for all the domains using the platform. This is an initiative that protects email senders from spam and other criminal activity.
Sendinblue developers have created an API and SMTP relay service that improves email delivery rates for transactional emails. That means more of your emails will go to your audience's inbox rather than their spam folders.
Other notable features include an email builder that allows users to drag and drop content into their emails, as well as a welcome email, confirmation email, and A/B testing tools.
Pricing: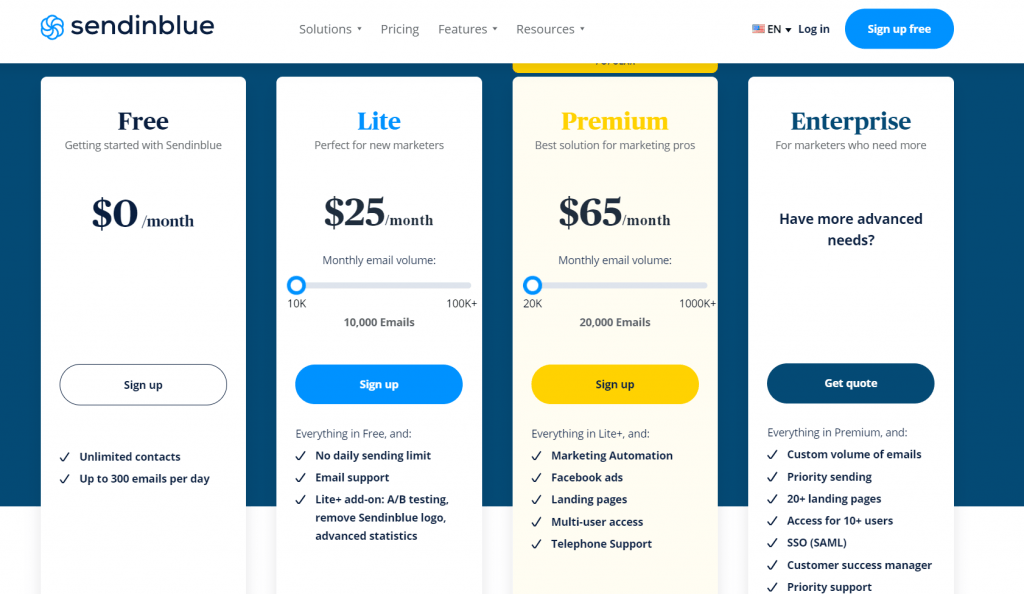 Sendinblue offers a free plan for 300 emails per day and paid plans starting at $25 per month with no daily limits on the number of emails you can send.
3. MailGun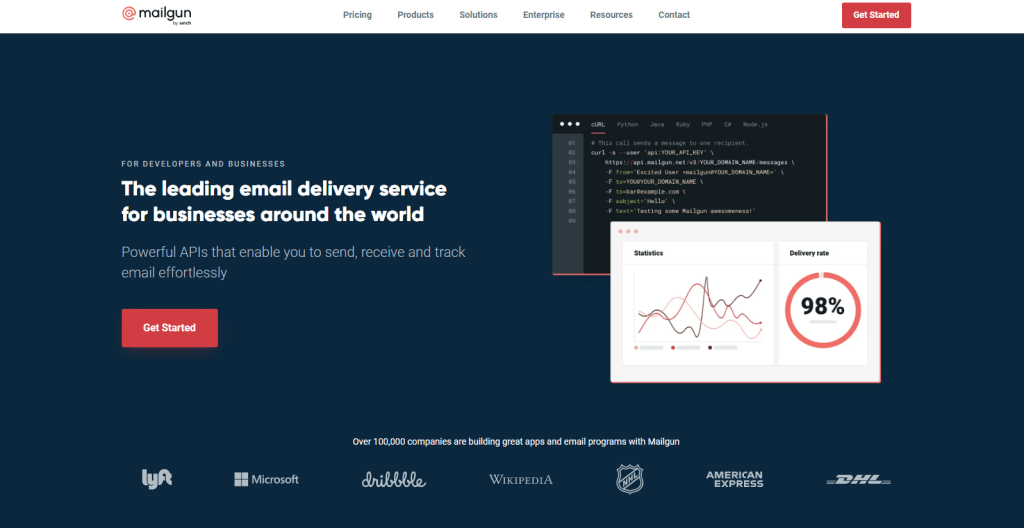 Mailgun is an incredibly powerful and efficient delivery service for transactional emails. Its simple APIs mean you can send, receive and track such emails easily with enhanced email deliverability rates.
Plus, Mailgun is an easy-to-scale service for sending email campaigns and transactional messages to customers. Regardless of what type of business you run, Mailgun can handle the complex needs of many different industries with ease.
Mailgun is an integrated solution for email marketing services. If you are an eCommerce store, a membership website, or a small business, Mailgun is a great SMTP service with which to send out your marketing and transactional emails.
It is a robust tool that allows developers to choose from three different plans according to features.
When you sign up for Mailgun, you get access to ready-to-edit responsive templates. The design is already done and the only thing that is left to do is drag and drop it into place.
Pricing:
Mailgun offers a fantastic pay-as-you-go plan, which is convenient for founders who are on a budget. The first 5,000 emails sent each month are free of charge, and you can even set your own custom limits in order to control the number of overall emails you send per month (which is great).
They have some very reasonable priced plans (starting at $35/month) that include 1dedicated IPs. This can really help with quality assurance — so if this is a service you're interested in, we highly recommend Mailgun as an email tool.
4. SendGrid SMTP
Sending mass emails without managing an SMTP server can be challenging. This is why we highly suggest using a powerful cloud-based SMTP email service provider like SendGrid. SendGrid specializes in making the process easier and providing its customers with a powerful set of features including higher scalability.
They help you to set up transactional emails as well as email campaigns. You can create better email marketing campaigns by harnessing their API options and getting real-time feedback on your sent emails.
Their Smart Mail™ API is easy to set up and works with any WordPress site. It includes delivery optimization tools, email analytics, email templates designed with a simple editor, and integration with third-party apps and services.
SendGrid offers dedicated IP addresses for email sending under their Pro Email API Plan and Advanced Marketing Campaigns plan.
Pricing:
In the first month, you can send 40,000 emails for free. After that, it offers 100 emails/day free of cost forever. The essential plan starts at $14.95/month and includes 100,000 emails/month.
5. Amazon SES
Amazon SES is a robust SMTP email service that comes in handy for various tasks. Amazon SES is scalable and customizable, making it possible to develop many different apps with your own messaging infrastructure.
It comes with a robust system and functionality, making sure your emails do not go to the spam folder. You can track your email performance/delivery, bounce rate, and rejected emails through their smart mechanism.
Amazon SES is a simple, cheap email sending service that helps you easily integrate email communication into your website in order to promote your content or business. By using Amazon SES for any email communication, you can rest assured that your emails will remain cost-efficient, and highly targeted, and relevant to your current audience.
Pricing:
It's a pay-as-you-go service, which means you'll be able to send an unlimited amount of emails as your business grows. After the free limit, you'll need to pay $0.10 per 1,000 emails sent.
6. PostMark
Postmark is one of the best SMTP services that offer lightning-fast delivery for your application's emails. Postmark has very fast SMTP servers distributed around the world to ensure the message gets delivered quickly.
Postmark has an excellent tracking system that allows you to see exactly how many emails have been opened and for how long on average.
Sending transactional emails is their expertise, which means they are focused on deliverability and speed. They offer easy-to-follow email analytics, account security, mobile-friendly responsive templates, message events triggered with simple webhooks, and more.
Pricing: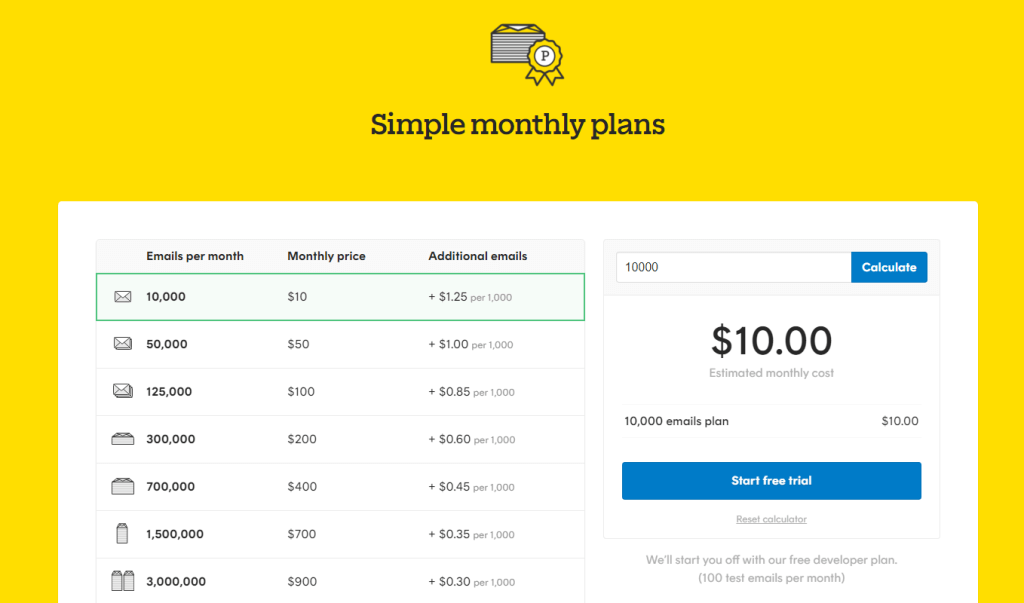 Basic Plan: $10 per month for 10,000 emails. Additional emails beyond the initial 10,000 will be at a rate of $1.25 per 1,000 emails.
7. mooSend
Moosend is an affordable way to send transactional emails. With our drag and drop email builder, you can design your transactional emails instantly. Their deliverability rate of 98% means we can help fight off spam filters that usually block other, more expensive services with lower deliverability rates.
This transactional email service includes a drag-and-drop builder that makes it really simple to design and send transactional emails. With this tool, you can also create an email blast and track all of them in real-time with easy-to-use reporting functionality.
Moosend sends out emails from your account. It keeps track of them in real-time. The platform also offers a number of advanced analytics reports for transactional emails.
Pricing:
It's free for 1,000 subscribers. If you need to notify more than 1,000 subscribers about an important issue (e.g. a security breach), the subscription costs $13 per month if billed annually.
All plans offer unlimited emails each month so you can send out as many emails as you choose without worrying about overages or extra fees.
8. mailChimp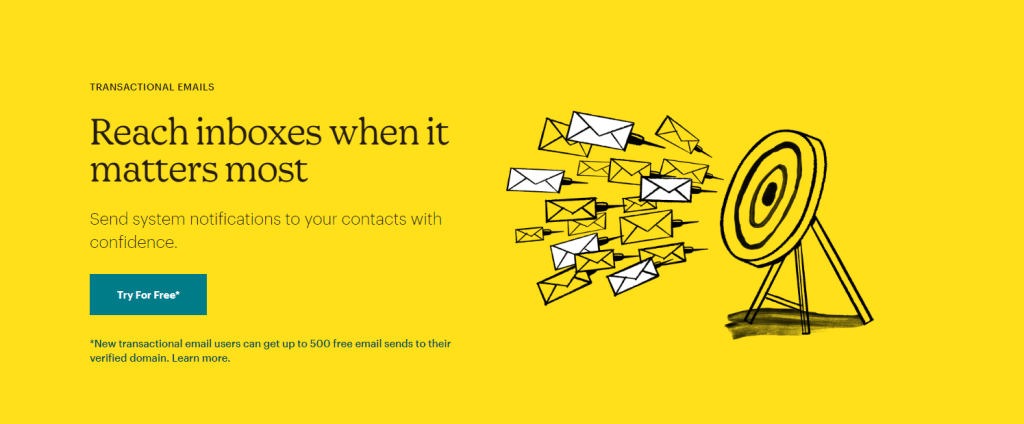 Transactional Email is an email service that has been built into MailChimp where you can send out emails quickly, efficiently, and with peace of mind knowing that they're getting to your subscribers as they were intended to. The best part is there are absolutely no delivery issues when using Transactional Email!
With its advanced tracking tools, MailChimp gives you access to real-time updates on the performance of each campaign you send out, allowing you to track open rates and clickthroughs better than ever before.
Pricing:
25,000 emails are available for $20 per month or you can add the number of emails to find its price.
Which is The best SMTP Services Providers?
Every SMTP Service has something unique to offer, but what stands out, in this case, is SMTP.com. When it comes to sending emails, they offer some of the best support as well as having a reliable delivery rate, and robust setup like other services have to offer.
All of the SMTP services we have covered in this article work very well and are a popular choice, but which one is right for your business? Also take a look at our guide on hidden tips to speed up WordPress website performance and the best blog hosting for bloggers.
We hope you enjoyed our post about SMTP for Email Marketing. If you're trying to decide on the best SMTP provider for your business, there are many options. In this post, we've covered some of the most popular options and why they are so popular. If you're ready to get started with your own mail provider, visit smtp.com