Finding the right 'decent' eCommerce hosting for any online business is tough enough when you are running the site regularly.
Yep! Picking any web hosting services for any web hosting is hard and let alone if it's for an eCommerce site!
If you looking for the best Ecommerce hosting companies to power your online business stores with my lists of the industry top host providers from years then i will help you to build your store today.
To make your work and life simpler, i have been analyzing hosting companies from year now and had published over more than 100+ articles related to host companies for diffent uses.
Not every web hosting solution is made good, I mean to say a shared hosting provider is no longer to handle such eCommerce website traffic it can but not always good for e-commerce for security and other huge reasons.
In this article i will compare five of my favourite e-Commerce hosting solutions.
So without further ado… Jump right into the lists you" re interested in? Just use our handy table of contents.
---
---
What To Look for and What Are The Key Features Of e-Commerce Hosting To Look at?
We at pocketlinko always stressing the importance of web hosting and speed. It doesn't matter what niche users are from. Hosting is the backbone of every website.
When hosting comes for e-commerce sites, this ultra-important! Best speed helps the stores better user experience for your customers and make happy customers.
Last July 2018, Google added a "Speed Update" which now factors for both mobile and desktop into its ranking algorithm. The faster your speed the better your SEO ranking of products+ high customers.
Did you know? It's predicted that Amazon loses $2 million for every downtime minute.
Well, I know you may not be large as amazon the situation is not unmerciful for you, but if you lost users, sales due to your website puzzle then there is your hosting problem and you have to deal with it.
Here are the key features I used to find the list of this e-commerce hosting and you must keep an eye out for when looking for the e-commerce host.
🛡️ A Hosting Partner, Not Host Provider
You, people, are on eCommerce business not on a normal website, blogs and you must deserve the best hosting services. It's not about finding hosting for your store. It is like what you should be looking for is a partner in technology.
You must chat with some hosting provider and tell who are you and what you do and about business so the teams will be always for you and someone.
🛡️ Dedicated IP addresses
Moreover, owning your dedicated IP address guarantees that you posterior locate your site even if your domain is down, and lets you opt for a private SSL certificate.
You don't need to suffer regarding a dedicated IP address almost in 2023 every web hosting provider with their eCommerce pans. Anyway! Dedicated IP addresses are reserved for non-shared hosting plans.
---
The Best eCommerce Web Hosting Providers 2023
There is countless web hosting provider out there, only a few of them are a handful worth for powering online eCommerce business. I have put a lot of hours to find out about these industry-leading e-commerce hosting and craft and I hope you love it too.
If you don't have time to read today's article then, check out my summary, I've selected three hosts that stood out in the result of my hosting survey.
---
InMotion e-commerce hosting plans is one of my absolute favorite hosts when it comes to both wordpress managed an e-commerce host plans.
Hands down.
A month back, I had purchased this web hosting and installed woocommerce on it and tested it for overall a month.
I found InMotion shared plan servers are some of the top-performing ones in the budget category. More than that the server speed and its uptime was almost 100%.More important than I have tested performance from multiple locations, all of which can boast Time to First Byte (TTFB) of below 350ms.
Here are the test results: In motion hosting uptime data. April- March 2020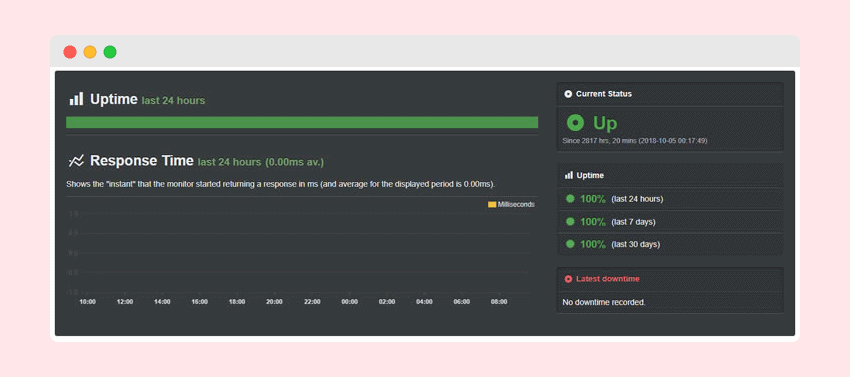 Getting 100% uptime data to result only in shared hosting with the cost of $4.99/per month was what made me rank Inmotion hosting for the first position in the lists.
💡 InMotion Ecommerce Specific Features
Instead of offering web hosting packages, in motion hosting offers dedicated custom made plans for each e-commerce users for major platforms. These include PrestaShop, Magento, OpenCart, WooCommerce & more.
The part about in motion has two separate plans one for ecommerce dedicated only and another one for WooCommerec specific.
This web hosting is a great option for eCommerce users. If you own a small business or big each plan is great to go with budget-friendly pricing.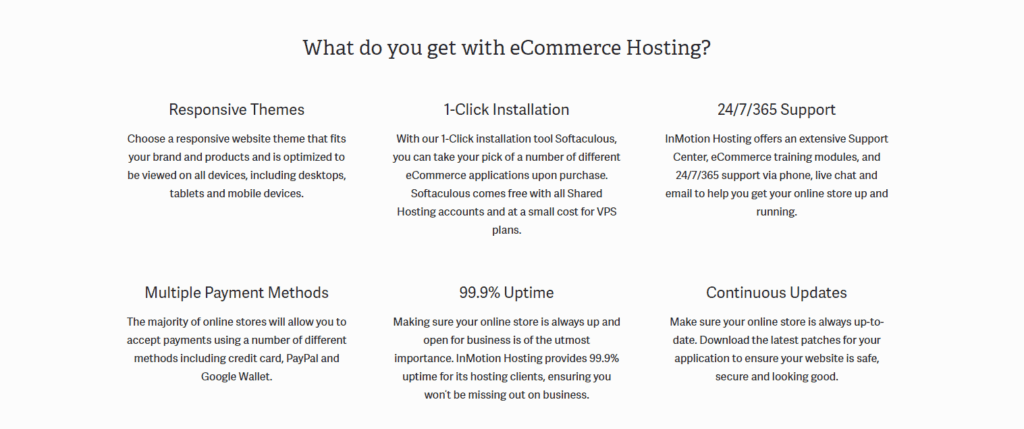 Here are some high grading features you must know, I will not be including each features only the important one few of them are:
90-days money-back guarantee.
Free domain registration,
Free Custom SSL Options

Automated daily

backup
E-Commerce Ready Package On POWER & PRO Plans
Solid-State Drives
Multiple payment methods
One-click installation for e-commerce apps
Free Responsive Themes
24/7/365 clock support
$150 free advertising credits
Supports multiple eCommerce platforms including OpenCart, Magento, and PrestaShop, WooCommerce, etc.
PCI compliant
All InMotion e-Commerce plans come with free SSD ( solid-state drives) which makes your store content delivery faster than the HDD HDD stores sites.
🏷️ InMotion Hosting Ecommerce Pricing Plans
Inmotion offers four custom-made eCommerce plans but two of them are not optimized for e-commerce lite and launch plans which cost around $2.49/per month and $4.99/ per month.
Here are other two optimized ecommerce plans;
Power ( $7.99/per month) : 50 Websites/ 100GB SSD Storage/ 50 Email Accounts/ 10GB Email Storage/
PRO ( $12.99/per month) : 100 Websites/ 200GB SSD Storage/ Unlimited Email Accounts/ 20GB Email Storage/
Each of these two plans comes with Unlimited Bandwidth and easy to use control panel. InMotion hosting's eCommerce hosting plans are budget-friendly and come with dedicated plans to serve your e-commerce store.
In motion ecommerce plans compared
In the end you can also upgrade to their VPS Expensive plans if you have budget or you can also migrate once the store starts growing or,
If you have an online store and want to migrate then I recommended you to go with VPS plans or PRO Plans. You must not go with pricing for e-commerce hosting.
Want to Grow your Ecommerce Store 5x Faster
---

A2 hosting offers eCommerce hosting plans for both small businesses and large online stores. The best part if you have small online stores or going to open by today then a2 hosting is my second best all-around- ecommerce provider.
This ecommerce web hosting plan allows page load speed up to 20x faster with its turbo cloud infrastructure servers.
A2 hosting supports popular platform with their basic starting plans only just likes PrestaShop, OpenCart, Magento, and WooCommerce not only three.
You can install your ecommerce store on more than 95+ platforms with each plan. It doesn't matter either you choose VPS, Shared, or dedicated plans, you; 'll have the options that need for online stores with different pricing.
💡 A2 Hosting Ecommerce Specific Features
You only have to pay the pricing of servers else each user from any plans will have the same features to install apps.
A2 hosting offers 99.9% Uptime Commitment for each plan which is not the best but someh0w it's good to host small business online ecommerce stores.
What about big one?
Yup! You can all you need to choose higher plans I will be sharing with you don't worry about that.

Here are some of the best high grading features:
99% Uptime Guarantee
The dual security firewall system
One-click ecommerce applications setup
Dedicated IP
choice of data center locations
Free & easy site migration
Speed enhanced security & developer-friendly
Free SSL certificates
🏷️ A2 Hosting Ecommerce Pricing Plans
A2 hosting offers four different ecommerce plans for every fastest solution need. You can choose from shared, VPS, and dedicated hosting for your online store with the starting pricing of $2.99 per month.
If you need higher speed with 20x turbo then you can go with turo server option which costs around $9.99 per month.
Want Unlimited features at fair pricing?
---
Bluehost is a lifesaver that makes the ecommerce setup process much easier for you. All you have to purchase its ecommerce plans and by default all the necessary plugins and apps get installed.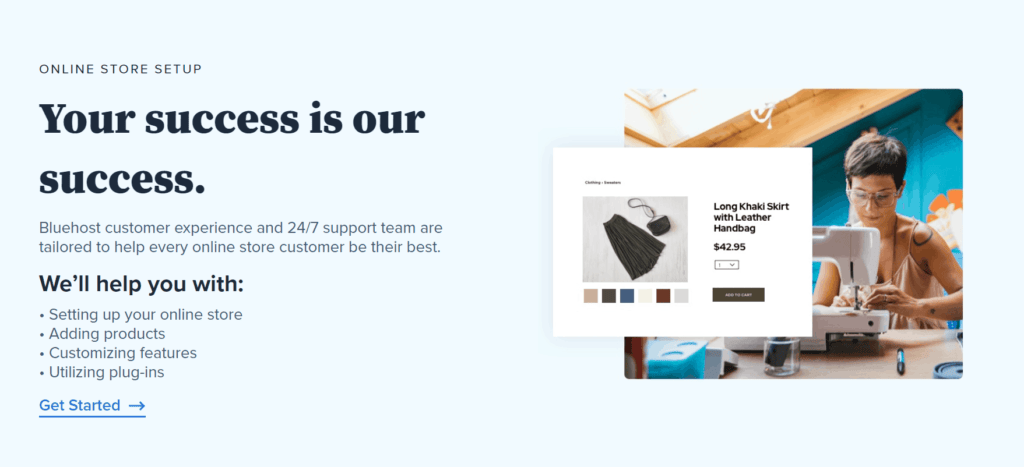 You can choose themes for thousands of niches and install them in no time. You will also get one free domain name for online stores. Bluehost ecommerce plans include free product add-ons, PayPal Pro, ecommerce slider.
A complete package of ecommerce web hosting from designing to powering the website live. You don't need to hire a freelancer or need any technical knowledge to get started with Bluehost e-commerce.
🏷️ BlueHost Ecommerce Pricing Plans
Bluehost offers decent pricing with the best features and offers only two different ecommerce plans for now.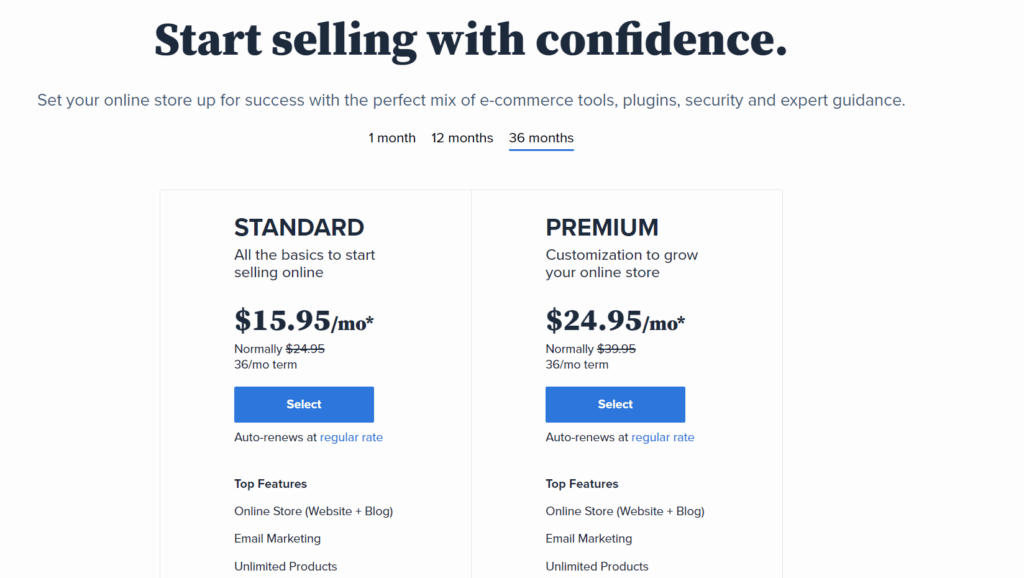 Standard ( $15.95/per month)
Premium ( $24.95/per month): Online Bookings & Appointment Scheduling/ Subscriptions/ Product Customization/ Local & Country Tax Management/ free domain privacy/ Code guard basic included/ free office 365
Each plans include these features.
💡 BlueHost Ecommerce Specific Features
Bluehost is one of the no 1 hosting officially recommended by the wordpress community and more used web hosting in the Wordpress community.
Bluehost ecommerce plans offer so much value. Here are some of my eye-catching features that you will love the most;
Google My Business Verification
Multiple Caching Layers
Free SSL
Site Monitoring and Statistics
Free SEO tools and domain name
One-Click Payment Plugins
Premium product addons
Free themes to build an online store with one click
23/7/365 from e-commerce experts
Jetpack free installed
Payment Processing (One-Click Install)
Bluehost ecommerce hosting plans offer a stable hosting solution on a budget. You can get lots of features with Bluehost than a2 hosting.
What impressed me Bluehost is they offer premium ecommerce tools totally for free from payment transaction plugins like PAYPAL PRO, Software Add-on, Sensei, etc, and other Premium Plugin Bundle, etc.
A no-frills, high features ecommerce hosting solutions that are great for ecommerce owners just starting out and needing localized, full support."
---

Dreamhost a better competitor with Bluehost. Yep! Dreamhost is also officially recommended by wordpress org and the second-largest web hosting in the wordpress community powering more than 2M+ Domains.
Every web hosting article I have written so far in our blog "Pocketlinko" there is not a single article that hadn't been crafted with Dreamhost. This host my personal favorite than Bluehost and a2 hosting.
Dreamhost provides unlimited traffic features with each plan which means you don't have to worry about traffic and bandwidth.
Dreamhost ecommerce hosting plans come with the pre-installed application with a bunch of battle-tested themes and plugins, letting you start selling fast with a full 100% Uptime Guaranteed.
Yep!
This web hosting has multiple data centers that provide 100% uptime with 100% secure information powering more than 2M+ online stores.
💡 DreamHost Ecommerce Specific Features
Dreamhost provides on-demand backups which means you can backup any time anywhere you want.
To build ecommerce website stores quickly, Dreamhost provides a free website builder that lets you design a store quickly with a bunch of themes with the free domain name.
Here are some of the high grading best features;
Free Website Builder
Free Domain Name
Custom Unlimited CDN
Extreme Speed & Guaranteed Uptime
24/7 Expert WordPress & eCommerce Support
100% Uptime Guaranteed
Server-Level Caching
Fast SSD Storage
Free Domain Privacy
With dreamhost other basic plans you cant contact support directly over the phone but with ecommerce hosting plans, You can get 24/7 free phone support anytime anywhere you want backed by all three methods Phone,live chat, ticket and docs.
🏷️ DreamHost Ecommerce Pricing Plans
Dreamhost has three different plans to choose from and they're each are good value for money.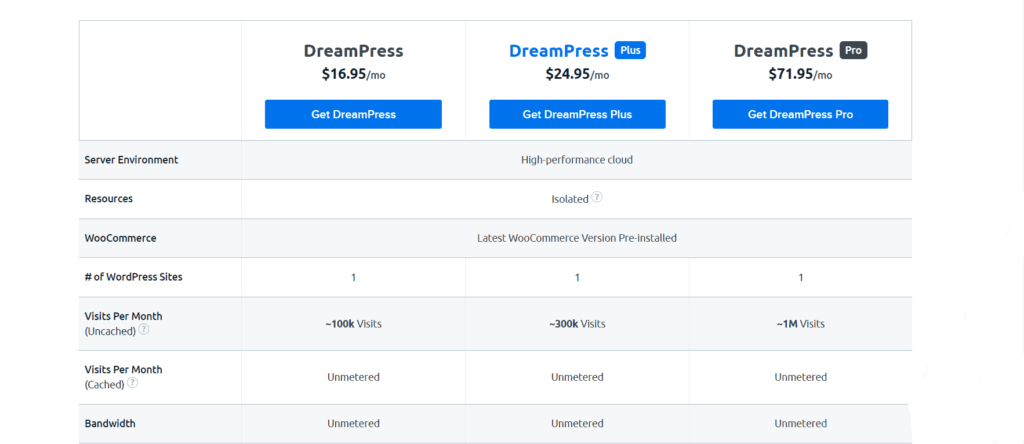 Dreamhost ecommerce "Press " plans come with the pricing of $16.95/per month where it is estimated that can handle 100k+ traffic each of the plans comes with the same features except storage and jet pack plugin.
This is what dreamhost says for visit per month features
"These levels are recommendations based on the number of monthly visitors accessing content on your site that are not served from cache. We will not cap your visits or charge overage fees, but excessive traffic of this nature can impact the performance of your site."
You will get a basic jetpack plugin with [dreampress plans 2,3] you will get a professional with the free domain name for the first year and website builder.
Don't worry there is no risk only gaining with 97 days money-back guarantee. For new users, you can go with dream press first plans at the cost of $16.95/ per month.
If you think the pricing is high then use my partner link where you can save $60 with a dream press plan and dream press "PLUS"plan and in dream press "PRO" you can save $156.
Want free website builder+ domain+ premium themes?
---
Best Ecommerce Hosting 2023: Recap
A2 Hosting: Best For ecommerce speed features fully built on cloud infrastructure.
BlueHost: Ecommerce leading web hosting with best features+ addons
DreamHost: Best for the overall purpose from beginners to large scale, scalability, and 100% uptime separate from all over listed hosting #top recommended with discount.
Your choice of eCommerce web hosting for your online store will impact your story for a lifetime. Your hosting is everything in the online business if it falls to load when the visitors come to the store, you will just wasting your time.
Well to make it easier for you to find out the best eCommerce hosting for small businesses to large stores let me break with when you should use those hosts.
Each of these ecommerce store hostings is top-notch you don't have to think more about which one to prefer each hosting plan comes with a 30/90 and 97 days no-risk money-back guarantee.
Let's wrap the article final for now. Don't worry I update articles each day to make it fresh and list more hosting once we found the best data that are industry-leading hosting.
Make sure to save the page or bookmark!
---
Final Words
Your hosting provider isn't something that your users see. But more than store founders your whole ecommerce business is fully dependable on hosting only when useres visit the site.
It is somehow ok to get with shared hosting for blogs and websites but we are here talking about ecommerce your single sec load time matters.
Take the example of yourself, you visit an unknown site, and takes more load time, in that case, what you will do?
Let me know in the comments down below. How this article helped you and added value.
Which is the very best ecommerce hosting? Well, each hosting is good depends on pricing, features you want. Before I end today's chapter here are some tips that will help you find a host which i use the same.
Excellent Speed
Reliable
Secure
Website Builder
Widespread compatibility
Scalable
Falls under pricing
Clock support
Firewall solution with Dedicated Ip
Backup functionality
SSL
PCI
Each of these web hosting is offers PCI complicane. This is something we every onine stores must focus.
If your online store will accept credit card payments then it is most crucial that your ecommerce web hosting is fully compliant with PCI standards.
This applies to all companies or merchants, regardless of size or number of transactions, that accepts, transmits or stores any cardholder data."
---
Thankyou for reading the article! I hope it added some value it takes really huge effort in writing articles, researching, creating a list of features, and other lots of things. Getting
Share your picks with our community in the comment section!
Related Guides: