New to Hostgator or want to migrate your old server to Hostgator plans for your brand new or old website. This is a complete in-depth guide to buy hosting from Hostgator in 2023 with an easy beginner guide.
You are lucky to land on our article, so finally, you have decided to host your websites in Hostgator web hosting plans. In this article, I'll guide you through the steps for purchasing web hosting plans and domains with Hostgator with offering a flat 75% discount on their plans for our readers.
We will be providing you with a HostGator discount code that will get you up to a 75% discount on Hostgator hosting purchases with a free domain name on yearly plans.
So without further ado… Jump right into the lists you" re interested in? Just use our handy table of contents.
What is HostGator?
Hostgator is one of the largest web hosting companies mostly know for its unlimited web hosting plan features falling under budget-friendly pricing. This web hosting is also known for being the best hostinger alternative.
Hostgator was founded in 2002, today they host 9M+millions of active customers around the planet and are quite a famous hosting provider and with over 9,000,000 hosted domains and are listed in the list of the world's top 10 largest web hosting companies.
They offer many hosting plans such as:
Shared Hosting
WordPress Hosting
VPS
Managed Hosting
Dedicated Hosting
Reseller Hosting
---
Reasons To Buy Hosting Plans From HostGator
We found when it comes to a cheap or budget-friendly beginner web hosting provider then no list for those hosting lists plus can be craft without including Hostgator from the list.
Here are some of the highlighted features you can get with Hostgator all plans:
Free Domain Name For The First Year ( Valid With Only Annual Hosting Plans)
Free Website Migrations
1 click WordPress and other software installs
Solid Uptime and service
Unlimited bandwidth, space, database etc
You can cancel your hosting within 45 days as
Free Email, CDN, SSL
Daily Backups
Unlimited Databases
99.9% Uptime Guarantee
Risk-Free 45-Day Money-Back Guarantee
Unlimited Storage, Bandwidth, Email Accounts ( Best Value For Hostgator Users )
24/7/365 for support
45 fays free money-back guarantee with no question raised.
Hostgator cheap plans come with a pricing of $2.75/per month where you can get one free dedicated Ip address, free domain name, unlimited bandwidth, space, and database.
---
How to Buy Hosting From HostGator 2023
The first step in buying hosting from Hostgator is to visit Hostgator by using our partner link. After click on our partner link, you will be on the HostGator homepage.
Now you'll see a button where it says "Get started". Just click on that orange element button to move forward to the next step to buy hosting from the HostGator guide.
2. Choose A Hosting Plan
You'll be on a page that shows three web hosting plans consisting of hatchling, baby, and business plans.
The hatchling plan is good to go if you have only a website for now and when you will have the plan to move for more websites then you can simply upgrade your hosting server to unlimited if you need to.
1. Hatchling Plan ( $2.75 per month) + 60% Discount
Single domain/ One-click WordPress installs/ Free cPanel/ website transfer/ Unmetered bandwidth and storage/ Free SSL certificate / One Year Free domain included
2. Baby Plan ( $3.50 per month) + 65% Discount
Unlimited domains/ One-click WordPress installs/ Free WordPress cPanel/ Website transfer Unmetered bandwidth/ Free SSL certificate/ Free domain included
3. Business Plan ( $3.50 per month) + 65% Discount
Unlimited domains/ One-click WordPress installs/ cPanel website/ Free Website transfer/ Free SSL certificate/ Free upgrade to Positive SSL/ Free dedicated IP/ Free SEO tools / Free domain included
Now you are clear to choose the plans. When you decide on the plans, you have to click on the yellow button which says "BuyNow" to move one step further to buy hosting from Hostgator.
3. Choose A Domain Name Free
Hostgator offers a free domain to choose from any plans at extra cost to you. If you want to get a free domain then add your business name and select extensions like .com, .org, .net, .shop, etc.
Or//
If you already have a domain name then just click on the element with "I already own this domain" and renew for an extra new year.
Here are some tips to choose a domain name:
Keep it short between 7-10 letter that reflect your business brand.
Easy to remember and pronounce
Choose better extension like .com, .net (Use.COM Extensions if it available most used extensions in the plane.
If possible try to include your keyword in the domain name to simplify your SEO Ranking work
4. Pickup Hosting Plans
After finalizing the domain name, Next, you have to choose the hosting plans with a period. The more upper plans period you choose the more discount you will get.
If you go with the Hatchling plan for 36 months then you can get a 60.5% discount.
Select 36 months plans with the cost of $121.29 to save you every hard-earned dollar.
4. Create Your HostGator Account

The email address will be what you use when logging into the HostGator panel and dashboard and make sure to add the genuine email address and security pin is used by HostGator customer teams.
5. Setup Your Billing Information
To buy hosting from Hostgator, in this step you have to enter billing information. Hostgator offers two different payment modes Paypal and credit card, you can choose any mode to get started with Hostgator.
6. Uncheck/Check All Additional Services
It depends totally upon your if you want additional service or not, if you check additional service then you have to pay for per checkbox item.
We recommend you to check Sitelock essential only if you have a budget because it protects your website from bad guys and helps to secure data and files.
Not highly recommended because there are lots of alternatives plugins available in wordpress.org that you can use as a great tool.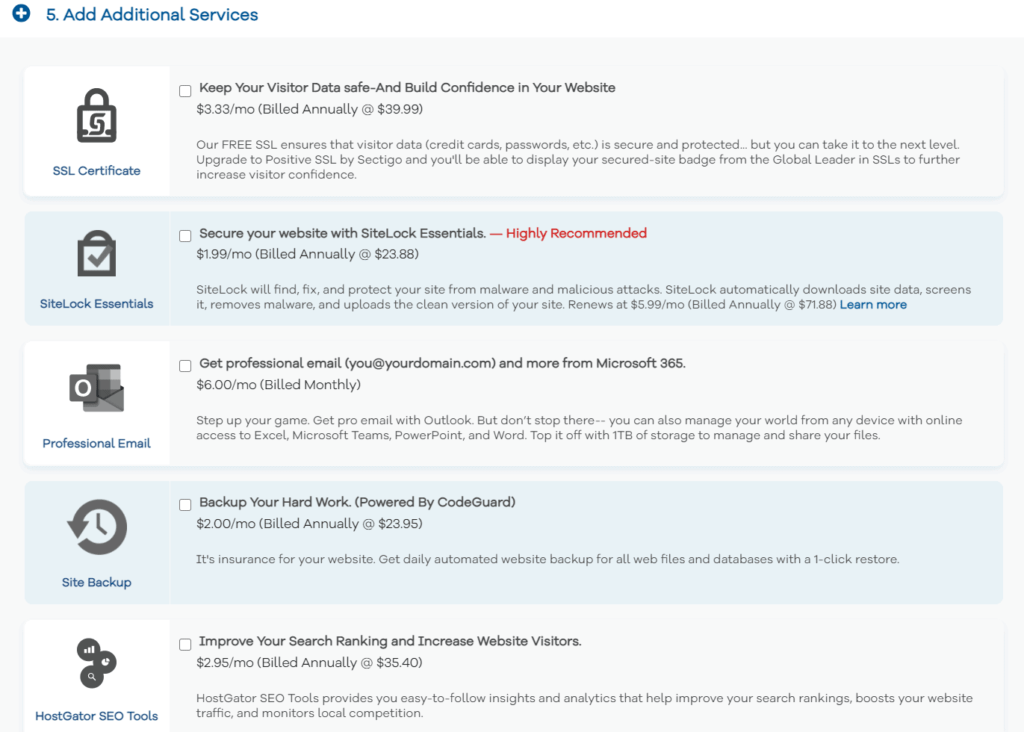 6. Use HostGator Coupon Code
While if you have gone through our discount link then you no longer need to apply any coupon code if not you can still use the link.
You don't need to add any coupon code to get a discount by default it comes with yearly coupon codes for example if you have chosen the hosting plans for 36 months then by default the code will be applied for a 60+ discount.
Best Hostgator coupon code 2023
6. Review Order & checkout
The last step in our how-to buy hosting from Hostgator is to review your orders and fill up your payment and click on the small checkbox item.
As you can clearly see in the image section the five coupons can save you extra 169 dollars. Now review your hosting details and the amount you have to pay.
Now just click on the "Checkout Now" button to get started with HostGator web hosting providers.
Once you follow all six steps congratulations now you have successfully purchased hosting from Hostgator.
Now check your email account from Hostgator with credentials details and account information. Once you get your login details click on the email to login into Cpanel.
Now done! If you want to install wordpress websites in Hostgator then we have written a step-by-step guide on how to install wordpress websites in Hostgator with full details.
---
We hope you found today's article helpful and enjoyed the step guide on how to purchase hosting from Hostgator.
Now want to hear from you! Did this article help you to figure how to buy hosts from Hostgator?
Other Guides Related to Hostgator:
If you liked this article, then you can find us on Twitter so If you run into trouble you can directly come in chat with us and we will help you to fix it with no extra. This is why pocketlinko today was created to help readers like you.