This is our complete guide to buy web hosting from Bluehost in 2021. You will not only learn to buy web hosting plans from this guide but I will also help you to choose the perfect domain name for your online business website.
So you are new to Bluehost and want to migrate from old web hosting provider to fresh Bluehost plans or want to start a brand new web hosting for the very first time with Bluehost.
This is our complete in-depth guide to buy hosting and domain names with Bluehost step by step with screenshots.
So finally if you are looking ahead to buying hosting plans from Bluehost then you will love this guide. In today's article, we will share with you a discount link from which you can save almost half the half amount of cash.
So without further ado… Jump right into the lists you" re interested in? Just use our handy table of contents.
What is Bluehost?
Bluehost is one of the few web hosting companies around the host planet, officially recommended by wordpress.org offering solid budget-friendly pricing for all users who want to start their own websites.
They have had a huge database of customers since the launch of 2003. Today they are one of the largest web hosting companies in the world.
They offer many hosting plans such as shared, dedicated, VPS, WordPress, etc. All plans are super affordable and come with low cash anyone with a low budget can get started with Bluehost.
---
Why Buy Hosting From BlueHost: Reasons
First things first if you are going to buy Bluehost plans to create WordPress websites, as being said, Bluehost is officially recommended by the wordpress.org community so which is a pro or benefit for the best WordPress platform customers lovers.
Bluehost basic plans come with the pricing of $8.99/per month but using our discount you can get the same plan for $3.95/per month.
Bluehost all plans come with 30 days money-back promise with no questions raise. Here are some of the reasons we found why to choose Bluehost for your next online business :
Wordpress recommended host
Budget friendly pricing
Free domain name with all plans
Root access
Free SSL
30 days money back promise
1 click Applications installations
Offers Free cPanel
Free domain name
Sitelock and spam protection
Paypal Integrations
Unlimited backups and restore
Free wordpress themes
Solid Uptime and service
Free Domain Privacy with Protection
While with all plans they also offer free Google ads credit which will help you boost your website traffic from the very first day using their free ads credit which you can use anytime anywhere you want after successful purchase of hosting with Bluehost plans.
---
How to Buy Hosting From BlueHost In 2021
1. Visit BlueHost
The first very crucial step to buy hosting from Bluehost is to visit the bluehost.com page using our discount link so that you can get the Bluehost plans with maximum off. Once you click on the link you land on their Bluehost homepage.
Here is the screenshot of how the page looks, it may look different on your homepage because Bluehost changes its homepage header often, but steps will always remain the same.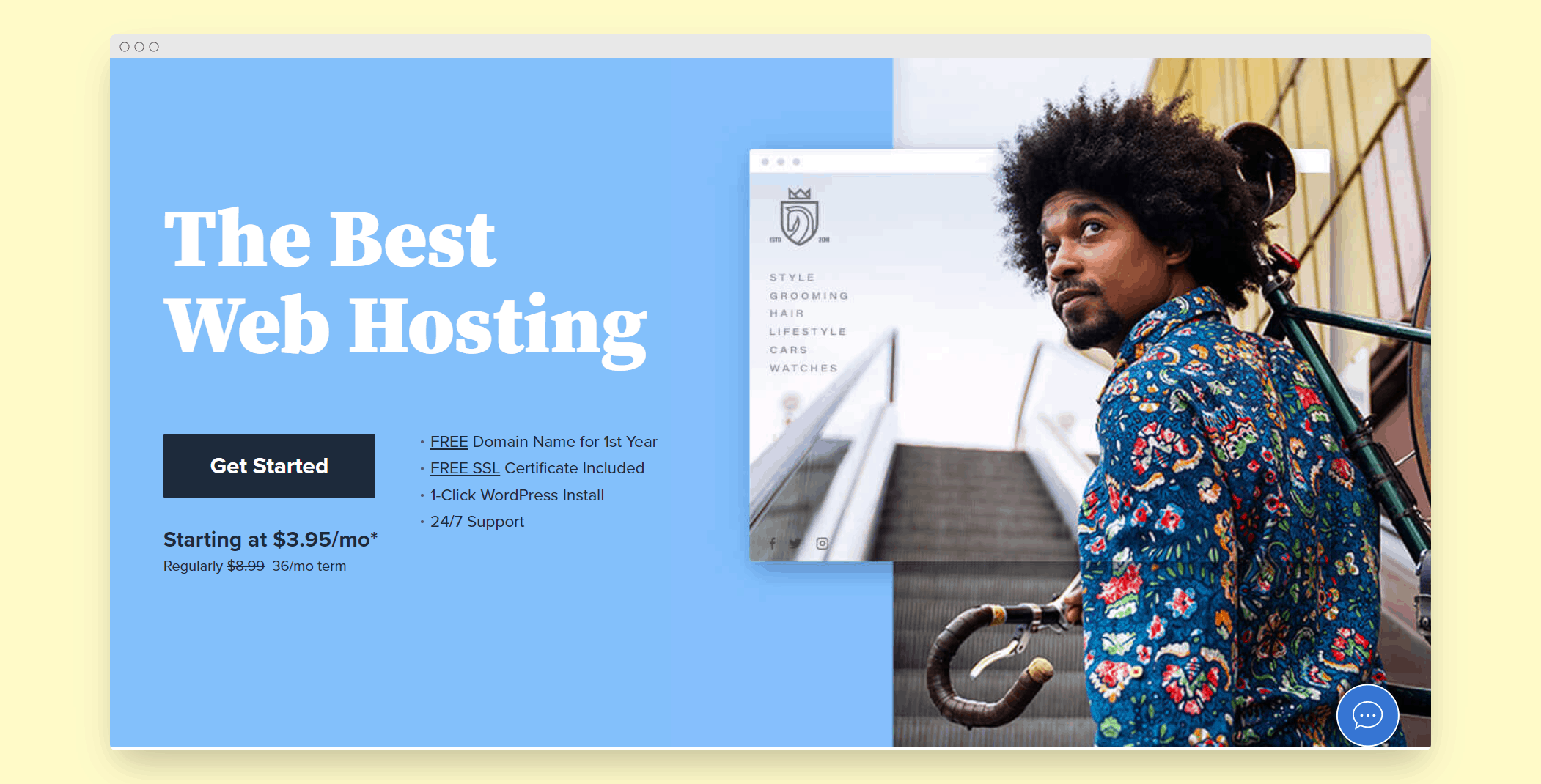 Now you will see a page where it says "Get Started". Just click on that button to move forward to their plans to buy hosting from the Bluehost guide.
2. Choose BlueHost Hosting Plans
Once you click on the button, now you will be on the page where you have to choose Bluehost plans that fit your best needs features and comes under budget-friendly pricing.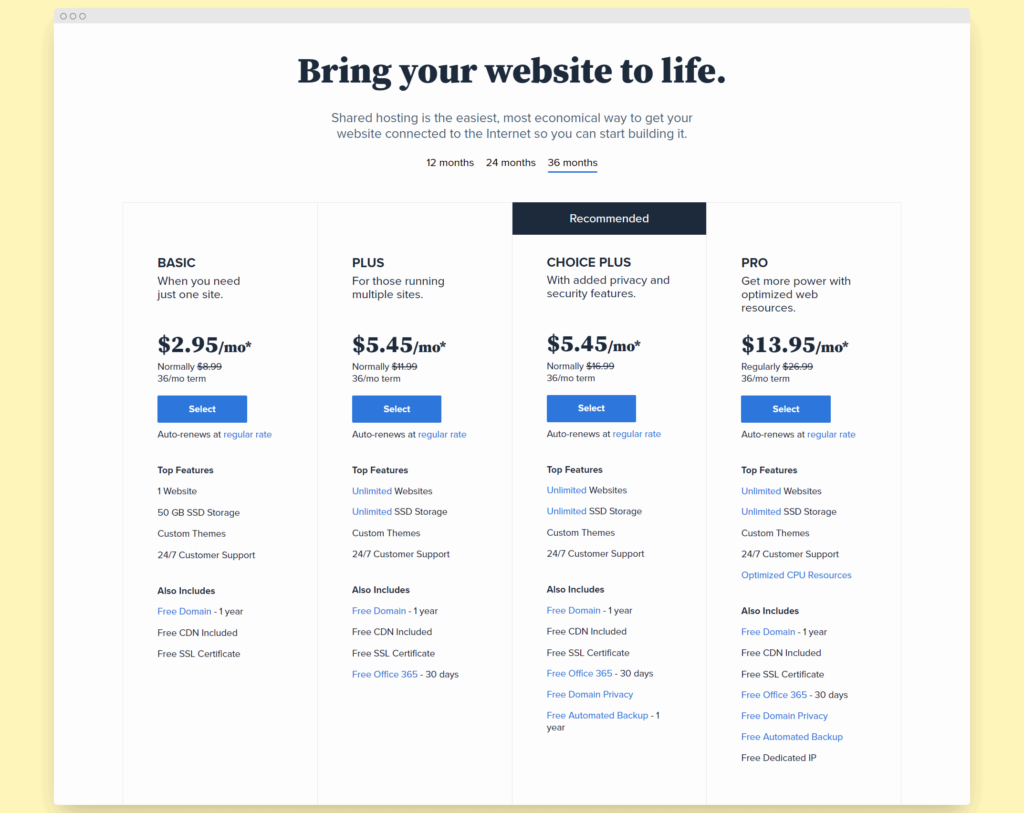 You'll see four different plans basic, plus, choice plus, and pro plans where you have to select one from. To make your work easier let me describe each plan in easy words:
Basic Plan ( For those who have just one website or going to start brand new)
36 Months: $2.95/Month
24 Months: $3.95/Month
12 Months: $4.95/Month
Choice Plus ( For those who want to start multiple sites) under one single account.
The plus plans come with all features of basic plans with extra Domain Privacy + Protection and Site Backup – Codeguard Basic.
36 Months: $5.45/Month
24 Months: $6.95/Month
12 Months: $7.45/Month
Pro Plans ( For those who have to want to start multiple sites) under one single account
The pro plans come with everything of choice plans with free dedicated IP and 2 spam filters to protect two email addresses from spam and viruses.
36 Months: $13.95/Month
24 Months: 15.95/Month
12 Months: $18.95/Month
3. Register Domain Name
You are now the page where you have to select a domain name for your business websites. Bluehost offers free domains from both of the four plans. The best part is if you already have an old domain you can get extended for one more extra year.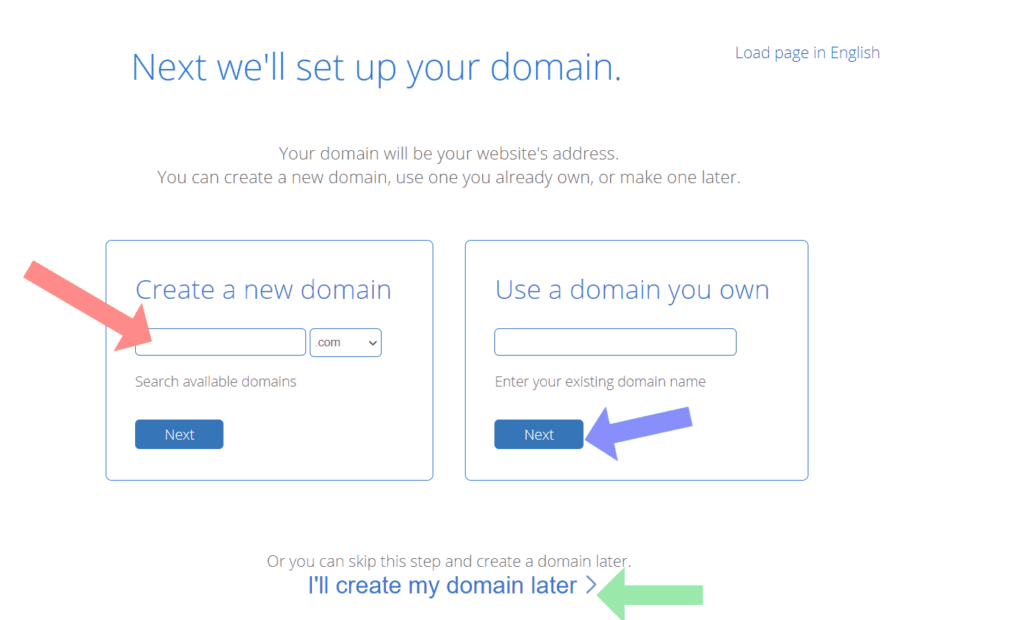 If you already have a domain name then just go with a right box where you have to use your own domain name and if no,
You can register the domain name for free or you can create it later for free.
4. Create BlueHost Account
Now you have to create your Bluehost account to continue our how-to-buy hosting with the Bluehost guide.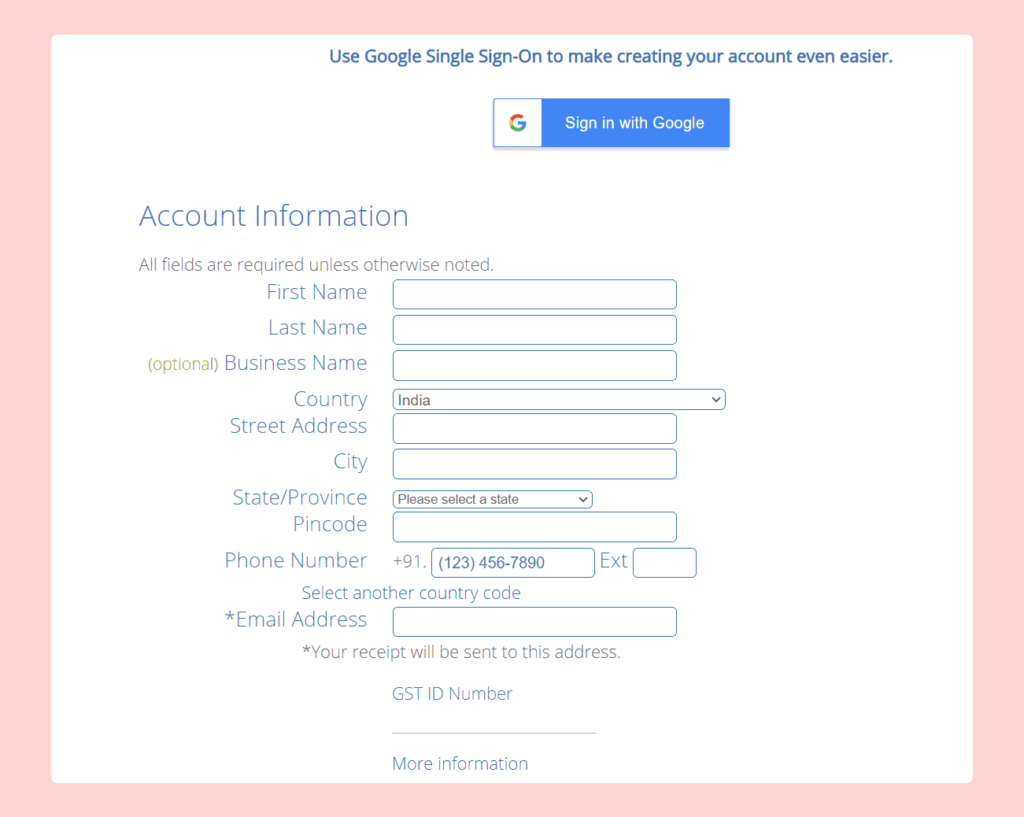 Now you have to put your name, city, and email address, etc. Make sure to add correct information because the email address will be the same as what you use when logging into the Bluehost panel and dashboard.
5. Select Package Information
Bluehost comes with three different plans tiers 12 months, 24 months, and 36 months. This is where you have to choose the Bluehost hosting plans terms you would like to purchase.
The longer plan you purchase Bluehost pricing gets cheaper and much affordable. If you want to save money on Bluehost plans they we would recommend you to go with 36 months so the costs get $2.95/per month instead of $7.95/per month.
6. Choose Package Extras
In our guide for how to buy hosting from Bluehost, you will notice on this page some add-ons which you can select or unselect. It totally depends on with addons you will get more extra features by paying some cash.
These add-ons come with such as Domain Privacy + Protection, Codeguard Basic, Bluehost SEO Tools Start, 1 Office 365 Mailbox, and Sitelock Security Essential.
7. Enter Payment Information
To buy hosting from Bluehost, in this step you have to enter your payment information to fill out the billing information. Bluehost offers two different payment modes credit card and Paypal.
Once you are done with payment billing information now all you have to click on the small box icon and click on the button "Submit".
You have now finally purchased hosting from Bluehost with a free domain name. Once the payment is done now you have to go to the registered email address which you have used in Bluehost which creating an account.
You will now receive a welcome email from Bluehost with all details where you can log in to your Cpanel and install WordPress with one single click.
You will also get an email to activate your domain name if you have chosen the name which buying hosting plans or you can create it later also.
Now you will be asked to create a strong password that you would like to use for Bluehost while login into their panel and dashboard.
Exclusive Bluehost Coupon Code

This link is the cheapest Bluehost deal you can find anywhere on the web planet, exclusive to only POCKETLINKO users.
---
Final Words
Bluehost is our #1 recommendation for starting your own online blogs,eCommerce stores, startup sites, etc with just starting plan you can get a free domain, website builder, and custom themes.
We hope you found our today's article helpful and enjoyed our step guide on how to purchase hosting from Bluehost.
Now want to hear from you! Did this article help you to figure how to buy hosts from Bluehost?
Other related "How to buy hosting" Guides