DreamHost and Bluehost are like brothers cause they both come from almost the same space just like recommended by WordPress, host millions of domains and widely famous brands in the market. This is where confusion takes place;
Should you buy web hosting from Dreamhost or Bluehost? Both are popular web hosting providers and the greatest part of both providers are officially recommended by wordpress.org. How the heck are you supposed to choose between them?
In today's article, I have compared DreamHost vs BlueHost or you can also read BlueHost vs Dreamhost both are the same.
Both DreamHost and BlueHost are great top web hosting providers having millions of customers highly recommended by wordpress itself.
They both large hosting providers and many people have confusing to choose between Dreamhost or Bluehost because they compete really well in terms of customer databases, pricing, features, money-back guarantee, customer support offerings.
In this comparison article, we will fully go with test and find out DreamHost vs BlueHost which is better by taking a look at its features, pricing, support, uptime in-depth much more..
So without further ado… Jump right into the DreamHost VS BlueHost reviews lists you" re interested in? Just use our handy table of contents.'
DreamHost VS BlueHost: Comparison Table
If the case, you're in hurry here's our comparison table of the two biggest hosting name brands in the industry to help you get to choose the perfect host in no time:
| #features | Bluehost | DreamHost |
| --- | --- | --- |
| Ease of use | Good | Good |
| Storage | Good | Excellent |
| Bandwidth | Great | Great |
| Backups | BAD | Great |
| Domains, subdomains and parked domains | Good | Excellent |
| Email accounts | Ok | Ok |
| FTP, SFTP, SSH Access | Good | Good |
| WordPress Integration | Ok | Great |
| Server locations | 1 | 2 |
| Page Speed | Not great | Great |
| Uptime | Not great (99.9%) | Excellent (100%) |
| Security | Good | Good |
| Support | Ok | Good |
| Scalability | Good | Ok |
| Pricing(for shared 1-year shared hosting plans) | From $3.95 to $16.95 | From $2.95 to$2.95 |
| Final ScoreMore information | www.bluehost.com | www.dreamhost.com |
---
DreamHost Pros & Cons
pros
Recommended by WordPress
97 days money-back promise
Pricing plans are really cheap and affordable at an introductory rate
100% uptime promise
Unlimited traffic and SSD storage
Monthly/yearly/ three years contract
24/7 dedicated support with all plans
Easy to use
Free domain name/ website builder/ SSL
Free Wordpress migrations with plugins
Cons
Entity plan do-not offer free email account hosting
Don't offer cPanel instead they have built their own custom dashboard
Costing for migration
BlueHost Pros & Cons
pros
Recommended by WordPress
Cheap hosting pricing plans
99.9% Uptime
30 days money-back promise
Seo Tools included with extra costing as add-ons
SSD Storage
Cons
Only US-based servers on all plans
Paid website migrations
Poor support outside business hours
---
Is DreamHost or BlueHost easier to use?
Both hosting provider are offically recommended by wordpress.org and it somehow makes hard to make the final decision and stick to one host for year, but the greatest thing i love with both hosting provider:
Dreamhost offers monthly plans where you can test their services, features, speed, and everything you want for 30 days and if you feel bad with their service then you can simply rely on Bluehost.
However, I want you to read my in-depth full Dreamhost vs Bluehost article and make the final decision and stick to the hosting provider.
So let us find out which company offers the best features and easy to use with popularity and company growth. I have previously reviewed Dreamhost hosting provider and also made a full comparison article on Dreamhost vs siteground so you can read and find out who won for the best.

1. DreamHost VS BlueHost: Popularity and company

One thing we all know Bluehost is the most popular web hosting provider around the globe and if you have read our Scala hosting review then you might know "BlueHost pays $75 per referral for one single plan, the simple answer may live in its popular host affiliate host program.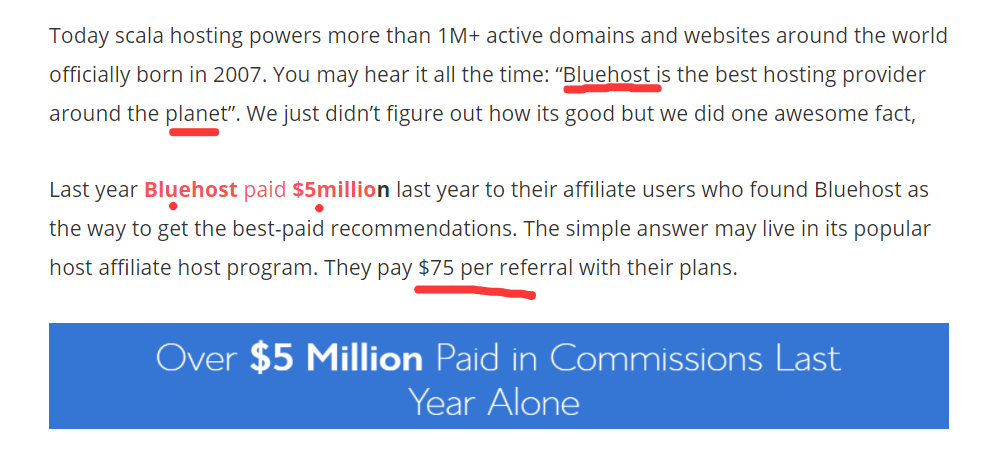 The pizza and burger of this review, of course, is that Bluehost is insanely more popular than Dreamhost, not just by me at least, that's according to our Google Trends Chart below.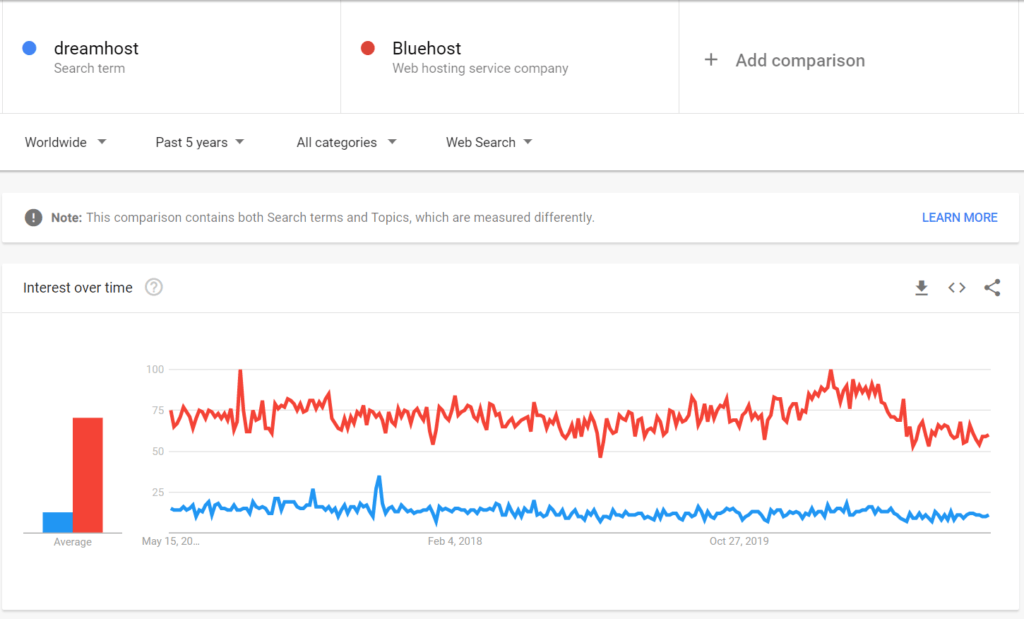 Bluehost spends a lot in marketing and back in back earlier days of WordPress, it was the only hosting provider they recommended where (Dreamhost and others list recently joined the list).
Where Dreamhost is not just a tiny hosting provider, it hosts over more than 1.8 M websites around the world, founded in 1996 three students from Harvey Mudd College in Claremont, California launched DreamHost, it was officially registered in 1997 officially by Michael Rodriguez.
Now you have an idea how bluehost is more popular than dreamhost.
---
2. DreamHost or BlueHost: Which is easier to use?
]Bluehost doesn't start off great, their signup process can be a bit lazy annoying because the hosting company wants you to buy more extra addons and try to sneak one or two upsells un there.
Their dashboard is full of ads that force you to buy their extra add-ons and spend your hard-earned money. Here's the screenshot of how it previews: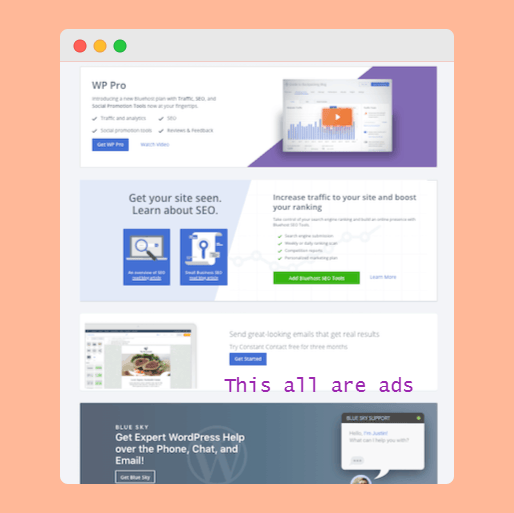 Dreamhost's control is custom built where they have a very beginner-friendly control pane with easy use no messing single elements.
All pixels perfect, anyone can get started with a simple UI design like an oasis of clam.
Unlike another hosting provider, Dreamhost do-not offers Cpanel or S panel like another hosting provider their plans.
Their panel offers a custom-built beginner-friendly panel, from where you can control each element of your website/ applications and install more than 600+ script applications such as WordPress/ Joomla/ Magneto and drupal, and so on.
I also noted that they have more features than Cpanel which most hosting provider offers such as managing of email accounts, billing, traffic, Support, upgrade or downgrade the plans, etc.
Winner: DreamHost wins, simply by virtue of not trying to sell me third-party services that have no use for me and I dont want them all the time.
---
Which Company Offers the Best Features?
In this section of Dreamhost vs Bluehost, I often call this title as "meat without taste" of hosting.
let's see what you get from your money in terms of uptime, storage, performance, and many more.
Storage: Doest Bluehost provides Better Storage or DreamHost?
Bluehost basic plans come with limited 50 GB SSD Storage apace and other things are unlimited. If you have the plan to build a photography website or video content site then you cannot use Bluehost with a tight budget. their storage is limited,
Winner: DreamHost is one of the very few webs hosting providers offering unlimited storage files which you can host any websites and put any terabyte of files without worrying about space.
BlueHost Or Dreamhost BandWidth is best?
Both hosting provider offers unlimited bandwidth so there's no clear winner.
BlueHost VS DreamHost: Backups:
Bluehost here again try to sell you backup addons. Anyway, Bluehost offers 3 backups which are for only monthly, years, and weekly.
Almost many hosting providers offer 20 backups to choose from, but as being said above to get 20 backups you again have to buy their add-ons which costs go so higher. Their plans are cheap but their addons with limited features will force you to either migrate or buy.
Now Dreamhost gives you 8 backups but the greatest in loved features when you want to create your backups you can do with on-demand, you can backup anytime anywhere you want.
The on-demand comes with more features and they aren't kept on Dreamhost servers forever, so you need to keep and download it manually or restore a copy of your site.
But still ranks for the best bluehost options!'
Domains Subdomains & Parked Domains
Bluehost offers free domains with hosting plans but has the option to buy a domain name directly from their registrar which could cost your around a Lil bit more.
If NameCheap costs $12/per domain then Bluehost costs $15/per dom which is somehow expensive. WITH their basic plans you can host around one domain name with one website.
Where Dreamhost costs around $12.95. Their starter plans allow hosting one website with unlimited subdomains with all plans.
Note: Both hosting provider offers free domain name for the first year.
BlueHost Or DreamHost: Email accounts is better?
Bluehost offers free email hosting accounts but again same with limitations, you can send only 500max emails per hour which is bad and could down your newsletter.
You will get 5 email accounts to create from basic and unlimited accounts.
With Dreamhost, there's no such deal means you have to purchase email hosting which costs around $1.67 per month but only with their basic plans, else their all plans come with unlimited email accounts, with 25 GB of storage with Starter plan. With the unlimited plan, you get with email host included.
Which Company Offers the Best WordPress Features?
Both hosting companies are recommended by wordpress.org itself and there's always been confusion regarding web hosting providers and wordpress because almost every host providers offer offers shared and wordpress.
The most important thing to understand you can install wordpress on both server plans but if you go with wordpress dedicated plans they you will get optimized wordpress servers with dedicated support directly from WP experts with one-click installation features.
While with shared hosting servers you can install anything but do not come with any dedicated servers for applications so.
\
| | BlueHost | DreamPress (DreamHost for WordPress) |
| --- | --- | --- |
| Websites | 1 per plan | 1 per plan |
| Limits | Recommends 50K to 500K web visitors20GB to 80GB storage | Recommends 100K to 1M web visitors30GB to 120GB storage |
| Staging area | Yes | Yes |
| Jetpack plugin | Yes | Yes |
| Automated Free WP migration(via Plugin) | Yes | Yes |
| Daily backups | Yes | Yes |
| Support | No | Yes |
| Malware protection | Yes | Paid Add-on |
| Price | From $22.99 a month | From $16.95 a month |
| More information | www.bluehost.com | www.dreamhost.com |
If you are really serious about wordpress as your main website then you must consider Kinsta and WPX hosting because they are the only hosting provider dedicated to wordpress websites with great decent speed and features.
DreamHost vs BlueHost: Performance Test
The performance of your hosting provider helps your website to rank on search engine based on google speed ranking factor, as a poor performance it impacts your visitor's.
For this testing, I installed two separate wordpress websites in two providers and installed wordpress one hosted on Bluehost and Dreamhost.
I checked their website loading speed with both light and heavy tests by installing themes, plugins, and scripts.
Here's the DreamHost VS BlueHost performance:
For this speed testing, I have used the tool Pingdom and loadimpact which are my favorite tool to test web hosting provider plans.
| | | |
| --- | --- | --- |
| USA (Seattle) | 0.65s | 1.66 s |
| Toronto, Canada | 1.8s | 1.79 s |
| Germany | 0.83s | 2.25 s |
| Sydney, Australia | 1.80 s | 2.06s |
The load time of Dreamhost was faster than Bluehost, Dreamhost hosting surprisingly was faster than the BlueHost hosting platform.
---
DreamHost & BlueHost: Uptime Test
Remember any hosting provider that offers 99.99%uptime on average?
Dreamhost offers 100% uptime promise with their hosting plans which comes with starting pricing of $2.59/per month that's just affordable pricing with solid rock uptime that no one offers.
Here's the screen-shot of dreamhost uptime:
While bluehost offers 99.9% uptime that's what every hosting provider offers, but there is one more great feature in dreamhost which is,
One of the great advantages if they fail to claim 100% uptime then your account will be credited for each hour of downtime to your hosting account so next time you can redeem it.
That credit will make out 10% for your next hosting renewal which will help you save some cash with uptime fails result which clocks to double benefits.
That is just incredible. During our long test, Dreamhost maintains manages 100% uptime as a guarantee and manages to give the best performance with no single downtime.
Dreamhost 5/5 ( 100% uptime)
BlueHost4/5 ( 99.9%uptime)
Both hosting comes with any time hosting upgrade or downgrade plans and you also receive a refund for the unused portion of your plan.
Here's the table comparison of Dreamhost and Bluehost uptime for a year.
| | DreamHost | BlueHost |
| --- | --- | --- |
| April 2021 | 100% | 100% |
| March2020 | 100% | 100% |
| February 2020 | 100% | 100% |
| January 2021 | 100% | 99.9% |
| December 2020 | 100% | 100% |
| November 2020 | 100% | 99.95% |
Result: Dreamhost clearly wins the game with 100%uptime even if Dreamhost falls to offers 100%uptime, they will add credit per uptime which can be used for hosting renewal.
---
Money-Back Guarantee: DreamHost Or BlueHost?
Bluehost offers 30 days money-back guarantee with each hosting plan. You don't get credits for domain names, plans, and the resources you may use when you downgrade the plan.
DreamHost offers 97 days money-back guarantee, in the hosting world almost no provider has able to beat Dreamhost in any medium features.
There are no single hidden terms and no questions will be raised when you request money-back they are very transparent.
When I see a web hosting provider offering features like Dreamhost, i I know one thing- they stand behind their services.
Winner: Dreamhost
---
Migrations: Is It Easy To Migrate?
BlueHost 5/5

Bluehost offers free website migrations plugin that will automatically migrate your Wordpress website to the hosting account you have with them.
They take small cost and migrate your all files securely and correctly.
Dreamhost 5/5
Dreamhost isn't perfect with their migrations features, they offer top features but with migrations, they are somehow bad like Bluehost.
I own a wordpress website then Dreamhost offers free website migrations because they have built their own custom free wordpress migration Automated plugin from which you don't need anyone to migrate your WP site from old to Dreamhost.
Note: Both hosting providers offer free website migrations using their automated migration tools but if you are not confident about how to migrate then you have to pay the pricing for each migration.
Thanks to Dreamhost they have made a custom video for how to use their migrations plugin and migrate it for free yourself.
WINNER: Neither Bluehost nor Dreamhost offers concierge-type migrations, so it's a tie.
---
Support: DreamHost 0r BlueHost Offers Better Customer Support?
BlueHost 3.5/5
Bluehost offers a 24/7/365 support department via live chat, phone, and email. They also included countless pre-made docs and articles to help you get started as a knowledge base.
Remember when you get connected with the Bluehost support team you may have to wait for few minutes to get one reply because at the same time they're dealing with multiple clients at the same time.
DreamHost 3.5/5
Dreamhost provides 24/7/365 support of the year, they also include banks of knowledge base articles along with video tutorials to help you get started.
| | Dreamhost | BlueHost |
| --- | --- | --- |
| Live Chat support | 4.5/5 | 5/5 |
| WordPress specific support | 5/5 | 5/5 |
Winner: BlueHost
---
Traffic Volume: DreamHost VS BlueHost
If you're a beginner website owner, then you may not understand the concept of the pricing plans and its volume features limitations of your web hosting plan.
If your website is new, it's more likely to see very few hundred people visitors per month, in this way any web hosting provider's plans can do the trick and host without a single limitation.
For example, you bought a hosting plan and see a bandwidth of 20k then you have to understand that once your website starts growing. you are more likely to see a lot more traffic,
If it crosses the traffic of 20k per month then you have to upgrade the plans and in most cases, hosting gets down and won't act unless you upgrade the plan or have to wait for the next month.
So, when it comes down to who is best here in volume for bandwidth the clear winner is dreamhost and wins the round.
Dreamhost web hosting plans come with unlimited bandwidth volume so there are no limitations of traffic and you can stay in the same plans for long years without issue.
On the other hand, Bluehost simply provides a limitation of traffic which just boils down to about 500 visitors per hour, It's a lot but not for those high-bug ticket websites that except to get millions of visitors per month.
Winner: DreamHost
---
Price: DreamHost
In this section of our DreamHost vs BlueHost, i am going to compare wide ranges of hosting server plans offered by both web hosting company.
Here's a rundown:
Shared Hosting
Both web hosting company start's with shared hosting plan. Dreamhost comes with two different shared tiers where bluehost has range of shared hosting and both host plans comes with free domain.
Bluehost shared basic: plans comes with the pricing of $3.95 where you can host one website with free domain with 50 GB SSD Storage.
DreamHost shared basic: plan come's with the pricing of $2.59/per month where you can one host one website with free domain including free domain with unlimited storage.
VPS Server: Better for higher Traffic Sites
BlueHost VPS hosting plans offers up to 8GB with starting pricing plans from $19.99/month- $59.99 for higher plans. All plans come with unlimited and unmetered bandwidth.
On other hand, Dreamhost's VPS hosting plans come with unlimited bandwidth and up to 8GB RAM and 240 GB SSD Storage. The best deal you will get access to host unlimited domains and email hosting.
Cloud Hosting
Bluehost is no more offering cloud hosting plans. Dreamhost's basic cloud hosting plan comes with the pricing of $4.50/per month which os ( $0.00075/per hour) for 100Gb block storage and 80 GB SSD disk space with developer-friendly tools options features.
WordPress
Both DreamHost and BlueHost are officially recommended by wordpress itself making them two great options if you have a WordPress site.
Both host provider comes with WordPress pre-installed for both shared wordpress and managed wordpress website.
DreamHost (5/5)
Shared Wordpress ($2.59- $3.59/m)
Managed Wordpress ($16.95-$71.95/Yr)
BlueHost (5/5)
Shared Wordpress ($3.95- $6.59/m)
Managed Wordpress ($9.95- $27.95/m)
Winner: Dreamhost is the cheapest and affordable wordpress hosting and a bit cheaper than Bluehost.
Is Reseller Hosting Available?
BlueHost offers different kinds of reseller hosting plans, through the Reseller club.
Bluehost offers reseller plans, through Reseller Club.
Dreamhost do-not offer reseller plans, but you can add your clients websites to your panel and bill your clients.
Summary: DreamHost vs. Bluehost: And the winner is: DreamHost
The clear winner is Dreamhost, when all is said and done, the best web hosting provider according to most readers goes to "Dreamhost".
Dreamhost has won many most important features aspects such as pricing, speed, domains, uptime, panel, and many more. There are no hidden fees or surprise on renewal rates than Bluehost.
Bluehost is also great hosting provider but while we compare with the our articles compairion, the clear winner with result is dreamhost.
I would recommend you to go with Dreamhost company because it has everything an online business owner must need with less pricing model offering valued packed features that no other can offers. Also, all plans come with 97 days money-back promise.
If you have any questions about Dreamhost Or Bluehost? Let me know in the comment sections below.
Related Articles: