In today's article, we have compared WPX Hosting Vs Kinsta comparison with in-depth history about both of the hosts.
If you're deciding between Kinsta Vs WPX or WPX hosting Vs Kinsta then you have landed to the best guide.
Most affiliates will tell you to go with both hosting provider because they want a higher commission, but both hosting companies have its own uses and purpose with a list of cons you must be aware of it.
WPX Hosting and Kinsta are two top web hosting providers, their all plans are optimized for the wordpress platform. Interestingly, both hosting providers were born in the same year, 2013, and both are very well known to the hosting world and offer industry-best choices of the managed wordpress hosting provider.
In this comparison article, we will fully go with the test and find out the WPX vs Kinsta which one to choose by taking a look at its features, pricing, support.
WPX Hosting VS Kinsta (Comparison Table)
Highlights
Kinsta
WPX
Pricing
$30
$20
Traffic Tiers
Starter: 20,000/mo
Pro: 40,000/mo
Business: 100k to 600k/mo
Enterprise: 1m to 3m/mo
Business: Unmetered
Professional: Unmetered
Elite: Unmetered
Monthly
Bandwidth
Starter: 50 GB
Pro: 100 GB
Business: 200-500 GB
Enterprise: 500-1000 GB
Business: 100 GB
Professional: 200 GB
Elite: Unlimited
Domains
Starter: 1
Pro: 2
Business: 5-40
Enterprise: 60-15
Business: 5
Professional: 15
Elite: 35
SSL
Yes
Yes
CDN
MyKinsta
Custom
Customer Support
24/7 clock support live chat and ticket
24/7 live chat and ticket
Storage
Plans
Starter: 10 GB
Pro: 20 GB
Business: 30-60 GB
Enterprise: 100-250 GB
Business: 10 GB
Professional: 20 GB
Elite: 40 GB
Money-Back Promise
30 days
30 days
Free Site Backup
Yes
Yes
Email Host
No
Yes
Stagging
Yes
Yes
---
Our Rules for Comparing and Evaluating WPX hosting vs Kinsta
Choosing the right perfect web hosting based on your business niche is one of the most important and hustle decisions when it comes to mostly wordpress hosting providers. There are countless web hosting providers around the globe offering wordpress plans.
I know your main priority is speed, and security so you are here to find out a reputable managed wordpress hosting provider that offers the best features, speed, and pricing model: Kinsta VS WPX Hosting.
First, we have installed and set up wordpress accounts with both hosting providers and installed themes and plugins, and tested each website's speed using metrics tools.
These metrics tools enable us to test the site performance and make the process easy to conduct data to compare WPX Hosting vs Kinsta host.
We also contacted each web hosting provider support system and find out its response and asked some questions related to wordpress with their expert staff. We also learned dashboard and control panels for a better user experience for better reviews.
---
An Overview Of WPX Hosting Managed WordPress Hosting
WPX hosting is the only platform offering the fastest managed wordpress hosting plans with budget-friendly pricing. WPX hosting is one of the wells know brands in the hosting world mostly know and used by wordpress experts and optimized for both high traffic and nontraffic wordpress websites.
This web hosting is widely famous for its 30-second average response support backup for each customer who chooses the option for live chat. You will get a reply from wpx hosting in less than 30 seconds.
One of the draws of WPX hosting is they offer unlimited web hosting migrations and let you add five domains or websites in one single account.
Features 💡
What makes unique wpx hosting from kinsta is it comes in less pricing than kinsta and offers and their basic plan can handle up to five domains per account with unlimited traffic no limitations.
30 Second response time with 24/7 clock support
Unlimited site migrations
3 data center to choose from
30 days money-back promise
Free CDN
Unlimited SSL certificate sites
Daily malware and security scans
Free email hosting setup
Fully AWS cloud infrastructure.
99.9% Uptime Guarantee
Full SSD servers
Server-level maintaining and caching via Varnish and Memcached.
Speed Testing Results
Minimum Loading Speed: 0.16 seconds
Maximum Loading Speed: 0.21 seconds
Support and Usability 💡
WPX hosting comes with 24/7/365 clock support directly from wordpress experts. We found during our test, installation, and set up with wpx hosting is really simple forward and no need for very technical knowledge.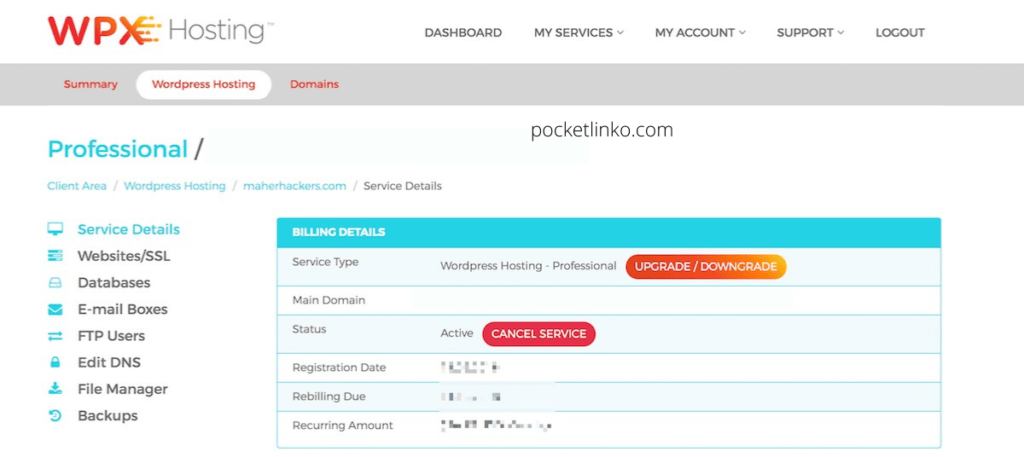 WPX hosting cons we found they do not offer custom dashboard and have not many features than kinsta offer, but if we look at it as a benefit. it is very clean and beginner-friendly to get started with easy to navigate.
Plans and Pricing
WPX hosting comes with three different plans with the basic pricing of $20/per month. The good part is it comes in less pricing than kinsta offers.
Business ($20.83/ per month): In this business plan you can host upto 5 websites in the same hosting plans with unlimited website migrations with 10GB storage and 100GB BandWidth.
Professional Plan ($49.99/per month): In this plan, you can host up to 15 Websites in same hosting plans with storage of 20GB And 200GB Bandwidth with free WPX CDN.
Elite ( $99/per month): WPX Elite is the end plans where you can host 35 websites with 40 GB Storage with unlimited bandwidth along with wpx cloud CDN.
WPX all plans offers free domain name, CDN with a 30days money-back promise.
👉 Don't forget to use our exclusive coupon code to get a 50% discount with our step-by-step guide.
---
An Overview Of kinsta Hosting Managed WordPress Hosting
Kinsta is widely used by big brands and wordpress experts. This web hosting provider is one of the most popular managed specific wordpress hosting officially powered by google cloud servers.
This web hosting is called a premium wordpress hosting provider because kinsta is specially built only for large, big businesses with high traffic sites.
They are dependable hosting and have the most popular clients around the world companies like Ubisoft, Tripadvisor,flippa, buffer, etc.
Features 💡
24 Global data center's
Easy website upscale and downgrade
Free CDN powered by key CDN
Powered by Google platform
99.99% uptime guarantee
Free Website Migrations
Direct supports from experts
Automated SSL certificates
Self-healing technology
Scanning and monitoring for hacking attempts
Continuous monitoring for uptime, DDoS attack detection, software-based restrictions, SSL support, and hardware firewalls powered by 24/7
Speed Testing Results
Minimum Loading Speed: 0.46 seconds
Maximum Loading Speed: 0.12 seconds
Plans and Pricing
Kinsta offers many hosting plans, the basic plans come with the pricing of $30/per month for one wordpress website with limited bandwidth and storage.
Starter – $35.00 per month for 25,000 visits
Business 1 – $100 per month for 100,000 visits
Business 3 – $300 per month for 400,000 visits
Enterprise 1 – $600 per month for 1,000,000 visits
Like different web hosts if your plans come with monthly bandwidth and traffic once it is crisscrossed they will shut your host right time.
But in kinsta case, they will not shut off your site if you exceed this limit, but you will need to pay overages and/or upgrade to a higher tier. Your website will never shut down if your monthly visitors crossed like another web hosting.
---
WPX Hosting vs Kinsta: An Honest Review & Comparision

1. WPX hosting vs Kinsta Speed Tests
Who is faster – WPX hosting or kinsta? We just shared with you some small tests for both hostings. Just to take you back, we have created wordpress websites on both providers to conduct a real speed test.
We have used the tool Pingdom and loadimpact to find the real speed test.
In this speed test, I signed for WPX hosting business plans installed Astra theme with pre-made templates, and tested on both tools from various speeds and locations using gt matrix.
WPX hosting surprisingly was faster than the kinsta hosting platform, but very close performance result.
The load time and speed test for WPX Hosting were:
India: 0.92 seconds
San Francisco: 0.76 seconds
Sydney: 0.40 seconds
We found out of three locations with no exception Sydney performance well according to speed metrics.
We did the same thing for Kinsta hosting also, we conducted tests for our wordpress sites. The load time and speed performance for kinsta hosting were:
India: 0.62 seconds
San Francisco: 0.46 seconds
Sydney: 1.40 seconds
The load time for kinsta hosting was better and much faster than WPX hosting offers. As we shared with you before, it ranks only by a few milliseconds for different locations.
The good part is both hosting offers decent speed and comes with less than 2 second load time. What we have found because while kinsta offers 24 data centers locations and wpx only 3 so for both hosting provider
We have installed different data centers while kinsta offers robust fast servers with 5x faster performance with pre-built caching.
Final Verdict
WPX hosting: 94/100
Kinsta: 95/100
These final verdicts are just for speed tests and don't mean WPX hosting is bad and not to go with, it's just a small test for performance and load time.
---
2. Speed Benefits- Which one Has More Optimizations?
We found kinsta offers extra more features than wpx hosting. The main difference is that kinsta uses Google cloud servers, My Kinsta CDN while WPX hosting uses AWS infrastructure with custom-built CDN with no caching plugin but does come with pre-built server-level caching.
| | | |
| --- | --- | --- |
| | WPX hosting | Kinsta |
| Server | AWS | Google Cloud |
| CDN | Custom | My Kinsta |
| PHP Version | 7.4 + Ultrafast PHP | 8.0+ |
| Storage | SSD | SSD |
| HTTP/2 | Yes | Yes |
---
3. Support- WPX hosting VS. Kinsta
WPX hosting offers the best great support 24/7 clock support directly from experts. Comparing wpx hosting with kinsta, with the wpx hosting you don't have to login or signup to get 30-second clock support,
While if you need online help with kinsta the first thing you have to log in or signup if you have not created then you can have access to kinsta support.
Still, you can reach to kinsta but will take a long minute which is definitely not good.
Our final: WPX hosting is better than Kinsta when it comes to supporting.
---
4. Dashboard – WPX Hosting vs. Kinsta cPanel
Kinsta uses their own high user experience custom-made dashboard while WPX comes with by default dashboard which is very beginner-friendly and use to control and navigate.
Here is the screenshot of the dashboard for both hosting providers:
Installations of wordpress and other platforms are easy and come with one single click installations for both hosting providers.
---
5. Data Centers – WPX & Kinsta

Both WPX and kinsta has different data center around the globe. With WPX hosting you get to pick out a data center while choosing the plans from three different tiers.
Kinsta offers more than 25+ data centers and while wpx offers only three data centers for now.
WPX Hosting Data Centre

Kinsta Hosting Data Centre
6. Migrations: WPX vS Kinsta

Here's what you should know!
Kinsta offers free migrations to their users based on the account domains which means if you have bought their basic plans which starts with the pricing of $30/per month.
In this plan, you will only get one-time migration for free because it can handle one domain.
While with WPX hosting provider they offer unlimited websites migrations per account so there is no risk for you if you have got a new idea and want to host the site again in wpx.
They will do free migrations until the account of domains doesn't get a full fill.
Summary – The Winner Of WPX Hosting vs Kinsta?
So who wins, WPX or Kinsta?
When it comes to choosing a Wordpress hosting provider, there are different factors to consider. Out of all the most important is speed, support system, features, pricing model, and performance speed are factors we must give the first piority.
We would choose WPX hosting provider because it has everything wordpress users need with the less expensive hosting option with faster loading time with no fuss.
So what if I have a budget and want to go with kinsta?
We would choose kinsta if you want to have top model features that are actually built for high traffic wordpress websites and can deal with zero downtime with self-healing technology but are on a higher budget.
If you have finally decided to go with wpx hosting then let me give you a discount. Use our coupon code ( POCKETLINKO) to get flat 2 months of free hosting with yearly plans and save 25% on monthly plans.
If you have any questions about Kinsta Or WPX Hosting provider? Let us know in the comment sections below.