Use: Budget-Friendly WP Hosting Plans
You don't have to break your bank cash
Scala Hosting offers SEO tools with all plans
Best Managed WordPress hosting
Great Answer by experts in clock speed
Introduction: Scala Hosting offers the industry's fastest wordpress hosting plans catering for both bloggers and non-technical users, developers, etc offering pre-optimized wordpress plans in affordable pricing.
Their wordpress host clients have awarded scala hosting for the top 100% CUSTOMER SATISFACTION Promise. They have the highest rating reviews in the hosting community for the best affordable host plans with top-notch features that no one offers.
From $3.95/month ( 33% Discount OFF)
If you are searching for a faster, affordable, secure hosting provider then we highly recommend you to taste and Try Scala Hosting Provider.
Today scala hosting powers more than 1M+ active domains and websites around the world officially born in 2007. You may hear it all the time: "Bluehost is the best hosting provider around the planet". We just didn't figure out how its good but we did one awesome fact,
Last year Bluehost paid $5million last year to their affiliate users who found Bluehost as the way to get the best-paid recommendations. The simple answer may live in its popular host affiliate host program. They pay $75 per referral with their plans.
Out Story why we decided to craft Scala hosting review 2023
For quite five months while on this active blog site "Pocketlinko," we were using WPX hosting which is one of the premia managed wordpress hosting providers in the industry.
We would recommend wpx for those only who have a budget with -friendly pricing. After the end of five months, we tested almost 9 different hostings including scala hosting.
We were spending $20.83/per month on our pocketlinko blog with wpx hosting in their business plans. That same plan can host more than five domains, also the speed was close to 0.8 sec per page load according to GT Metrics.
So finally after five months we decided to migrate our entire server and made a list of the best wordpress hosting provider and done lots of testing also,
Plus we also did the A/B testing, speed comparison didn't work out so we decided to host our site on Dreamhost. The reason we migrated from wpx to Dreamhost because Dreamhost was one of the few hosting providers recommended by wordpress.org and offers free unlimited features.
We were using Dreamhost wordpress plans which cost around $3.95/per month. After using it for months and months we found their Dreamhost puts a lot more pressure on their shared hosting server, so we took the time to find out best-hosting plans. After analyzing all the data for months we migrated our blog in Scala hosting which was our and still the best decision and also helps to spend less and have features.
In today's honest detailed Scala hosting review 2023, you will learn its pros, cons, speed test, comparison and also you will learn how our site went to close to less than one second load time.
So without further ado… Jump right into the scala hosting review 2023 lists you" re interested in? Just use our handy table of contents.'
What is Scala Hosting: Is It Worth Your Cash?
Scala hosting company is a leading web hosting platform, officially founded in 2007 with a highly focused platform on managed VPS and Managed Wordpress hosting server plans in low affordable costing so anyone students, developers, and large Scala teams can build their own website and application without breaking the bank cash with cloud secure and easy to a managed host.
In our today Scala hosting review, we found they offer the best fastest web hosting plans if we focus on their pricing model. With such low pricing model, we can get such tons of features and performance that other host offers with higher pricing.
More than pricing, Scala hosting aims and really focuses on the high-speed hosting server, security and performance, and another bunch of features.
---
Best Features In Scala Hosting Plans 2023 💡

Scala hosting all plans comes with 30 days money-back promise guarantee. Unlike other hosting provider offering Cpanel, Scala hosting offers free S-Panel which is totally different dashboard panel than another host provider from which you can control your websites each element.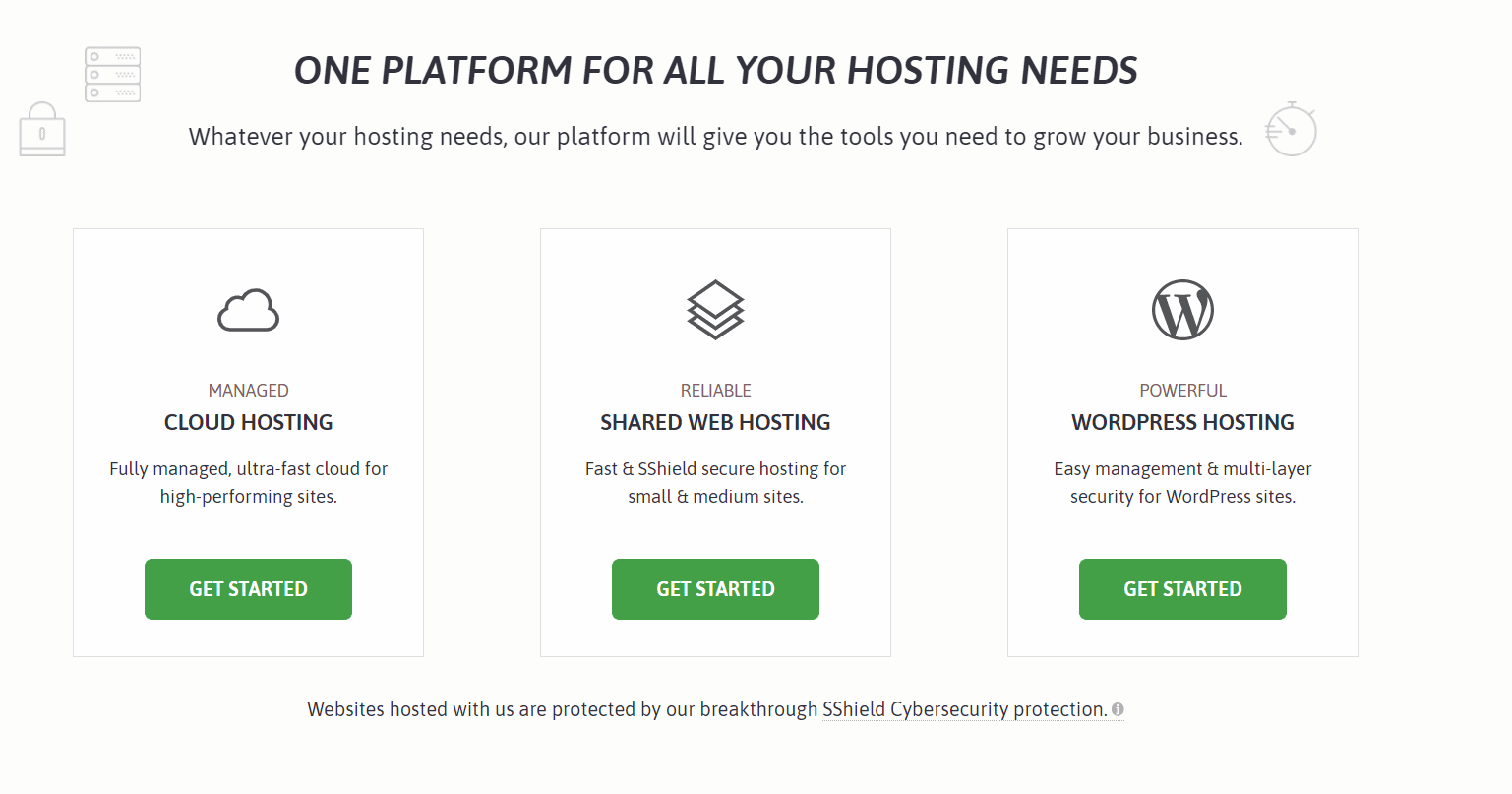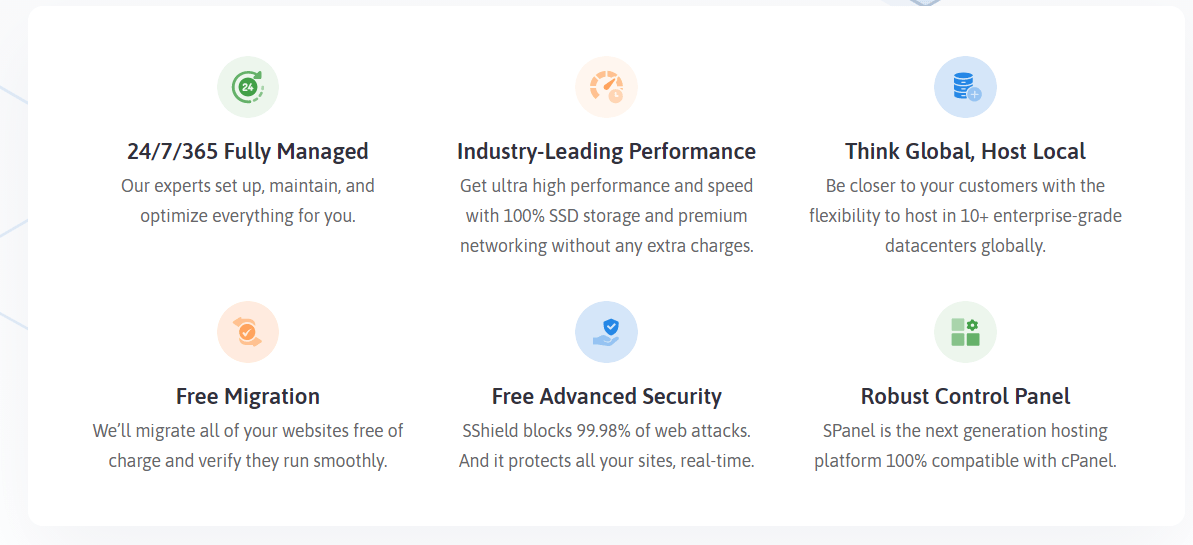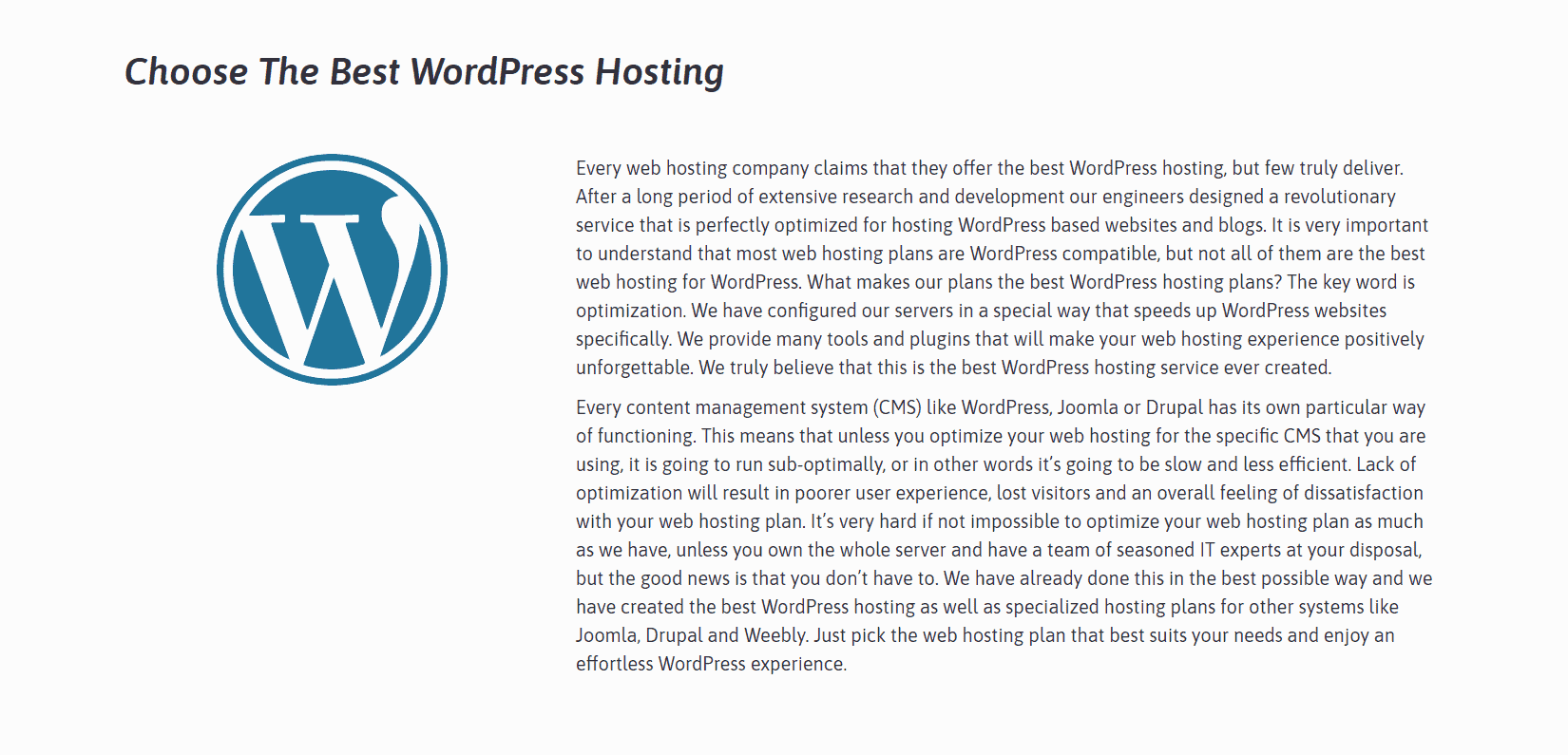 The benefit features we found for most of the reason is they offer free SEO Analysis tools for your application or websites to research about your business niches, market research, and keywords so you can find the best way to rank your websites at the top of search engines.
Here are some of the best benefit features you can get in a Scala hosting provider with all plans:
Free domain name
Free website migration
30-day Money-back Guarantee
WordPress Optimized
Web Attacks Blocker
Dedicated Firewall
Custom Security Rules
Host unlimited sites with unlimited storage (except basic plan)
Daily backups
1-Click WordPress Installer
24/7 technical support
99.9% Uptime Guarantee
Free SSL Certificates
Automated Updates
High security and speed
Free CDN
Unlimited emails, unlimited databases & unlimited bandwidth
Free SEO Analysis
Malware Scans & Removal
Managed Hosting Provider
Thanks to their SEO tools which today they are helping in our keyword research for other websites and helped us to save money not to spend one single dollar for the same tool when scala hosting offers it for free.
---
Five Honest Reason To Choose Scala Hosting
From the time we have started using scala hosting, we have been always recommending scala hosting as their go to hosting provider without losing cash so you never get bankrupt.
If we honestly speak scala hosting is our best overall wordpress hosting provider. They are the very first hosting providers plans you should consider for your wordpress website if you are building or want to migrate.
That doesn't mean a developer cannot use scala hosting every planet humans reading this line can get started with no single doubt. Since wordpress is widely by more than 48% of people from the world as a way to their online business websites and stores.
When it comes to web hosting provider, there are hundreds of hosting choices provider around the globe. Using each hosting provider can take long time but its possible so we have decided to tests nine different hosting provider and help you to understand what makes scala hosting provider unique or better from theam.
Here are the five reason why you must consider scala hosting provider and host your next project in it after reading our today scala hosting review.
1. Free domain Name
This isn't something new I know there are lots of hosting providers offering free domain names. Let's make the word easier!
Only 7 out 10 hosting provider offers a free domain in low costing basic plans where three hosting providers do offers free domain but in higher pricing plans.

With scala hosting, provider the case is totally different with their all plans including basic plans which starts with the pricing of $3.95 for both web hosting and wordpress plans you can get a free domain name which is almost un-excepted.
2. Free SEO Tools
Scala Hosting offers free SEO tools worth $49 for their all customers in their wordpress hosting plans. SEO is something that we have a focus on more than building websites and designing. The reason is simple:

SEO helps to bring organic traffic and helps the pages to rank in search engines while if you don't do perfect SEO even while spending thousands of dollars for only websites that will visit it except referral traffic.
3. Free Access to White-label hosting
This is something that really makes unique from other hosting provider is their white labelling features. This features is best for freelancer.
If you are a freelancer for any industry and going to manage a website for your client then you really need to have this feature.
With the help of White labeling, your client will not see the logo of scala hosting in the panel offered instead you can customize the dashboard and everything the hosting offers from scratch and add your XYZ custom logo also access the features and limitations you want.
They offer white labelling option so you can re-sell their hosting as part of your referral service so you make more money from hosting.
4. extra ordinary hosting security
We have been always recommending scala hosting offers the best security features ever that no one else offers with such pricing model and if you remember we have shared this same thing in above words.
Before you choose any hosting provide no matter if it really cheap or comes in premium pricing, the first you should focus is on their security features, because daily more than thousands plus only wordpress websites are being hacked.
Imagine you got a million-dollar house totally for free but that house has no doors will you ever live for a lifetime without adding one single door?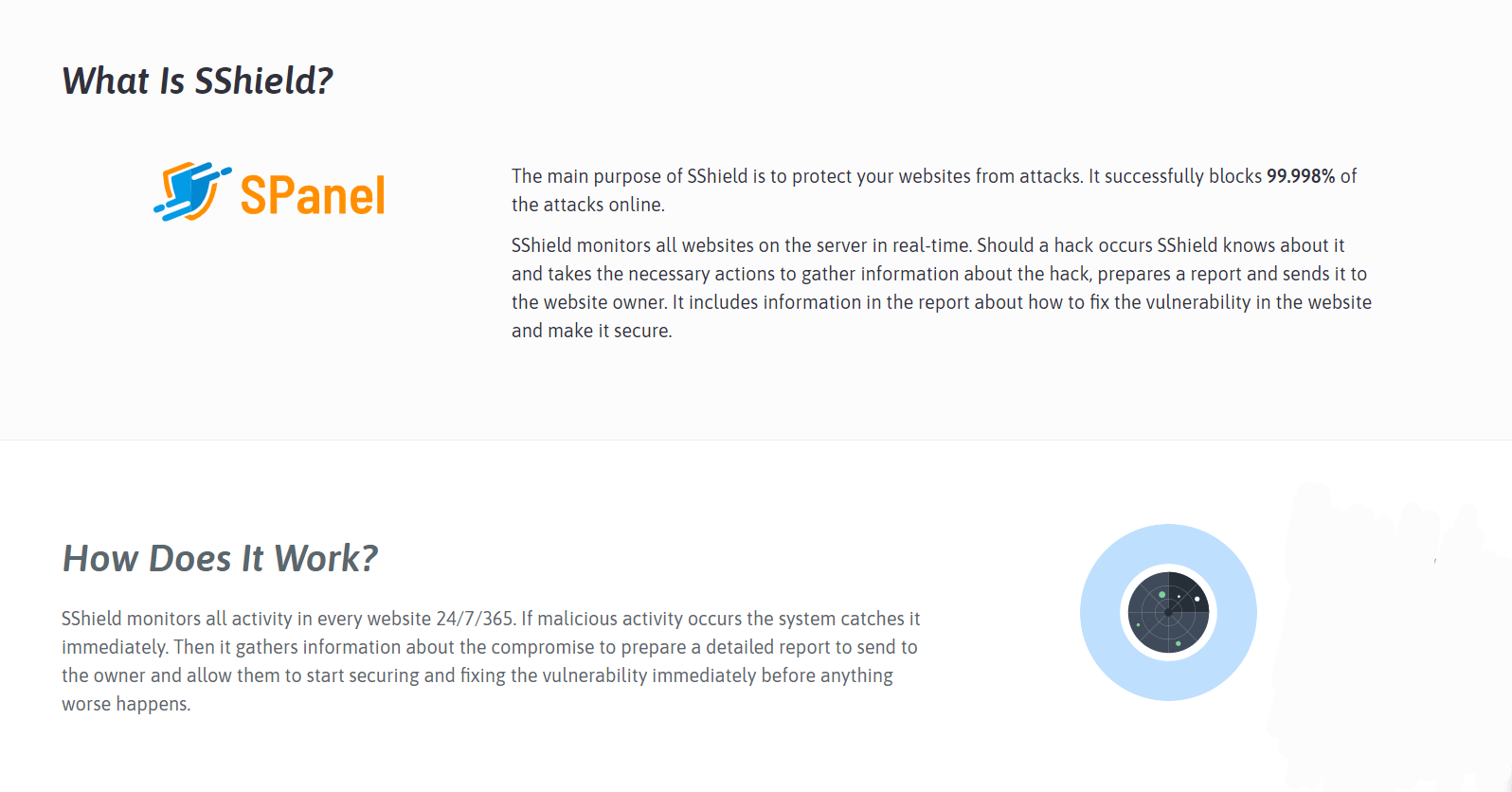 I know the answer from you the most is no. SO it is much better spend a little few extra cash for security and the good part scala hosting offers the best security features with no extra costing and comes with all server plans with full protect of their servers with sShield Cyber-security and 24/7 security scans.
5. 24/7 Clock support directly from experts
Scala hosting offers 24/7 clock incredible support directly from experts which means you choose the plan of wordpress then you will get help directly from WP experts and so on..
You'll get access to both supportive system:
24/7 Live Chat Support
24/7 Email Support
They also have lots of pre made tutorials based to find stuff around hosting guides, how- to, billing, installing SSL certificates, scanning malware and so on..
---
Scala Hosting Pricing Plans
Scala hosting offers four different server plans:
Web hosting Plans ($3.95/per month)
Wordpress Plans ($3.95/per month)
Managed Cloud VPS ($9.95/per month)
Self Managed Cloud VPS ($10/per month)
1. Scala Web/Wordpress hosting Plans ( $3.95/m)
Scala web hosting plans come with four different tiers the basic plans come with the pricing of $3.95/per month where you can install one application or website with a saving of 33%.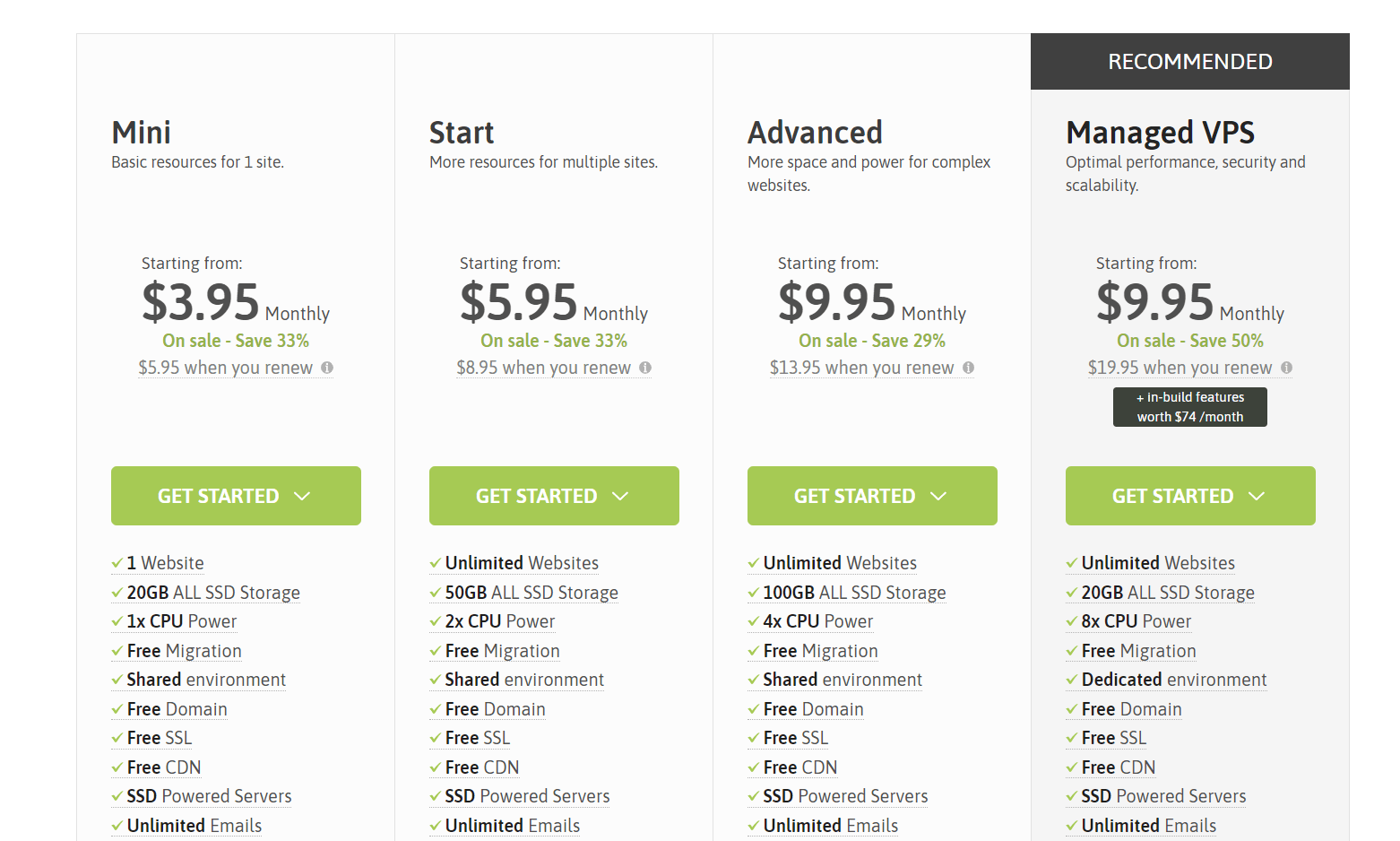 Plans and Pricing:
Mini
Start
Advanced
$3.95/mo
($5.95/mo at Renewal)
$5.95/mo
($8.95/mo at Renewal)
$9.95/mo
($13.95/mo at Renewal)
1 Website
20 GB SSD Storage
Unlimited Bandwidth
Unlimited Websites
50 GB SSD Storage
Unlimited Bandwidth
Unlimited Websites
100 GB SSD Storage
Unlimited Bandwidth
On sale – Save 33%

SShield Cyber-security
SShield Cyber-security
Pro Spam Protection
SEO Analysis worth $49
Priority Support
With their all plans you can get:
Free Domain
Free SSL and CDN
Free Website Transfer
Unlimited Emails
Unlimited Databases
7 Backups for the last 7 days
30-day Money-back Guarantee
On-demand Backups
SSH Access and WP-CLI
WordPress Staging/Cloning
Brute-force Protection
Free Security Scans on Request
1 click wordpress installations
3. Self-Managed Cloud VPS Hosting Plans
Including all website hosting plans features(1) you can get:
Free Website Migration
Dedicated IP Address
30-day Money-back Guarantee
Daily Remote Backups
Get Your Server In 30 Sec
Multiple Locations
100% Automated
Plans and Pricing: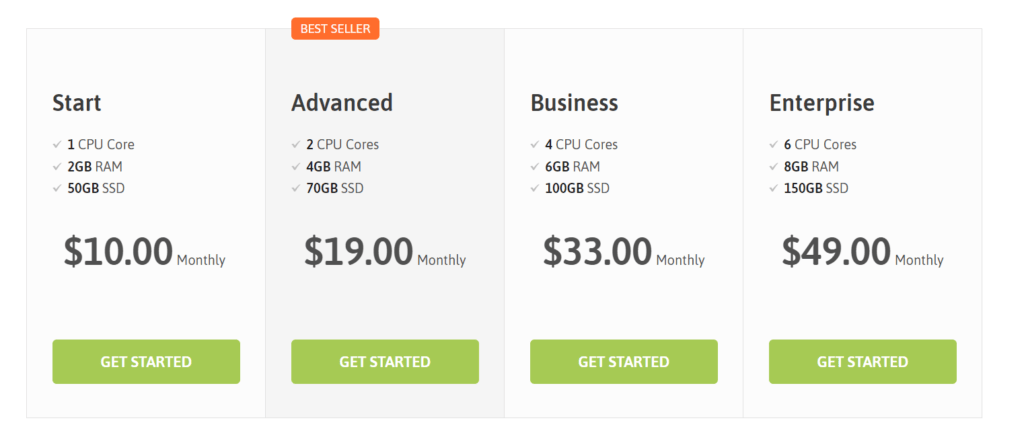 Start
Advanced
Business
Enterprise
$10.00/mo

$19.00/mo

$33.00/mo

$49.00/mo

1 CPU Core
2 GB RAM
50 GB SSD
2 CPU Core
4 GB RAM
70 GB SSD
4 CPU Core
6 GB RAM
100 GB SSD
6 CPU Core
8 GB RAM
150 GB SSD
3. Self-Managed Cloud VPS Hosting Plans

Self-managed Cloud VPS comes with four different tiers the basic plans come with the pricing of $9.95/per month. The good part is they offer two different servers one with digital and self with same pricing model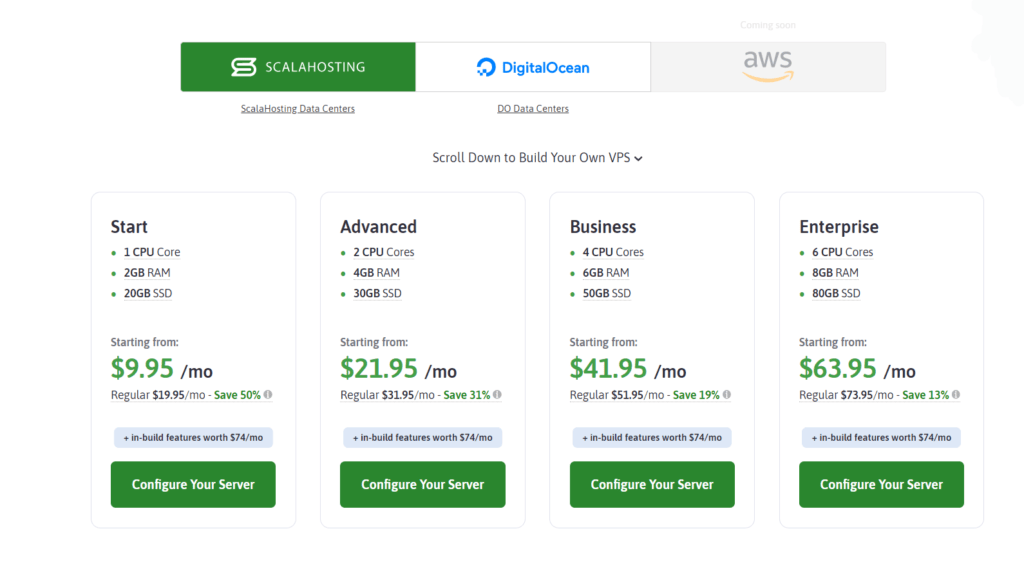 Plans and Pricing:
Start
Advanced
Business
Enterprise
$9.95/mo
$21.95/mo
$41/95/mo
$63.95/mo
1 CPU Core
2 GB RAM
50 GB SSD
2 CPU Core
4 GB RAM
70 GB SSD
4 CPU Core
6 GB RAM
100 GB SSD
6 CPU Core
8 GB RAM
150 GB SSD
---
ScalaHosting: Speed Testing Results
For this testing, we set up a website in scala hosting with a brand new custom domain and installed Wordpress on it and installed Astra pre-made template thems and plugins and we started doing testing.
We tested the website speed using performance metrics tools which helped us to enable to test the site performance and loads impact under themes and with both low and heavy light visitors in no time.
Here's the final speed testing result
Speed Testing Results
Minimum Loading Speed: 0.32 seconds
Maximum Loading Speed: 0.40 seconds
---
Scala Hosting DataCentres
Scala hosting own two data centers from different globe Dallas in texas and the second one is in Sofia, Bulgaria.
All data centers are packed with security layers and have the best multiple backs per one customer account. You can choose any data centers based on the plans you prefer
Scala Hosting: Pros And Cons
Pros Of Scala Hosting:
Free SEO Tools
Free Best Security Tools
High security and speed
Free domain name for a year
Automated Update
Free website migrations
Free secured SSL to make your website with a green padlock from HTTP to HTTPS
99.99% uptime guarantee promise with constantly monitored by experts
White label hosting feature
Can handle unlimited domains/ websites
Free access to sPanel beginner-friendly panel to control website each element.
One-click installer so you can install scripts such as Wordpress, Joomla, PrestaShop, Joomla, and other CMS and so on.
30 days money-back promise guarantee
Cons Of Scala Hosting:
We found only one scala hosting cons so far and here is what we got to know:
Their hosting renewal rates are not the same as they provide for the very first time. But you can always choose their 3 year plans to get started.
---
What others are saying about Scala Hosting Provider?
Scala Hosting is widely used by more than 700k+ active website around the globe and scala hosting customers have awarded scala hosting for the top 100% CUSTOMER SATISFACTION Promise.
Here are some reviews we collected from open internet as a source to go:
Scala hosting has got 4.5 starts out 5 according to facebook official page which is good to go hosting provider. Excellent reviews from facebook human to human platform,.

Trustpilot scala hosting review
Scala host has got 4.9 rating out of 5 according to trustpilot including is. Close to millions of customers are happy with their happy features, pricing, speed, and support model.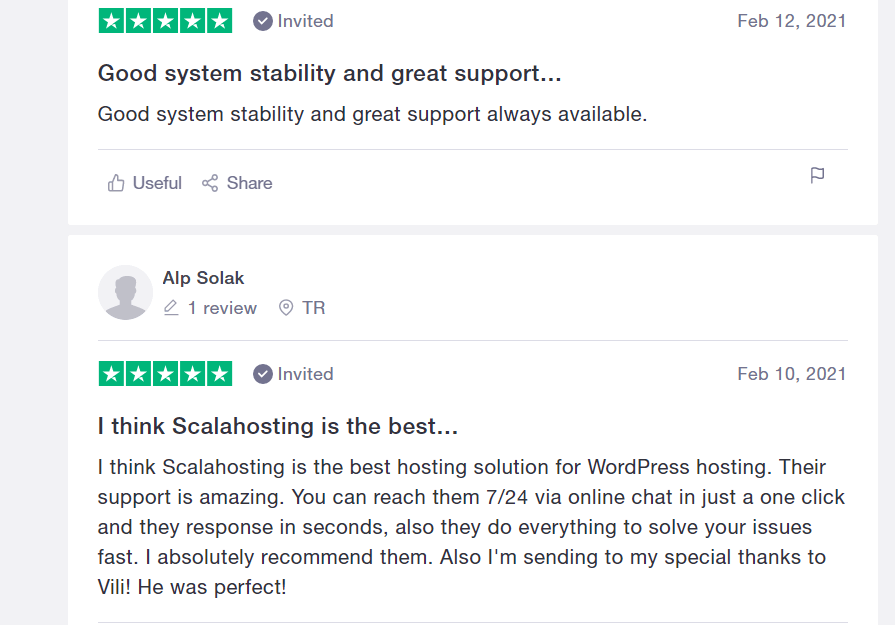 ---
Scala Hosting Alternatives & Competitors
We have no single issue with scala hosting however if you want to know what is the hosting provider that is very close to the scala hosting features model as a way to go for scala hosting alternatuves.
We've 3 scala hosting Competitors to choose from and here are they listed:
A2 Hosting
FastComet
Bluehost
---
Scala Hosting Review Conclusion
Scala hosting has been in the hosting industry from more than 12+ years officially born in 2007. They offer the best web hosting package for each users with so much value pack features.
If you want to start your new website or want to migrate from other host to scala then today is right time to get started with a new project on the right track using scala hosting a great option falling under budget.
We are still using scala hosting and the more words write it becomes more less and you can find all the hosting features, pricing and support from our today scala hosting review.
This company really focuses on customers satisfaction and this is why they have got 4.5 starts from such websites with millions of traffic per month.
Also we found scala hosting is really active on social media a company that grew from a small to such large web hosting provider from world in short period of time.
Now we want to hear from you what are your thoughts? If you have anymore single doubt and question about scala hosting provider?
Let us know in the community comment section box.