Want to know the top SEO Google Ranking factors? I Don't Want To Spend This Much Time On 200+ Google Ranking Factors. How About You?
Ask This Questions First Yourself.
Have you ever tried to learn what are the most important top search engine google ranking factors out of more than 200+factors?
You may have idea google has more than 200+engine ranking factors in their algorithm; which helps Google search engines to point out which sites should show in SERP and how they should rank.
So, today in this article I am going to show you the top important google ranking factor rather than lists 200+google SEO ranking factor.
Here are the top important search engine ranking factors in 2023 in no particular order:
Top Google SEO Search Engine Ranking Factors
Search engines and its algorithm changes in time to time, it can be hard to keep up with the latest factors.
Some factors are added then some are removed in no time.
Now, let's have a dive look at the top search engine optimization ranking factors in today's date you must have to know about ……
Ranking on Google is easy if you follow all the google 200+ complete algorithms.
You may think why I am saying like that?
Everyone thinks SEO is really complicated but ranking number one on Google is really pretty easy now it's easy to see why it would seem difficult.
Google had defined and said that there are over 200 signals 200 factors that decide who displays up number one and who doesn't display up at all.

Let's start with the top google algorithm you must know.
Factor#1. Domain Age& Rank
Unsurprisingly, the first of our SEO engine ranking factors has to do with having the right kind of domain age and rank.
SideNote- Domain authority and age and domain rank is different do not look them as the same meaning will be discussed above down content.
What is the domain age?
"Domain Age" is the time during which a domain name has registered.
That's what called domain age called.
Example – IF domain XYZ domain was registered in 2015, the domain age will be more than 5 yrs by 2023 from today.
A quick and very good fact which will clear all your queries.
Google's Matt Cutts has already confirmed that:
Simple words, Google in today's date still do not use Domain Age don't think you shouldn't focus on it, 2023 they are not using it as ranking signal but it another day they may use so you should take care of domain age also.
Another one ;
John Mueller has validated through Twitter that whether you have an aged domain or a brand new domain;
It will not affect your ranking in Google's search results.
I may be wrong, but we still see domain age and rank as google ranking factors 🙃.
Interesting right? What's your thought on this, let me know.
Factor#2. Content Age& Quality
Don't Sleep&rely on google factors.
Good quality content is the blueprint ranking factor. The search engine only shows the top quality content and the best result possible.
The questions" Do content Age Matters?
"Yes," it does Matter, What matters a lot is content freshness.
The older the content the more you have a chance to get backlinks and ranking.
But in this case, example its pretty different;
" I was hunting on competitors article for this keyword- top google ranking factors".
The result was actually mind-blowing.
You may think this content is new and have good freshness around the SEO Ranking factors keywords.
Nope! 😂
This article was written around in 2018 and last updated in Jan 2019, which means content age really matters than the content freshness.
How can I say this article was submitted to the search engine in 2018?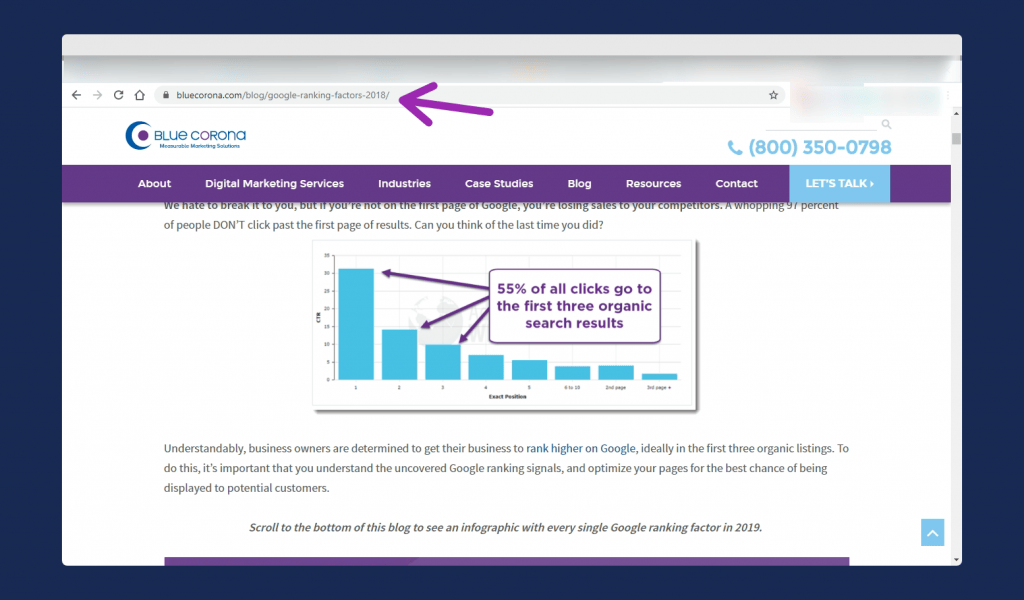 I may be wrong but the article was written and submitted and index on google in 2018 only from their URL Stats.
https://www.bluecorona.com/blog/google-ranking-factors-2018/
As being said above, never ever rely and sleep on google ranking factors. Google Says Content freshness matters a lot than the domain age, but in this case its totally …….
The question;
When it comes to the SEO Google ranking factor, what does "quality content" look likes?
Simple google wants content&ranks which fulfills the content intent and that answers completely someone query.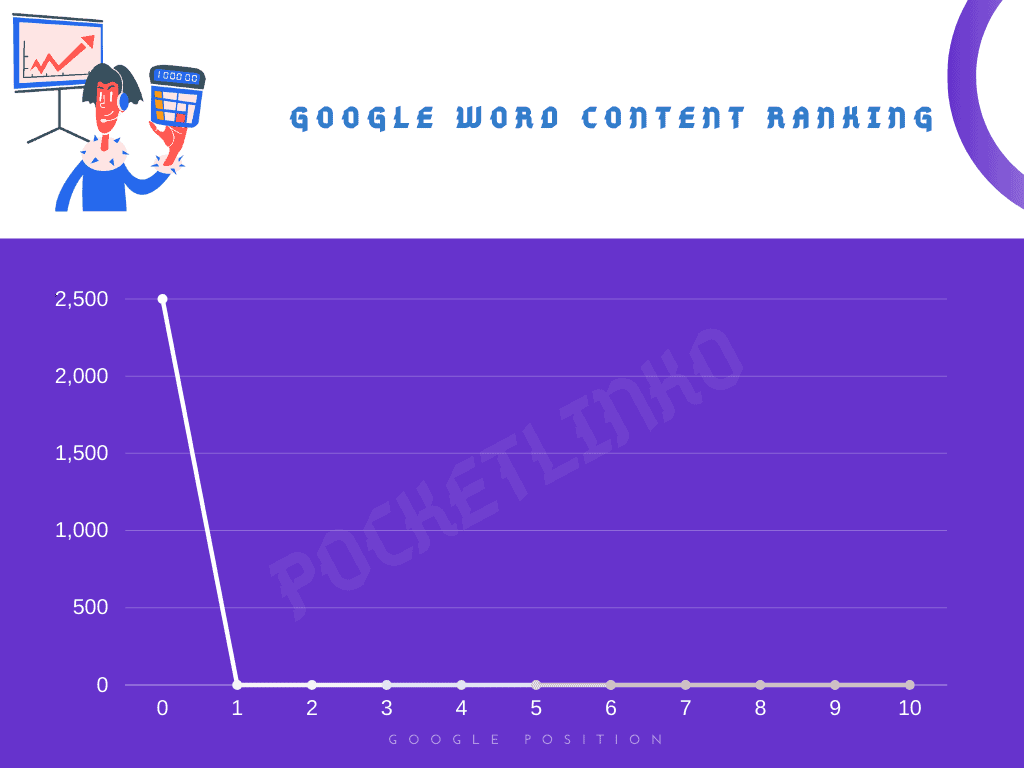 Industry found that longer content tends to rank at the first position of google above short content. Google loves both short and long content but really focuses on Quality of content.
Action Item! Make sure your content is on a longer word format than your competitors. Don't write content about anything and everything.
Factor#3. Page Speed
Page Speed is another#3 important Google SEO ranking factors.
Page speed is a ranking factor since 2010 for desktop ones and in 2018 google changed it for both ranking factors.
If you are writing long format content and doing proper On-Page for the article and wondering why you are not getting revenue and traffic?
No doubt! Your website loading speed is one obstacle so you are not getting traffic, in fact, a single -second delay in website speed decreases conversion by 8%.
It unquestionably;
Makes judgment to improve your website loading speed as much as possible. 40% of users will leave your website if it takes more than two seconds to load.
How to increase page loading speed in 5 mins?
Follow these 5 simple ways to increase page loading speed in less than 5 mins;
The questions" Is Page Speed Still Loading Factor?
"Yes," page speed is quiet and search engine ranking factor, not a huge impression" a small percentage.
Your site's loading speed is a Highly important ranking factor.
Recommended Resource: Want to increase Loading Speed In 10X Simple Steps? Check out the guide on Website Speed Optimization: Boost Your Loading Speed(2023).
Action Item! Make sure your Page Load faster than your competitors🙁 Especially When it comes to Mobile.
Factor#4. secure Websites (HTTPS)
HTTPS isn't a ranking factor in the search engines nor deciding whether or not to index a page.
HTPPS is a small "light press ranking factor" clarified by John Mueller on twitter.
HTTPS improves safety for visitors by encrypting data between browser and server.
Chrome search engine hates HTTP, a Lil bit, and loves HTTPS. You must SEE HTTPS as a huge ranking factor as similar to page speed.
Lets take example from your side;
You decided to search any keyword; "xyz keyword" and landed on unknow sites and see the site is not encrypted by SSL and HTTPS.
Like this;
If you have non-secure pages, you may also have received a warning pop out from Google Search Console.
Add yourself in this example and imagine how you will feel when you're on your own sites and pop out these messages.
Most Important – Chrome also add your sites to harmful sites ( it depends on content)
Like these….
Action Item! Install SSL Certificate On Your Website to be free from worries and chrome cutoffs. Do contact hosting provider or use free from let's encrypt
Factor#5. Mobile Optimized& Friendliness
This is Yet#5's most important ranking factors mobile optimized and friendliness.
If you want to make your site appearing top results in any search engines; no doubt this is one most important factors you must implement from the first day of site construction.
Nearly out of 100 types in google, 65 are nearly thirds takes from mobile devices, no rejection and surprise google implement, and made mobile-friendliness a ranking factor for mobile searches in 2015.
Reflects well?
Not only that your website also should load faster than your computer version if you wanna have some 0 positions.
The point:
If you don't, believe me, why don't check out this ;(Never mind🤣)
In July 2019, google implemented for only mobile indexing called ( Mobile-first-indexing), this is a ranking factor especially for mobile devices.
Note-: Especially for mobile devices no only for mobile – ( for both Mobile and lightweight for desktop version).
Mobile-friendliness points to how a website displays when someone visits it on a mobile device. More than 56% of traffic comes with mobile devices.
The bafflements" How do I find My Website is Mobile Optimized OR Not?
Google has developed a tool for a mobile-friendly test called " Is your web page mobile-friendly?"
All you have to add your WEB address and get the result and do optimize it .
More people prefer using mobile devices than desktop to access the internet, look at the usage statics of mobile devices.
If your page is unfriendly in testing make use of;
Make Use of small and same fonts in whole websites.
Do check out the images, ads size if they break your site.
Make Use of responsive theme like ( Generate Press, Astra)
Action Item! Make Assured your website is mobile-friendly and optimized
Factor#6.Crawlability Pages
Google search engines can't access pages if they can find and most important appearing top results.
If you want to have your site in google and want to rank for certain keywords it's Certainly crucial that search engines can entirely crawl and index the content on your page.
If your site is not fully crawl on-site then what's the benefit of having websites as simple.
Google runs with robots(i.e, spider) and robots only understands codes of your site.
You must check out if your site is blocked by a robot.txt or not.
The questions" How do I Know My Pages Are Crawability or not On Search Engine?
If you want to rank your site on google search engine then do follow these simple steps to crawl your website easily.
Do Install SEO plugins ( RankMath, YoastSEO)
Submit your sitemaps to google console.
Tell Robots.txt to index your pages
Following the above checklists, head over to google console and add your URL and find out either it is an index or not.
Action Item! Make Sure your pages are not blocked by robots.txt and also do check out the youtube video to understands well. (+Point just to save your time )
Top Important Factor#7.Rank Brain(AI)
Google rank brain is artificial intelligence, simple words rank brain creates algorithms on its own.
Rank-brain is the top 3 SEO Ranking factor in engine rankings by Search Engine Land. This AI helps google to to sort out the searches and understands the query types by us.
Why Rank-Brain is Top 3 Google Factor Signal?
In October 2015, Google announced and introduced RankBrain as google's third most powerful ranking signal.
Day-by-day it is going important as voice Search Optimization.
The one important of the rank brain,users types billions of keywords in google that they were never seen before.
Google had no clue about those keywords that users actually want. Here rank brain comes in use.
RankBrain understands what you're asking. And it provides a 100% accurate set of results.
How do I Optimize My Content For Rank-Brain (AI)
Make USE of LSI keywords
Focus on D-well time
Create Content that matters( Search Intent)
Build Your Website's Reputation. …
Focus on lengthy content.
CTR
Make Use of Your Brand Name( Website Reputation)
Avoid Duplicate content, meta description
Recommended Resource: Serious About Rank-brain and about SEO. Check Out the definitive Of RankBrain SEO bY Backlinko.
Factor#8.Social Sharing Signals
No doubt! Social sharing is another search engine factor for pages. Social sharing makes your page more valuable and increases traffic.
Side Note- If your website isn't crawling and indexing on google you can do a lot of social shares and tweets of your page to increase the chance of getting indexing fast. Google crawls social media sites from time to time so you can have a chance.
Recommended Resource: 2023 is almost going to end and the impression of social media continues to rise. Check out the: Best WordPress Social Media Sharing Plugins Like Pro 20232
Social sharing is not a direct ranking for SEO by google, But industry found more social shares you get the more valuable your pages to get the more we get the more chance of having traffic and ranking in google.
While we nevertheless don't know the reliable result of social signals in SEO but we do know that social signals are increasing in value with interest to the ranking algorithm.
Action Item! Make Use and add social Sharing Plugins IN your websites to get the benefit of social ranking signals.
Factor#9.Backlinks
The more backlinks you get on your sites and pages the more you have a chance to get in rank and stick on top 10 SERP results.
Backlinks are the top factor for google SEO.
This is why it comes under the part of #9😁as being said above in no particular order.
In simple words-Backlinks make your site vote order. The higher vote one websites pages get the higher position it gets. ( Vote means backlinks for this article 😂 )
Factor#10.Keyword Stuffing (Over Optimized)
The one huge impact with websites to drop ranking is also because of keyword stuffing.
Keyword stuffing is a traditional system, we all love Ranking and traffic. Isn't It?
People are doing keyword stuffing just to get higher rankings and traffic to their site to get some SEO benefit, but you may don't know google don't love Over optimized content.
Simple words– keyword stuffing is like repeating the same keyword which is also called over-optimized article. ( Hoping to get ranked.)
People just love to target the same keyword rather than targeting thousands of related keywords with only article.
Google never ranks those sites do keep in mind You don't need to apply your exact keyword every time.
In this article, I have used only 7 times focus keyword in more than 2500 words.
Rather than stuffing the same keywords in this article, I have used their related keywords to rank for different keywords for the same article. ( huge benefit).
Just add your keyword at the beginning of
In the first 150 words
H2 heading tag( 1 time)
H3 heading format
1 Focus keyword in main Images( i.e featured image than match your article)
At the body(i.e Conclusion)
Recommended Resource: Serious About On-page SEO? Use My ultimate 26+ Point blog post checklists to dominate your competitors and rankings.
Conclusion: Most Important Ranking signal
Guess what?
Now you have the most important top google ranking signals in 2023 to get higher rankings and SEO benefits.
The time is to optimize the pages of your awesome website pages.
Rather than looking at the 200+ signals use these top 10 ranking signals to dominate your friendly noob competitive. (don't mind noob) 🥺
Now what?
Use my: Ultimate 26X+ Blog Post to dominate the top 10 SEARCH ENGINE.
Your time:-)Thank me ❤️ for sharing this article…( Yes you can do it)