Are you the one searching for the best WordPress social media sharing plugins in 2023?
If "yes",
Stick to the article….
This is a top collection of the best social media plugins for WordPress out thousands of easy social share tools tested and tried.
2023 is almost going to end and the impression of social media continues to rise. It's time we plan for the future and keep ourselves a step ahead of others.
There are thousands of social sharing plugins in WordPress claims to give the best sharing tools, but you are unaware of this.
Most of the tools use high CPU usage which straight impacts your site speed and makes low.
Where you unaware of it?, If not do let me know in the comment section.
Social media is an integral part of any online-or offline-business these days. If you are ignoring social media, you are ignoring a huge customer base;
Social media is a huge source of traffic for your website.
As being said let's move the topic;
In this article, I will show you some of the best ultimate social media plugins for WordPress that you can install right away with easy social share buttons.
Lets jump right in.
Why Social Media Plugins Is Important On WordPress?
Simple,
If you want to drive traffic to your site both organic and referral, first thing first you will need to integrate social media icons plugins for WordPress.
As being said,
The more visitors drive to your site the more chance you have of conversion.
Doing this will improve you drive more traffic from social media sites which will, in turn, also help improve your search engine ranking.
Social sharing is also google ranking factor
Huge benefits with little effort. Isn't that great?
Having said that, let's take a look at some of the best WordPress social media sharing plugins for WordPress.
---
Best WordPress Social Media Sharing Plugins 2023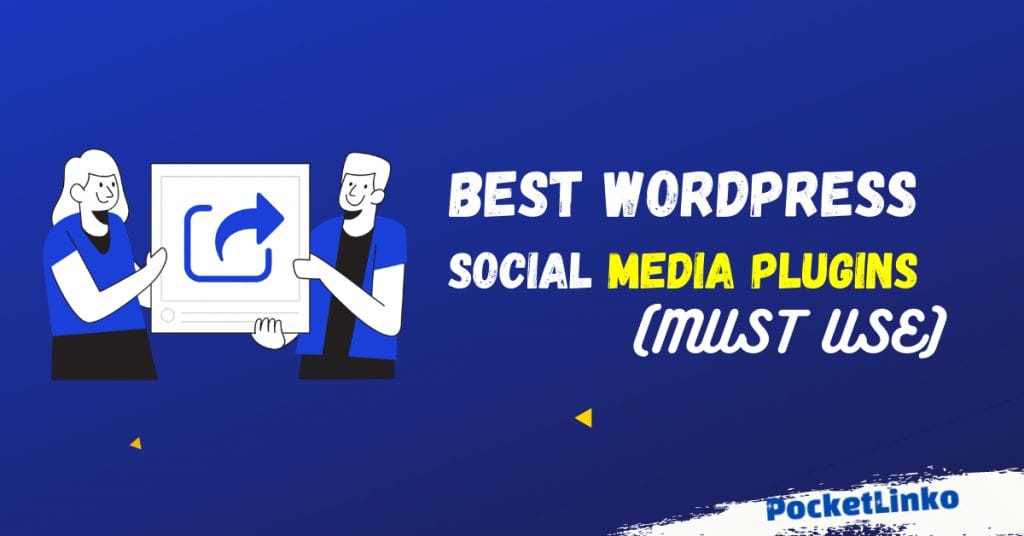 1. Social Snap (Ultimate Social Sharing Plugin)
The tool itself "SocialSnap" itself recognizes the all in one social media icons.
Socialsnap is a fully responsive and the powerhouse of social sharing plugins it just does not have the features of social sharing buttons it has much more.
This is why social snap is called the powerhouse of all sharing plugins in WordPress, you do not have to install extra plugins from the above features lists mentioned.
It supports more than 30+ social sharing networks and lets you place the sharing buttons in a variety of places for optimal results.
Social snap is full customizable plugins and lets you adds floating social bars for both vertical and horizontal social icons.
It even lets you place sharing buttons with a shortcode, which is a rare feature.
Not only that….
You can have custom colors to social snap and which will help your site looks attractive as the site design.
What are you waiting for then …
Grab the social snap with this link
You also have the features of the dashboard so you can have access to design the icons and plugins, position you want.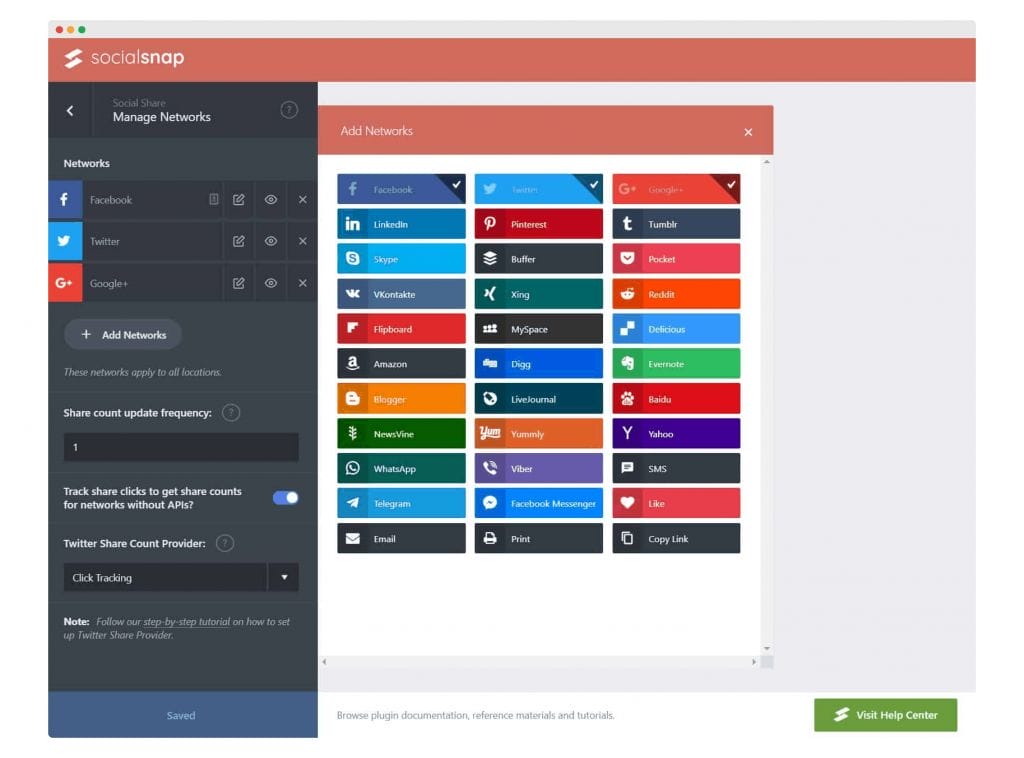 You can choose a shape, size, choose from unlimited color options, labels, and even add a little animation to the buttons, which is pretty amazing and eye-catching.
This is the best and top #1 WordPress social media sharing plugins you will ever use.
Pricing of SocialSnap:
SocialSnap comes with both free and paid plans, keep in mind you will not have all features in free version.
The developers have some add-ons to the plugin (available on some plans), which will help you auto post on social media, revive your old posts, and lock your content and force users to share it.
---
2. Social Warfare Sharing Plugin
Social warfare is another second best social media share buttons & social sharing icons that comes with feature-rich plugin.
It comes with support for many different social media websites, and you can add buttons in post content as well as a sticky floating social menu.
It supports the social share count feature as well. However, like many other social media plugins, you will need to use a third-party service to retrieve those stats.
The sharing counts are pulled in with the API, and you can also change some open-graph data to customize the look of the shared post.
Here are the best features of social warfare you must unaware of it:
Drag & drop feature 
Twitter Share Count
 Sharing button above or below your content
Add floating sharing buttons
Support short URL & Analytics Tracking 
Pin it buttons for images
Excellent support
Exclusive discount for pocketlinko readers get Get 30% off all new purchases valid till "JULY" only
Get 30% off with this link Coupon Code – (4THJULY2023)
If you are looking for one option which works for both desktop & mobile, Social Warfare is the right WordPress plugin for you.
Pricing Of SocialWarfare:
The Social Warfare plugin comes in 2 versions, the free version, and the Pro version. The free version has all the primary features that you would need to set up social sharing on your website.
But if you're serious about social sharing, then you should go for the pro version, which is not that expensive viewing its value.
---
3. Monarch Sharing Plugin by Elegant Themes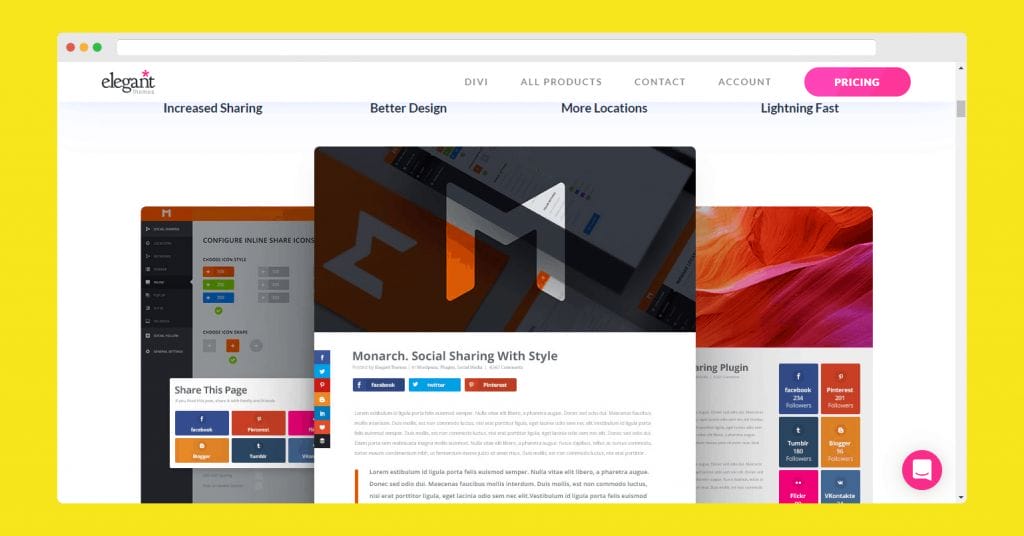 If you are looking for better premium social sharing for WordPress better than social snap then monarch premium is for you.
Why it is better than the SocialSnap plugin?
This premium plugin lets you add social media sharing buttons in various places on your blog, but the buttons are also created with the goal of promoting sharing.
You can also have features of pop sharing &Automatic Fly-ins not only that you can add the Timed Delay of sharing which helps to reduce the page load time.
Lets have a look at its premium features:
To download the Monarch plugin, you will need to buy a license for Elegant Themes which includes access to all of their features.
4.Sassy Social Sharing Plugin
---
Sassy social is another powerful social sharing plugin for WordPress. It is completely free to use, and fully GDPR compliant.
This is a completely free plugin you do not have to pay for this plugin.
It supports over 100 different social networks and offers plenty of options to customize the position and appearance of the sharing buttons.
The best part of this plugin you will have access to 100+ social networks which even premium does not support.
Simple Social Icons displays social media icons in a sidebar widget. You can choose colors and then enter the URLs for social media accounts you want to be displayed.
---
5. Add to Any Sharing Plugin
AddtoAny is a social sharing tool also available as a WordPress plugin. It offers many social media platforms, floating and conventional social sharing bars, and a universal sharing menu.
It is completely free plugin for social share with floating bars with full customizable.
This plugin is used by over 500,00+ websites and is still one of the best and free to use sharing plugins media for WordPress.
---
Conclusion: Best WordPress Social Sharing Plugins
Every tools has same work the only difference is customizable if you want to have custom sharing icons that matchs with your site , then you can go with these tools.
I hope this article helped you find the best WordPress social media sharing plugin for your WordPress site.
Now what?
Check out these article most important to you: