If you are a freelancer, developer, or own a business, in today's article I will help you how you can quickly grow your business using Growth Suite by our today "Flywheel Growth Suite Review".
I am pretty sure, you have gone through many Growth Suite web hosting reviews in search engines including our article, in this today's Flywheel Growth Suite review I have covered almost many things about the Growth Suite platform from pricing to its features and why you must go for it.
If you already have read two of the best flywheel ranking articles on "Best Web Hosting For Freelancers & Agencies, then you might have got to know what is flywheel and why it is best for the agency, developer, and for one who has clients.
I have an awesome tool called "Growth Suite" developed by Flywheel, one of the leading managed Wordpress hosting providers around the globe.
With the help of that tool, you don't have to rely on third-party tools such as billing, client management, you can do everything under one umbrella.
Gone are days when using software for each process and make the billing process costly, Growth Suite is a lifesaver for you.
Let me introduce the "FlyWheel Growth Suite tool".
Growth Suite is one of the latest products developed and launched by Flywheel itself which is a tool made for its client-focused managed wordpress hosting.
Growth Suite is a complete software/tool or packages which is all in one perfect, suitable designed for agency business that helps to grow business quickly with a set of countless tools that are worthy in hands and really helps in saving time.
So without further ado… Jump right into the Growth Suite Review lists you" re interested in? Just use our handy table of contents.'
What is FlyWheel Growth Suite?
dr
Before we move to understand and define and what is growth suite plan is, you must know what it actually Flywheel is and then we move forward to understand the growth suite what is best for your business if you have clients, customers, etc.
Flywheel offers managed solid rock web hosting providers for freelancers, developers. The only platform whose entire focus is to help grow business with the best features that are actually necessary for those who have clients and customers and want to manage them all in one single platform.
With flywheel you can do white labeling, billings, collaborate with your clients and co-workers on one single platform. ( Sounds good right)
Now you got to know what is flywheel in short and sweet simple sentences now lets us move for what you have come for "What is flywheel Growth Suite"?
Flywheel recently launched its newest product "Growth Suite" which is all in one perfect, suitable designed host for agency business that helps to grow business quickly with a set of countless tools that are worthy in hands and really helps in saving time.
If you run an agency and business and have clients and customers and searching for a platform from where you can manage everything in one place then a growth suite by flywheel is made for you. ( You can manage everything just from one place and do have to rely on third-party software for billing, invoices you can get in one place.
Disclosure: This article contains affiliate links (Not every link). I will earn a small commission without any extra cost to you if you make any purchase using the links.
Growth suite is widely famous for freelancers like web designers, online portfolio designer, and artist, agencies its because they provide all the facilities that an online business need to manged thier clients hosting accounts.
Key Features In FlyWheel💎 Growth Suite:
dr
In case if you are in hurry, and want to know quickly what are the best features you can get in Flywheel Growth Suite Plans.
Automatically bill your clients on a recurring basis
Effortlessly bill your clients for projects and one-time services
Bill your clients in the currency of their choice
Prove your value to clients with recurring agency-branded reports
Create predictable revenue based on intuitive insights
Manage all your sites from a single place
Establish a professional (and customized) client experience
Set up a custom library with your unique services to reuse
Get speed, security, and support with our trusted managed WordPress hosting platform
Site and Content Management
Automated Notifications and Reports
Personalized Dashboard
Now you have an idea of how a growth suite can actually boost your business.
These all features will not only help in saving time but also make your customers and client experience smooth.
Why you must use Growth Suite by Flywheel? ( Benefits)
dr
In this section of the Growth suite by flywheel, I am going to share some reasons in a very short point why you must taste the Flywheel growth suite.
Growing agencies often face a dilemma time to time new customers and client takes place, there can be a lot of distractions and pain points to overcome such as Handling works, UI design, scheduling and more.
Just like:
Revenue tracking can be a headache
Billing and invoicing is a lot to manage
Putting your clients first is hard when you're bogged down with inconsistent workflows
You want to grow, but being data-informed is not as easy as it may sound!
Different apps and software can become a lot to manage
Fully integrated with Stripe
Automated communication
Resell managed WordPress hosting
This is where Growth Suite comes in handy! This product is built specifically for growing agencies and freelancers and brings processes together under
"One roof, one umbrella, one login for client management, subscriptions, billing, growth and revenue insights, and managed WordPress hosting which is powered by google cloud.
i. Growth Customized dashboard
Cash flow insights at your fingertips.
II. Client management
House all your clients and their information.
III. Client reports
Prove your value to clients with agency-branded reports.
IV. Bulk site management
V
A single place to sort and filter all of your sites.
FlyWheel Growth Suite Review: Why Every Agency Must Taste
dr
In this section, I am going to share in detail why the growth suite is best for agency business, and now you already have an idea of its features and other basic information.
Let's dive deep into Today "FlyWheel Growth Suite Review"
---
1. Custom Personalized Dashboard
It is challenging to grow a business effectively without an understanding of its structural layout and dashboard, but with the help of this tool, you can get a beginner-friendly dashboard that is very easy to use play.
Also, the good part, your account manager from Flywheel will create a personalized dashboard that shows all your client's sites, billing to everything under one place, under one page, and platform.
With the custom personalized dashboard, you do not have to remember what needs to be updated on your client's site. One greater part which comes in handy and every advantage.
In the dashboard section, you can easily see all the data, metrics, bandwidth, storage easily customizing the display to show only what is more important for you or what you want to see.
Moreover, you will also be able to see the number of clients and websites, with a cool widget that displays the payments section which is due and paid and coming in some days.
---
2. Site and Content Management
With Growth Suite, you'll be able to put your clients in control of their content blog posts, pages, images, and other content. You no longer have to be tense about remembering what needs updating or taking time away from working on other projects or clients for the updates.
"If by mistake you deleted your client website, the flywheel will also help you to restore the sites that have been accidentally deleted by you or your client, even if you don't notice it at the same time.
---
3. Easy billing and invoicing for your clients
I know how hard is it when you accept a client and worry about payment to offer on schedules and invoicing options. When you just know it is somehow easy to manage clients but with the time once it grows and grows billing process might work at first but once it grows, the works you're going to be frustrated (at the very least).
(In some cases google sheets to work but those days are gone and old-fashionable)
Here are some screenshots you will love to see:
With the help of Growth Suite, you will be easy to handle client billings, invoicing and reduce confusion and ensure payment for all the work by integrating at one single platform. (This is why this tool is very and very helpful to agency and business owners and really helps in saving time.
Once you got some clients and done, this is the time to create the first and send the invoices to your clients which is just a simple process:
Select the client
Set Billing frequency (one-time or recurring)
Invoice details (service, discounts, sales tax)
---
4. List the scope of your services
This feature really comes in handy, when you get new customers or clients and ask what services x agency provides then you can simply connect your client to the dashboard and let them know what are the services your agency provides in one single platform.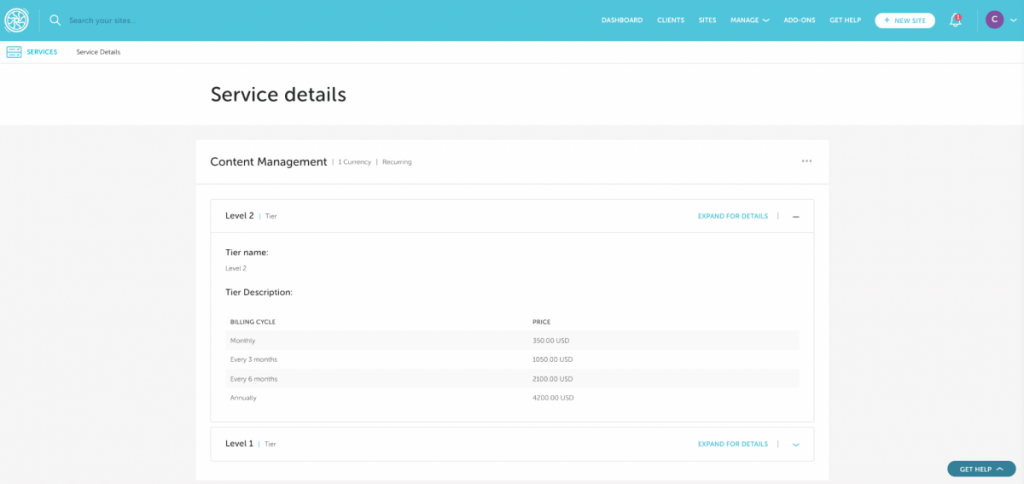 You can easily define your services, going as far as to explain tiered offerings. You can provide them more effective data and get a set of high expectations of a client relationship so they can understand what will or won't be included in your scope of services.
You can easily list the services you provide, make it either recurring (if needed) and choose the currency you'd like to offers with the integration of Stripe, and create countless services you want as wish.
---
5. Automated Notifications and Reports
Flywheel another great feature auto-creates notifications for everything such as client billing's in case if you forgot, website traffic, page speed, code breaks, and time to time errors in the client projects website and codes.
This feature really comes in handy and also will provide detailed reports for you and your clients. (Furthermore, they also provide in-depth analysis of what content is performing best and help you guide your client new create a new website or remapping the entire website.
Flywheel "Growth Suite" tool can really help to boost your business in no time and helps in saving ( it just makes the heavier task easier and take care of the technical things while you can focus on other business aspects.
With the help of automated notifications and reports, your client will receive auto-generated invoices and reports based on a recurring basis. This report will contain some of the detailed information and reports for stats, backup logs, even Google Analytics data (if the Google Analytics Add-on enabled) that your clients value the most.
6. White Labelling
Growth Suite also offers a White label Solution that makes it possible for mail sent to your clients from the dashboard, panels are banded with your agency logo and colors the way you want.
Once you purchase any of their Growth suite plan you will also be able to white-labeled domain. Cool Right?
7. Bulk Site Management
This is another informative dashboard that gives you an informative view of all the sites on your growth suite plan.
With the help of the Bulk Site section, you can easily check and manage all your client's website details such as SSL status, and much more – all in one place!
8. Solid Managed WordPress Hosting
Flywheel also offers a dedicated managed wordpress hosting plans for your clients, which means you client dont have to hunt for the web hosting provider, you can provide everything with just one tool in one roof.
As an agency owner, you also dont have to rely on other web hosting provider, one tool can provide everything an agency need to grow their business.
What Other Agency Business Owners are Speaking?
After doing some research, I have collected some of the few reviews that other agencies are speaking about on "Growth Suite".
"Everything has been seamless and all of the features are incredibly helpful. Previously, I had no clue what my monthly income was, now I'm tracking my overall ROI and making data-informed decisions."
–Timothy Farzalo, Web Designer / Online Strategy / Consultations Thunderlight Media
"Growth Suite is the evolution of billing for freelancers and agencies that we've been missing. It's hands-down the best way to bill your clients."
Conclusion: FlyWheel Growth suite review
If you want to grow your agency and have smooth performance with clients and impressions then I highly recommend you to go with Growth Suite. All in one package for the agency, business owners, and freelancers, including hosting, billing, and client management.
It has almost everything an agency, freelancers who hold client needs. Your agency and freelance business can grow much faster with full expression and impression when it is well organized and is powered by professional-grade hosting "FlyWheel".
This product is totally worth it, now you have an idea of how you can grow your business using "Growth Suite" by Flywheel, and I hope today's content helped you out in any sort.
If you have questions or doubts, just feel free to drop a comment on our community, I will reach out to you and reply to each question with a sweet answer.