These are the exact questions we asked before when creating a blog post from scratch and following the same 5rules from a year.
So i thought why not to share the important questions to ask when creating a blog post.
You can find tons of content and topic ideas to write a post but the real problem begins when it comes "how to write that post".
So many bloggers have this weakness that is stopping them to create engaging content. But when we read pro blogger's posts, every single one is helpful and engaging.
So, what are they doing differently to write this amazing content every time?
The simple answer is, they ask themselves some important questions before writing a blog post.
In fact, I also have this weakness early in my newbie days, then I got this strategy of asking myself some important questions before writing a post.
And now everytime I create a post using this strategy, resulting in engaging content produced every time that is helpful to my readers.
And in this post, I'm going to share the very same 5 important questions to ask before writing a blog post that I use to ask myself. You can use this strategy to write content for others and be an amazing content writer.
1. What's this post about?
The very first question you need to ask yourself is this one after getting the content or topic idea.
So you can go deep down to analyze the content and get the idea what a searcher wants to know in this post.
For example:
While I was searching content info for my latest post "how to earn money with a blog".
I got the reader's intent that this post needs to be a practical post with easy to understand tips so anyone who is reading this post can use the described steps in their blog.
So, how to do content analysis?
More info about the post that you are going to write can be gathered easily from Quora.
Quora is the most famous question-answering site where people post their questions and others answer them.
You can leverage Quora for content analysis for your post, here's how.
Go to Google And search your post topic like this "your post topic + quora" without quotes, in my case, it was "how to earn money with a blog quora".
Here's how you can do it with the real-life examples
Then you click any result and see answers.
Answers that get the most upvotes are the most helpful.
Another one, ( Image 2 )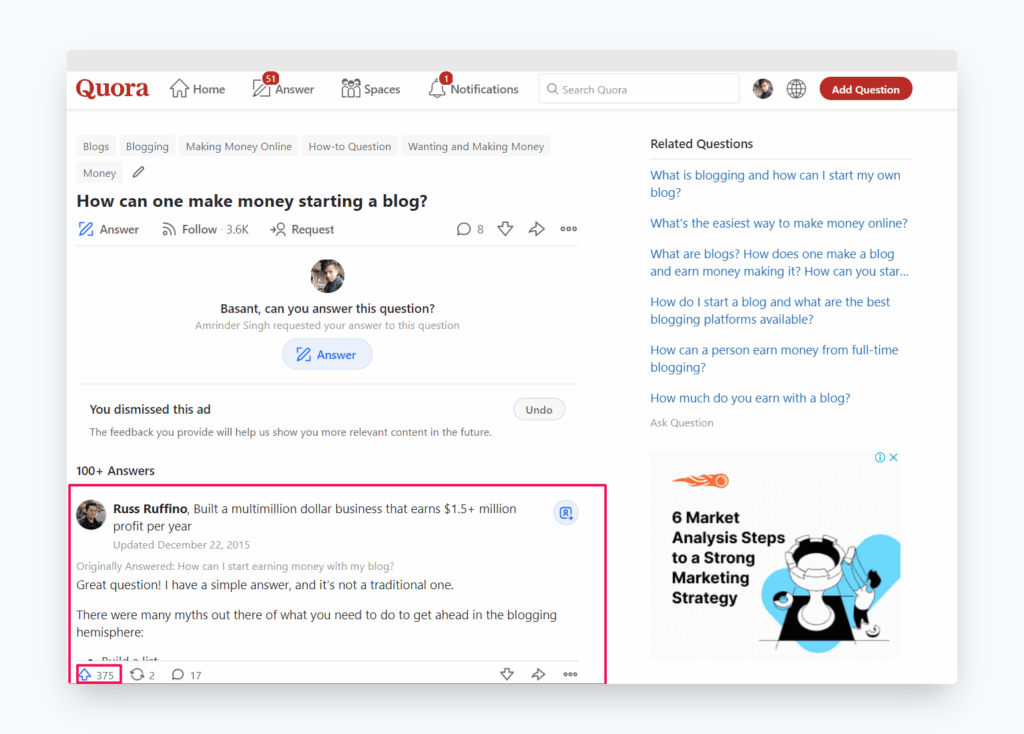 This means you need to write like this to fulfill the reader's intent.
2.Who is the target audience of The Article?
Once you get information on a post topic, you need to find out target readers of this post.
You just can't create a post for everyone, instead identify your target readers and optimize posts for them.
For example, while creating this post my identified target raiders are you and all the bloggers who want to write better blog posts.
And the best way to target readers is keyword research.
Keyword research helps to identify target readers by adding keywords in the post that readers search most.
There are so many tools for free keyword research like,
Google Keyword Planner
UberSuggest
KeywordSurfer
Learn how to Smartly Use Google for Keyword Research?
3. What's the purpose of the Article?
Another question you should ask is, "what's the goal of this post".
Are you trying to create an information post, a tutorial or it's a recipe to create a delicious dish.
What's your approach behind creating the post.
By asking just this simple question will enable your mind to put yourself in the reader's place.
So you can write an amazing helpful blog post.
In my case, the purpose of this post is to educate reading fellow bloggers how to write a blog post.
4.What Do You Want To Write And Cover In Post?
All the above questions will help you to get the reader's intent but this one will help to create a layout for your blog post.
Make a list of topics that you want to cover in your post as headings, be specific, and then start to write under these headings one by one.
Soon your blog post will be finished without messing your brain.
Want to know how it looks after filling all headings, please visit– Flyout.io- Earn money by placing sponsored content on your blog!
5. What Benefits Will Your Readers Get After Reading The Article?
You wrote a quality content post, that's good!
But you should also know what you want from your readers after reading the post.
Is it getting their email, offering something or sending them to partnered affiliate sites.
Just by asking yourself this question will finish the task.
For example, if you ever read a product review you will see an offer button in the end or somewhere middle in the post.
Although it's an informational post so why is there an offer button sending to the buying page.
It's because that blogger wrote this post to educate target readers about the product so they can easily make their purchase.
See how fulfilling this question Bloggers not write a blog post but also get the leads, sales and affiliates from the readers.
You can also do that just ask yourself what do you want to do readers after reading this post.
How About Asking These Questions Before Crafting The Article?
These are not some mere questions but a strategy that will throw away hesitation and clear your mind.
By asking the first three questions, you are putting yourself in the reader's place so you can know what the reader intends behind reading this post.
Because if you cannot fulfil a reader's intent, he/she soon leaves your site without reading the post.
Fourth question will help you to create a layout so you can put transformed thoughts into an amazing blog post.
Fifth question will give you the results and benefits of that post as you put the action that you want from your readers after reading the post.
And now it's your turn to use these questions to write an engaging and helpful post that everyone wants to share.
And don't forget to tell us the results you got from this strategy.
If still you have any queries, ask me in the comments or share your thoughts.
How About Reading This Article And Get Soe Extra Tips