Looking for the most popular BigCommerce alternatives to help you manage your online business?
BigCommerce is one of the most popular e-commerce platforms on the market. But it is not the only game in town. There are a number of other platforms out there that can provide what you need.
BigCommerce offers an abundance of features to empower you to build a fully functional online store, but this doesn't mean it's the right solution for all types of businesses.
The more closely you take a look at BigCommerce competitors and alternatives, the more you'll discover that there are many perks and specialties that make business owners seek out other available alternatives.
You're looking for the best big commerce alternatives? Look no further! We've got you covered with a list of the top 9 big commerce alternatives. from Shopify to WIX, there's something here for everyone. Before that, however, let's see what BigCommerce offers so we can evaluate its strengths and weaknesses!
What's Wrong With BigCommerce Anyway?
While I strongly believe that every business should do its own vetting of any website or app before implementing it for anything of importance, it's also true that not everyone has the time or energy to do that. With this being the case, it's not surprising that you've turned to a BigCommerce Alternatives list.
But before you run off and implement the first system that you come across, you should consider that BigCommerce provides a ton of value and has a great feature set.
If you're serious about implementing a platform to run your business that has the potential to help you grow your business, you should definitely look at and consider BigCommerce.
BigCommerce is one of the most renowned online shopping tools available. As a result, many businesses flock to using this platform, creating added demand and competition. If you're looking to create your own online store, there are limitations to the number of sales you make annually.
If your sales cross a certain per annum revenue limit, then you will have the option to upgrade to a higher pricing plan.
This can be good or it can come with complications because there are some times when it may have been better if you had started on a lower pricing plan, to begin with, and then upped the ante as your business took off.
The 9 Best BigCommerce Alternatives for 2023
1. WooCommerce
WooCommerce is the best ecommerce solution for your online store endeavors. If you already own a website and have WordPress installed with it, then you can use WooCommerce to create an online store in mere minutes.
WooCommerce is a free, open-source platform that lets you build and run a fully functional eCommerce business plugin in WordPress. Furthermore, the platform comes with readymade extensions and themes to match your brand.
For ecommerce websites, you need a platform that lets you take full control of your online store and make adjustments according to the changes in business preferences.
WordPress WooCommerce is one of the most widely used solutions for creating your own online store as it comes at next to no cost and provides hundreds of free & paid extensions to increase functionality by adding or modifying features. Woocommerce is also one of the must-have WordPress plugins for online e-commerce store owners.
If designed meticulously, Shopify can be optimized very easily and functionality can be further extended by connecting with multiple external services thanks to a large number of available extensions.
WooCommerce also allows you to collect payments in a number of ways including via credit cards, recurring billing, and Apple Pay. For even more payment methods, you can install other plugins for even more options.
In fact, WooCommerce easily supports automatic tax calculations with its integrations too – this helps drive away any concern about collecting taxes correctly!
Pricing
The feature-rich core plugin is free to download. But you'll have to pay for a domain name and hosting, which start at $3.95 per month and we recommend Dreamhost or Bluehost as go to best Wordpress hosting provider for woocommerce online store owners.
2. Shopify
Another great BigCommerce alternative is Shopify. If you're into e-commerce platforms offering digital and physical products for sale, then you might want to give Shopify a try too. Simply put, it is the best ecommerce platform that offers great business tools and customer support.
The best thing about the system is that it gives you the option to either set up your own shop or run an existing website – if you choose the latter, there's no need to worry about plugging anything in!
Shopify is easy to use and set up instantly. You can get a professional-looking eCommerce store up and running in no time by following simple steps such as signing up for an account, customizing a theme, and adding your products and you're ready to go!
A major advantage of using Shopify is that it allows you to outsource technical aspects of your site to a third-party service. Did you know, for example, that Shopify takes care of all aspects of your eCommerce site such as site speed, server issues, and security?
(Just like Cloudways and Kinsta hosting providers both hosting providers take care of your server automatically without any troubles so that you can focus on your online e-commerce store full time rather than focusing on the site, speed, server issue, downtime, etc.)
Shopify isn't as developer-friendly and flexible as some other eCommerce solutions but is still easy to use, so it serves the purpose of allowing you to create an online store if you don't want to go with something more comprehensive!
Pricing
The basic plan costs $29/month and a 14-day free trial is available.
3. WIX
WIX is the best website builder for small businesses, How do you decide which website builder to use when building a new site on the web? Perhaps unsurprisingly, Wix is universally accepted and trusted to be an all-inclusive service that excels at creating any web page (including online stores).
Wix has become enormously popular because of its easy-to-use software, and Wix ecommerce is no different. The intuitive drag-and-drop builder features allow you to customize your storefront with ease,
As does the option of product videos to tempt future customers. You will also find SEO (Search Engine Optimization) features that can improve how well your website appears within Google searches.
Wix is a hosted platform for your website. So you won't have to get your own web hosting plan if you go with Wix. Paypal and other popular payment processing services like Authorize.Net can be integrated within Wix so that customers can make purchases online without having to leave the Wix site experience.
One of the many amazing things about Wix is that it helps you build your store with its ADI program. Simply answer a few questions and before you know it, your store is set up! This process could hardly be easier or more efficient. Engineer Time-Saving Software Using Artificial Intelligence for Your Enterprise Today.
Pricing

Wix is the better option here because it costs less money to use, is easier to get started with, and is more reliable when it comes down to customer support at $24.50/mo only.
4. Squarespace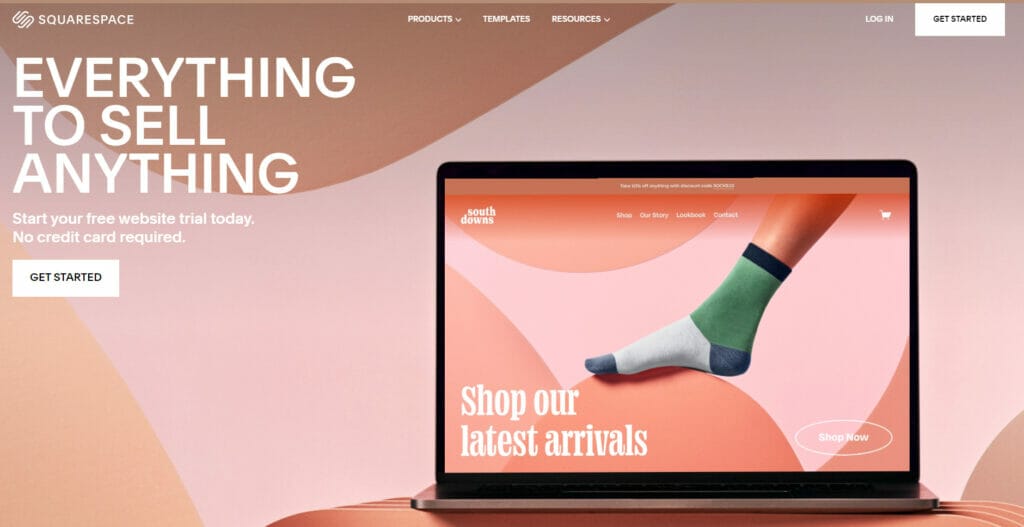 Squarespace is an industry leader when it comes to providing a beautiful online store design that helps keep up with the latest trends. While this is a huge advantage, there are other things we have to take into consideration.
Squarespace is the home for many businesses (like ours) and artists. It's more than just a pretty face – it has a ton of useful features and tools.
Some of our favorites are its integrated social media tools which you can use to boost your popularity as well as some analytics tools which help you measure and manage both traffic to your site, as well as growth overall.
You can add new features, control the layout of your product pages and checkout page, and then make changes to your design if need be! Squarespace also features built-in analytics tools to help you monitor the growth of your online store. There are also options for social media integrations so your site is more accessible from other sites!
Squarespace is very easy to use. It comes with a drag-and-drop builder that allows you to customize your online store however you want without any coding necessary.
Pricing
Squarespace presents superior values, as well as a lower price point that serves the needs of smaller business storefronts with the pricing starting at only $26/mo only.
5. Weebly
With Weebly, you don't need to stress over costs as you do with other options – it comes in as the best value for your money! For smaller businesses, this is a great option since you can get what you need at an affordable price.
Weebly is extremely easy and forgiving to use, especially with its drag-and-drop interface. It's the best website builder for bloggers thanks to its great features like password protection, multiple layout options, and most importantly, its recently integrated Square payment gateway integration for eCommerce websites.
Weebly has become a very popular solution for anyone who wants to create a professional-looking storefront in order to sell products online to consumers around the world.
One of the best reasons why you should use Weebly for your next website project is that you're able to get started quickly, easily, and affordably. All that it takes to set up a Weebly site is some basic information from you and choosing from a range of professionally designed themes – you can have your site up and running in less than an hour!
From there, as you learn more about what Weebly has to offer and start wanting more features such as ecommerce or other customizations, all of these things are just a few clicks away from within your user account.
Weebly has a drag-and-drop landing page builder feature for designing your store's layout. It comes integrated with payment gateways so you can sell products directly or in conjunction with partners like PayPal, Square, and Stripe.
However, Weebly doesn't have inventory management tools which are essential to businesses selling a high number of items. For these situations, the WooCommerce plugin is best since it's built to be especially compatible with WordPress where Weebly works best at hosting sites.
Pricing
The starter plan costs $12.00 per month if paid annually for online stores.
6. Easy Digital Downloads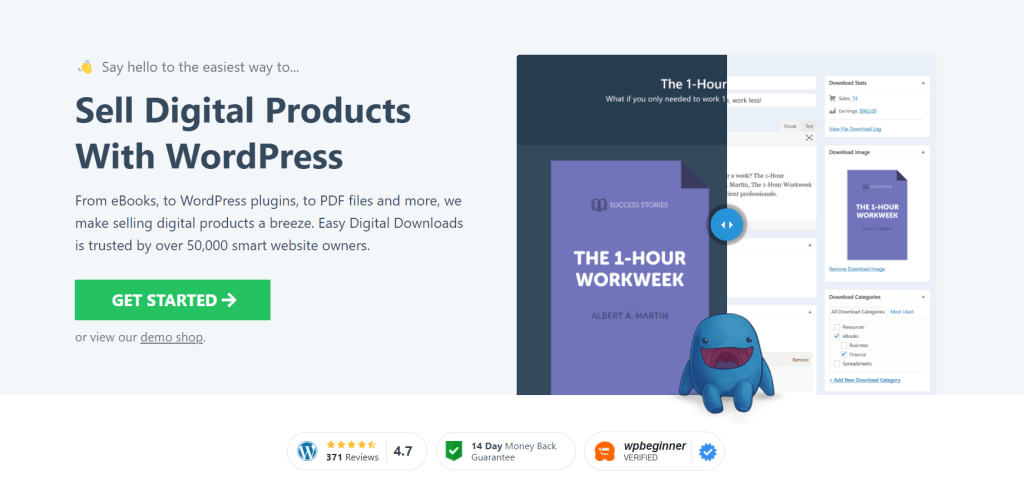 Easy Digital Downloads was made specifically for selling digital assets, like software, music, movies, and even books. What sets this platform apart from others of its kind is that it allows you to accept payments by PayPal, Stripe or Authorize.net in all major currencies, managing multiple products licensing and tracking conversions too!
For many online business owners, Easy Digital Downloads is the best BigCommerce alternative for their eCommerce stores to allow them to sell their digital products without any unnecessary hassles.
With Easy Digital Downloads, you can easily create an online store and sell your products with your customers being able to pay for them using their credit cards.
With the WordPress plugin, there's no need to touch a line of code because you get to set up both the features that will be visible to the customer, along with under-the-hood options that allow you to customize things so that only you and select members of your team will have access to them.
Easy Digital Downloads make digital file downloads easy. Users can only download files on your site if they are authorized to open these files and if they have a subscription. If you connect with an email service provider,
The plugin will help you collect email addresses for users to become your newsletter subscribers; Affiliate WP is the best affiliate program that also allows affiliates to promote digital file downloads.
Pricing
EDD Pricing plans at the Personal level start at just $99.50 per year
7. WP Forms
WPForms is a fully-fledged form plugin that allows users to work with different types of forms in WordPress. It doesn't offer full eCommerce integration and it won't change the way you manage your store, but it does have some payment plugins included which will import user data into your essential eCommerce platform and send it an order request.
WPForms is a powerful google forms alternative and a WordPress plugin that allows you to build and customize your own forms to collect user data on your WordPress site or install it as a standalone form.
This information can be later used for different purposes such as sending newsletters and other marketing content. WPForms comes packed with tons of awesome features,
The plugin also offers a customer management system for your website. WordPress forms offer ease of use for you and your customers. It's an excellent choice for entrepreneurs, small businesses, and startups.
With WPForms, you can create product order forms or a complete product catalog, and have the capability of adding product images. So your customers can make their choice and purchase products on your site in a few clicks.
Pricing
A lite version is free to download. The pricing plans start at $39.50 per year with upgrades every two years for just $30 / year.
8. 3dCart
3dcart is an awesome eCommerce that provides one of the best alternatives to BigCommerce. Its online store building platform, 3dcart is extremely efficient and easy to use for businesses who need a solution that comes with affordable rates.
3dcart has been specifically tailored for small to medium businesses which require only basic web functionality, but the company also offers more advanced e-commerce solutions for growing businesses.
This platform is scalable as it offers 5 varying pricing plans you can upgrade. It's suitable for small businesses that want to sell their products easily or even solopreneurs who have their own online stores.
3dcart offers a wide range of features to help you create an online store of your own. This hosted service helps give your business the tools it needs to be successful online with its powerful eCommerce platform and analytics modules.
3dcart has built-in tools such as Customer Relationship Management (CRM), Search Engine Optimization (SEO), and Point of Sales (POS). This allows you to provide an end-to-end solution for your customers.
Pricing
Powering over 50,000 online stores, 3dcart only charges $29 per month for each store.
9. magento
Magento has been around for a long time and is one of the most popular platforms for creating eCommerce sites. Unlike some other platforms – it is open source. Like WooCommerce, this translates to more freedom, flexibility, and opportunities to modify the core software to fit your needs.
Magento is Magento and WooCommerce is WooCommerce. Both platforms offer a wide range of features for users to set up and operate a store, but if you don't want to be pigeonholed into one platform or the hardware it runs on,
Then choose Magento which is available in the Cloud, with no need to download anything, and deploys sites faster using our all-new M1 platform designed specifically for ecommerce. Also comes with great apps that help you power your business including Magento Shipping & Tax API.
If you're good at coding, it's easy to make changes so that your online store looks the way that you want. But for those of you who aren't proficient in this area, there are a few different options available for customization.
For example, Easy Digital Downloads and WPForms may be better suited for those of you who are just starting out with eCommerce.
Pricing
If a customer is interested in Magneto for the first time, then offering to pay only $8.99 per month immediately tells them the value of this product and gets their attention.
Is BigCommerce Right for your online business?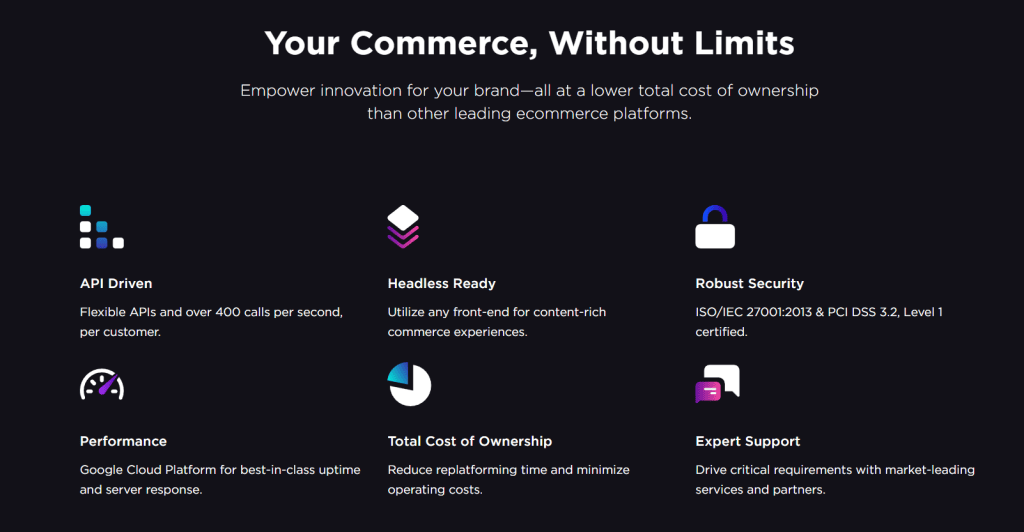 Have you found another platform that offers the missing ingredient? If not, you might want to check out BigCommerce for yourself.
It has the highest quality and quantity of built-in features of any ecommerce platform, so you don't need to search for and buy apps that are outside of your budget. It's also perfect for fast-growth businesses, offering everything you need to expand into a powerhouse in no time.
It's easy to use but it's not the best for new businesses. However, Shopify does an excellent job of managing your sales and making sure that you have all the features that an established business may need. It also scored highly in a recent review we did which looked at many different e-marketplaces available to try.
Wrap-Up: Which is the best alternative to BigCommerce?
We've discussed how Shopify, Weebly, Wix, and Squarespace are one of the biggest ecommerce website builder names in the market today. After learning about each platform's pros and cons you should have a better idea of which one to choose if you aren't happy with BigCommerce.
If you're still wondering which option is the ideal one for your specific situation, then we suggest that any of the above recommendations will do just fine.
Thank you for reading this BigCommerce review. If you're looking for a BigCommerce alternative to help run your online store, we hope you've found some valuable information here. If you want to learn more about Shopify and how it can be a great BigCommerce alternative, click here to visit.
If you have any questions about alternatives to BigCommerce or any of the vendors on our list, feel free to let us know