Do you want to know the best domain authority checker websites in this year,
And..
Have you even been asked by somebody about your blog Domain authority Scores.
If "Yes"?
Then make sure to read the full article to know the best (DA) Checker Websites in 2023.
DA matters a lot for google ranking the more DA you will score the more chances of getting ranking in google and for other searches.
Domain authority comes is also one of the google 200+ Ranking factors which help google to rank your post in SERP.
Lets get started…
What is Domain Authority?
Domain authority is created by MOz and based on which types of links (internal and external) of blog.
Here are few defination of Domain Authoriy.
Domain Authority is a search engine ranking score given to the website domains to showcase how well they'd rank in search engine result pages (SERPs). A Domain Authority score also ranges from 1 to 100, with 100 being the highest.
The domain authority of a website describes its relevance for a specific subject area or industry. This relevance has a direct impact on its ranking by search engines, trying to assess domain authority through automated analytic algorithms. Source- Wikipedia.
Domain Authority (DA) is a search engine ranking score developed by Moz that predicts how well a website will rank on search engine result pages (SERPs). A Domain Authority score ranges from one to 100, with higher scores corresponding to a greater ability to rank.- Moz
A Website or blog with high DA rank faster in google and have high chance of geeting in first page of SERP compared to low DA of Websites or blog.
Here are 5 Free Best Domain Authority Checker Websites
There are tons of domain authority websites checker in google both free and paid through which you can check your websites domain DA &PA.
Below are the list of 5 best domain authority checker websites in 2023 free which you can use to check your Websites DA &PA for free.
01.Small SEO Tools(Free DA Checker)
This domain authority is developed by small seo tools which provides you to check your both domain and page authority checker for free.
Small SEO tools offers various tools for your websites and for online business.
The best part of this tools is :-
It takes a few seconds to provide you domain authority, page authority, MOZ rank, backlinks, and more. This tool also provides free palagiarism checker , Grammar Checker,wordcount etc.
02.Website SEO Checker(DA Checker)
Website SEO checker is a free tool to get your DA result.
You can use the WSC domain authority checker for checking the domain authority of multiple sites for one domain URL per line.
WSC has multiple tools such as domain age checker, Html/XML sitemap generator, bulk Alexa rank checker, Google index checker, extract URL.
Domain, page authority checker, spam score checker, keyword difficulty checker, keyword position checker, backlink checker, and social share counter.
This is also one of the 2nd best free Best domain authroity checker in this year.
03.Bulk DA Checker(Free DA Checker)
Bulk domain authority checker is a free tool that can scan the da of 5 websites in real-time, which means you can check5 domains of domain authority with a single scan.
This tool has different tools such as bulk Alexa rank checker, unique domain checker, URL extractor, and more. Bulk DA Checker tool results show Moz DA, PA, Moz Rank, IP Address, and Alexa Rank of the Website.
04.Moz Link Checker(Free&Paid)
Moz is one of the best tool to search your domain authroity beacuse DA is developed by Moz Only.
Link Explorer is one of the awesome tools from Moz.
It allows you to check a whole of domain analytics such as domain authority, linking domains, inbound links, ranking keywords, anchor text, and top pages, etc.
There are additonal tools in link exploer which can help you analze the whole website audit for free.
This is my 4th best domain authority checker for free and paid both.
05.Click Minded DA Checker
This domain authority checker will let you bulk check the domain authority (DA) and page authority (PA) of a list of URLs free and paid both.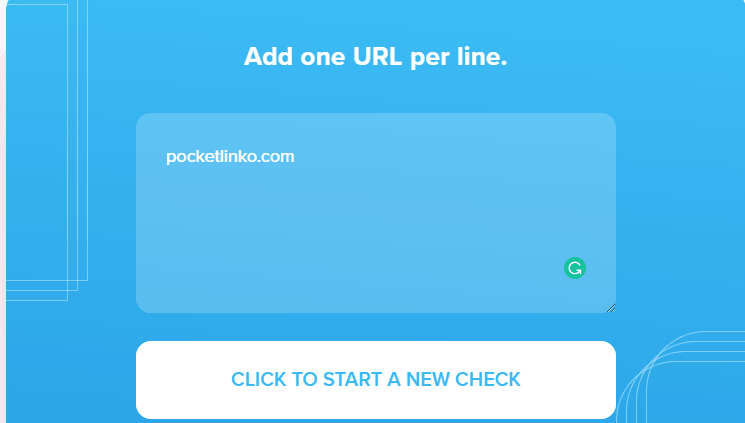 Thers nothing not much in this tool it just help you to analzye your domain authoruty for free and as other tool .
It Feths your da result in sec.
If you really want to get your domain authroity within sec without singup this tool is best domain authority checker for one who doesnt want to singup.
Wrapping It Up
You've gone through a list of 5 best domain authority checker websites. All of these tools work are free and works for me.
I hope you got an idea from the list above and let me know in the comment which tools your are gonna pickup .
Check out Related Post:-