Do you there are countless multi-vendor woocommerce plugins for the wordpress platform? Testing each of them one by one can take huge time and to save your time and find the best,
If you are searching for the best best multi-vendor ecommerce plugin for wordpress CMS platform you are in right article. We will share with you our top four best multi multi-vendor marketplaces for wordpress sites.
We have done all the hard work and research and comparison for you so you don't have to take any tension for finding the best multi-vendor plugins for your Wordpress ecommerce online store.
So you have finally launched your ecommerce online store or after reading our today article you will starts then its is really incredible to install both wordpress and woocommerce but if you want to build an online store that impacts and help a worldwide business person just like amazon, eBay, Alibaba then for this you'll need always need a platform that has all the features and functionalities a marketplace must-have.
So without further ado… Jump right into the lists of multi-vendor plugins you" re interested in? Just use our handy table of contents.
🔍 Quick Look: 5 Most Popular Multi-Vendor Plugins WordPress
If you don't have time to read and want a quick jump look, here are the Five best woocommerce multi-vendor plugins for 2022.
best woocommerce multi-vendor plugins
---
Four Best Multi-Vendor WooCommerce Marketplace Plugins For WordPress
1. dokan (Best Overall Multi-Vendor WP Plugin)
During our test and review for find the best, We found Dokan is one of the best woocommerce multi-vendor plugin from overall the list. It took us less than five minutes to get started with dokan.
A very simple beginner-friendly marketplace platform plugin offering tons of features that can actually turn your simple Wordpress e-commerce store into the next million-dollar club just like amazon and Alibaba for the best example reference.
The installation process was really forward with no hustle the best part even a beginner can install the plugin and take a look the their system.
Dokan is widely used by 60k+ customers around the globe and according to their statics about more than 1.92 billion people conducted online purchases last year.
Features of Dokan
Dokan comes with monthly updates so it is always compatible with latest version of wordpress and listing themes and plugins. Dokan costs the half amount pricing than other multi vendor woocommerce plugins.
What I mean to say dokan needs 40% less initial investment than other marketplace plugins. It takes less than 5 mins to get started with the dokan installations process for Wordpress and for overall configuration it took us close to 20 minutes and this demo store got live with no single issue.
Here are some of the best features we found in the dokan multi-vendor woocommerce plugin:
Beginner friendly dashboard
No coding required
Best for all services ( freelance marketplace, tour & travels, technicians, shopping)
Unlimited vendors
Allows subscriptions
Vendors can create coupons and discounts
Compatible with all themes
Ajax Search feature
Charge commission from vendors
In built geo location
Best in class customer support
Live chat and store support
Works well with Elementor
Product Duplicator
While testing we contacted their teamsupport but the response we got was slightly delayed so which is one of our cons for vendor and overall its best.
Pricing Plans 💰
Dokan multi-vendor for wordpress woocommerce comes with five different tiers. The basic plans come with the pricing of $149/per year for one single e-commerce store.
They also offer one free plan which has very few limited features but it's good to go for small business owners if you really don't want to scale and make it big.
Starter Pack ($104/year): Ticked-based support/ One single domain/ Coupon Creation. This plan will help you build a good first-time multi-vendor marketplace store.
Professional Plan ($249/year): Ticked-based support/ Three domains/ Coupon Creation with pre-built payment modules.
Business Plan ($499/year): Ticked-based support/ five domains/ 21 different modules/ geo location/ staff manager.
Enterprise ($999/year): 20 domains/ 21 modules/ priority support/ a live chat option in your account directly from dokan expert/ Free hour of installations from plugin developers directly with an hour of theme compatibility-related assistance.
---
2. WCFM MarketPlace
WCFM is our second better choice after dokan multi woocommerce marketplace plugin for wordpress. This plugin is developed by WClovers.
They have the active installations of more than 30k+ plus worldwide customers are using this plugin for their next wordpress woocommerce online store to help other business grow together.
The beneficial part about this plugin we found you can set flexible rates for vendors in weekly, monthly or anytime you want to get the commission paid to your vendors.
You can choose the commission based on the percentage, fixed-rate, by sales, purchase quantity, and more. Their free version of WCFM is also available on wordpress listing directly from where you can download it for free.
Features of WFCM
Just like dokan wcfm is also freemium multi-vendor marketplace wordpress plugin which is available for free and, too, offers quite a lot in terms of features.
This plugin will also allows a single product to be sold by multiple store vendors so both can get more sales and commision.
Custom Front-end management dashboard
Various commission methods (percentage, fixed, store, quantity, etc.);
Shipping zones related advanced capabilities;
Membership can be included
Vendors can add articles
Create coupons
Lets you manage store hours and vacations for added transparency;
Cost efficient
The one difference it makes from dokan is this plugin WCFM is completely SEO focused plugin. While we're installing this plugin we were asked to have a custom store name wit best url and meta and title description of the stores which helps the entire ecommerce and shop to get rank in search engines.
Pricing Plans 💰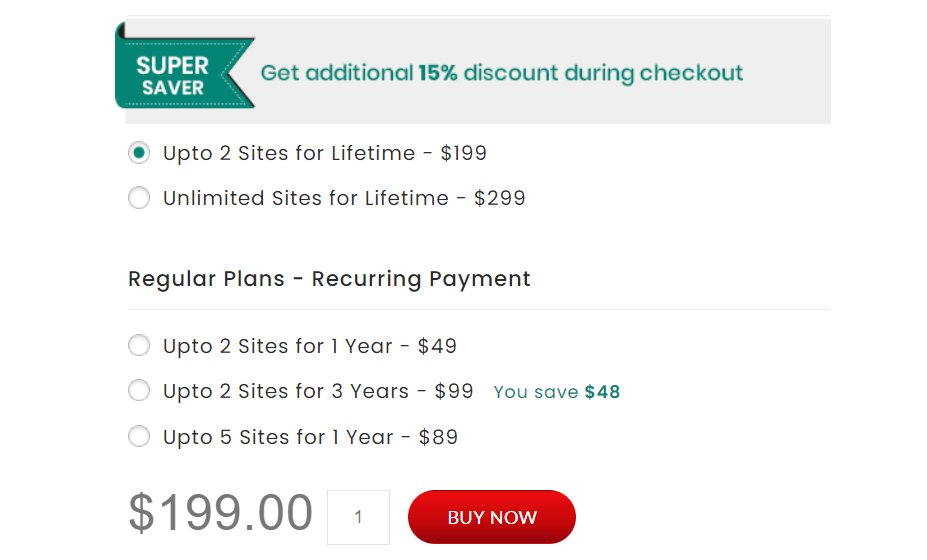 $49 for a site for a year
$99 for 2 sites for 3 years
$89 for 5 sites for a year
$199 for 2 sites for a lifetime
$299 for any number of sites for a lifetime
---
3. WooCommerce Product vendor
Produ
Product vendor is a multi vendor wordpress marketplace officially offered by Woocommerce. Just like other marketplace vendor you can do same but with very limited features,
But good to go for such users who just want to build a simple ecommerce website and help small business without breaking bank cash.
Using this plugin you can allows same multiple vendors to sell through woocommerce and product per sale. If you already own a woocommerce store then you can try using this plugin and get some commission for both vendor and admin.
Features of Product Vendor
Commission are deducted from per vendor-product (%), per-vendor (%), per-store (%), or fixed-amount basis.
'Additional notes for customers'
Payment withdraw weekly, monthly or custom schedule
Product management functionality
One single vendor can handled multiple vendors
Feature to add vendor and market to accept and reject
Live sales reporting data anytime and vendor sales
Pricing Plans 💰
Woocommerce product vendor comes with three different plans, the basic plan come with the pricing if $79 with flat 30days money back promise.
Single site: $79.00/year
5 sites: $99.00/year
25 sites: $199.00/year
There is no risk using this plugin marketplace for your next woocommerce store.
---
4. WC Vendor Marketplace
Produ
WC is our multi-vendor ecommerce plugin for wordpress platform developed or offered by The Grey Parrots developer. This plugin is widely used by more than 10K+ active customers.
The best core part using this plugin is they are totally free and offer lots of features for free offered by other marketplace plugins.
This plugin enables wordpress woocommerce owners and founded to get started with their business entity for vendors with better features.
Features of WC Vendor
WC vendor offer around more than 100+ payment gateway modes from overall globe. This plugin is very beginner friendly for customization through different modules.
With WC vendor you can save your time and money easily with easy custom installations and seo friendly with no required of coding knowledge.
Unlimited Vendor
Percent-based commission and shipping functionality.
Better support
Flat and table rate shipping capabilities;
Better UI Dashboard
SEO Friendly
Label printing
Vast product management module with all needed capabilities.
Just other marketplace plugins platform WC vendor also offers custom front-end dashboard from where you can manage everything from products, track orders, create and manage coupons, process refunds, and so on.
Pricing Plans 💰
WC Vendor is freemium wordpress marketplace plugin. They offer three different pricing plans, where out of three one is free plans and their premium basic plan comes with the pricing of $199/per year.
The pro version includes all the features of free and other plans. Our recommendation you to take yearly plans for the first year and once everything goes well you can go with their life time membership with costing of $599.
---
Which Multi-Vendor Woocommerce Plugins For Wordpress is Right for you?
All multivendor woocommerce plugins we shared with you have each role and features and all are worthwhile if we take a look at their pricing model.
From overall the list our recommendation for the best best multi vendor woocommerce plugins for wordpress goes with both Dokan and WCFM.
These two marketplace we are using since october last year and we found both of these are the best wordpress multi-vendor plugin according to our reviews and performance.
Which platform is your favorite for multi-vendor plugin marketplaces for wordpress? Share your picks in the community comments section!