Hello! Monthly host lovers! I know you are searching for the best and top wordpress web hosting with monthly billing options in today's date.
This is why you reading the line. Thank you for choosing this article and I must give you the best hosts with top features and supports systems which accept month to month hosting budget-friendly pricing systems.
These monthly billing web hostings are the great options for one who is willing to start a blog and ecommerce and best for newly built startups to test their products with online users.
There is a lot more cheap web hosting that can host your host and offers in less budget less than $2/ month. However, the key point is they give those value pricing when we buy annual or Biennially plans and those plans lock you into long with two to three of contract.
So alike if the monthly payment is low, you'll ordinarily need to make a big expense upfront, which can be tough when you're just getting started with your website it can go long more than $300 to $400 for two to three years of plans.
Let's dive right in.
Before we begin the chapter to find the host with monthly billings. You can skip this part lets learn out first,
What is monthly billing hosting?
How is monthly billing hosting differ From Yearly Billing Hosting Plans?
Why choose these Month to month web hosting?
What is Monthly Billing Hosting?
Monthly web hosting is a pricing system that offers web hosting plans to pay every month which we called month-month hosting. You don't have to pay for those hosting companies for a year or longer contract. You can cancel those hosting plans anytime without the risk of additional fees or penalties.
A long months ago my friend started a startup that requires web hosting and unfortunately he bought the plan for a year and paid them and after a month he made me sell that hosting at cheap which I bought and it was a good deal for me.
So these stories made me write today's article and save every founders dollar with this motive I started digging out the best hosting that is known to the community and finally came out with the list.
I hope this article will help you save your year dollars. This grants you keep your startup costs low and avoid getting locked into a long-term contract.
So these month to month hosting plans are great to go for startups communities and for those who want to taste the life of the internet to write blogs and test their wiring skills or it can be anything.
7 Best Web Hosting With Monthly Billing Options 2023
Want to jump right to the answer? The best web hosting with monthly billing options for 2023 are definitely;
#1. A2 Hosting -$9.99 Monthly Payment (Shared plan)
Introduction to a2 hosting monthly shared plans.
Landing page – https://www.a2hosting.com/web-hosting
A2 Hosting is an individually owned monthly hosting website service that was founded back in 2001. This web hosting platform is another oldest host provider on the planet.
Surprisingly…
This web hosting platform offers monthly billing plans for their users with the pricing of less than $10 (ten dollars). This hosting platform is worldwide mostly used by bloggers, online store business owners, and digital marketers.
This hosting platform is a popular possibility option for blogs that require extra power for WordPress or other CMS platforms.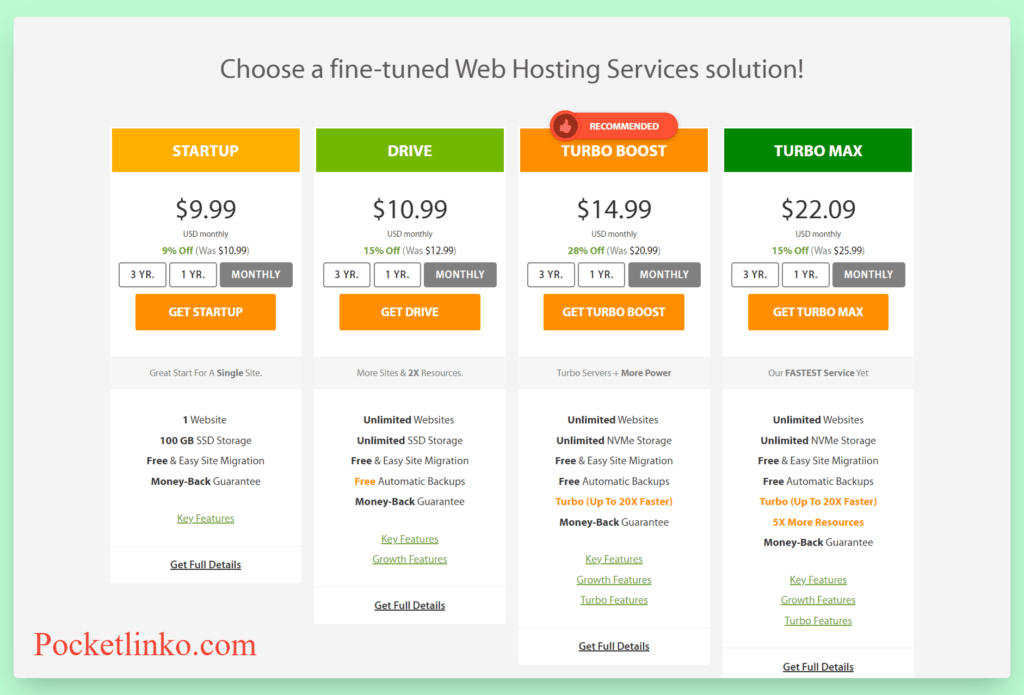 A2 Hosting is our #1 best month to month hosting services and I have included a2 hosting for different purposes and ranked them with the position of #1 to #5 from small business to large scale industry.
They are the perfect choice for new online marketers who want to start their own startups,woocommerce stores etc. You can find all the articles in our blogs.
Learn more about A2 Hosting Shared Platform and their key features.
Key Features of A2 Hosting Monthly Plans
A2 hosting every shared plans along with wordpress whole server are built on advanced cloud infrastructure, which makes 5x faster load than other hosts. They utilise site accelerator software to improve the page loading rate of WordPress pages up to 10x double times.
Here are the key features of a2-hosting monthly plans;
Guaranteed 99.99% monthly UPTIME
Money-Back Guarantee
Turbo Servers (Up To 20X Faster)
Solid-state drive speed boost
Perpetual security features
Premium A2 hardware
Site staging
Various data centre
GIT Access
Free CDN
Your storage is unlimited
Advanced Security
Anytime Money-Back Guarantee
Free DNS Management
Easy Google Apps Setup
11X Faster Apache high speed faster performance
Get free email web hosting
PHP 7+
Pricing Plans A2 Hosting Shared Monthly Plans
The monthly hosting plans start from $9.99 only with no any setup fee charges with free website migrations ( this plans only supports 1 website with 100 GB SSD Storage which is enough for new sites. Despite, their current long-term sale is 51% off for the first billing cycle, so you would only pay $5/month.
A2 Hosting offers affordable pricing for al of their plans. The introductory rates rival some of the lowest in the list. Here are the plans of shared a2 host which offers monthly pricing;
Advantages
A2 Hosting does not have any restrictions for traffics and storage all plans comes with unlimited with 9x faster SSD with cloud infrastructure inbuilt with one click wordpress and software installations.
#2. Dream Host– $3.95/Monthly Payment (Shared plan)
Introduction to Dream-hosting monthly shared plans.
Landing Page- https://www.dreamhost.com/
Before I start sharing data about dream host. Today Dream Host is offering flat 67% discount on their hosting plans and 92% on domains. Before it ends I just wanted to inform you so I can save your dollars.
DreamHost has been in the market for more than 20 years. Their strong fame has earned them a position among the top 3 web hosting companies recommended by WordPress.
Dream-host is #2 top wordpress recommended provider that is very cost-effective this is why they are called the top Hosting Plans with Month-to-Month Pricing billing system which falls under budget-friendly.
Dreamhost is budget-friendly for small startups websites, business owners and bloggers who are no teaching with just spending a few dollars you can the top-notch host with monthly billing host plans.
Learn more about Dreamhost shared platform and their key features.
Key Features of Dream host Monthly Plans
Dreamhost offers 30 days free money-back guarantee without any questions raised for their every single plan. This web host has the data of more than 2M+ active blogs, websites, online stores and startups sites etc.
Here are the key features of Dream hosting;
Unlimited Bandwidth & Storage
Get a free domain for 1 year
Advanced, Easy-to-Use Control-Panel
One-click software installations like WordPress, Joomla and Drupal etc.
Free automated backups
Install WordPress setup
Comprehensive docs and tutorial live out there
24/7 support
FREE Privacy Protection with SSL
Fast Solid State Storage with optimized servers
100% Uptime Guarantee with resource optimization
Recommended by WordPress Community
WordPress-Optimized Servers
Trusted by 1.5 Million Websites
30 days free money-back guarantee
Most shared hosting programs don't cover free privacy protections so with dream hosting the only month to month billing systems with 30 days money back guaranteed these are top stand-out features stand out there.
Pricing Plans Dream Hosting
Dream hosts make our work very easier they provide only two plans in very straight forward for their shared plans.
(i) Shared Starter Plan [$3.95/mo]
1 Website domain includes only
Starting at $2.49 per month
Unlimited Traffic
WordPress Pre-Installed
Free Automated WordPress Migrations
Fast SSD Storage with the latest Support for PHP 7.1, 7.2 and 7.3
Unlimited MySQL Databases
Unlimited SFTP Users
3 Year, 1 Year & Monthly Plans billing system
Email starting at $1.67 per month
Free Website Migrations with page builder
5 subdomains
30 days free money-back guarantee
Note: You can host only 1 website with 5 subdomains in these plans which costs around $3.95/mo
(ii) Share Unlimited Plan [$8.95/mo]
Host unlimited websites
Free domain included for 1 year
WordPress Pre-Installed
Unlimited traffic
Email included
Unlimited site storage
All Shared Strater features available with unlimited packs
Advantages
30days free money-back guarantee
Officially recommended by wordpress community
Easy Website Builder
Daily Backups
If they fall to meet 100% uptime then you'll receive compensation for every hour of downtime, which is up to 10% of your next pre-paid renewal fee. What's better than in shared plans?
#3. WPX Hosting– $24.99/Monthly Payment (Managed WordPress Hosting
Introduction to WPX Managed Monthly WordPress Hosting
Landing Page https://wpx.net/
WPX hosting claimed to give the world fastest managed wordpress hosting with average support chat response of fewer than 30 seconds by wordpress experts.
These web hosting offers monthly plans which are little more expensive than Dreamhost and a2 hosting but wpx offers more best value and features iterms of those hosting.
WPX hosting is mostly used to large business and high traffic websites and most recommended for large business web hosting.
Learn more about WPX hosting for large business and their key features.
Key Features of WPX Managed Wordpress hosting
WPX is a large brand and tells itself "WordPress Digital Experience Platform," and its tagline is enough for web hosting business. WPX Host has the technology and speed to help you get the most from your WordPress site.
In 2018, wpx hosting acquisition flywheel service with $200 million a formerly competitor. They had made a huge branding in today's market. You will also get free genesis theme and framework and other child themes all thanks to wpx hosting for the acquisition of StudioPress company.
Here are the key features of wpx managed wordpress hosting for monthly billing service;
100% Uptime Guarantee
Get free genesis theme and framework and other child themes.
One-click Wordpress installations
PHP 7.X Enabled
30 Second Average Live Chat Response Time 24/7/365 backed by all three methods
Custom built-in CDN including High-Speed performance With 26 Global Edge Locations
Fully AWS cloud infrastructure.Nginx server.
30 Day Money-Back
Unlimited Free Website migrations no limits 24hrs/7
Get rid of Daily Malware Scanning & Removal with their inbuilt scanning tool
High speed 9x Faster speed
Free backups
Pricing Plans WPX Managed WordPress Hosting
WPX Hosting comes with only three different plans and all plans comes with monthly payment system.
Advantages
FREE site speed optimization
Unlimited site transfers to WPX FREE lightning-fast CDN
Daily malware detection and removal FREE site fixes if down
#4. CloudWays- $10/Monthly Payment ( Managed Hosting)
Introduction to CloudWays Monthly Hosting
Landing Page: https://www.cloudways.com/
Cloudways is the widely the most popular month to month web hosting services for wordpress websites that a high sky rating from the online community from bloggers, internet marketers and pros including from our blog.
This web hosting comes with all features that boost wordpress sites speed and loading by 100% uptime guarantee. In the same platform you can choose to host your website on six several most popular cloud provider infrastructure is very monthly affordable pricing ;
I have used cloudways hosting for more than 6+months and still some blogs are hosted and you can read my cloudways hosting review;
Read My: Honest cloud hosting review after using it from months. Why this web hosting is called the best-managed cloud host brutally Honest Review.
Key Features of CloudWays
Cloudways integrates directly with content management systems like WordPress CMS, WooCommerce, Magento, and more that helps to build your website and startups quickly.
Cheap managed Hosting Services
Free Migrations
Automatic Backups and free SSL
You can easily clone your website to test online stores and startups products online
25+Data centres
Advanced Custom / Varnish Settings
Cloudways is the best monthly payment host that comes after a2 hosting, dream host and wpx hosting etc. Cloudways is a tool that let you connects different cloud platforms like Google, AWS, Linode etc in the same platform this is why cloudways called managed wordpress hosting
Pricing Plans CloudWays
A month-to-month managed WP hosting plan on DigitalOcean data centres starts at $10.00 per month. All cloudways plans come with month to month hosting plans and you can upgrade and downgrade anytime.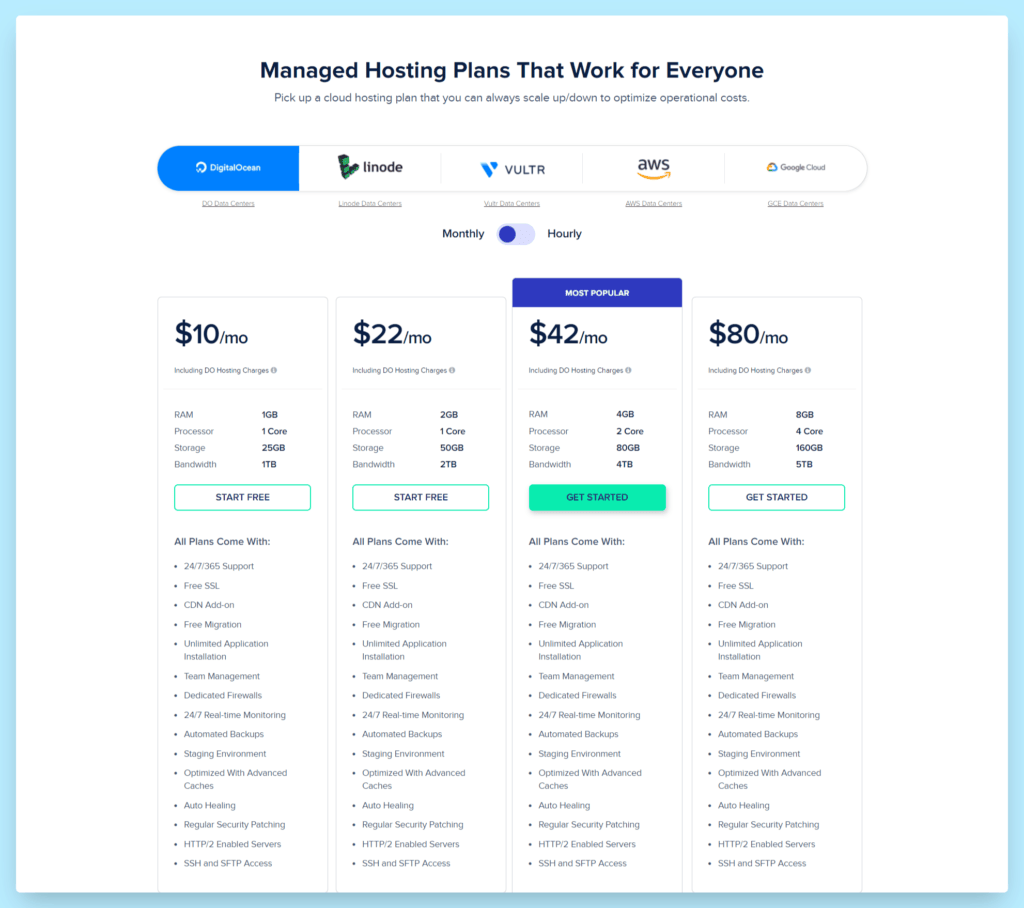 The cheapest options come with digital ocean server which will costs you only $10month and here the plans monthly breakdown for each server.
Sometimes pricing changes weekly so you can visit to find out cloudways today's latest pricing.
According to their reports ( a high level of satisfaction with support, which helps people like you bloggers, entrepreneurs, startups founders the tranquillity of mind to focus on going the important work—creating and promoting content.
Advantages
Full 24/7 support backed by all three methods
25+ data centres
A high level of satisfaction
Fully trained supports staffs
Pay as you go
3 days of free trials
#5. NameCheap– $2.88 /Monthly Payment ( Managed Hosting)
Introduction to NameCheap month-month hosting
Landing Page – https://www.namecheap.com/
Founded back in 2000, now it is one of the America's fastest growing companies on the Inc 5,000 list—and with more than 15 Million domains under management. This web hosting comany offers hosting,domains,emials secutiry etc in very cheap prices that falls every people budget.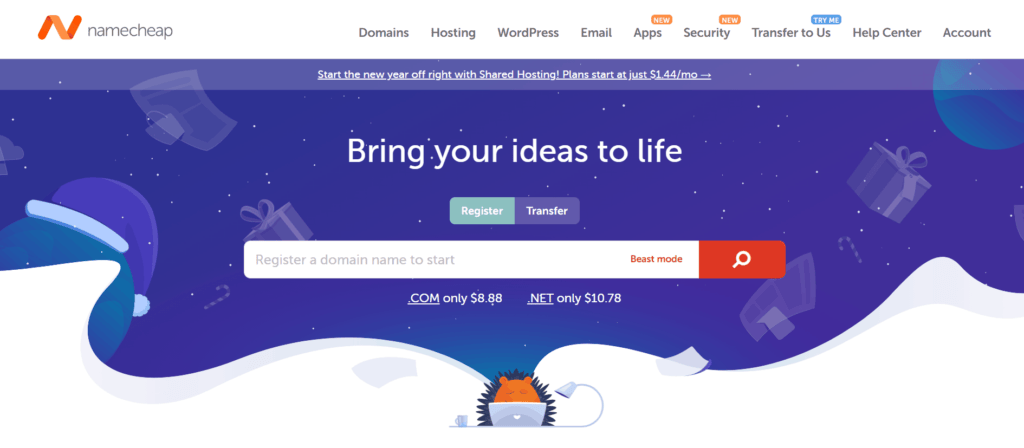 This is why their brand name is "NameCheap" itself describes cheap products. Name cheap allows three websites to run under one server in their shared monthly hosting plans.
NameCheap offers a much more affordable pay monthly option than WPX Hosting or cloudways.
Key Features of NameCheap Monthly Hosting
Just because their brand names come with cheap doesn't mean they skip supports and features. NameCheap offers a very high satisfaction support system.
Here are the features of Namecheap offers on their lowest pricing plans with month to month payment shared billing options,
24/7 access to live chat with experienced web professionals, a ticketing system
20GB SSD Storage
Unmetered bandwidth
Free website builder
The domain name and privacy protection free
Free automatic SSL installation
30-day money-back guarantee
Host up to 3 websites ( Best Deal)
Access to WordPress and cPanel
30Sub Domains
100+ apps with 1-click install
You'll momentarily be on their monthly billed hosting plan that debits on a month-to-month basis moving forward (with no minimum contract duration) upgrade or downgrade anytime.
Pricing Plans NameCheap
Namecheap pricing starts from $2.88 comparing to other shared hosting name cheap plans are very affordable and falls under budget-friendly. Perfect options for new business owners and startups owners who are very that about their budget plans.
Advantages
Very BUDGET friendly
Pricing falls under $3 for lowest Plan
99.94% uptime
Efficient customer service
100% integrated with WordPress features and plugins and tools builders
Which Is the Best Month to Month Web Hosting?
Still unsure which monthly web hosting to choose from the list.
My recommendation is to choose #1 King DREAMHOSTING for your monthly project for blogging, stores and startups software products etc.
Today Dream Host is offering flat 67% discount on their hosting plans and 92% on domains and this is the perfect time to start your online journey with flat discount, Whats better than that?
If within 30days DreamHost fails to give 100% uptime guarantee you'll receive compensation for every hour of downtime, which is up to 10% of your next pre-paid renewal fee. What's better than in shared plans?
Dreamhost offers 30 days free money-back guarantee without any questions raised for their every single plan. Most shared hosting programs don't cover free privacy protections so with dream hosting the only month to month billing systems with 30 days money back guaranteed these are top stand-out features stand out there.
When it comes for managed wordpress CLOUDWAYS AND WPX HOST IS the best options to get started if you are having a good budget with more than $10 to spend any time.
All of these listed hosting company just don't offer month to month they also offers full year and more than that and when you choose years plans and upper you get more discounts on those plans.
Now over to you readers! If you have any questions related to a month to month web hosting platform you can always free to dropout your questions.