Want to jump right to the quick answer? If you're looking for the best reseller hosting plans, we recommend HostGator. They're one of the biggest and best hosting companies out there and they're also the best reseller host we've ever used.
We know there is no one size fits all solution when it comes to choosing the best reseller hosting provider. However, most people who sell internet marketing products would benefit more from using HostGator.
Reselling hosting can be a good way to make money. You can do it as an add-on to your business, or you can make it your business. You can sell hosting as a stand-alone product. But you have to find the best hosting resellers first.
You can offer it as a service to your customers, or you could start your own hosting company.
Reseller hosting is great because the barrier to entry is far less complex than starting your own web hosting company from scratch.
Now you don't ever have to worry about managing servers and hosting facilities because it is a cost-effective way for developers and agencies to offer a service for their existing clients.
You deliver a great service, without all of the hassles of expensive costs involved with managing options in-house.
If you are not sure which reseller hosting provider is suitable for reselling for your business purpose to earn extra cash?
Don't worry we've done all the research and made a list of the dozens of reseller hosting plans. Here I've reviewed the six of the top very best reseller plans out there.
What is Reseller Hosting? Anyway
Reseller hosting is the most versatile hosting plan that offers full power to its user. Reseller hosting is basically a hosting plan for webmasters who want to resell hosting services.
This type of hosting enables the user to design customer portals, create different packages, define prices, control their own support, earn commissions, earn income based on the number of clients they acquire, and much more.
Reseller hosting is an excellent way to earn an income online while creating your own business. Reseller hosting offers distinct benefits to its users. You can earn profits for each client you acquire.
The Best Reseller Hosting Services and plans for 2021
According to our research from inhouse experts of PCL, these are the best reseller hosting providers:
We believe that the best Reseller providers are HostGator Hosting, InMotion, GreenGeeks, A2 Hosting, and Liquid Web based on our study of their pricing plans and features that cater to the reseller hosting needs
Which are great for owners of scaling small -to medium-sized client businesses.
Read on to learn more about each of the top reseller hosting providers on my list. Our goal is to help you choose the best option for your business.
#1. HostGator — Best value for money reseller plans
In our own survey, we asked people who were looking for a reseller hosting provider that is cost-effective. The results showed that price was the most important factor in their decision (69%).
That's a big reason why HostGator came out on top. HostGator is an industry-leading web hosting provider company. On top of that, they also offer great affordable reseller hosting packages.
If you want a reliable service with lots of bells and whistles, HostGator is there to serve! Their reseller packages offer a 99.9% uptime guarantee and premium reseller support in addition to free WHMCS licensing on all plans.
⚙️HostGator Reseller Plans Key Features Include: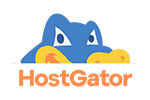 Starting at $19.95/MONTH
Host Unlimited Domains
Free SSL Certificate
45- Day Money Back Guarantee
Unlimited cPanel Accounts
Automatic Backups
Unlimited Databases
Email Hosting included
FTP accounts
MySQL accounts
So if you're already a reseller and thinking about switching from your current host to HostGator, eh? HostGator offers you up to 80% off on the transfer process so you can start letting them know about the wonderful things you have planned for their business online.
Another advantage of using HostGator for reseller hosting is that you can always feel safe because they offer excellent 24/7 customer service via telephone and live chat.
On top of that, all our customers have automatic weekly backups and 24/7 server monitoring so your business won't experience any website downtime. After all, your business is ours too!
All HostGator reseller hosting plans also come with a 45-day money-back guarantee so you have more than enough time to see if you are satisfied with your plan.
Pricing Plans 💰
HostGator offers three different reseller plans, As you may have guessed, the prices for both blenders are included in $5 of one another. These are promo rates so I don't know how long it will stay.
However, if you were looking to buy these products, now is truly a wonderful time! The renewal plans are priced at $29.95, $41.95, and $59.95 respectively, however, you can lock in this introductory rate for your first three years of service.
Need something more? You can read our "HostGator review". We have done an extreme test to find out Love/ Hate.
The plan you choose depends on what your website needs. Do some research to figure out how many visitors you can handle each month and which ones are the best fit for your project needs.
Choosing the right web hosting plan for your website is crucial and we want you to know that we've got your back on this!! If you start with any of our Silver, Gold, or Platinum packages and,
Later decide you need more power and maybe a little extra room, upgrading your account to our Titanium or Diamond plan is completely free of charge.
InMotion is another great managed VPS provider that offers a free domain reseller account with all reseller hosting plans. That means you can make an extra income option.
In a market that usually offers 3 or 4 reseller hosting options, InMotion Hosting offers a whole four of them with monthly plans included! InMotion Hosting is great – they offer generous disk space and high bandwidth levels, which you may combine into attractive packages.
If you choose to do this, you can opt for a virtual private server (VPS) reselling plan, which gives you the benefit of managed hosting and extra eCommerce features – these are useful if not necessary.
Another reason for choosing for InMotion reseller plans is their attractive white-labeled feature which you do not get to see in many web hosting provider that offers reseller plans in cheap.
They will also give you access to WHMCS, WHM, and a domain reseller account for an extra source of income from their industry-leading shared hosting!
⚙️ InMotion Reseller Plans Key Features Include:
SSD Storage
Free SSL certificates
Automatic backups
Unlimited databases
Dedicated IP address
Security scans
24/7 reseller support
Email hosting
Free Dedicated IP
90-DAY MONEY BACK GUARANTEE
InMotion Hosting provides you with the tools you need to run your resellr-hosted business successfully. Additionally, they take care of maintenance so that you can focus on what you do best without worries.
Their plans also offer a free billing system, free cPanel and WHM, free SSD drives, white-label hosting, DDoS and malware protection, and server management tools. They also have a 90-day money-back guarantee on customer service.
InMotion offers strong customer support to help resolve any issues you may run into with customer technical support, plus 24/7 live chat.
An email system is also available for those who prefer that over the phone, plus their money-back guarantee period comes in at 90 days meaning that you have 3 months to take advantage of starting your business venture up at InMotion, meaning if things don't go quite as planned you can easily just leave them due to the range of options they provide.
Pricing Plans 💰
The "R" packages are shared hosting plans, and the "VPS" plans are virtual private servers. Your web hosting needs will increase as you grow your business. InMotion Hosting reseller plans can be tailored to meet those needs and keep up with your growing business.
More storage, bandwidth, and dedicated IPs are available to users on higher plans. HostGator's top plan offers 160 GB of disk space and 1,600 GB of bandwidth per month with a free dedication. The R-2000S and R-3000S from InMotion would be the closest plans to this. Both of these are at similar price points as well.
If you love mother nature environment, then you'll love GreenGeeeks… It offers a 300% green energy matching policy, plus an additional 200% of matchable power with renewable energy.
This could be your unique selling point when looking to sell your web hosting space.
That's why they use renewable energy to power their hosting solution—and that's pretty awesome. Some 80% of the energy they use goes back into the grid as renewable energy through the Bonneville Environmental Foundation.
It has a service uptime guarantee of 99.98 percent. This is the same uptime guarantee HostGator had in our research, plus it offers helpful support options with 24/7 live chat on site.
As their name implies, GreenGeeks uses renewable energy to power their servers. This helps them be more environmentally friendly than other hosting providers, who often rely on fossil fuels to power their data centers.
GreenGeeks are making an effort to be just as friendly towards nature as they are towards their customers by being carbon neutral, meaning that they will offset the amount of CO2 that is emitted into the atmosphere just by providing hosting services.
⚙️ GreenGeeks Reseller Plans Key Features Include:
Unlimited Web Space
Nightly backups
Security Scans
Free SSL certificates
Free CDN
Email
Unlimited Databases
SSD Storage
Free website builder
27/7 Reseller support
White label services
WHMCS licenses
This reseller service is specially designed for developers. You are given the liberty to choose the various PHP versions, databases, FTP accounts, support for Perl and Python, and access to developer tools like WP-CLI, Git, Drush, etc.
Pricing Plans 💰
Greengeeks offer three different reseller hosting tiers plans. The basic plan starts with the pricing of $19.95/Month. All Greengeeks reseller plans come with a 30-day money-back guarantee that can help you to feel more confident about your online investment.
#4. A2 Hosting — Best for scaling small-sized client lists
A2 Hosting is widely famous for its fastest speeds servers for web hosting out there. That is why their brand tag is "Our Speed, Your Success.
One of the fastest web hosts that we have come upon in terms of execution and stability is a2 Hosting.
They're not just quick when it comes to server response times, but they're also excellent in making sure your website is live 24 hours a day.
Both are crucial aspects in terms of total efficiency when it comes to managing online traffic especially if you plan on publishing websites for clients or other 3rd parties.
⚙️ A2 Hosting Reseller Plans Key Features Include:
WHM control panel
Free domain and SSL certificate
Account Migration
Free CDN
Server location options
Automatic Backups
Hassle-Free Money-Back Guarantee
24/7/365 Guru Crew Support
Free WHMCS or Blesta Billing System
A2 Hosting features phone, live chat, email support around the clock at all times. We've tested this feature and can confirm that it is both quick and helpful based on our personal experience using it both during daylight hours as well as late at night.
The responsive help desk staff have proven to be extremely knowledgeable about their product line so rest assured your business hosting account will be handled by people who do know what they are doing!
Pricing Plans 💰
These prices reflect signing up for three years. Signing up for a shorter period of time will increase the price. Kickstart, for example, is $24.99 per month for a single year, or $34.99 paying month to month.
In addition to these plans, A2 offers four more, so scaling up won't be an issue.
You'll notice that they have regular and "Turbo" plans. I'd highly recommend going with the Turbo plans, as that is the only way to get A2's legendary speed. The regular plans are fine, but if you are in the reseller game, providing your clients with the best possible performance is going to help you grow.
You'll notice that they have regular and "Turbo" plans. I highly recommend going with the Turbo plans as those are The Reseller Hosting Accounts that offer great speed.
The regular ("Basic") plans only give you one IP address and lack some other useful features.
You should consider upgrading to a Turbo plan as those offer you a multitude of different IP addresses for free – an important factor if you have large customers who need more than one account allocated to them without paying more.
Note that with the entry-level hosting offerings, Kickstart and Turbo Kickstart, you lack free WHMCS, which is crucial for client management. you can buy the WHMCS add-on for $10 per month. But at that point, you might as well upgrade to a package that already comes with it free of charge.
#5. Liquid Web — Best for No Headache Server maintenance
For anyone looking for the best dedicated hosting companies, Liquid Web's dedicated servers are a great option. We've featured Liquid Web on our list for best-dedicated plans.
They have plenty of power for sites that are storage-intensive but are still priced affordably. With LiquidWeb, you can fully customize your plans and offer your customers a choice of cPanel or Interworx.
Approved resellers receive additional discounts and a free WHMCS license. You can also use LiquidWeb's WHMCS plugin for Cloud VPS and Cloud Dedicated products.
For dedicated servers, Liquid Web has many beneficial hosting server plans that include a free WHMCS license. This generous deal is only available for customers who have hosting service plans within the same package already.
⚙️Liquid Web Reseller Plans Key Features Include:
Free control panel migration
Advanced system scans
100% Uptime Service Level Agreement
Auto upkeep and maintenance
Free DDoS protection
SSD storage
Free SSL certificates
Expert reseller support
Pricing Plans 💰
Liquid Web offers three reseller hosting packages: the entry-level $99/month Reseller Hosting Plan and two higher-end plans, the $99/month Bronze Plan and $169/month Silver Plan.
Each of these attractive web hosting plans includes a package of features essential for small businesses.
I recommend going with at least the Silver plan for starters. The extra 8 GB space and one Terabyte of data backup space are entirely worth it for the price, and you get to work with some pretty awesome and friendly people.
To get started you'll have to apply for their reseller program, which involves filling out an application form indicating the products you're interested in, your contact information, and information about your business.
Who is reseller hosting for?
Reseller hosting is the best way to start an online business. As a reseller hosting user, you can create multiple accounts for your customers in your name, and then in turn charge them a fee for the account.
This way, you can create a profit in a short time through a business that you own, and you also gain a lot of satisfaction from helping people in the process.
Reseller hosting is a great way to start a business without a lot of capital, and it helps you get your foot in the door of the online business world.
Please keep in mind, Reseller hosting is not for everyone. If you're just launching a website from scratch reseller hosting is not for you. Reseller hosting is only for people who already have a business and want to start a website.
Bottom line
Reseller hosting is a great way for webmasters to increase their revenue (often with no upfront costs). Developers, agencies, and entrepreneurs can all make money by reselling shared hosting solutions to people looking for premium hosting services that are simpler than cloud hosting or VPS solutions.
Don't forget that the best reseller hosting plans offer a money-back guarantee. There's no risk in trying them out, so start using our guide to help you decide on the right choice for your needs.
Below is a quick summary of the best reseller hosting plans for 2021 so that you can easily choose the best option for your needs:
5 Best Reseller Hosting Services for 2021
It is our pleasure to recommend HostGator for the best reseller hosting provider hosting services that your website needs. Their amazing affordable plans, up-time, professional staff, and reliable features are what sets them apart from other companies in the industry.