Hostgator is one of the largest web hosting companies around the world founded in 2002. If you are searching for faster, budget-friendly hosting plans with unlimited features then HostGator is greater choice.
This included shared, WordPress, VPS, dedicated servers, cloud hosting, with their all servers plans you can get their free gator web buillder.
I am pretty sure you have gone through Hostgator web hosting reviews on different platforms, but in today's HostGator Review 2023, I have covered almost many things about Hostgator from speed, performance, uptime, support, pricing comparison, and so on.
In this review article, we will fully go with flow from learning history of hostgator to their competitors and alternatives.
So without further ado… Jump right into the HostGator hosting review 2023 lists you" re interested in? Just use our handy table of contents.'
About HostGator (Great Unlimited Host Provider)
HostGator is one of the oldest web hosting companies officially founded in 2002. The main aim of this hosting solution is to provide hosting server plans at very affordable prices so anyone can get started with just a few cash.
To today date, they host over more than 9,000,000 hosted domains and 20 million customers listed in the list of the world's top 10 largest web hosting companies.
Hostgator was founded by Brent Oxley based in Houston, also this web hosting company is an award-winning web hosting company among new online new website owners.
HostGator is an EIG-owned green host, back in June 2012, Hostgator was acquired by the Endurance International Group (the same company that owns countless hosting providers apart from Hostgator), the good thing is they trade their business under the license of the HostGator team.
Benefits of Hosting your site with HostGator
In this section of the Hostgator review, I am going to share with you the top features of this provider that makes difference between other host providers and later we'll dive into its real testing, pricing, speed comparison, and many more.
Reliable uptime and fast response directly from experts
Affordable hosting plans
Unlimited hosting features SUCH as bandwidth, disk space, and emails
Gator web-builder at a cost
Advanced beginner-friendly control panel with a ton of features
Free email hosting
Free SSL on all hosting plans
45 days money-back promise that helps customers no risk of mind
CMS supports
E-Commer integratuion
Security add-ons and tools
File management
Monthly billing options
One-click installations
A CDN that keeps your site fast
If you want to keep your site free of malware and increase security then you will have to "SiteLock"
HostGator is truly one of the most trusted and know to world web hosting. Their top features and pricing model has helped millions of people like us to starts their own website, ecommerce store and many more without breaking our bank cash.
HostGator Web Hosting Review 2023 (The EIG's Shining Star)
Did you know? HostGator was acquired by EIG for $225 million dollars. They know massive huge brands in the hosting world such as Bluehost, Ipage, Hostgator, and many more. In this section of HostGator Review, we will honestly review the hosting provider. Excited to know if Hostgator is the perfect hosting provider for your business or not?
I just share with you some Hostgator basic information that you must know before I review the host.
---
HostGator Uptime Testing
Uptime is one of the most imporatant factor to look before you web hosting provider. Those uptime data's can help you to find out the number, days, minute your site was up and down in the while year.
HOSTGATOR offers 99.9% uptime promise with their hosting plans powered by more thousands of global servers.
Do they really give 99.9% reliable uptime guranteee? Let's check it out.
For this testing, ii used a tool called "Uptime Robot" which is a website uptime/ applications tool that helps to find out the data of up and down.
In my testing, i found they offer 100% uptime, but not that does-not mean they will always offer 100% uptime, it is also true than your website can go down offline downtime if in case there is some maintenance work performed by provider.
| Duration | % of Uptime |
| --- | --- |
| 24 Hours | 100% |
| 7 Days | 100% |
| 30Days | 100% |
Note: If your hosting provider has less than 99.9% uptime promise then your must change your web hosting provider and shift to other today.
---
HostGator Speed/Performance Check
Now you have an idea about HostGator uptime gurantee, what about the website speed and how much time it takes to load a brand new website with their plans?
For this testing, i am using Hostgator baby plan which costs $3.50/per month, and installed Wordpress inlcuding themes and installed some plugins and pre built templates for heavy testing.
Here's the result of Hostgator speed test:
HostGator delivers satisfactory load times with speed result of 1.2 seconds LCP ranging from 32ms to 140ms depending on th e location.
---
45 day Great Money Back Guarantee
Almost many webs hosting provider offers 30 days money back promise, at HostGator, you will get 45 days money back policy because according to them, customers satisfaction comes first.
You can cancel HostGator products such as hosting, website builder before 45 days so there is no risk using Hostgator. You will get your money back in case if you are not happy with the purchase.
---
HostGator Clock support
HostGator offers 24/7/365 clock support directly from experts. Apart from their uptime and performance, this is also another important factor to consider before choosing any hosting provider.
The tag of Hostgator for support is "We work when you work". Hostgator offers 24/7/365 live customer support over chats and phone. They also offer local support via phone and chat.
]This hosting company also has a private Facebook community from where you can get feedback from real customers and get help from different people.
They also offer pre-made docs, Knowledgebase of both hosting company are strong and the solutions of the almost countless problems can found there itself.
---
HostGator Security and backup
Hostgator offers code guard to their all customers so your website is being protected from bad guys 24/7. They take several measures to ensure your website is daily protected with nightly backups and daily.
They also offer premium SiteLock and code guard to their all customers, but you have to pay small prices to have more features and secutiy.
---
HostGator Plans & Pricing (Unlimited Affordable)
In this section of our HostGator review, i am going to compare wide ranges of hosting server plans offered by Hostgator so you can get easily get started with their flexible packages for both small and large businesses/blogs with any time upgrade and downgrade feature.
Dreamhost offers four different web hosting plans on their platform:
WordPress Hosting
Cloud Hosting
Dedicated Hosting
VPS Hosting
HostGator WordPress Hosting Comparison
| WP Plans | Visits/per month | Bandwidth | Domains | |
| --- | --- | --- | --- | --- |
| Starter Plan | 100k | Unmetered | 1 | $5.95/mo |
| Standard Plan | 200k | Unmetered | 2 | $7.95/mo |
| Business Plan | 500k | Unmetered | 3 | $9.95/mo |
HostGator Cloud Hosting Comparison
| Cloud Plans | Sites | Ram | CPU | Pricing |
| --- | --- | --- | --- | --- |
| Hatchling Cloud | 1 | 2 GB | 2 Cores | $4.95/mo |
| Baby Cloud | Unlimited | 4 GB | 4 Cores | $6.57/mo |
| Business Cloud | Unlimited | 6 GB | 6 Cores | $9.95/mo |
HostGator Dedicated Plans Comparison
| | CPU | RAM | Storage | Pricing |
| --- | --- | --- | --- | --- |
| Value Server | 2 core / 8 thread | 8 GB | 1 TB HDD | $89.98/mo* |
| Power Server | 8 core / 16 thread | 16 GB | 2 TB HDD | $119.89/mo* |
| Enterprise Server | 8 core / 16 thread | 30 GB | 1 TB SSD | $139.99/mo* |
HostGator VPS Plans Comparison
| Plans Name | CPU | RAM | Storage | Pricing |
| --- | --- | --- | --- | --- |
| Snappy 2000 | 2 Cores | 2 GB | 120 GB | $19.95/mo |
| Snappy 4000 | 2 Cores | 4 GB | 165 GB | $29.57/mo |
| Snappy 6000 | 4 Cores | 8 GB | 240 GB | $39.95/mo |
There are one server plans called "Hostgator Shared" which is widely famous among every business owners because it offers really affordable pricing.
---
HostGator Shared Hosting Plans Comparision Review
Hostgator comes with three different shared hosting plans tiers, the basic plans comes with the pricing of $2.75/per month and in that plan you will also free domaipn name.
So what about others? Here's the comparison table to help you choose their cheapest affordable plans that are widely used by first-time small and large business owners.
| Shared Host Features | Hatchling | Babay | Business |
| --- | --- | --- | --- |
| Allowed domains | 1 | Unlimited | Unlimited |
| Support | 24 hours | 24 hours | 24 hours |
| Max. number of Inodes(similar to number of files) | 250,000 inodes | 250,000 inodes | 250,000 inodes |
| Storage | Unlimited | Unlimited | Unlimited |
| Database | Unlimited | Unlimited | Unlimited |
| Backup * | Weekly(only 1 available) | Weekly(only 1 available) | Weekly(only 1 available) |
| Backup restore cost | $25 per restoration | $25 per restoration | $25 per restoration |
| Dedicated IP | No | No | Yes |
| Basic Plans Pricing | $2.75 a month | $3.50 a month | $5.25 a month |
HostGATOR server plans per month table:
| | | |
| --- | --- | --- |
| Products | Starting Price | No. of Sites |
| Shared Hosting | $2.75 | 1 |
| Cloud Hosting | $4.95 | 1 |
| VPS Hosting | $19.95 | – |
Look for a great hosting discount?
This month you can save up to more than 75% on Hostgator plans using this special discount link, also you'll get a 45-day money-back guarantee.
---
HostGator Positive Features Aspects
In this section of Hostgator positive features that makes them to stand out among countless hosting provider with the best pricing model. There must be something unique or extra features that helped Hostgator to earned more than 28+millions worldwide customers.
However this section features is endless, but I will share those famous positive features that make them to stand out.
1. Free Gator Website Builder
Allof hostgator shared web hosting includes free gator website builder for free without costing anything extra. If you want to build website without coding and need drag and drop builder then gator builder will help you to create perfect website that you want to design.
2. Free Domain Name
Hostgator offers free domain for new customer with yearly plans. If YOU SIGNUP up for a 12 months with any plans for shared, wordpress, cloud server hosting you will get a free.com, org and .net domain for fthe first year.
This will help you to reduce the cost $10 or $15 for the first year, because this is the average costing of a domain name and help you to save instant saving.
3. Free Website & Domain Migrations
Hostgator offers free website or domain migrations from old hosting to hostgator with the help of their experts teams.
If you already own a domain name or website is already hosted on any other provider then they will transfer it for free, you don't have to pay single cash for the service.
4. cPanel Access
As a hostgator customers, you will get access to industry famous, leading control panel widely used by lots of hosting provider to access their files and others management.
4. Free Email
This is our another great features because not every hosting provider offers free email to their customers, you have to pay the pricing, but with their premium plans you can get it free.
Now Hostgator kicks the game, with their all shared hosting plans, you will get free unlimited Email hosting accounts, Autoresponders, Mail Forwards, 25 Mailing Lists, SpamAssassin, and easy Webmail access via several clients.
4. $100 Google Ads Credit
You can get $100 worth of free google ads credit that will help you to boost your website instant but for the first time you have to spend $25 to get your $100. However its a good deal.
5. Unlimited Bandwidth and Diskspace
Do you know, lots of users are searching for unlimited bandwidth and diskspace features that falls under their budget budget.
Here's how hostgator wins the game!
With their all shared hosting plans you will get unlimited bandwidth and storage space which means you will not have any limitations of storage space or bandwidth.
5. HostGator Data Centres
Hostgator comes with two different datacenter Locations: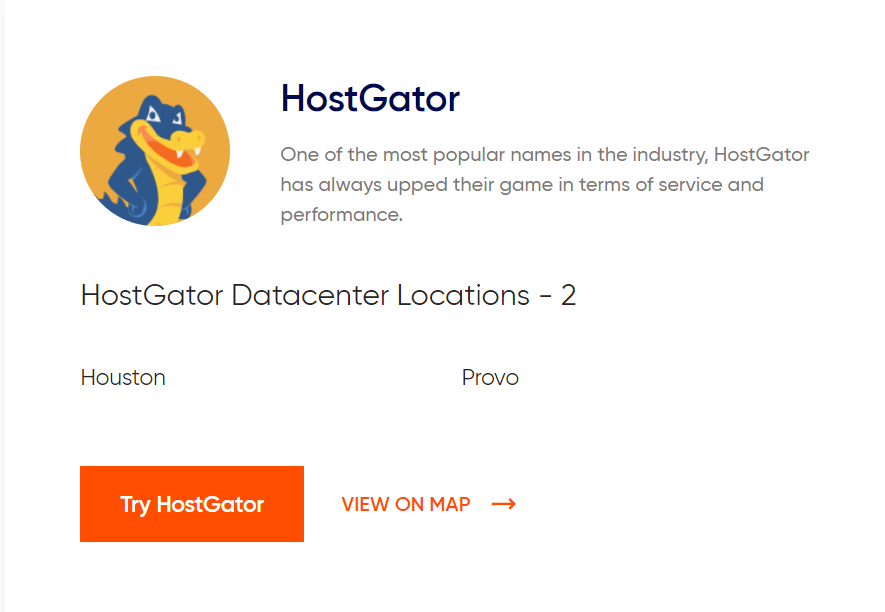 ---
What are the Pros and Cons of HostGator?
Not every web hosting provider are always good, all of them has something unique pros and cons.
Pros of Hostgator
Unlimited bandwidth, storage
Free domain name
Free website builder
Custom plans for many programming languages
Flexible tiers
Cons of Hostgator
Not all plans comes with automatic backup feature.
Not free caching, you have to install third party plugins
---
Top Hostgator Alternatives
These are the top Hostgator alternatives for you if you have mood to go with hostgator for you;
Hostinger ( Cheapest hosting provider)
Dreamhost ( Wordpress recommended hosting provider)
BlueHost ( Part of EIG company)
Related Article:
Faqs: Related to HostGator
What is HostGator?
HostGator is one of the oldest web hosting companies officially founded in 2002. The main aim of this hosting solution is to provide hosting server plans at very affordable prices so anyone can get started with just a few cash.
Does HostGator Offers Monthly Plans?
Yes Hostgator offers monthly plans with their all server plans.
Does HostGator offers free website builder?
Yes, HostGator offers free website builder that are included with free gator builder.
Which web hosting provider is good HostGator or Hostinger?
Both hosting provider is one of largest web hosting provider and has millions of customers, While hostgator is widely famous for its unlimited hosting plans and hostinger is mainly for cheapest plans.
HostGator Pricing, Hosting Plans Quick Facts
Here are the costs and highlights we already covered above and now time to make it in one table for better information.
Domain: Free domain name on shared hosting plans
Ease of Signup: Very easy, beginner friendly one-page sign-up process.
Money-Back: 45-day money–back guarantee.
Payment Methods: Credit Card/ Cheque/ Paypal/ Check or money transfer.
Account Activation: Quick account activation after successfully payment
Control Panel and Dashboard: Free cpanel
Installation of Apps and CMSs (WordPress, Joomla, etc.): Quick and easy install of popular apps and CMSs using Softaculous with 600+ scripts
Website builder: Yes free web builder on all shared plans
Do I Recommend HostGator?
In this section of hostgator review conclusion i am going to share with you do i recommend hostgator?
So this is all about HostGator review for 2023.
I presented you all the information you must know about hostgator provider. Hostgator das dominated nearly al of my speed, performance and uptime.
They offer lots of free addons that will help you to save lots of cash in domains, website builder, email hosting and so on.
They have been always transparent with their pricing and renewal rates and so-on. If you are looking forward to start your own website in CMS wordpress no matter if if is a blog or for business website then you can go with HostGator shared hosting.
So what are your thoughts about the detailed HostGator hosting review? Did you like our today HostGator honest review?
Have you used HostGator before? I highly please consider leaving a review below — good or bad — doesn't really matter as long it's helpful to our readers. Thanks for your great support.
Also Read