After Kinsta.com, Liquid web is an industry-established popular managed WordPress hosting and managed WooCommerce hosting provider then has then over ten global data centers.
If you are looking around for a trusted managed Wordpress hosting provider, then Liquid Web offers simple cost-effective managed Wordpress hosting.
But…
Are they the right option for you?
What are their money back promise?
What makes Liquid Web different from others?
What are their pros and cons?
To help you make the perfect decision, before you invest your hard-earned cash, In today's Liquid Web Hosting Review, we will look at everything you need to know before you commit to liquid. When you land on liquid web's website, it's totally clear how serious they are about business hosting with significance managed Wordpress and dedicated servers.
Although they are quite famous for business large enterprises hosting, they also have the most affordable plans for small businesses like bloggers, writers, and freelancers, etc.
We'll cover the most important deciding analysis in-depth, but to start here's a liquid Web review quick table.
Liquid Web Hosting Review: Who Are Liquid Web?🤔
Liquid Web is a privately owned managed web hosting company that was founded by Jim Geiger In 1997. For more than 22 years+ they are serving web hosting services to the online business world.
In 2015, The founder of LIQUID WEB, Matthew Hill, sold the company to Chicago-based investment firm Madison Dearborn Partners.
Quick FACTS:
A million sites under control management of Liquid Web's.
Over 30,000 clients in more than 130 countries.
Over 500 hosting professionals employed to deliver the services.
They host sites for big brands, including National Geographic, FedEx and Motorola.
The Net Promoter Score of Liquid Web ranks it as one of the world's most-loved brands.
Matthew stepped down as CEO and was replaced by Jim Geiger. The liquid web has over more than 1M+ active customers in over more than 130+ countries and the company has also received the INC . 5000 Fastest Growing Companies award for 9 years in a row.
Their headquarters are in Michigan, US, and, unlike many other managed WordPress hosting companies. They believe
"The more you need technology to fuel your business, the more you need expert, caring people to be there for you."
If you're on the lookout for a powerful managed WordPress/ Woocommmerce hosting solutions for you and your website/ store from just $19/month is the perfect solution to run your entire brand business without falls short on performance, uptime reliability, Liquid web is the host designed for you.
In the end, Liquid Web has over 250+ teams of administrators, engineers, and technicians dedicated and empowered to make your online life easier.
---
What sets Liquid Web apart from the competition?
In this section of Liquid Web host company review, I am going to share with you what sets liquid web servers and their features apart from the competition when it comes to the threeS' most important deciding factor before choosing any hosting provider ( Speed, Security, and support?)
I think this is none of the most interesting parts of our Liquid Web review, so let's find it out something you would really love to know.
When it comes to the three most important hosting factors, speed, security, and support, LIquid Web wins. I had around a 45-second support response guarantee, ensuring prompt service for all plans. For the testing, I had purchased its managed wordpress hosting, and managed applications offering were all individually created with the modern server web professional's speed requirements keeping in mind.
Finally, I found the why,,, Small and medium enterprises have trusted Liquid web with their businesses for over 22+years. When it comes to security purposes, which is one of the key deciding factors not only for hosting but also for everything,
Liquid Web didn't disappoint when it comes to website security measures, they offer Mod security and hold multiple data security certifications. I will explain in deep, in our security measures section. So keep reading.
---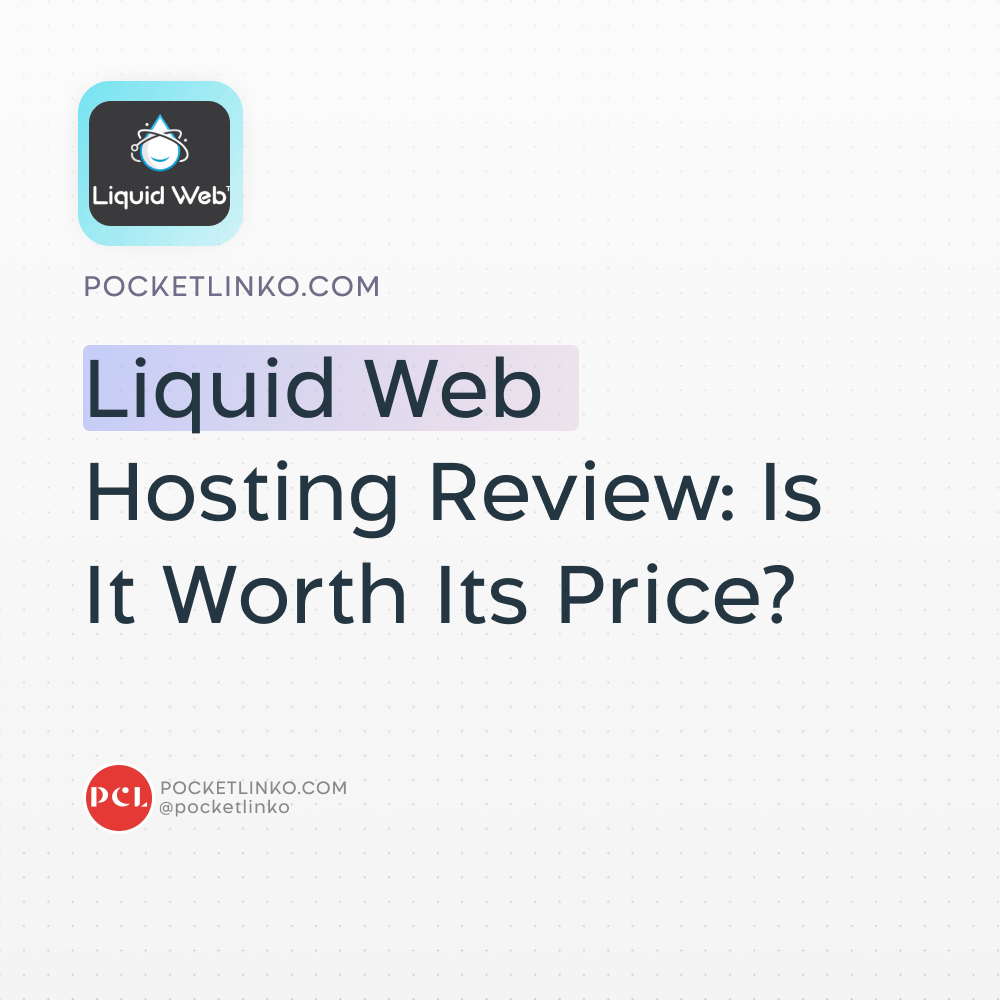 (Honest) Liquid Web Review 2023
In the following section of our liquid web review company, we'll dig deeper liquid company environment and find it out if it's good or not for your business website purpose and mainly if it comes under the pricing or not.
Now you already have basic data and information on the liquid web, so let's start today's liquid web review by discussing the speed load time, pricing factor, money back promise, security measures, and since these are probably what you want to know most of all.
Learn More About Liquid Web
If you're just learning the basics about Liquid Web & haven't yet visited the website to get the complete overview, take a moment to visit and familiarize yourself
(This article won't' go anywhere!)
---
Liquid Web Performance And Load Times 📈
Let's start this Liquid web hosting review by discussing web host plans with real-time performance and load time of web host plans. Liquid web servers do not compromise on-site performance since they use sold state drivers on all servers.
They are usually costly than Hard drives, anyway, SSD is known to serve up data processing much faster than HDD rates and give ultimate performance and reliability.
---
1. Impressive Uptime
As a website owner, you know how crucial important speed is because ultimately google eats speed is a ranking factor and a one-second delay can cost a million in revenue for large enterprise business sites such as Amazon, Walmart, and so on.
If you want to keep your site's customers and visitors happy and get to the first-page google then your website needs to load fast. When it comes to fast load, Liquid Web Does not disappoint.
No doubt! Your website loading speed is one obstacle so you are not getting traffic, in fact, a single second delay in website speed decreases conversion by 8%. Click here to read the most important google ranking factor for this year.
The above screenshot of Liquid Web Uptime shows the past 30 days, you can view more uptime data and server response with the help of this tool called Updown.io.
Liquid web claims to have an average uptime of 100%, while other web hosting providers even fail to give uptime of 99.9% because you can't offroad for things like disasters that are offered by the liquid web.
Claiming 100% uptime is something promised for a lifetime and that you don't see in the hosting industry.
---
2. Loading Speed Test
To find out how faster liquid web performed, I have hosted my demo website in liquid web and use the tool called ' GT METRIX" service to find out its load time speed test.
I have already shared with you above how important speed can either make your customer happy or fully s abandon your site in droves also at the same time search engines like Google won't list you prominently.
Here below is the result of the page speed test I did with fully hosted on liquid web.
In the GTmetrix report the site loaded in 0.9 seconds. Not bad at all without any caching or using CDN.
To ensure, better minimal latency and better connections at any given time, Liquid web utilizes up to Four Their 1 bandwidth providers.
Is Website Speed Important For your Business?
Use Code: 4MOFREE and get flat 4four months of web hosting for free.
---
3.Liquid Web DataCentres & Specializations
At the time of writing this review, the company operates ten global data centers and currently hosts 800,000 sites all over the world. They offer VPS, Cloud, and dedicated server hosting shared hosting.
Overall it has operated a core data center with complete control over the network. All datacentres are state-of-the-art facilities designed to reliable network availability at all times.
---
Liquid Web Extensive Security Measures ⚙️
The liquid web makes your website files and its all property that are hosted under liquid web servers secure by offering free SSL which is common and offered by all the web hosting providers. They monitor servers for security issues using an in-house service that helps users build an extra trust level…
As being said security is one of three's important deciding factors while choosing any web hosting provider. However, they don't disappoint when it comes to website security measures.
All the data centers locations are under strict security 24/7/365. The server speed is good and security is definitely a notch above its competitors.
---
1. FireWall Protection
When you host your website under Liquid, you don't have to worry all of their web hosting plans come with free SSL. If bad guys try to enter and upload malicious code, before they do anything, the Liquid Web system activates a CSG firewall by default on all servers.
---
2. Free SSL Security
Liquid Web also offers Free SSL (Secure Sockets Layer),
SSL is one of the crucial ranking factors in SEO, when visitors enter your site any information they share on your site will be safe, and certificates are indicated by the padlock icon and the "HTTPS" at the beginning of a web address.
Furthermore, in case if you need an extra level of SSL then you can buy either premium SSL certificates which come in little pricing, or purchase.
Is Website Security Important to You?
You must be lucky enough! Liquid Web pretty much covered all the things a website owner must have to protect their data from nasty guys, so you can get online with peace of mind.
(This article won't' go anywhere!)
---
Specialized Expert WordPress Support Team
After performance speed, uptime, and security environment measures, Liquid web biggest strength that steps them apart from other hosts is its "Heroic Support."
Liquid web has made an effort to stand out from the crowd, which is their heroic support which it's their customer service. Both users and customers can take advantage of it that means;
Both paying customers and individuals setting up a hosting or learning its core features can contact the customer team via phone or live chat.
They also operate a ticket support system from which you can open request support through your liquid web account via email. The company ranks for its best customer promises to offer excellent support from a group of 100 Red Hat Certificates experts.
They have three primary forms of customer support:
24/7 Live Chat
Phone
Helpdesk
Last but not the least, they maintain a comprehensive knowledge base on their website that answers the most common questions for users about server-related articles.
Is Expert Clock Support Important to You?
If you need 24/7/365 clock support directly from experts helping hands, DreamHost is made for you.
How Migrations are done on the liquid web?
If you already have a wordpress website, it can be easily moved to Liquid Web servers without paying one single cash its totally of no cost, and thanks to the company for the free website migrations or you can also use their free wordpress migrate to Liquid Web Plugin.
The plugin will take care of everything from copying all the data to transforming config files and importing them to the Liquid Web Server.
Whether an internal move from liquid web to other high upgrade servers within Liquid Web or an external move from another web host, Liquid Web will migrate your site to its hosting platform for free
Peace Daily Nightly backups
Liquid web offers daily nightly automatic backups as well, which will help you recover your website in case if anything goes wrong that involves loss of data. You can get daily backups with all the web hosting plans liquid web offers.
Liquid Web Features💡
Here I will cover the main features of Liquid Web which you can get on their web hosting plans. WordPress is one of the most popular CMS ( Content Management Systems) which powers more than 48% of the web.
A great point to note, Liquid Web does not offer any shared hosting server, but their managed plans are really affordable.
1. Fully Managed Hosting
Liquid web offers fully managed Webhosting servers means it does all the things for you automatically.
You don't have to manually update themes, plugins, in simple words This included all software updates and security patches so your website always runs and is never compromised.
Let's say your website goes down, then the system will auto-fix the issue with its self-healing technology. You don't have to worry anymore about what needs to be updated and not all the things will be taken care of by the hosting people themselves.
2. WordPress-Specific Hosting
Liquid web rolled wordpress hosting packages in 2015, although this company has been around since 1997, they rolled out their managed WP host at the Word Camp US convention.
Pretty late enter into managed WordPress hosting but today they are one of the leaders managed wordpress hosting that ranks after Kinsta and one who offers similar service.
3. Control-Panel
Most of the hosts I have reviewed offer one control panel with their plans, but in the case of Liquid Web, they offer three control panels to choose from- such as Plesk, InterWorx, and cPanel for you to manage your website's hosting files, environment, and server.
However, Plesk generally isn't easy to use as compared to cPanel but you can choose the types of Cpanel you want so there's no fuss. While the InterWorx dashboard is quite logical to use, you can manage your account, settings, billing, and other hosting services product-related from there.
But there is one thing that makes sense to use Plesk is their mobile applications, where you can do hundreds of things, at the time of writing this liquid web hosting review, cPanel does not offer mobile applications.
My pick would go for c-Panel since they are traditional content management system panels and really easy to use. Let me know down in the community section below what would you prefer Plesk or cPanel.
Get my 30 days Trial No RIsk
Try Liquid Web hosting platform for the next 30 days with no risk (Cancel within 30 days anytime, anywhere you want)
4. Free DDOS Protection
The last thing every website deals with is a DDoS attack that brings your website down and causes you a loss in traffic, sales, or leads. Liquid web offers all website owners the options to enable free DDOS protection in their hosting account including ( Cloudflare CDN Services).
Cloudflare insulates your website automatically and drops malicious traffic to prevent a DDoS attack from bringing your website down. In case, if your website becomes involved in a DDoS attack, then the Liquid web system will notify you before those things happen.
Also if you think there are sudden spikes in traffic and using Cloudflare then you can easily enable the option called "Under Attack Mode" you can clearly see in the above image screenshot.
Is Website Security Important to You?
You must be lucky enough! Liquid Web offers pretty much covered all the things a website owner must have to protect their data from nasty guys, so you can get online with peace of mind.
5. High-Performance Hosting
Unlike other traditional hosting services Liquid web offers fully managed web hosting as explained above it does everything for you. In my testing, I found Liquid web has averaged a below 1-second load-time which is just awesome for the hosting industry and marked all the google page speed ranking factors which is a plus point.
Here are testing results based on geographic location,
| LOCATION | LOADING TIME | TTFB | FIRST PAINT | INTERACTIVE |
| --- | --- | --- | --- | --- |
| N. Virginia | 0.46 s | 294ms | 0.52 s | 0.72 s |
| Singapore | 0.23 s | 146 ms | 0.39 | 0.41 |
| Canada | 0.85 s | 199 ms | 1.00 s | 1.00 s |
Since Liquid Web is managed to host provider and these results are very satisfactory. Here are some quick take a look benefits and its features how they manage to give decent speed:
Liquid Web has over 25k+ servers in privately owned operated core data centres with redundant cooling, networks, and power to ensure uptime and speed.
24/7/365 monitor network performance
HTTP/2 is available, which helps in both increase site speed and performance but also helps in site security
In-built image optimizations solution integrated with your hosting account to use on your website.
6. Free Premium Tools
With liquid web hosting plans you will also get free Premium tools included for free (BeaverBuilder, All IconicWP, Jilt, Glew.io, iThemes sync, iThemes Security Pro).
This can really help in saving your billing cost and what's better than this getting all those bundle for free with all managed wordpress hosting comes.
7. WP CLI Enabled
All Liquid web-managed wordpress hosting plans are WP CLI enabled, which means this command-line tool enables users to manage plugins, install WP sites, and do other lots of things without using a GBI ( Graphical browser interface).
So that means a liquid web that offers managed WordPress hosting, Liquid Web ensures to install this content management system for you, unlike other managed wordpress hosting.
Liquid Web Hosting Plans 💸
Liquid web is a provider of specialized robust hosting from most web hosts in that it doesn't offer shared hosting like (DreamHost and Bluehost). The company is ideal for someone looking for more than a shared hosting plan.
If your main piority is for shared hosting then I recommend you Bluehost shared hosting plans because their pricing is very affordable and you can find my in-depth review here.
Here are the following types of web hosting offered by Liquid Web: managed dedicated servers, managed VPS hosting, managed WordPress, and managed WooCommerce along with pricing plans,
Liquid Web Pros 👍 and Cons 👎
Liquid web is a great hosting company, but no hosting solution is ever perfect. In this section, I am going to share what I like and didn't like about Liquid Web Hosting.
Pros 👍 Of Liquid Web Hosting
Free Premium tools
GlobalSign SSL certificates included with all hosting product plans.
Liquid Web does not charge based on how many visitors your website will be receiving unlike WP Engine. In fact,all managed WordPress hosting plans support sites with unlimited visitors.
Solid State Drives installed on all servers.
No WordPress theme or plugin bans
Free "White-Glove" site migrations
High performance (PHP Workers, SSD, PHP7, HTTP/2, Let's Encrypt SSL, and Nginx)
24/7/365 support with stellar 59 minutes/seconds guarantees with humans
30 to 300 PHP Workers to guarantee fast speeds for woocommerce servers
Free PayPal & Stripe integration on all plans
Cons 👎 Of Liquid Web Hosting
High entry-level price (The lowest price for Liquid Web is a whopping $15 per month)
No Shared Hosting
What others are speaking about the liquid web: customer satisfaction
In this section of the review of liquid web hosting companies, I have collected some based on real people, positive and negative, opinions about LiquidWeb from open-source reviews platform and communities.
Liquid Web Twitter Reviews
Liquid Web TrustPilot Reviews
Overall, Liquid web has a 4.5% rating out of 479 users at the time of writing this review.
QUICK: General Info & Hosting Overview
| | |
| --- | --- |
| SPEED: | 338 ms (April 2020 to March 2021) |
| UPTIME: | >99.99% (April 2020 to March 2021) |
| SUPPORT: | 24/7 Live Chat, Phone, Helpdesk, Knowledge Base |
| APPS: | InterWorx, cPanel Pro, Plesk Web Pro |
| FEATURES: | Solid State Drives, Gigabit Bandwidth, Integrated Firewall, DDos Attack Protection, Cloudflare CDN, SSL Certificates, Built-In Backups, One-Click App Installs, and more. |
| HOSTING PLANS: | VPS, Cloud Hosting, Dedicated Hosting, CMS, and eCommerce Hosting |
| SITE TRANSFER: | Free |
| PRICING: | Starting at $15/month (with biannual payment) |
FAQS: Related to the liquid web company
What Is Liquid Web Hosting?
Liquid Web is a privately owned managed web hosting company that was founded by Jim Geiger In 1997. For more than 22 years+ they are serving web hosting services to the online business world.
How Reliable Is Liquid Web?
The liquid web offers top-notch web hosting plans for everyone with robust performance and an uptime guarantee of 100%. They also provide awesome free premium tools that are worth costly but you can get it for free with their managed wordpress hosting.
Liquid Web Company Review Final Words: Why Use It Over Another Host 💪
There are kinsta, WPX hosting which offers similar hosting plans are built for high-traffic business but both kinsta and WPX hosting come with limitations of bandwidth and storage also the pricing for WPX is $20/m and $30 for Kinsta.
While Liquid web offers a bunch of premium tools for free with the starting pricing of $15/per month with free caching and malware scanning tools.
So, is Liquid Web ANY GOOD?
I high recommend and Yes, Liquid Web is a sold great web hosting for sites owners that are growing exponentially and need to be promised guaranteed in terms of speed, uptime, and reliability all the time.
Overall honestly, I'm very happy with my personal experiences with Liquid Web.
So what are your thoughts about the detailed Liquid Web hosting company review?
Did you like my today Liquid Web honest review?
Also,
Have you used Liquid Web before? I highly please consider leaving a review below — good or bad — doesn't really matter as long it's helpful to our readers. Thanks for your great support.'
Will You Be Next Trustable Customer?
Will you become one of Liquid Web's happy customers? There's only one way to find it out by heading over LiquidWEB.com to see if it ticks all your button sections boxes.
Review updates:
August 5- Published