Kinsta is one of the most known recognizable brands in the Wordpress hosting Community space.
When it comes to the best-managed WordPress hosting, 3 hosts come up: WPX, WP Engine, and kinsta. All the three managed Wordpress hosts cost similar amounts but comparing with Kinsta VS WPX VS WP Engine.
Kinsta is arguably more scalable, developer-friendly, faster, and offers lots of better features in terms of speed, security, support, and straightforward to use.
The main thing that sets Kinsta apart is that they only offer WordPress Hosting server setups, which simply means you cannot execute any other website scripts on their servers.
If you are really committed to SETUP to launch your website or project in WordPress CMS then Kinsta is for you.
Also, that's not to say that WPX and WP Engine host doesn't have strengths of its own (it's a great affordable premium hosting provider), but in today Kinsta Hosting Review, we'll be focusing on everything you need to know about kinsta before you commit to launching your wordpress entire business in it.
We'll cover the most important deciding analysis in-depth, but to start here's a Kinsta Review quick table.
Kinsta Hosting Review: Who is Kinsta 🤔
Launched in 2013, Kinsta was a very small tiny group and was the brainchild of a group of wordpress experts, all the WP experts were very unhappy and unimpressed with the WordPress hosting solutions on the market.
Here are a couple of things to reveal or unpack about this:
"WordPress Hosting" means what i have mentioned above- kinsta only accepts wordpress website so if you have custom coded website that does not uses the ROOT of CMS then you cannot run any additional standalone scripts on your server (scripts that would run outside of WordPress).
---
Managed Wordpress hosting simply the hosting company itself hanles everything that's usually involved in managing / maintaining a server. Which mean you no longer have to get your hands dirty to managing and updating plugins, from security to updates kinsta is there for you.
That was the time when Kinsta was born and today they are one of the faster trusted growing hosting networks.
So what are kinsta and their kinsta wordpress hosting packages anyway?
Kinsta is a non-traditional managed hosting provider specializing and committed in wordpress hosted sites on google fast cloud servers.
Kinsta is also widely used by large businesses company such as Ubisoft, Tripadvisor, and flipped, Intuit, etc. These companies hit millions of traffic a month and this is what kinsta proves how trusty and wroth they are.
Who Are Kinsta For?
Their hosting providers are designed for everyone from small businesses to startups and large companies.
If your main priority is to have decent speed, features, uptime, and support then no doubt kinsta should be your first.
If you can afford their hosting plans they of course in simple words they are for everyone, with kinsta you can reach your website goal faster with decent speed.
The faster your website loads the more it gets juice from SEO and customers. readers will have a smooth performance.
Here are a few things to if the answer is yes then kinsta is totally worth for your business:
Let's say you run a website that each and everymonth on the rise and has a nice steady growth of traffic month after month.
If you run an ecommerce store where having fastest server and good site performance is one of the most important factor ( then kinsta is also for you)
If you run a blog that has good amoung of traffic and you don't like website being down, server issue and fails on other things.
If your website has un-excepeted spike of traffic .
Sound like something you'd need?
If you're just learning the basics about Kinsta & haven't yet visited the website to get the complete overview, take a moment to visit and familiarize yourself
(This article won't' go anywhere!)
(Honest) Kinsta Hosting Review 2023


In the following sections of our kinsta hosting review, we'll go all over the features, pricing, migrations, support that makes trust a true "Managed Host".
Let's start this Kinsta hosting review by discussing the speed load time, money back, and other security measures since these are probably what you want to know most of all.
Also, we will take a look at what is actually under the hut, and how good the platform really is, and if it's the perfect solution for your website or not under budget.
---
Kinsta Reliability Performance and load times 📈
So lets this kinsta hosting review by discussing the real-time performance and load time.
This is probably the most important and interesting part of our kinsta hosting review. So let us find out how fast kinsta actually is?
As a website owner, I don't have to tell you how crucial important speed is for pricing the best experience, and in case if you don't know our pocketlinko is hosted on a dedicated server.
I brought Kinsta's entry-level hosting plan
I chose "Singapore as our data centre
I setup demo sites by installing themes, plugins and dummy content and images
So i can test it both heavy and smooth loading speed test.
I used some of the best tools like ( GtMetrix, Pingdom, and web page test to check their loading and performance test.
Let me sum up the results.
Kinsta Uptime Impact Result:
Kinsta Server Performance On Different Locations:
| LOCATION | LOADING TIME | TTFB | FIRST PAINT | INTERACTIVE |
| --- | --- | --- | --- | --- |
| N. Virginia | 0.76 s | 394 ms | 0.92 s | 0.92 s |
| Singapore | 0.28 s | 156 ms | 0.59 s | 0.59 s |
| Canada | 0.85 s | 429 ms | 1.00 s | 1.00 s |
| Frankfurt | 1.51 s | 722 ms | 1.39 s | 1.29 s |
| Paris | 1.45 s | 694 ms | 1.49 s | 1.49 s |
| Mumbai | 0.85 s | 696 ms | 1.12 s | 1.27 s |
Since Kinsta is managed wordpress hosting and offers decent speed servers then these results are very satisfactory.
Since I have chosen the server in Singapore, I have got the fastest loading times from Singapore, overall you can expect the best performance when running your wordpress website with kinsta servers.
Kinsta Money Back Guarantee 💸
Kinsta all web hosting plans comes with flat 30 days money-back promise on all the plans and product their offer.
That means:
In case if you are not happy with the product purchase you can cancel within 30 days of the time and they will refund your cash on the same day.
That means you can try kinsta for 30 days without any risk and when you ask for a refund you will not be raised any questions.
Get my 30 days Trial No RIsk
Try kinsta hosting platform for the next 30 days with no risk (Cancel within 30 days anytime, anywhere you want)
Kinsta Extensive Security Measures ⚙️
Kinsta is secured in terms of customers' security data and website.
They offer several security services, such as monitors uptime, response time, and detects DDoS attacks. One of the most eye-catching feature's insecurity is their "Automatic updates of security patches".
That means in most cases, they can stop attacks like Free hack fixes, blocking code injection and DDoS attacks, daily malware/spyware scanning before they occur.
You can get all the security features under kinsta my account > tools from where you can control the layer of security.
A web hosting without security is the same as sleeping in the middle of millions of people, you never know what happens to your website.
Kinsta also offers free SSL certificates that create a sense of security between you and your visitors, so when visitors enter your site any information they share on your site will be safe, and certificates are indicated by the padlock icon and the "HTTPS" at the beginning of a web address.
With kinsta, you never have to worry about website data leak or anything since it's managed to host all you have to chill!
Last but not least, they also offer two-factor authentication is also available.
Wordpress is often disposed to security weaknesses and kinsta protects you well.
Google Servers For Faster Performance & Load Times
Kinsta utilizes its web hosting on top of Google Cloud Engine. So that means Kinsta doesn't run their own server machines.
Instead, they rent out server space from the Google Cloud platform and put their own software on top of it to make it optimized to handle wordpress sites.
let's dig a little deeper into Kinsta's build.
Not every web hosting company feature that exclusively offers Google cloud server hosting, but kinsta does. Google's private fiber network is one of the biggest in the world and able to reach speeds of 10,000TB per second in some regions.
That tells, kinsta is signed up to google cloud's premium tier, which means kinsta customers can easily tap into the cap-level of performance, speed and security.
Kinsta always crosses its boundaries, that is why I love kinsta speed technologies.
In October 2019, Kinsta announced that they are offically moving to Google Cloud Platform's (GCP) next-gen compute-optimized (C2) virtual machines.
That is also why have such big clients mentioned above like Ubisoft, Tripadvisor, and flipped, Intuit, etc.
How Faster CDN Offered by Kinsta is?
Unlike many other managed hosting, Kinsta delivers free CDN to its users. A content delivery network is one of the best ways to make your website faster.
Kinsta is fortified with 'speed-obsessed architecture'

@Kinsta
Their words not mine, through technologies like the latest Ngnix, PHP7, LXD Software containers, and Madia DB.
They have partnered with leading "KEY CDN an HTTP/2, and IPv6-enabled content delivery network with 34 locations!
KeyCDN'S is a leading trusted European CDN provider, that has a solid reputation for helping make top-notch CDN services much faster and accessible around the globe.
According to their report, the services have more than 40,000 (40K) + customers and have a hit ratio of 94%.
This way, you can turbocharge your assets and media around the globe which makes your website even faster after enabling CDN.
Here is THE Kinsta CDN testing that will perfectly visualize how faster Kinsta CDN is and how it impacts a site's from different locations.
So now you actually know how faster kinsta is compared to other managed web hosting providers.
Kinsta DataCentres and Specializations
I am honestly a huge fan of Kinsta's Google Cloud Data Centre Locations. Kinsta customers can also get benefit from 20+ Google Cloud server Locations worldwide.
That means with Kinsta managed host plans, you can choose from the following 20 DataCentres ( as you see on the image) for your wordpress website.
Each website can be hosted at a different geographical location closest to your audience, which helps to improve load time speed and keeps latency low.
On other hand, they also use modern technology, including:
Nginx
PHP 7.3
LXD Containers
MariaDB
Server-Side Caching
If you want to find the best data center for you, while moving to kinsta then you can use this tool called " GCP Ping".
Also, Kinsta has access to their premium DNS which is directly powered by AMAZON Route 53, which is another tool it's the arsenal to keep things quick and faster.
Specialized Expert WordPress Support Team
After speed, One of Kinsta biggest strengths that makes them unique from other managed hosting companies is their back-end support team.
I have told you earlier, kinsta used to be a group of expert WP teams, I meant it, it's comprised entirely of expert WordPress developers and Linux hosting engineers.
Many of them have also contributed to WordPress Core engines and created WordPress plugins and themes.
Kinsta offers 24/7 support on all web hosting plans, no matter in what plans tier you are in, they provider an equal level of support to their users.
Another biggest on top of this, I really love reading Kinsta blog where you can lot of hand made articles directly from their experts which are really helpful and handy of knowledge base, with tips, articles, etc.
You can get assistance from your kinsta dashboard directly which saves your time, what's ever more IMPRESSIVE is that Kinsta offers support in multi-language not just English.
Is Support Important to You?
Kinsta offers 24/7/365 clock support directly from WordPress experts along with in-depth blog articles, knowledgable.
(Get your helping for your Wordpress now)
Simple Free Site Migrations
In this section of the kinsta hosting review, let us find out how migrations can be done in Kinsta. I know numerous numbers of your who read our Kinsta review are unhappy with your current hosting provider and looking to switch to kinsta.
If you're considering Kinsta WordPress hosting service, how easy is it really to get the site migrated from the current host to kinsta?
The game is really easy!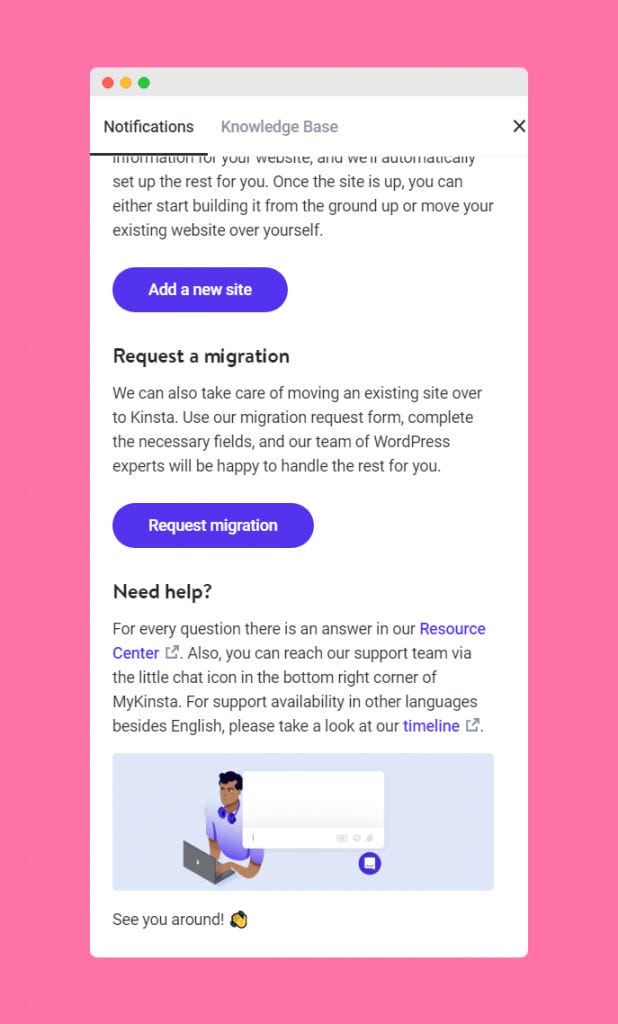 I signed for Kinsta, and I was stuck because my current host was using cPanel but, how quick and simple it was,
Creating an account in kinsta literally took me around seconds and then finally came on a new best-looking dashboard and receive helpful emails promoting the next steps connecting the wordpress website.
Kinsta offers their customers free site migrations at least one ( depends on the plan you choose) and unlimited free site migrations from:
WP Engine
Flywheel
SiteGround
Pagely
Pantheon
Cloudways
GoDaddy
Dreamhost
Bluehost
HostGator
A2 Hosting
tsoHost
In case if you're not using one of these hosts, kinsta all plans at least comes with one gree website migrations and have a dedicated migrations team.
So follow these simple steps to get your wordpress website migrated:
Click here to Sign up for kinsta: Free website migrations are included for all each Kinsta Web Hosting Plan
Fill out the migration request form ( From dashboard > migrations)
Choose the migration between premium and basic process.
Moving your site to kinsta WordPress hosting will not occur any downtime. No risk at all.
Peace Free Daily Backups
Kinsta all web hosting plan comes with free daily backups. On WordPress CMS things can go really wrong at any time.
That's why kinsta offers plenty of tools to keep your website safe and secure with daily automatic WordPress Backups.
Kinsta provides daily automated wordpress backups, all the backups will be stored for 14 days in my kinsta dashboard.
In case if you need hourly backups then it will add some costing in billing which costs around$25/m for every 6hrs of backup and $50/per month for hourly backups. (I recommend adding this addon for e-commerce sites mostly).
External Backups:
With this feature of backups, you can directly backup to your own Amazon S3 or Google cloud storage once a week or month.
99.9% Uptime Guaranteed
Do you know that every site at Kinsta included 720 daily uptime checks? On Kinsta official legal Agreement page, they offer an SLA-backed 99.9% uptime guarantee.
In case if they fail to give the uptime reliability rate of 99.9% then they'll give some credit to your account which you can use for the billing process.
This guarantee holds true, 24/7, every day of the year. In fact, they also pair this uptime every single minute.
Billing and Payment Options
In this section of the Kinsta web hosting review, I am going to share with you what are the modes of payment.
Kinsta offers two contract terms with their all web hosting products, Monthly and yearly so for any kinsta hosting products, you don't have to stick for a year to taste how fast and how smooth kinsta is.
You can also try it for a month with no risk. Kinsta payment modes are limited, they accept credits and debit cards only. (Just Like)
Visa
MasterCard
Discover
American Express
Also ( Wire Transfer)'
For now, PayPal is not accepted, also you can cancel your hosting subscription anytime and will refund the unused portion at any time. Overall I must say this is a fair approach.
Easy To Use Dashboard
Now you have a bunch of information related to the Kinsta Web Hosting platform which you must know before choosing any website hosting companies.
Since kinsta is a managed hosting platform, they have built their own core (Highly focused on easy to navigate dashboard)
Unlike other Cpanel web-hosting providers, kinsta offers a refreshing change from the typical cPanel or Plesk offered by many hosts.
Here are some screenshots, what does the kinsta dashboard look like: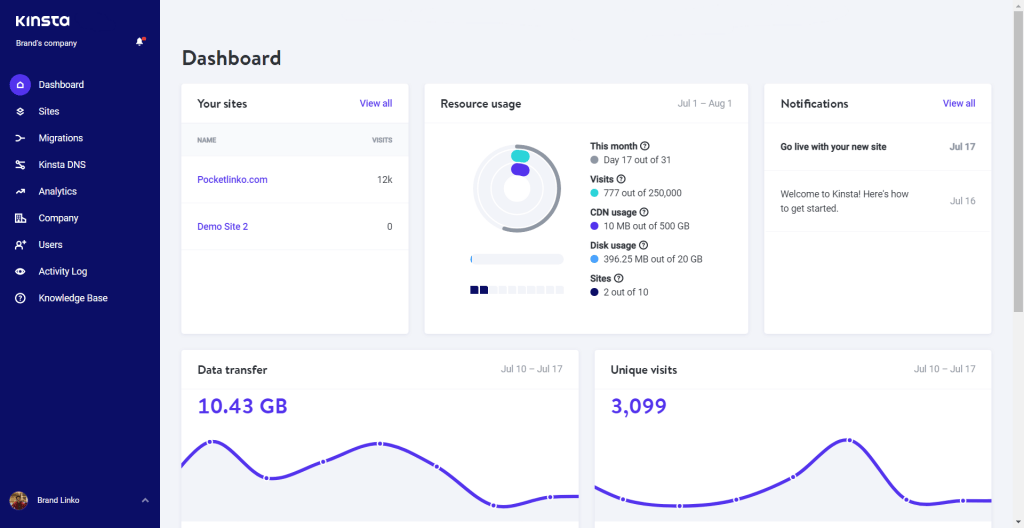 Kinsta Front End Dashboard
As you can see a number of the list on the dashboard honestly their dashboard are so super clean, it feels always to dig more into dashboard look at that highly focused UI.UX dashboard.
(Always love to play with Kinsta dashboard.)
Sites: List of your currently active websites
Resources Usage: Constantly monitor the resources that your websites are using in real-time
Kinsta DNS: Add domain, or change DNS records and management.
Analytics: View real-time graphs and tables realted to your websites.
Users: Add or remove users or change permission
Activty Log: Get list of activities with date and time
Knowledge Base: As mentoined above a better help section with in rich of articles.
What Makes Kinsta Host Different From The Competition?
Now I really don't have to explain, how faster the kinsta hosting provider is and how far it can go beyond our exceptions.
In this section of the web hosting kinsta review, I am going to share with you some points that will help you understand more in deep why choose kinsta hosting over another host.
You can get free development tools such as SSH Access, FTP Passwords and More also kinsta supports HHVM. This means you can run GIT, and even make quck events to file using editors like Vim. ( you can change your FTP passwords with just one click.
Kinsta is fully geared for speed, since it touts its google based architecture
Fast server level caching in place with to ensure optimised functionality for sites.
Fully Optimzed for E-Commerce Sites, in fact for any ecommerce company that runs in wordpress.
If your website is growing day by day in traffic faster and have spikes in traffic then Kinsta should be on your radar, They are made to handle such things.
Kinsta Managed Wordpress Hosting is performance optimzed and ready for any kind of traffic no matter what spikes it throws anytime.
They offers great security from malware scacnning to removal and at same they keep backups the way you want hourly, daily so on..
Latest technologies hardware to run their servers with supported version of PHP: 5.6, 7, and 7.1 with stagging area feature included on all plans.
Optimized WordPress Stack, they keep servers up to date with latest scripts so you can get the benefits of wordpress performance the most.
Caching optimized for popular plugins
Free website migrations
Extreme level of WordPress Support than can help you in anytime.
Integrated caching. Kinsta has their own caching plugin that's built to speed their servers.
Kinsta Product Pricing Plans
Finally, in this section of the kinsta web hosting company review, I am going to share what price you have to have pay to build your first or migrate Wordpress website.
Let's start from scratch!
Before May 2019, kinsta used to be recognized as one of the most expensive web hosting companies in the host community,
BUT
Since May 2019, they've finally launched their 'entry-tier' hosting plans starting from basic $30.00/per month that goes all the way up to the enterprise plans from $600 00 per month.
Kinsta currently has 10 Different tiers of plans, each offering their services at a different level features in terms of domains, storage, bandwidth, and other
Each plan describes very clearly into Categories from Starter to Business, to Enterprise – the latter obviously targeted at larger businesses.
It doesn't matter if you have 000, 10 000, 20 000, 30 000, 40 000, 100 000, or 1 500 000 traffic per month, kinsta has plans for everyone to your fortune business.
| | | | | | | | | | |
| --- | --- | --- | --- | --- | --- | --- | --- | --- | --- |
| Starter | Pro | Bus. 1 | Bus. 2 | Bus. 3 | Bus. 4 | Ent. 1 | Ent. 2 | Ent. 3 | Ent. 4 |
| $30/ mo | $60/ mo | $100/ mo | $200/ mo | $300/ mo | $400/ mo | $600/ mo | $900/ mo | $1,200/ mo | $1,500/ mo |
| 10 GB storage | 20 GB storage | 30 GB storage | 40 GB storage | 50 GB storage | 60 GB storage | 100 GB storage | 150 GB storage | 200 GB storage | 250 GB storage |
| 25,000 visits/mo | 50,000 visits/mo | 100,000 visits/mo | 250,000 visits/mo | 400,000 visits/mo | 600,000 visits/mo | 1 Million visits/mo | 1.5 Million visits/mo | 2 Million visits/mo | 3 Million visits/mo |
| 1 website | 2 websites | 5 websites | 10 websites | 20 websites | 40 websites | 60 websites | 80 websites | 120 websites | 150 website |
Starter – $30.00 per month / 25,000 visits/ 1 WordPress install/ free SSL and CDN.
Pro– $60.00 per month/ 50,000 visits/ 2 WordPress install/ 20GB DiskSpace/ GFFree SSL and CDN.
Business 1 – $100 per month/ 100,000 visits/ 5 WordPress install/ 30GB DiskSpace/ Free SSL and CDN
Business 2 – $200 per month/ 250,000 visits/ 40 GB diskspace
Enterprise 1– $600 per month or $6,000 annually
Enterprise 2 – $900 per month or $9,000 annually
Enterprise 3 – $1,200 per month or $12,000 annually
Enterprise 4 – $1,500 per month or $15,000 annually
All plans come with monthly and yearly tiers, let's say you decided to purchase ( Starter Plans for a month) and somehow traffic and its limitations of 25k/m
Get 2 MONTHS Free Web Hosting Now
If you choose yearly plans, then kinsta offers you free web hosting plans for two months which means you only have to pay for ten months.
"Get 2 Months extra free with yearly billing plans on kinsta web hosting"
Which Kinsta Web Hosting Plans Package Is Best For Me?
If you're not sure which kinsta web hosting plans should you choose and have no idea how much your website traffic is worth of then follow these simple tips:
If you are really commited to WordPress and have decided to migrate to Kinsta Managed WP host, then this is your best decision also make sure in same hand to have $30 budget per month on host.
My first tip would be: Use Google Anylatics to collect data like how much views, and traffics you are getting per month. In case if you don't use then you can use SEMRUSH tool to gather data.
If you website has more than 25K+ traffic a month then I recommend you choose the plan called PRO. ( It can handle upto 40K and the list goes on.
If your traffic is lesser than 25k then choose starter plan.
If you are very new to kinsta and never experienced its speed, and performance then you can always go with starter plans monthly plans and once you love it ( of course you will) , you can stick to host.
In the end, it totally depends on your needs, how much storage, RAM, CPU you want.
Kinsta Hosting Pros and Cons
Kinsta is great web hosting, but no hosting solution is ever perfect. In this section, I am going to share what I like and didn't like about Kinsta Hosting.
Let's quickly look at its Pros and cons:
Pros 👍 Of Kinsta Hosting Provider
Free website migration from WP Expert Team.
Great Speed on WordPress Site
Highly Expert Trained Support Team
High Level Robust Security Features
Google Cloud Servers
Scalable Hosting Plans
1440 daily uptime checks per site ( Basic Plan)
Let's Encrypt support
Premium DNS management
Self-healing PHP technology
SSH, WP-CLI, Git support
Free CDN
SSD Storage
( Learn more about Kinsta's Features here.)
Cons 👎 Of Kinsta Hosting Provider
There's no email hosting, that means if you want to have custom email address for your website domain ( yourname@yourdomain.com), you have to host somewhere else and pay for separately. ( You can use zoho mail for free)
Anither downside is that you cannot host anything else on kinsta server than Wordpress sites ( Lastly Best Host For WordPress Sites)
Kinsta has banned some quite plugins so they can optimzed their servers for faster performance. It can be a probelm if you rely on some those plugins. Check out the list of Banned plugins by kinsta
What Others Are Speaking About Kinsta: Customer Satisfaction

In this section of the Kinsta Hosting review,I have collected some of the Bad and good reviews from Kinsta real customers from open-source internet reviews platforms and comments, such as Reddit, Quora, Trust Pilot.
Kinsta Hosting G2 Review:
Kinsta Hosting Review: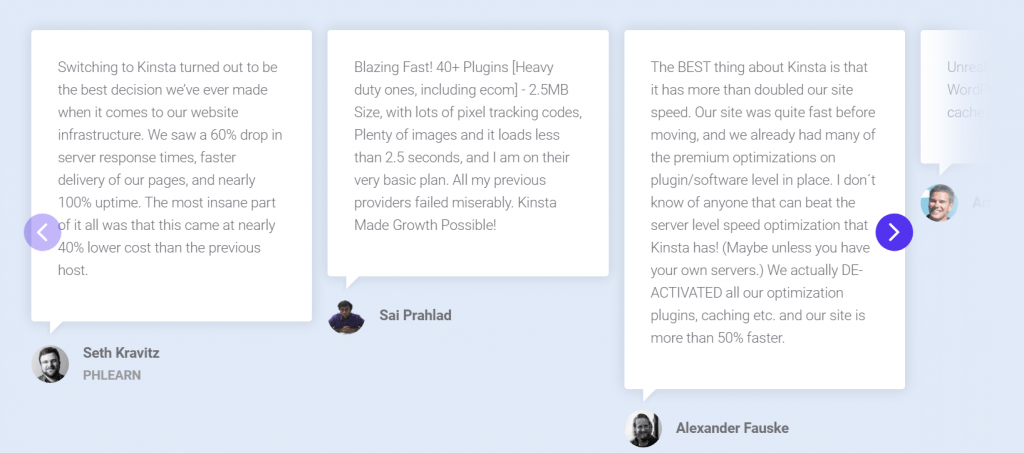 Kinsta Facebook Hosting Review:
Kinsta TrustPilot Hosting Review: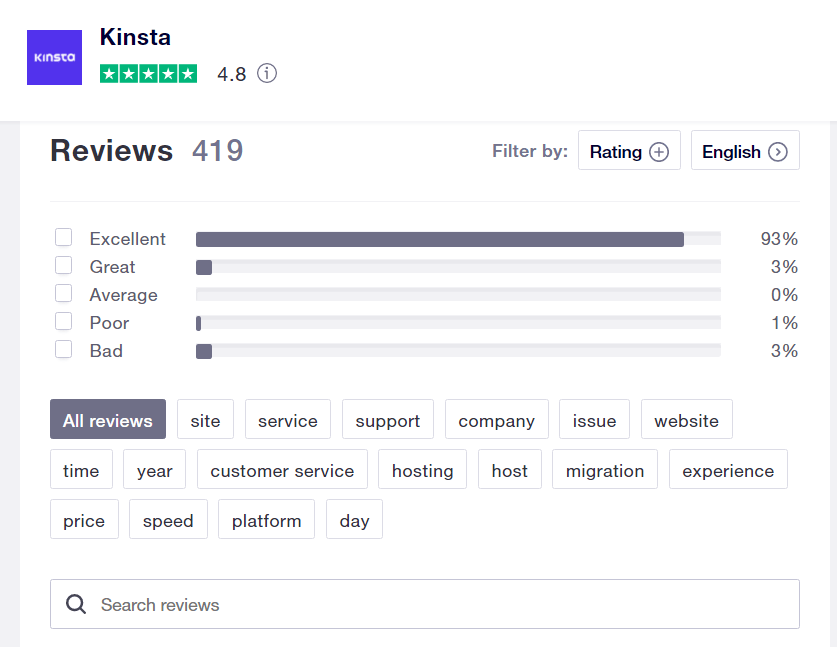 Does Kinsta Support Tick Your Boxes?
If Kinsta's multilingual support chat system for you sounds like the perfect support for your site, check out Kinsta today.
Kinsta Like Similar Hosting Providers
Here is some hosting provider which offers similar features services to Kinsta's.
Rank
Alternate host
Price from /mo.
Highlights
1st 🏆
WPX Host
$12
✔️ Best matching features
✔️ Made For WordPress
✔️ 100% uptime guarantee
Read Review on WPX Host
2nd 🥇
CloudWays
$10
✔️ Free CDN
✔️ Top Cloudhost platform
✔️ 100% uptime guarantee
Read CloudWays Host Review
3rd 🥈
FastComet
$3.95/mo
✔️ Optimized Server Setup
✔️ 45 Days Money Back
✔️ Free Sites Recovery
4rd 🥉
LiquidWeb
$2.50
✔️ Cheap Prices
✔️ PCI Compliance
✔️ Free email hosting
Verdict: Should You Choose Kinsta Hosting?
Now the big questions- should you really go with kinsta?
Obviously yes, but Kinsta WordPress Hosting is not for everyone as explained above: Which is Kinsta Web Hosting Plans Package Is Best For Me?
Honestly speaking, the ultimate deciding factor is your needs. If you need storage of more than 10Gb then you should consider choosing PRO which can have 20GB SSD, so it totally depends on your needs and budget.
Let's take a look at the kinsta starter plan:
Key Features
Top Level Speed
Skilled Team
99.9% Gurantee
25k/m Visits
Free CDN
30 days money back gurantee
Google Cloud Platform
Malware Removal
White-labeled cache plugin
Key Features
Recommended for ecommerce / membership sites
Managed WordPress
Woocommerce
Small to big level websites
Developers
Also for Everyone
If any above sounds like something you were really hunting for then feel free to give 30 days no-risk try.
In case if you think the pricing is a non-go for you then take a look at our best articles on "Kinsta Alternatives, "best Managed WP host", "Cheap WP Hosting".

FAQs: Related To Kinsta Host

Does Kinsta Host Offer Migrations?
Yes, kinsta managed Wordpress hosting all plans comes with at least one free premium and basic migrations for free when you signup for at least one plan
Does Kinsta Offer Backups?
Of course, Yes, Kinsta included three types of migrations, Daily 24/7, hourly and External Backups for the Google cloud platform and Amazon S3.
Is Kinsta Hosting Good?
There is no doubt, at all, kinsta is one of the fastest managed wordpress hosting, if you really want to feel these words, then you have to try their kinsta plans for 30 days no risk. From their security to support ream to pricing to everything are 10 out of 10 in ratings.
What is Kinsta Refund Product Policy?
Kinsta offers flat 30 days money-back guarantee on all plans, in case if you are no happy.
Where is Kinsta Located?
Launched in 2013, Kinsta is located in Los Angeles, California, the United States, their data centers are located in 20 different countries.

Kinsta Hosting Review Final Words: Why Use It Over Another Host 💪


Overall, Kinsta offers decent managed Wordpress hosting, What you pay, you get it for sure. It's a great optimized WordPress hosting company that is specialized in changing WP, it can handle any certain amount of traffic.
In the end, they're backed by Google Cloud Servers. From creating an account to migrating WordPress website is really quick you never have to worry about site hacks, to downtime, all the things will be taken care of by Kinsta teams themselves.
⭐⭐⭐
Try Kinsta For 30 Days Free ( No Risk)
I am now pretty sure, you are ready to give Kinsta a-go, As you can see in the above tests, their speed was so decent. However, I was impressed with their uptime scores as they got similar results to top providers.
You can give try Kinsta for the next 30 days, and in case if you feel some trouble you cancel within 30 days and get a full money refund.
In my final words, Kinsta is just a great fast solution for your wordpress website that guarantee on performance, support, servers speed, malware scanning to everything you have never thought of.
Overall honestly, I'm very happy with my personal experiences with Kinsta.
So what are your thoughts about the detailed Kinsta web hosting company review?
Did you like my today Kinsta honest review?
Also,
Have you used Kinsta before? I highly please consider leaving a review below — good or bad — doesn't really matter as long it's helpful to our readers. Thanks for your great support.