Confused between Liquid Web and Nexcess? Which one fits perfectly for your business website and have no idea what both hosting companies serve?
There's been some confusion around the differences between Liquid Web and Nexcess in the online community.
So, Let me clear in few lines what both hosting companies offer before we dive deep into the battle of Liquid Web VS Nexcess.
Liquid Web is a privately leading managed web hosting provider that primarily focuses on managed, VPS, and dedicated server hosting.
On the other hand…
Nexcess is part of the Liquid Web brand that focused on WordPress, WooCommerce, and other CMS (Content management systems) for content sites and e-commerce.
In September 2013, Nexcess company was acquired by Liquid Web. At the end of this article we will dive more into this section so keep reading.
I will help you make better understand which company fits better for your business with in-depth reviews.
Liquidweb and Nexcess are both very good at hosting websites with a lot of traffic. They are very similar to each other, but Nexcess is better for websites that use content management systems like WordPress.
They are both really good at what they do.
Both companies are top in the hosting industry and have customers that rave about them, but depending on what your needs require, one company may better serve you than the other.
Liquid web hosts sites that receive a lot of traffic and require high performance, whereas Nexcess specializes in working with clients who have a content management system.
There is not much difference between the two companies to us because they hold really great prices and offer great customer service.
How the heck are you supposed to choose between them?
That was my inspiration for creating the "Liquid Web VS Nexcess" guide. I've broken down each hosting feature, speed testing, customer support, pricing plans to everything you must need to know before you decide between two hosts.
So without further ado… Jump right into the Nexcess VS Liquid lists you" re interested in? Just use our handy table of contents.'
#Liquid web vs nexcess: Quick comparison
| #features | Liquid Web | Nexcess |
| --- | --- | --- |
| Ease of use | Excellent | Excellent |
| Storage | Excellent | Excellent |
| Bandwidth Starting from | Great ( 2TB) | Great (2TB) |
| Backups | Excellent | Excellent |
| Domains, subdomains, and parked domains | Good | Excellent |
| Email accounts | Ok | Ok |
| FTP, SFTP, SSH Access | Good | Good |
| WordPress Integration | Great | Great |
| Page Speed | Great | Great |
| Uptime | Excellent (100%) | Excellent (100%) |
| Security | Good | Good |
| Support | Good | Good |
| Scalability | Good | Good |
| Pricing(for Manger 1-year Plans) | From $9.50/mo to $499.50/mo | From $9.50/mo to $499.50/mo |
| Final Score More information | www.liquidweb.com | www.Nexcess.com |
Liquid Web is a privately owned managed web hosting company that was founded by Jim Geiger In 1997. For more than 22 years+ they are serving web hosting services to the online business world.
Liquid Web helps big companies achieve their dreams through web hosting. They even have a huge client list that includes over 500 Fortune 500 companies!
Since 1997, Liquid Web is helping its customers to achieve business goals, by providing boast speed cloud-based web hosting, dedicated, reseller, cloud WordPress, VPS, and hybrid hosting with very affordable pricing.
Quick FACTS:
A million sites under control management of Liquid Web's.
Over 30,000 clients in more than 130 countries.
Over 500 hosting professionals employed to deliver the services.
They host sites for big brands, including National Geographic, FedEx and Motorola.
The Net Promoter Score of Liquid Web ranks it as one of the world's most-loved brands
They made the Inc. Magazine's list of 5000 fastest-growing companies 12 times
Liquid Web offers the highest quality managed VPS service based on Cloud Spectator Report with fastest support desk.
In the end, Liquid Web is a hosting company that has more than 250 teams of administrators, engineers, and technicians that are dedicated to making your online life easier.
You can find out more about this hosting company in my in-depth review on Liquid Web Review.
#Liquid Web Family of Brands
Since Liquid Web was born, they have acquired and developed lots of products that are widely used by millions of people from web hosting products to themes, plugins so on…
Here's a detail of each of these three brands and the solutions and services Liquid Web Famly of Brands offer:
#1. Liquid Web
Liquid Web is a highly customizable managed enterprise hosting provider, This includes overall 14 products at the time of writing this Nexcess vs Liquid Web difference article.
Dedicated Servers: Dedicated servers, cloud dedicated servers, VMware private cloud, server clusters, HIPAA compliant hosting, etc.
Virtual Private Servers: VPS Hosting, Private VPS etc.
Cloud Instances: , VMWare private cloud, Cloud servers, cloud dedicated servers, etc.
CMS and Ecommerce: Managed WordPress, managed WooCommerce, Magento Cloud
#2. Nexcess
Nexcess provides highly optimized managed hosting solutions for open source hosting plans that include –
Managed WooCommerce
Managed Magneto Hosting
Managed Wordpress
Flexible cloud hosting
Enterprise hosting
Drupal Cloud Hosting
BigCommerce for WordPress
Syluis Cloud Hosting
Craft CMS Cloud Hosting
Expression Engine Cloud Hosting
#3. StellarWP
StellarWP is a company that developed WordPress premium plugins, themes. Their products are widely used by millions of WordPress users out there to grow and run their business online.
Kadence
The events calendar
Restrict content pro
iThemes
GiveWP
IconicWP
Since 2000, Nexcess has provided stellar hosting to their customers with over five data centers in 1) Australia, 2) the United Kingdom, and 3) the United States.
It joined the Liquid Web brand family in 2019, and has a strong expertise in managed content management hosting.
Nexcess launched the company from a storeroom garage in Michigan. From the very first day, Nexcess is an award-winning hosting provider focused on empowering businesses to succeed through providing reliable web hosting with budget-friendly pricing that never compromises when it comes to speed or security.
Since being founded at a storeroom garage, Nexcess has helped hundreds of thousands of customers all over the globe run successful websites by remaining committed to exceeding expectations.
They're one of the most trusted providers in today's marketplace because their stellar customer service and affordable pricing plans help entrepreneurs and small businesses launch any type of business they want online for any possible price tag!
Over hundred thousands website hosted on Nexcess makes them one of the trusted hosting provider in today market with budget-friendly pricing along with 24×7 support.
Nexcess has received many awards for their amazing services like being ranked as one of the top 10 fastest-growing companies in North America by Inc 500/5000 which were based on revenue growth over the prior three years…
#Is Liquid Web Or Nexcess Easier To Use?
In this section of the nexcess vs Liquid Web comparison article, we will learn and find out some of the best features and an easy-to-use company are usually simple to determine by evaluating various parameters such as popularity and company growth.
One way to do so is through the use of Google Trends that offers the information we're looking for on a screen in front of us. Some tools offer more than just raw data – for example,
Quantcast gives you a table full of information allowing you to review how much traffic both nexcess and Liquid Web receive from various sources.
However, both of the web hosting providers offer 30 days money-back guarantee and come with monthly and yearly plans,
This means if you get some trouble with Liquid web or Nexcess, you can cancel within 30 days from the period.
Liquid Web and Nexcess are both good web hosting companies. They both provide a lot of different hosting plans with different prices. You can choose the one which suits you the most.
At the same time, they also offer monthly plans where you can test their services, speed, performance everything you want for the next 30 days.
However, I want you to read my full Liquid Web vs Nexcess comparison article make the final decision, and stick to the hosting provider.
1. Liquid web VS Nexcess: Popularity and company Growth
The pizza and burger of this popularity and company growth section are to find out which company is insanely more popular in today's date by taking a look at the official google trends chart.
If we take a look at Google Trends to analyze statistical data surrounding web hosting over the past five years, it's evident that Liquid Web is more popular than Nexcess, but this in no way means that it is not an ideal provider.
The main purpose of this paragraph is to help you understand which web hosts are most popular on Google search engines.
This section was to see who ate the most pizza and burgers in the past years. The winner was Liquid Web 😛.
2. Liquid web vs Nexcess: Which is easier to use
Liquid Web's signup process is annoying. It's a step-by-step checkout process, and it takes a long time. Nexcess' signup process is easy. It takes a few minutes to get started with Nexcess.
You can take a look at the screenshot checkout process of Liquid Web and Nexcess!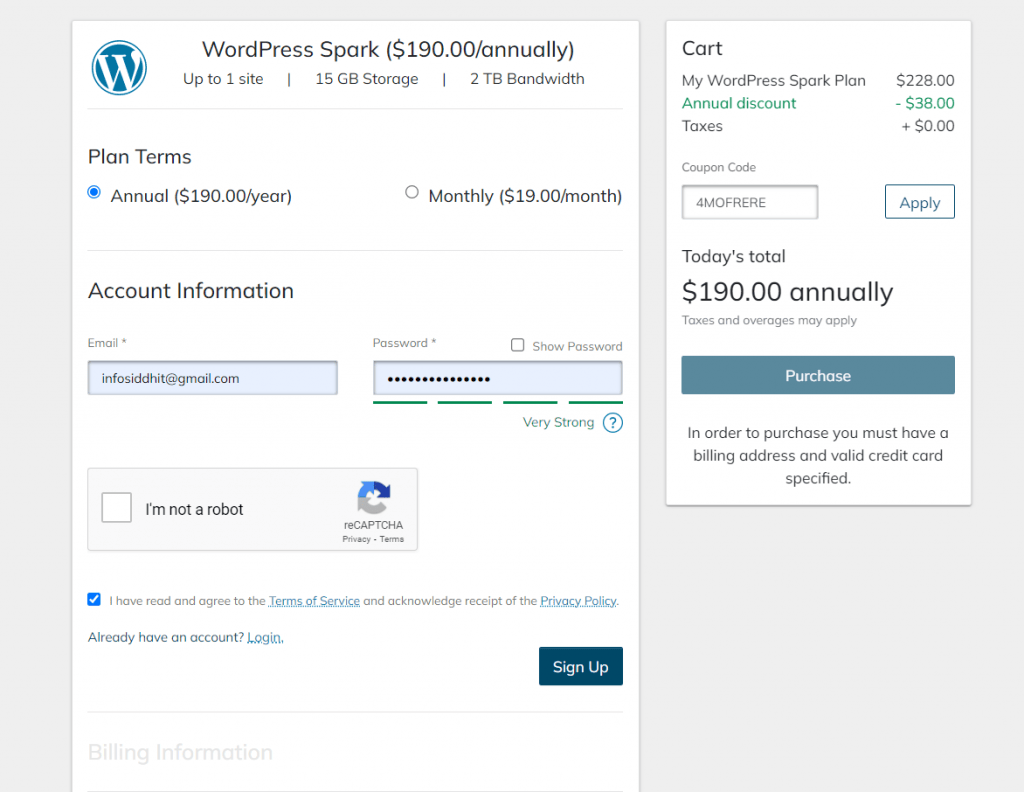 Nexcess One Step Checkout Process (Easy to signup)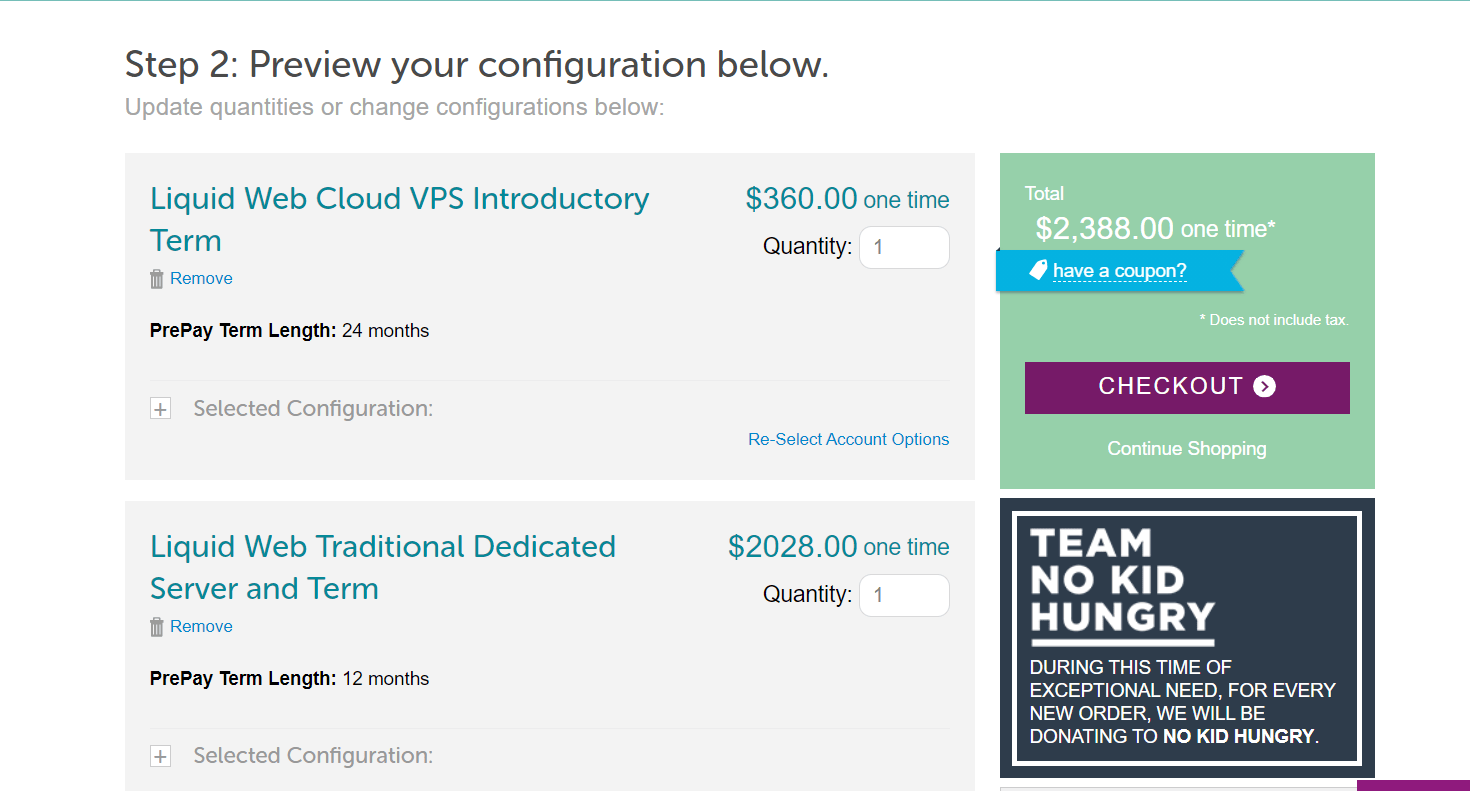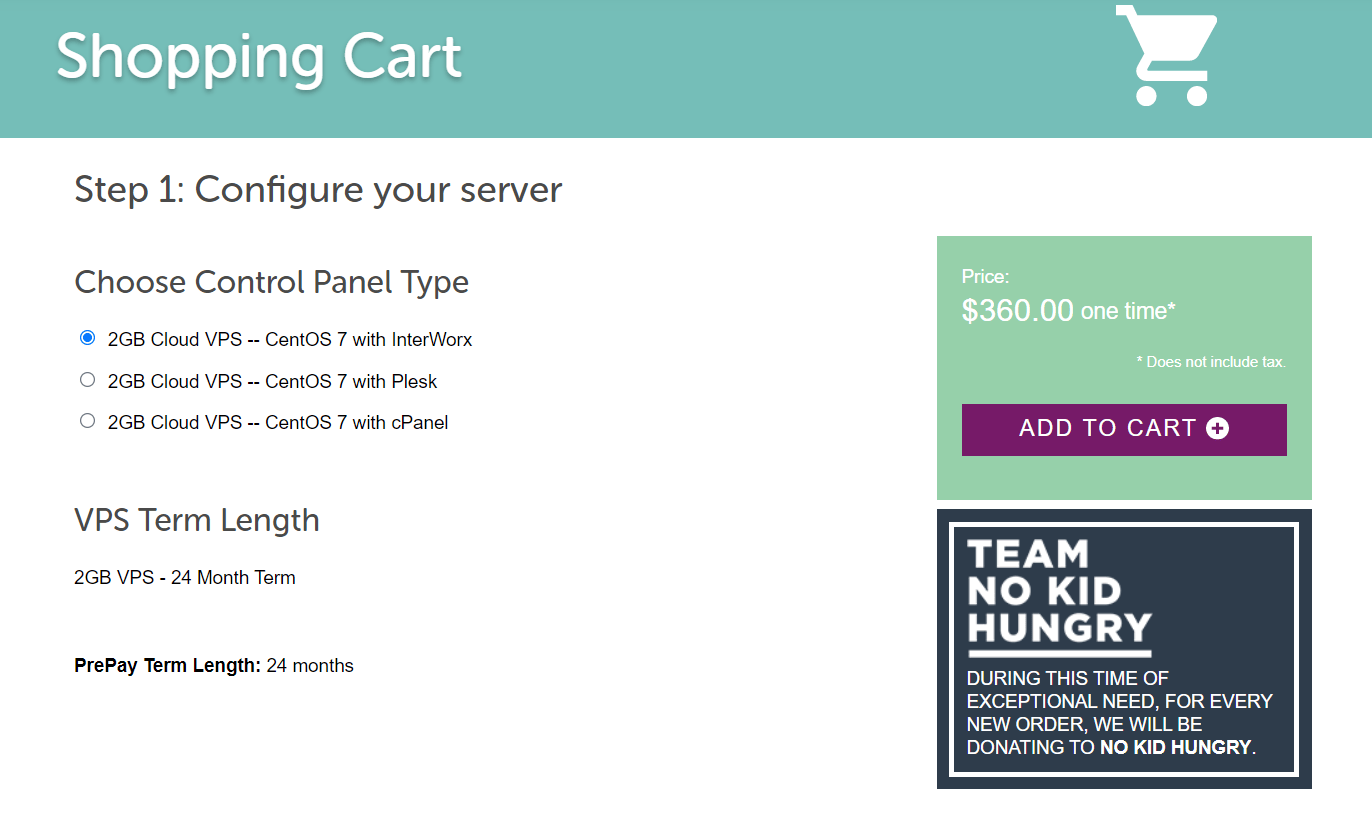 Liquid Checkout 4-Step process (Bit annoying)
The winner is clearly Nexcess.
#Types Of Hosting Plans Offered By Nexcess & Liquid Web
Both hosting companies are top in their level in terms of the pricing and hosting plans they offer to their customers. There are different plans offered by both companies and each plan comes with a monthly and yearly package.
The hosting plans offered by both companies are affordable and they can be a good choice for your business. You can choose either Liquid Web or Nexcess plans that are budget-friendly.
In this section, I am going to share with you the hosting plans offered by both hosting companies along with the pricing and help you choose either Liquid Web or Nexcess plans that are budget-friendly.
| | | |
| --- | --- | --- |
| #Hosting Server's | Liquid Web | Nexcess |
| Shared Hosting | ❌ | ❌ |
| Managed WordPress | ✔️ | ✔️ |
| Cloud Hosting | ✔️ | ✔️ |
| VPS Hosting | ✔️ | ✔️ |
| Dedicated Hosting | ✔️ | ✔️ |
| Cloud Hosting | ✔️ | ✔️ |
| Reseller Hosting | ✔️ | ❌ |
1. Hosting Services Offered By Liquid Web
Here are the pricing plans offered by Liquid Web.
| | | |
| --- | --- | --- |
| Service Type | Description | Price |
| Dedicated Server | Customizable single-tenant traditional servers. | $169 |
| VPS hosting | High-performance VPS along with full root access | $15 |
| Cloud Dedicated | On-Demand single cloud servers. | $149 |
| VMware Private Cloud | Scalable VMware Private cloud hosting on multi-tenant or dedicated infrastructure | $510 |
| Managed WordPress | Performance-tuned for WordPress sites | $19 |
| Managed WooCommerce | An all-in-one solution for High-performing WooCommerce stores | $19 |
| Magento Cloud | Feature-rich and ready for commerce | $49 |
| Cloud Servers | Rapidly deploy scalable cloud hosting for your site or app | $265 |
| Private VPS Parent | Deploy VPS on your private servers | $139 |
| Server Clusters | Custom-built hosting platforms for your business needs | $743 |
| High Performance | Distribute web traffic across servers to minimize latency | $1,127 |
| High Availability | Multi-server environment to minimize downtime | $1,448 |
| Database Hosting | Reliable hosting for mission-critical database | $1,498 |
| HIPAA | Compliant hosting for the healthcare industry | $343 |
Check out all Liquid Web Products Now 🤌
2. Hosting Services Offered By Nexcess
| | | |
| --- | --- | --- |
| Service Type | Description | Price |
| Fully Managed Magento | Fully featured Ecommerce platform that builds for high traffic sites. | $49 |
| Fully Managed WooCommerce | Affordable, highly performant, and easy to scale E-commerce hosting. | $19 |
| Store Builder By Nexcess | Built-in intelligence creates a unique homepage for your WooCommerce store. | Free |
| BigCommerce for WordPress | Headless E-commerce that supports high traffic sites. | $59 |
| Drupal | Highly scalable and configurable platform, ideal for healthcare and educational sites. | $29 |
| Expression Engine | Easy setup, flexible, and feature-rich content editor. | $29 |
| Craft CMS | Theme-free, simple, secure, and customizable sites. | $29 |
| Fully Managed WordPress | Automatic updates with regression testing, unlimited Email, free SSL certificates, intuitive tool scaling, and over 58000 free plugins. | $19 |
| Membership Sites with WP QuickStart Nexcess | Powerful membership tools from RCP. | $49 |
You can try for the next 14 days free managed WordPress hosting by Nexcess. You don't need to give them any credit card information to try it out. You can have a free trial of their hosting.
The amount of storage and bandwidth varies from plan to plan. All plans come with free i-themes security and i-themes sync which are tools for websites.
Liquid web VS Nexcess: An Honest Review & Comparison Battle
This is where the main review and comparison of both Liquid Web and Nexcess hosting takes place.
Now let us find out what you get from your money in terms of speed, performance, uptime, support, and other many considerable points.
Now it's time to look at the comparison of the two companies. We'll look at the good and bad points of each company.
1. Storage: Does Liquid Web provides Better Storage or Nexcess?
Liquid web-managed WordPress hosting basic Spark tier plan comes with 15GB SSD Storage. The storage they are offering with the pricing of $9.50/mo. Since WordPress CMS is widely used by over 49% of the web, that is why I choose managed to host provider as a go for comparison for this section storage review.
On the other hand, Nexcess too comes with the same specifications that liquid web offers with managed WordPress plans so that means if you choose both hosting providers Managed WordPress, Managed Woocommerce, Magneto Cloud you will have the same specifications.
Liquid Web is a hosting company that is owned by Nexcess. If you buy a hosting plan from Liquid Web you will get the same service as you would from Nexcess for managed plans like woocommerce, magneto, drupal so on…
Winner: It's a tie, but when you choose other products like dedicated, VPS, Cloud, there's no clear winner because Nexcess does not offer dedicated VPS and other hosting plans what liquid web offers.
| | | |
| --- | --- | --- |
| #CMS Platforms | Liquid Web | Nexcess |
| WordPress | ✅ | ✅ |
| Drupal | ❌ | ✅ |
| Magneto | ❌ | ✅ |
| Joomla | ❌ | ✅ |
| Woocommerce | ❌ | ✅ |
| Big Commerce | ✅ | ✅ |
| Craft CMS | ❌ | ✅ |
Nexcess is catered and best for CMS platforms like WordPress, DRUPAL, Joomla, etc where Liquid web is catered for Managed WordPress and Managed Woocommerce and other all enterprise platforms for high traffic sites.
2. Uptime: Liquid web vs nexcess
Uptime means how much time your website is up and running. If your website is down, no one can see it or use it. The more uptime you have, the more time your website is up and running.
When you choose a hosting company, you want to make sure they can keep your website up and running. Liquid Web and Nexcess both say they have 100% uptime. But when I looked at their websites,
Liquid web claims to offer a 100% uptime guarantee but when I did my own research, I found that liquid web offers a 99.998% uptime guarantee where they serve 99.998% uptime in the year 2020.
You can check the Liquid Web Uptime Stats from here.
On other hand, Nexcess is one of the few web hosting providers that completely guarantee 100% uptime. . Among the exceptions listed by Nexcess are:
An Malicious attack on a server(s), such as a DDoS attack (down all servers).
Maintaining and updating networks, hardware, and software on a regular basis
cPanel problems that cause disruptions with system files
A legal action taken against your website or business
| #Uptime | Result |
| --- | --- |
| Liquid Web | 100%) |
| Nexcess | 100% |
Winner: Both hosting providers offer 100% uptime so the winner of this section round is a TIE. None of the host companies wins the game since they offer equal 100% uptime.
3. Liquid web vs Nexcess: speed test
Web page loading is one of the most crucial important ranking factors, if your website is indexed on Google then you must follow each google ranking factors guidelines, this is where Speed is one of the top crucial ranking factors.
Who is faster- Nexcess or Liquid Web?
The simple answer relies on the hosting plan you choose because not every web hosting plans offered by Liquid Web and excess are the same. Both companies use different technologies, servers, and other metrics, at the same time they also do not offer similar plans that liquid web and excess offers, except managed plans.
4. Speed benefits: Which one has more optimizations
A content delivery network (CDN) gives you the ability to deliver your content faster by standing between your server and your users. A CDN provider can serve up content from servers closer to the user than might be accessible from a single origin or source.
In this section, we'll be investigating which service provider offers the best optimizations in terms of speed, content delivery network (CDN), security, storage, several PHP versions supported, and so on.
Having good optimizations reflects positively on how smoothly a site loads and can prevent any unforeseeable problems with security as well.
| #Optimizations | Liquid Web | Nexcess |
| --- | --- | --- |
| Server | Homebase Servers | Homebase Servers |
| CDN | Akamai CDN and Cloudflare | Nexcess Edge CDN |
| PHP Version | 7.4 + Ultrafast PHP | 7.4 + Ultrafast PHP |
| Storage | SSD | SSD |
| HTTP/2 | Yes | Yes |
Liquid Web does not have any CDN (Content Delivery Network) services integrated with their servers, but they do have a list of CDN services that you can choose from.
You can choose from Cloudflare and Akamai, among others. Cloudflare is a free CDN provider where Akami CDN is premium and comes with a pricing of $130/per month. You get to choose both CDN depends on what you love free or paid!
Nexcess has built their own custom CDN which is known as "Nexcess Edge CDN", it operates from 22 different edge locations and has the best features like HTTP/2 or Brotli compression with Cutting-edge security technology and advanced configuration management to keep your solution secure.
Winner: Nexcess offers premium CDN services to their customers. They offer a CDN service custom-built on the Edge by Nexcess, which is relatively better than using Cloudflare's free CDN (Cloudflare is a 3rd party provider offered by Liquid Web).
As for pricing, it's a third-party service with limited plans (that is, not custom-tailored for Nexcess customers)but they do offer several options.
Talking about its' premium it's a third-party CDN service where Nexcess is custom-built only available for Nexcess customers.
5. Dashboard & Control- Nexcess vs Liquid Web Panel
#Liquid Web Dashboard
Liquid Web has built its own custom-built dashboard which is very beginner-friendly and easy to use.
While on other hand…
Nexcess also comes with its own custom-built dashboard. Here is the screenshot of the dashboard for both hosting providers:
#Control Panel
Most of the hosts I have reviewed offers only one single control panel option with their plans which is cPanel but in the case of Liquid Web and Nexcess, Liquid Web offers three control panel to choose from such as Plesk, InterWorx, and cPanel for you to manage your website's hosting files, environment, and server.
On the other hand, Nexcess all plans come with two control panels: Cpanel and Plesk, but you don't get such options to choose from for managed WordPress plans. They offer a proprietary control panel that makes it easy to install websites and control every element of the website.
Here are the following tasks and performances you can do via the control panel:
Advantage of free CDN that integrates with your hosting plans
Monitor the use of bandwidth
Create or delte email accounts
Setup an FTP account for testing
Installing Free SSL certificate or premium ( that includes in the hosting package)
Create manual or automatic backups
Install 300+ softwares like WordPressm Joomla
Enable or disable Two Factor Authentication (2FA)
So which is better? Cpanel or Plesk or InterWorx.
Plesk generally isn't easy to use as compared to cPanel but you can choose the types of Cpanel you want so there's no fuss. While the InterWorx dashboard is quite logical to use, you can manage your account, settings, billing, and other hosting services product-related from there.
One thing that sets apart to choose Plesk over Cpanel is their mobile applications, where you can do thousands of things from mobile. However, Plesk takes time to learn how the panel works where cPanel is very beginner-friendly and does not offer mobile applications at the time of writing this comparison.
| #Control Management System | #Liquid Web | #Nexcess |
| --- | --- | --- |
| cPanel | ✔️ | ✔️ |
| Plesk | ✔️ | ✔️ |
| InterWorx | ✔️ | ❌ |
My pick is Cpanel, they are traditional content management system panels and really easy to use.
Winner: Liquid Web is the winner of this section because they offer three panels to chose from where Nexcess offers only two Plesk and Cpanel but not InterWorkx.
6. Data centre – Nexcess or Liquid Web has More?
Both Nexcess and Liquid Web have global data centers located around the globe. Liquid Web operates ten global data centers and currently hosts 800,000 sites all over the world.
Overall it has operated a core data center with complete control over the network. All datacentres are state-of-the-art facilities designed to reliable network availability at all times.
On the other hand, Nexcess offers eight data centers to choose from in North America, Europe, and Asia–Pacific. All the data centers are carefully chosen for security, performance, and strategic positioning. All of their data centers are PCI compliant and come with advanced security, additional redundancies, and a 24/7 support team.
7. How Migrations are done in Liquid Web & Nexcess
People make changes to their web hosting plans all the time because they might find another plan more suitable for their needs, or their current provider may have been sold off to a third party who is in the business of changing things up and leaving clients worried about what will happen next.
Sometimes it can be done as painlessly as transferring your domain from one service to another, but even that may come at a cost depending on where you want to move it to.
When you're dealing with any potential change from one web host to the other, always check with your current provider first before letting go of your domain name and expect there will be some added fees involved which may also include setup charges or new development time.
Let's find out on Liquid web and Nexcess Migration Services… how they perform.
How easy is it to migrate from the old host to Liquid web and Nexcess and how migrations can be done with both hosting companies?
Liquid Web ⭐ 5/5
If you already have a WordPress, then it can be easily moved to Liquid Web servers without any single cost, thanks to their free website migrations service plugin from which you can yourself migrate to Liquid Web.
The plugin will take care of everything from copying all the data to transforming config files and importing them to the Liquid Web Server.
Whether an internal move from liquid web to other high upgrade servers within Liquid Web or an external move from another web host, Liquid Web will migrate your site to its hosting platform for free.
Nexcess⭐ 5/5
Nexcess on other hand will also migrate your website, applications for 101% free and managed by a team of dedicated experts without any downtime.
That means if choose either Liquid web or nexcess you will get completely free website migration for any type of website to any hosting plans with no single cost. At the time of migration, your website will also not be down.
To request migration for Liquid Web and Nexcess, you must need an active hosting plan and then request a migration in the portal. You will also need to provide the current host account information to get migrated to Liquid Web and Nexcess either:
SSH access — preferred and will be the fastest
FTP
Hosting Control Pan
Winner: It's a Tie
8. Money back guarantee: Which is better Liquid Web or Nexcess
Both webs hosting company provides 30 days money-back guarantee with all products they offer with both annual and monthly plans.
| #Company | #Money back guarantee |
| --- | --- |
| Liquid Web | 30 days with a full money-back promise |
| Nexcess | 30 days with a full money-back promise |
If they fail to meet your requirement and are unhappy with the Liquid Web or Nexcess products, you can cancel the plan within 30 days and get a full refund.
9. Support: Liquid Web Or Nexcess Offers Better Customer Service?
When looking for a hosting provider, it is vital to assess the support options that they provide.
It is ideally, you should take a look at the options provided for live chat, email, and phone as these are vital communication channels to have when you experience problems on your website.
If you have considered reading my "How to host a website" article then you may have learned that customer support plays a 22.9% role in the hosting industry that determines if a company is good or not.
When your website, applications, or anything that is hosted online, as an online owner you might know, In the online world, you never know what wrong things could be encountered with your website and server and you cannot figure everything along that is where customer support takes place.
It's natural to encounter bad things in a perfect world, it happens to everyone.
Customer support should be your next main priority because choosing any product without customer support is the same as choosing a dead product.
Enough said!
Liquid Web 4.5/5
Liquid web biggest strength that steps them apart from other hosts is its "Heroic Support." The liquid web has made an effort to stand out from the crowd, which is their heroic support which it's their customer service. Both paying and individuals setting and learning Liquid web core features can contact the team via phone or live chat
They have three primary forms of customer support that are always active 24/7/365 click support directly from experts Need help at 2 AM? liquid web team always there for you:
They also maintain a comprehensive knowledge base on their website that answers the most common questions for users about server-related articles.
Nexcess 5/5
Nexcess offers 24x7x365 full chat and phone call support, they also included helpful banks of knowledge that are categorized into eight different parts such as, Website management, Control panel tools, file management, Miscellaneous, etc help you get started and fix the problems yourself by reading the guides.
They also support phone calls mentioned above with local language support for three different locations Americas, Australia, and United Kingdom.
24/7 Live Chat
Phone
Comprehensive knowledge base
Helpdesk
10. Liquid Web Or Nexcess: Email Accounts Are Better?
When you own any kind of website, you need an email address that your clients and partners can use to contact you. It's not enough to use a regular email address like example@gmail.com.
You need a branded email address like info@example.com. This is because people don't trust websites that don't have a branded email address.
#Liquid Email Hosting Review
Liquid Web all hosting products plans will have on server email, so that means you will get free email hosting accounts with all products offered by Liquid Web.
However, they also offer premium business email hosting services which are fully-Managed Professional services by Liquid Web. The email services offer they offer are really budget-friendly and come in handy.
The basic plans come with the pricing of $2 mailbox/month. It includes three tiers. Here is the following Liquid web business email hosting pricing:
So why choose premium business email hosting offered by Liquid Web over basic free email offered by all liquid web products or proton mail or Gmail?
Here I have made a small comparison table why choose Liquid web over all other email hosting providers:
| Features | Premium Business Email | Control Panel Email | Proton Mail | Gmail |
| --- | --- | --- | --- | --- |
| Mailboxes | 1 | 1 | 5 | 1 |
| Storage | 25GB/mailbox | Local Disk | 5GB/mailbox | 5GB/mailbox |
| Domains | Unlimited | Unlimited | $2.00 extra per domain | 1 |
| Messages Per Day | 10,000 | 12,000 | 1,000 | 10,000 |
| Folders/Labels | Unlimited | Local Disk | 200 | Unlimited |
| Premium Spam Filtering | ✔️ | ❌ | ✔️ | ✔️ |
| 24/7 Support | Phone, Chat, and Email | Limited by Host | Email Only | Phone, Chat, and Email |
| Email Forwards | 15 | Included | Not available | 20 |
| Email Filters | ✔️ | ✔️ | ✔️ | ✔️ |
| Auto Responder | ✔️ | ✔️ | ✔️ | ✔️ |
| Catch-All Email | ✔️ | ✔️ | ✔️ | ✔️ |
| Multi-User Support | ✔️ | ❌ | ❌ | ✔️ |
| Calendar | ✔️ | ❌ | ❌ | ✔️ |
| WebMail Chat | ✔️ | ❌ | ❌ | ✔️ |
| Pricing | $2.00/mo/user | Included in hosting | $5.00/mo | $5.00/mo/user |
#Nexcess Web Email Hosting Review
What about Nexcess email hosting? Does it rank above Liquid web?
Since Liquid Web has acquired Nexcess, both hosting providers offer similar features with pricing what you get in liquid web for email accounts. That means if you choose Liquid web or Nexcess you gonna get the same features
11. Which company Offers Better backup: Liquid Web or Nexcess
Liquid Web – 5/5
The liquid web offers daily and nightly automatic backups which will help recover your website in case if anything goes wrong that involves in loss of data.
You will get access to daily backups with all the web hosting plans offered by Liquid Web. The free local backup feature is inbuilt per account so that you don't have to rely on any third-party plugins to get backups.
Nexcess- 5/5
Nexcess automatically backups your site every 24 hours that clocks to a day, which you can access from the backups area, You can also manually enable the on-demand backups when needed. This way you also don't have to rely on third-party plugins and tools for backups.
Winner: It's a tie
12. how Faster the CDN is? Nexcess vs Liquid Web
Almost many giant web hosting providers company offers free CDN with some specific plans without any additional cost, So what about Liquid web and Nexcess, do they offer free CDN services with hosting products plans?
#Liquid Web CND Review
Liquid Web offers free CDN services with all the products plans which are powered by Cloudflare which is itself a free CDN provider and Adami CDN itself a paid. However, I was a little bit confusing as a giant hosting provider ( why do not they offer in-built CDN).
Finally, I reached to the support team and asked "How much space do we get with free CDN" the answer was really shocking
At the end of the chat, I got to know they offer two types of CDN as mentioned above, if you want free CDN then you can go with Cloudflare which is inbuilt with the server, in case if you need something more than free then you can go with Adami CDN which comes with the pricing of $130/month.
Nexcess CDN Review
Nexcess hosting plans come with CDN functionality in all 22 locations out of the box. Its adaptive caching feature is the main reason for its ultra-speedy website loading speed.
With Nexcess you don't have to be sold on the value of third-party tools like WP Rocket, WP-Cache, etc, that seem tempting but can only slow your site down overall due to technical incompatibility issues!
#PROS 👍 and CONS
No hosting solution is ever perfect, In this section, I am going to share with you what I like and didn't like about both great hosting companies. As we get to the end of our Liquid Web vs Nexcess, let's recap some pros and cons…
1. Liquid Web Pros and Cons
#LQ👍 Pros
100% uptime guarantee.
Free Premium tools
GlobalSign SSL certificates included with all hosting product plans.
Liquid Web does not charge based on how many visitors your website will be receiving unlike WP Engine. In fact,all managed WordPress hosting plans support sites with unlimited visitors.
Solid State Drives installed on all servers.
No WordPress theme or plugin bans
Free "White-Glove" site migrations
High performance (PHP Workers, SSD, PHP7, HTTP/2, Let's Encrypt SSL, and Nginx)
24/7/365 support with stellar 59 minutes/seconds guarantees with humans
30 to 300 PHP Workers to guarantee fast speeds for woocommerce servers
Free PayPal & Stripe integration on all plans
HIPAA Compliant Solutions:
In case if you don't know what is "HIPAA Compliant Solution" in easy words :
The HIPAA Privacy Rule is a federal regulation that protects the privacy of individually identifiable health information. The rule was created to encourage patients' total compliance with their physician, as well as resolving confusion and discrepancies regarding permissible uses of medical files, the release of data to insurance companies, etc.
#LQ 👎 CONS
High entry-level price (The lowest price for Liquid Web is a whopping $15 per month)
No Shared Hosting
2. Nexcess Pros and Cons
#Nexcess 👍 Pros
Full server access
Fully-Optimized Servers
No Page View Limitations
Free website migration
100% uptime SLA statement
Automatic plugins installation and updates
60 second average support chat
Specialized WooCommerce Hosting.
Fastest Wordpress and CMS hosting provider
Impressive PageSpeed
Fully Managed Hosting
WPQuickStart
Nexcess provides online store builders that let you set up your site in minutes with no coding required. Their membership plugins help you organize your eCommerce store in several ways including payment subscriptions, automated email campaigns, and advanced sales management options –WPQuickStart
#Nexcess 👎 CONS
No Free Domain
No Dedicated IP addon (According to the statement by the sales team)
Recap: Liquid Web VS Nexcess
With that, I hope you enjoyed reading our Liquid Web vs. Nexcess comparison articles in every aspect and of course, Before we go to wrap up our article, let's me share what I concluded about Liquid Web vs. Nexcess :
| #features | Winner |
| --- | --- |
| Ease of use | Nexcess |
| Storage | Tie |
| Bandwidth Starting from | Tie |
| Backups | Tie |
| Domains, subdomains, and parked domains | Tie |
| Email accounts | Tie |
| FTP, SFTP, SSH Access | Tie |
| WordPress Integration | Tie |
| Page Speed | Liquid Web |
| Uptime | Tie |
| Security Optimizatoions | Nexcess |
| Support | Tie |
| Scalability | Tie |
| Pricing(for Managed WP 1-year Plan) | From $9.50/month ( TIE) |
Tie simply means both hosting companies offer similar features where the winner is something in this case, Slightly better than Liquid web or Nexcess. Looking at the above table, Nexcess is better in terms of Security optimizations and Ease of use due to its simply one-page checkout option and offer's custom CDN.
Talking about Liquid web, Since they are robust managed Dedicated, Cloud, and VPS hosting providers, of course, they would win the game.
In the end,
There's no winner because Liquid Web all managed hosts are powered by Nexcess itself so you will get the same features and speed benefits,
Were talking about its other managed VPS, dedicated, Nexcess at the time of writing this review does not offer any other hosting plans except managed for woo commerce, Wordpress, drupal, magneto, and other seven different products above.
How to buy Hosting from Liquid Web?
Finally, let's initial talk about how you can get started with Liquid Web to host any kind of website.
To get started using Liquid Web you need to follow my simple step-by-step guide to get activated your liquid web plans today.
Step1: Click on this link, to hover directly to Liquid Web's official homepage, from where you can choose any hosting product that fits your business needs.
(At the time of writing this step by step guide, This is how the page looks like)
Step2: Simply click on the "Our Products" button and select the hosting product your business website needs and comes at affordable pricing. For now, I am going to select a Dedicated plan.
Once you click, you will be on a page which looks something like this:
Step 3: Choose a better tier plan. Today they are offering a flat 25% discount for six months if you choose plan" "Intel Xeon Gold 6226R"- Single and "6226R- Dual"
Once you decide which plan is suitable simply click on:"Order Now"
Step 4: Now you will be on a page where you can configure and preview your servers. However, it's a multi-checkout process as being said above.
Step 5: You will be asked to create an account once you verify your address you will be on the final checkout page which looks like this: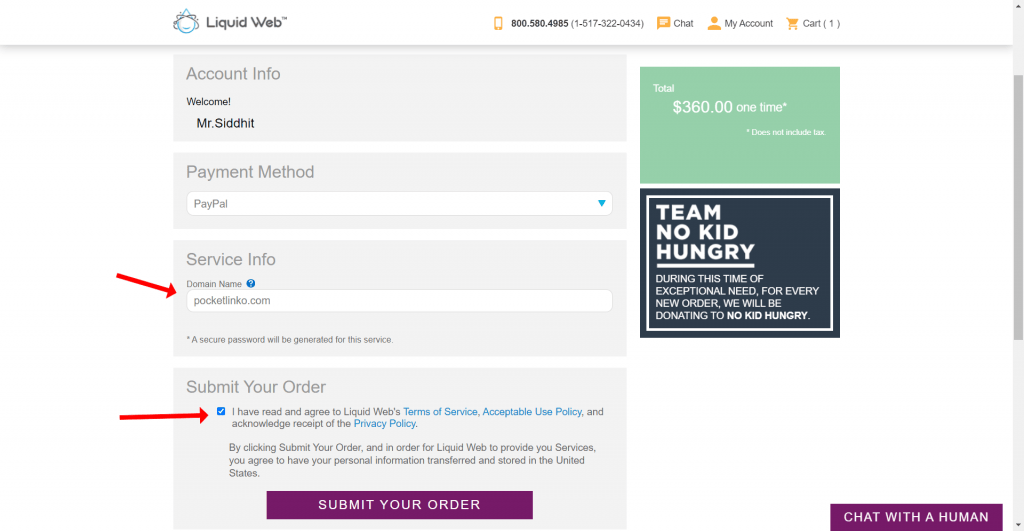 Make sure to tick on boxes and add a domain name. Liquid web accepts two modes of payment 1) Paypal and credit cards (VISA, MasterCard, American Express, and Discover).
Once the payment is verified you will be on their dashboard from where you install Wordpress or anything depends on the plan you choose with free SSL.
How to buy Hosting from Nexcess?
Getting started with Nexcess is really simple with their one-page checkout form, all you need to choose a service product from their site, pay for it, and boom!. You're ready to launch your project on Nexcess.
You can follow my step by step on "how to buy a hosting plan from Nexcess platform".
Step 1: Click on this link so you can visit their site's homepage.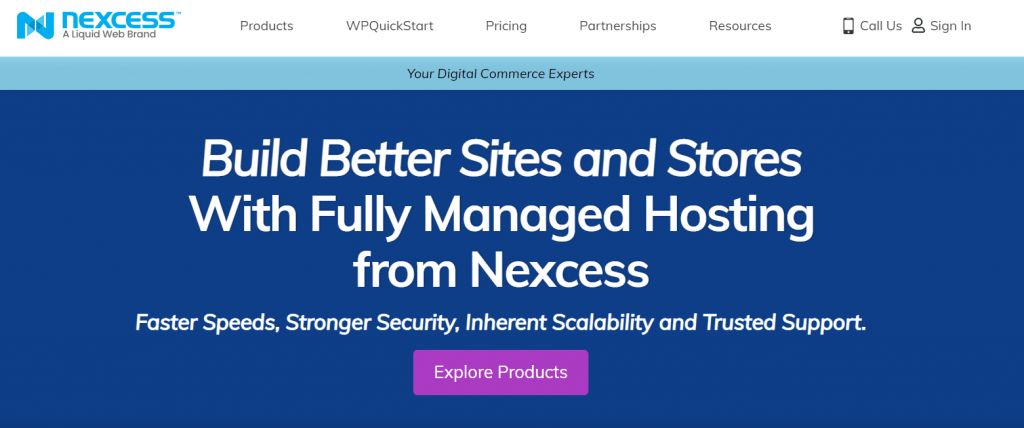 Step 2: Now you already know why Nexcess is best for content management systems, if you just scroll down a bit you will see three different CMS host services "WordPress", "WooCommerce" and "Magneto Hosting".
For this guide, I will choose Managed WordPress, the simple answer almost 48% of the web is hosted on WordPress including our site"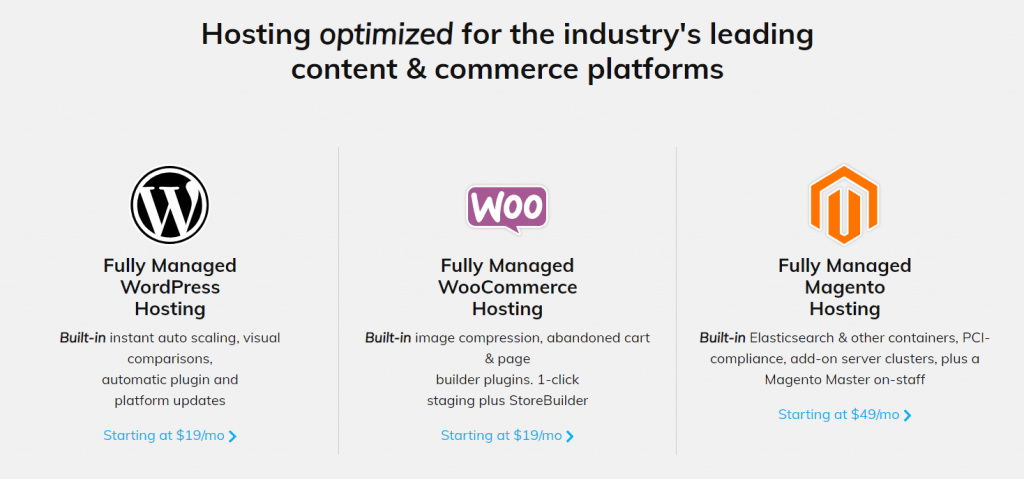 Step 3: Choose a suitable hosting plan, that fits perfectly for your WordPress website.
Step 4: After you click on the "Get started button: you will be on a checkout page from where you can create your profile, review your order, and once everything is done and okay, you can pay to them using a valid credit card. Nexcess only offers credit cards as a payment mode.
You can also use a coupon code or discount code ( SUNNYSAVINGS) to save flat $149.50 on managed host plans offered by Nexcess.
(Offer is only for a limited time so make sure to maximize the savings and get a super cool fast Wordpress hosting NOW!)
Now you have a real idea why Nexcess host checkout is simple and no boring comparing to Nexcess,
If you have gone follow my step by step guide on how to purchase host from Nexcess and Liquid Web and also as being said above
FAQs: Related to Liquid Web & Nexcess
What is Liquid Web
Liquid Web is a Michigan-based hosting company founded by Jim Geiger in 1997. The company touts itself as a US-based cloud web hosting provider, offering both VPS and Dedicated servers along with IPAA Compliant Servers. Liquid Web also offers 24/7 support via live chat, an online ticketing system & phone calls.
What is Nexcess?
Nexcess is the sister company of Liquid Web and joined the Liquid Web brand family in 2019. Having a background in Managed WordPress hosting, WooCommerce hosting, and Managed Magento hosting, Nexcess brings years of hands-on experience building and supporting custom eCommerce sites.
What is Stellar WP?
StellarWP is a group of premium WordPress plugins and software developed by the staff at Liquid Web, a web hosting company that offers eCommerce services.
The stellar in the name was derived from the word web and their idea that they want to create a brighter future for WordPress. The WP tag in StellarWP stands for both WordPress and WooCommerce, one of the best WordPress e-commerce plugins.
Can I upgrade from Liquid Web VPS to LW dedicated server?
You can switch your virtual private server to a dedicated server if you want to. Their team will move your VPS to a dedicated server with very little downtime.
Does Liquid Web Offer Money Back Guarantee?
Liquid Web all plans are protected with 30 days money-back Guarantee. This means if you purchase any hosting from Liquid Web within the first 30 days of their investment you will get a full refund.
Who Owns Liquid Web?
Liquid Web owns everything. Everything you do on the Liquid Web network is monitored for compliance with Liquid Web's Terms of Service.
Conclusion: Liquid Web VS Nexcess
So who wins the battle? ( Again it's a tie) because they are for different purposes.
Nexcess offers a wide range of web hosting services that cater to small, medium mostly as well as large, and offers the best security inline features along with CDN and support.
LiquidWeb is built for high-traffic large enterprises business and plans are slight premium. I do not recommend any beginner to go with Liquid Web.
For those who want to start your website or migrate to CMS platforms like WordPress, Joomla then I recommend you to go with Nexcess because they are fully committed to providing the best hosting experience to their customers.
Liquid Web
Liquidweb is for big businesses
Liquidweb is best for advanced users
Nexcess
Nexcess is for small businesses
Nexcess is good for beginners
If you want to host your website and want to start blogging then I recommend you to go with Nexcess because they are fully committed to providing the best hosting experience to small businesses.
Check out the following infographic to learn about the difference between Nexcess and Liquid Web hosting: